Iceland, with its breathtaking landscapes and unique natural wonders, is an incredible destination any time of the year, but August stands out as one of the best months to explore the island. August is the height of the tourist season, with some of the warmest and most pleasant weather conditioners of the year.
This enables travellers to reach areas of Iceland that would otherwise be inaccessible. And as the majority of Icelands best attractions are located outside, August is the best time to enjoy top locations comfortably.
This self-drive travel guide will take you through everything you need to know about visiting and planning a trip to Iceland in August, including weather conditions, popular attractions, festivals, and essential tips to make your trip memorable.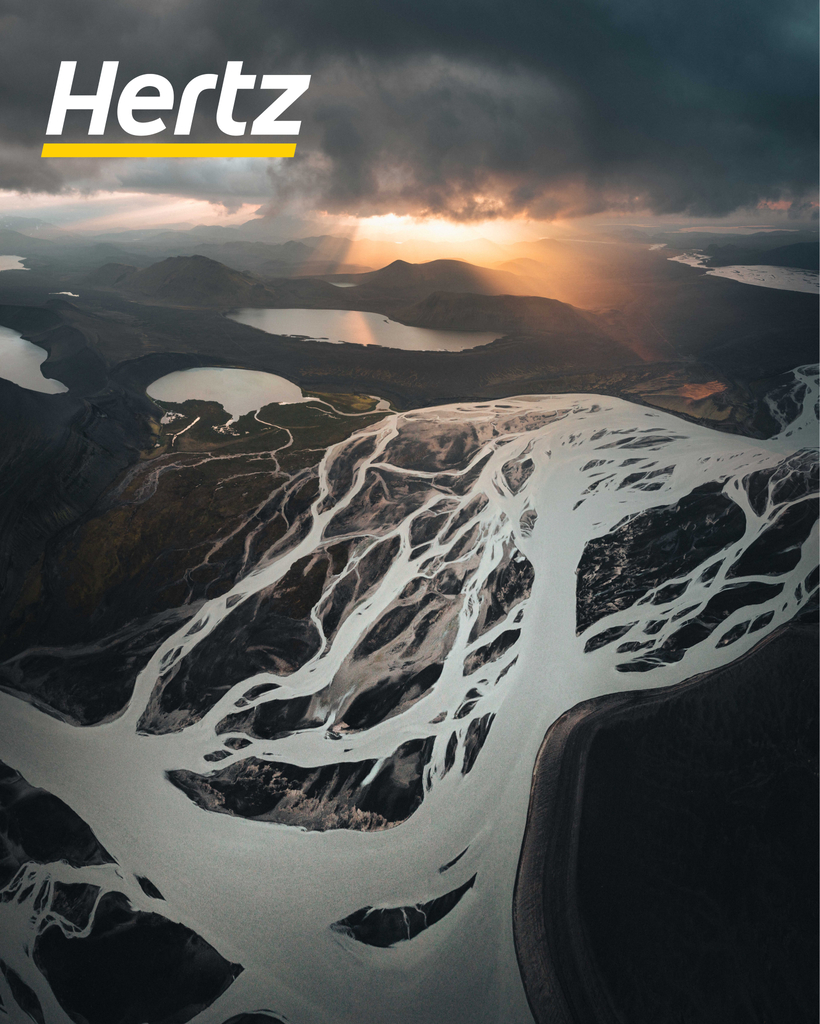 Table of content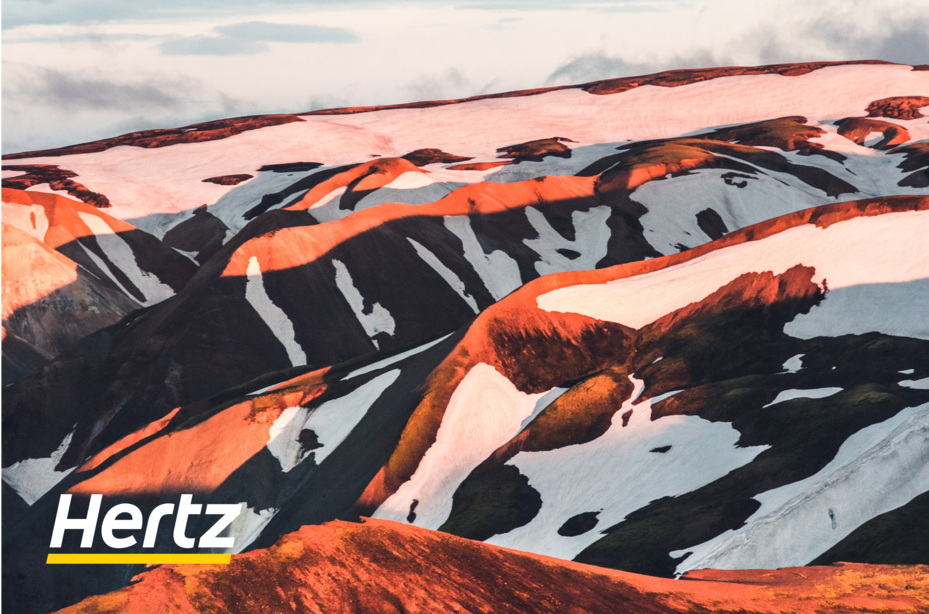 Weather in Iceland in August
August marks the peak of Iceland's summer season, bringing pleasant weather and extended daylight hours. The average temperature in the capital city of Reykjavik, ranges from 10 to 14C (50 to 57F).
It's important to note that just like any time of the year, the weather in Iceland can be unpredictable, so packing layers is crucial. You should expect occasional rain showers, so don't forget to bring a waterproof jacket and waterproof shoes
One of the unique aspects of visiting Iceland in August is the phenomenon of the midnight sun. Due to its high latitude, Iceland experiences long daylight hours during the summer months. In August, you can enjoy approx 16 hours of daylight on average daily.
These extended daylight hours means extra time for exploring outdoors and is also a photographer's dream as the midnight sun illumates Icelands stunning landscapes.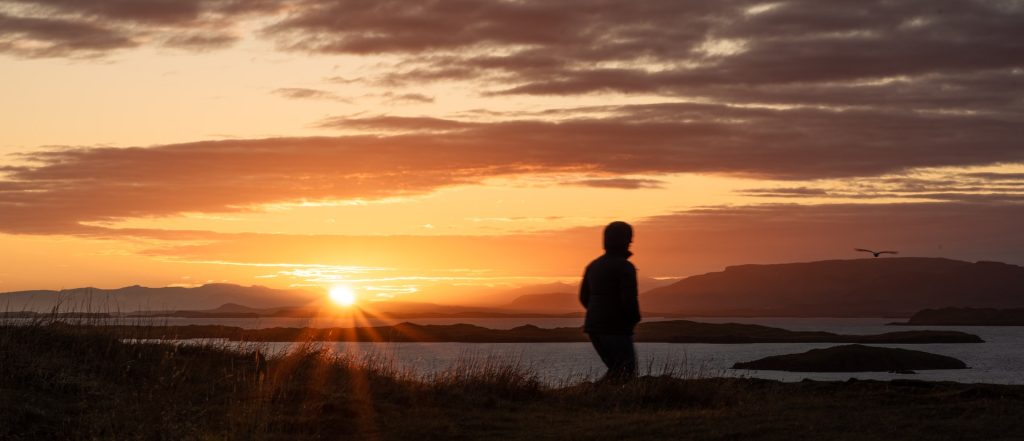 Can you see the northern lights in Iceland in August?
Only if you are in really great luck, you might be able to see it in late August by staying up late. In short, you have almost zero chance of seeing northern light in Iceland in August.
Iceland is known for its mesmerizing northern lights displays; many tourists visit the country specifically to see this. But it's important to note that August is NOT an ideal time to witness this natural phenomenon. In order to see the northern lights in Iceland, also known as the Aurora Borealis, it needs to be a very dark and clear night.
The northern lights are typically visible during the winter months when the nights are longer and darker so if your heart is set on seeing them consider planning to visit between September and March.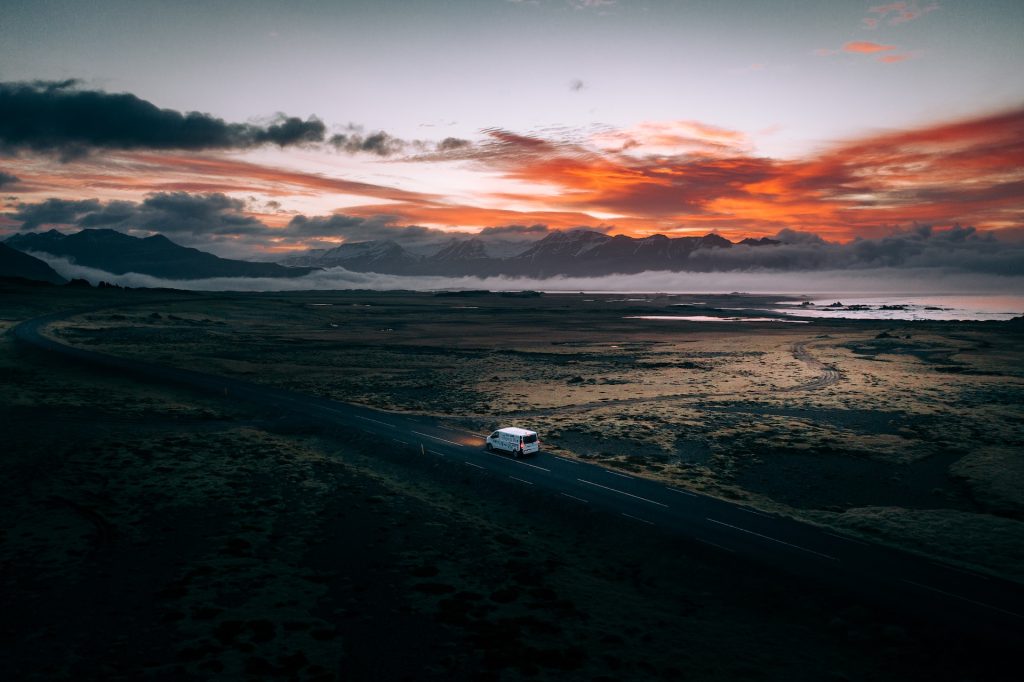 What to wear in Iceland in August?
Packing appropriately for the Icelandic weather in August is essential to ensure a comfortable and enjoyable trip. In the summer months layering is key.
Bring lightweight, breathable clothing, but also pack warm outer layers for those chilly, windy nights. Don't forget to pack a waterproof and windproof jacket to protect yourself from rain showers. Here are all our essentials for your packing list for August in Iceland:
Comfortable hiking shoes
Waterproof and windproof jacket
Thermal base layers
Swimsuit (for hot springs)
Lightweight T-shirts and sweaters
Comfortable walking pants
Neoprene socks (in case they get wet)
Hat and gloves
Check out our Iceland packing list guide for more details on what to bring on your trip based on the time of year you're visiting.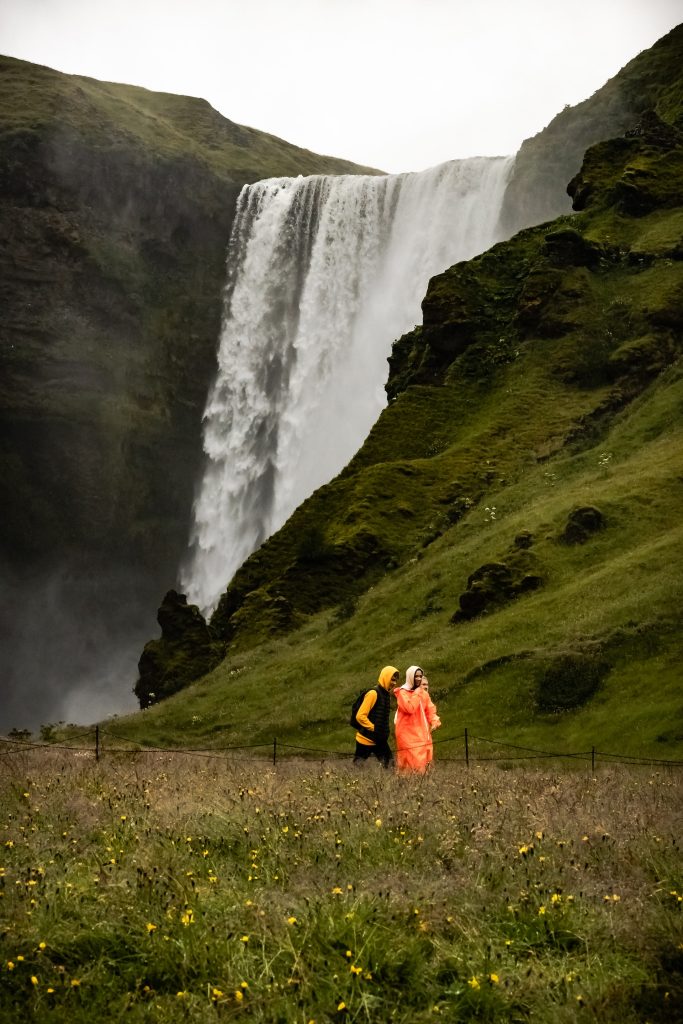 Best rental car options for a road trip in Iceland in August
Taking a road trip in Iceland in August is hands down the best way to explore all the stunning landscapes of Iceland's top routes. The road conditions are generally very good during August, meaning you have lots of options when it comes to choosing a rental car. If you're planning to drive the Iceland Golden Circle, Route 1 Ring Road, or do a South Coast itinerary, then a 2WD rental car will suffice.
For solo travelers or couples, economy or compact cars are suitable. Intermediate or full-size cars are ideal for groups of three. If you're traveling with a larger group (3-5 people) or planning to tackle F-roads, which are gravel roads leading to the highlands, a 4X4 SUV is recommended.
For those seeking a more adventurous experience, campervans provide both transportation and accommodation, allowing you to camp in Iceland as you make your way around. The choice of rental car ultimately depends on your group size, the amount of luggage, and the routes you plan to take.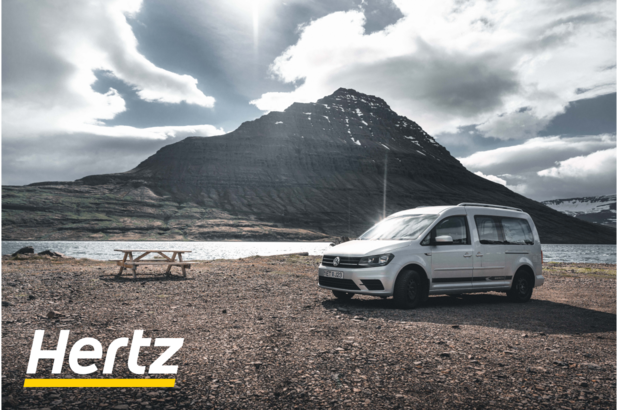 Is It easy to drive in Iceland in August?
Driving in Iceland is generally straightforward, even for those unfamiliar with the country's road network. Iceland itineraries that follow the Route 1 Ring Road allow you to visit a huge portion of Iceland's top attractions on the same road that loops around the country.
In August, with the extended daylight hours, it becomes easier to navigate and explore various destinations. You won't have to worry about snow-covered roads blocking your path or snowstorms requiring you to alter your plans. If you do venture onto the Iceland F-roads, keep in mind that you may encounter some river crossings on the more remote routes, so make sure you're prepared for that.
However, it's essential to plan your driving schedule carefully and avoid driving for too long, even if you're tempted to jam-pack your day. Despite the extended daylight, it's crucial to prioritize safety and never drive when you're tired. Taking breaks and resting frequently will ensure a safe and enjoyable road trip experience.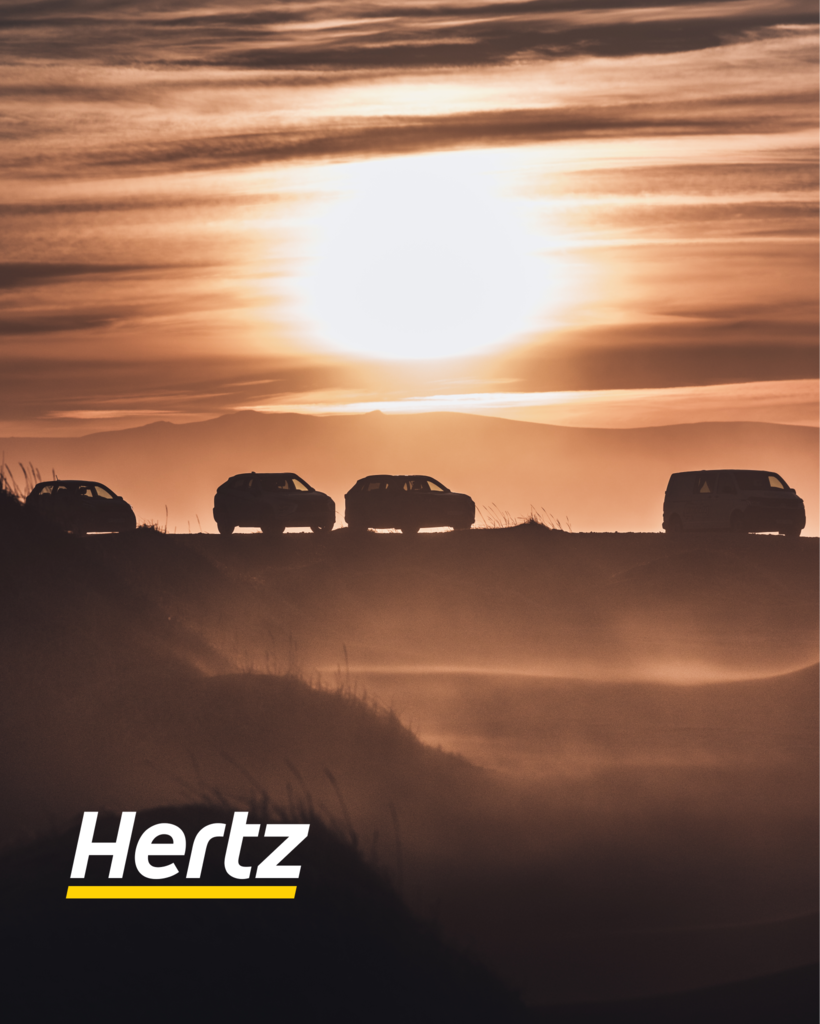 What to do in Iceland in August
August is one of the busiest months of the year for tourism in Iceland, and it's no surprise why. There are seemingly endless activities available during the month, so it can be overwhelming when planning your itinerary.
Puffin and whale watching
August is one of the top months for puffin and whale-watching excursions in Iceland. You can easily spot the puffins and whales by joining a whale watching tour. Head to places like the Westman Islands or the Snaefellsnes Peninsula, to see the Iceland puffin colonies nesting up close.
Additionally, for whale watching in Iceland, various tour operators offer whale-watching trips from Reykjavik, Husavik and Akureryi,providing you with the opportunity to spot majestic whales, including humpbacks, minke whales, and, if you're lucky, even orcas!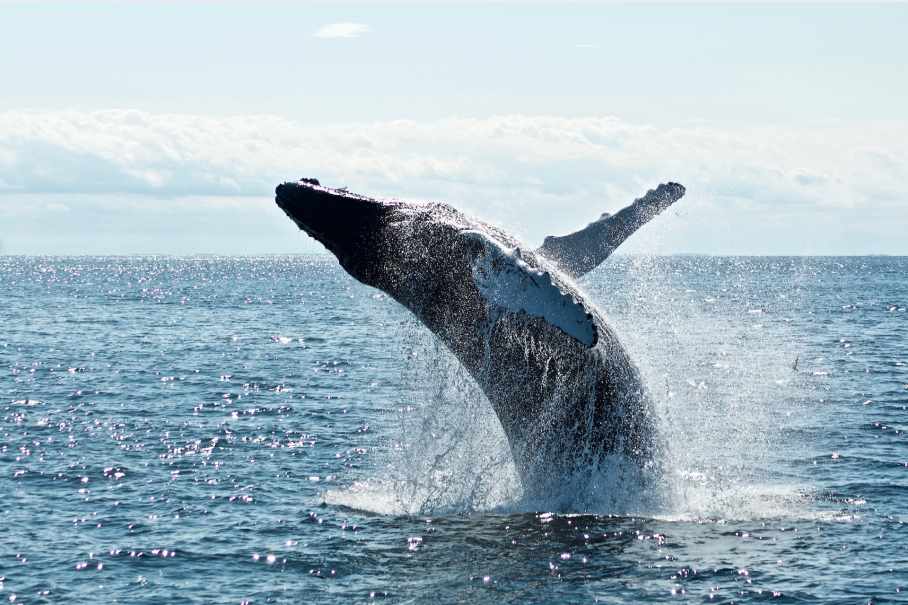 Outdoor activities
Iceland is a hub for outdoor activities, and visiting Iceland in August allows visitors to enjoy a huge range of exciting and adventurous excursions. Consider joining guided tours for glacier hiking, where you can explore magnificent ice formations that you won't see anywhere else.
Our favorite is Vatnajökull, which is the largest ice cap in Iceland. Take a boat trip at Jokulsarlon Glacier Lagoon to see the floating icebergs, Diamond Beach, and catch of glimpse of the seals. For another unique outdoor experience, check out the dormant Thrihnukagigur volcano, where you can actually descend into the magma chamber itself.
And for a once-in-a-lifetime activity that you can't do anywhere else, go snorkeling or diving in the Silfra Fissure at Thingvellir National Park. When you swim there, you'll be swimming right between the tectonic plates of North America and Europe.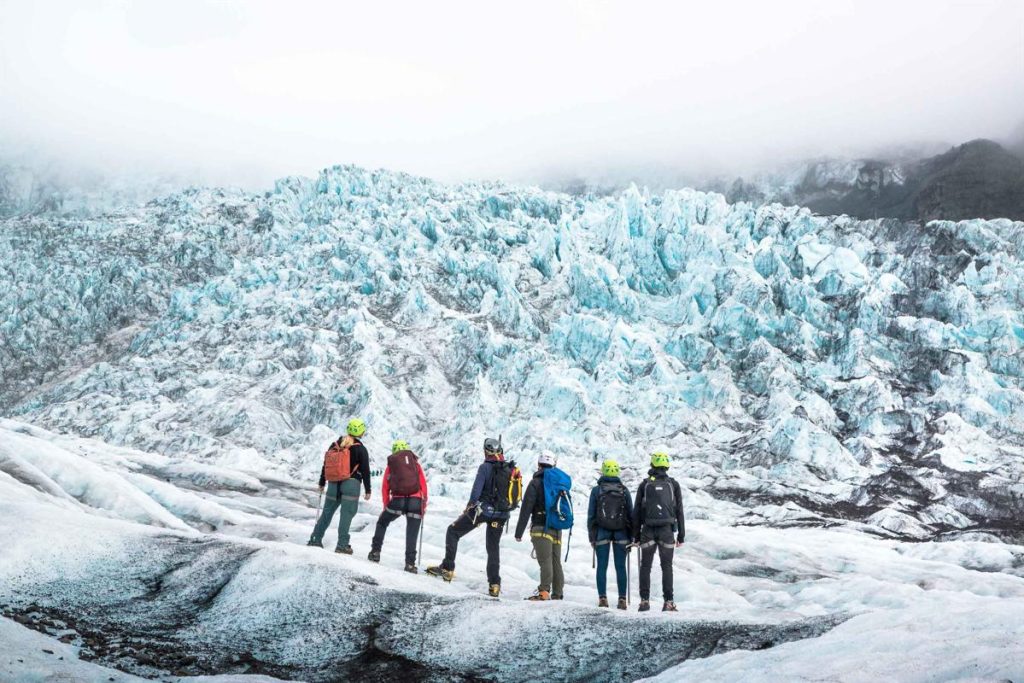 Self-drive road trip
August is the perfect time to take a road trip around Iceland's famous Ring Road. This scenic route covers approximately 1,332 kilometers (828 miles) and takes you through some of Iceland's most iconic sights, including Iceland waterfalls, glaciers, black sand beaches, and geothermal areas. Along the way, you can make stops at attractions such as Seljalandsfoss and Skogafoss waterfalls, the black sand beach of Reynisfjara, and the geothermal area of Myvatn.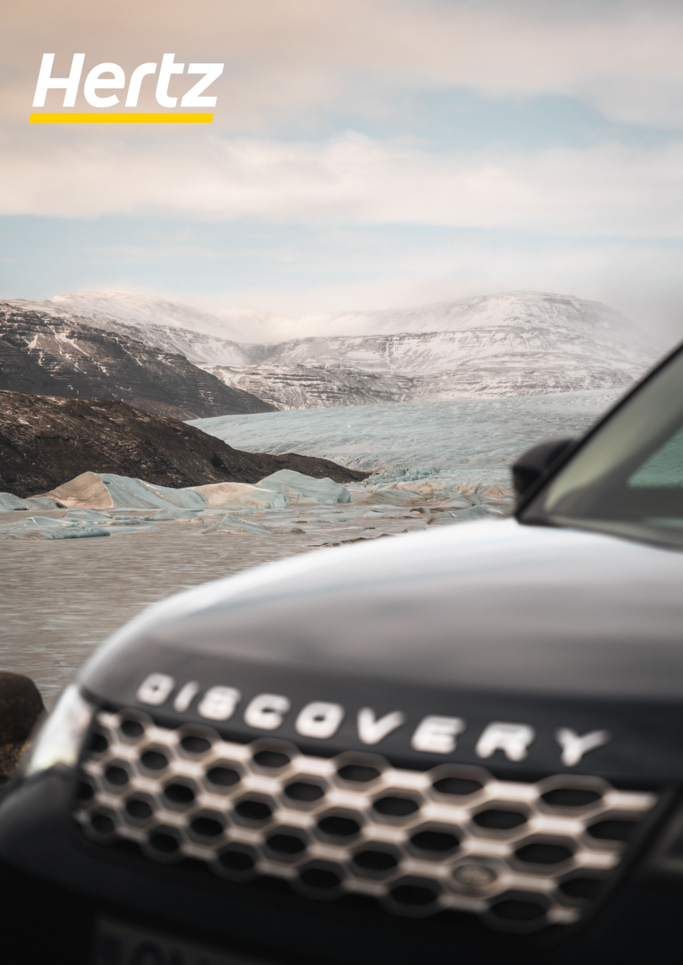 Camping
To truly immerse yourself in nature while traveling to Iceland, consider taking advantage of the numerous camping spots around the country. Camping in Iceland can be very comfortable during August, with its more comfortable temperatures, but still, make sure to bundle up and pack a good sleeping bag. Whether you choose to camp along the Ring Road or venture off the beaten path, camping allows you to experience Iceland's rugged beauty like no other.
You can camp in a tent, or rent a campervan to take your accommodation with you. Keep in mind that, you must camp in designated campsites as wild camping is not permitted.
But there are many campsites that cater to travelers, especially along the Ring Road. And you don't need to book these in advance. Simply show up and enjoy!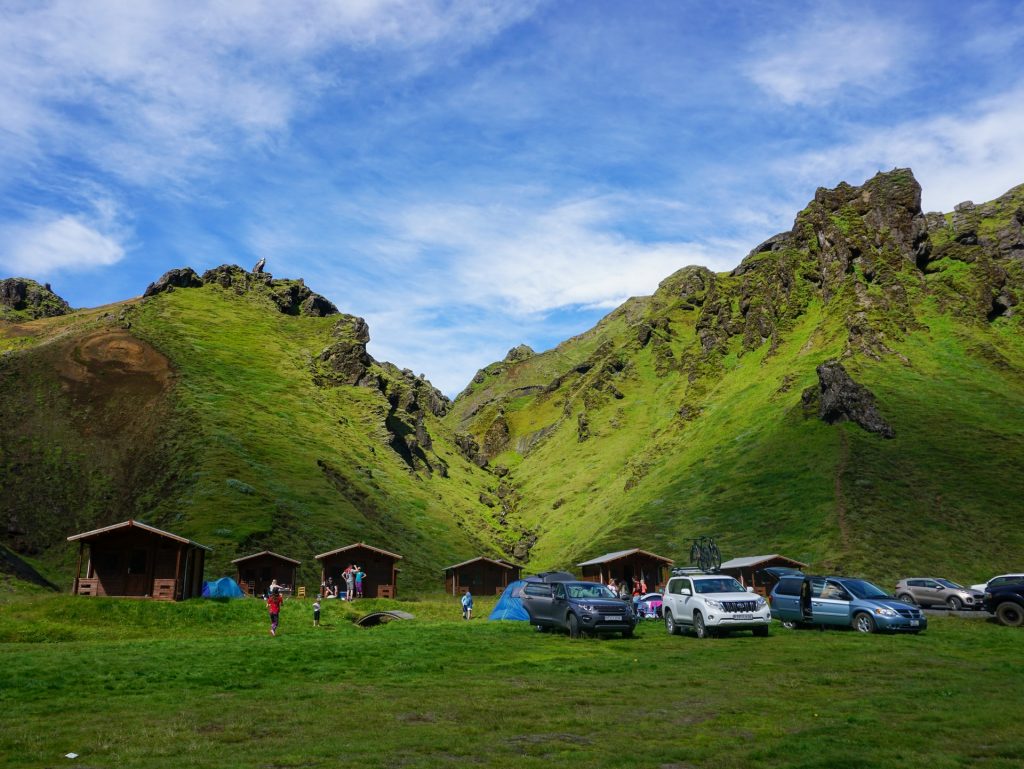 Festivals in Iceland in August
August in Iceland is filled with vibrant festivals and events that showcase the country's rich culture and traditions. Here are a few notable ones to check out when you're visiting Iceland in August:
Þjóðhátíð, camping festival in the Westman Islands
This camping festival, held in early August, is one of Iceland's largest (and oldest) outdoor music festivals. It features a unique blend of music, entertainment, and camping in the stunning Westman Islands with festivities lasting into the night. Expect a large traditional bonfire, Icelandic folk song sing-a-longs and lots of local food.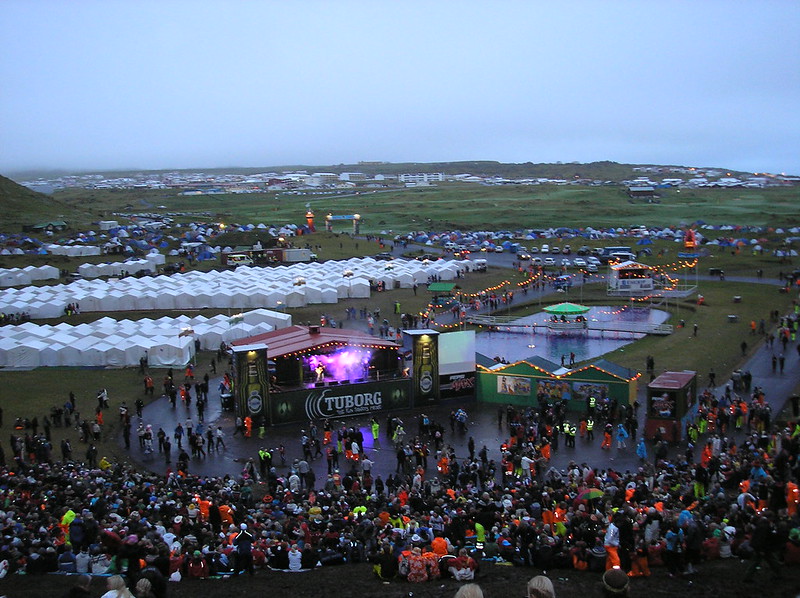 Photo from flicker user/Michele Bigi
Verslunarmannahelgi holiday weekend
This long weekend celebration, which usually falls in August, marks the end of the summer season. It's a time when Icelanders go on family vacations and come together for outdoor activities, music, and festivities. Camping and outdoor concerts are popular during this weekend, and you'll see many fireworks displays around the country.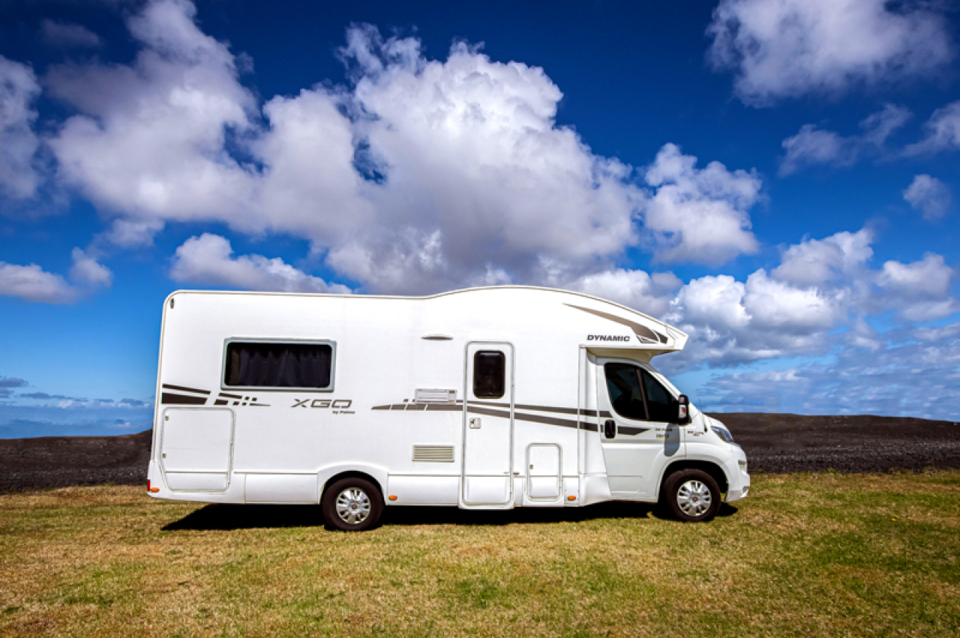 Menningarnott—Reykjavik Culture Night
Held in late August, Menningarnott (or Reykjavik Culture Night) celebrates Reykjavik's vibrant arts and cultural scene. The city comes alive with various performances, exhibitions, food stalls, and fireworks, providing a fun and engaging experience for locals and visitors alike.
The slogan for the event is "come on in" which pays homage to Icelandic hospitality. All the town events are free, and over 100,000 people come to experience the cultural events in museums, city squares, and out in the streets.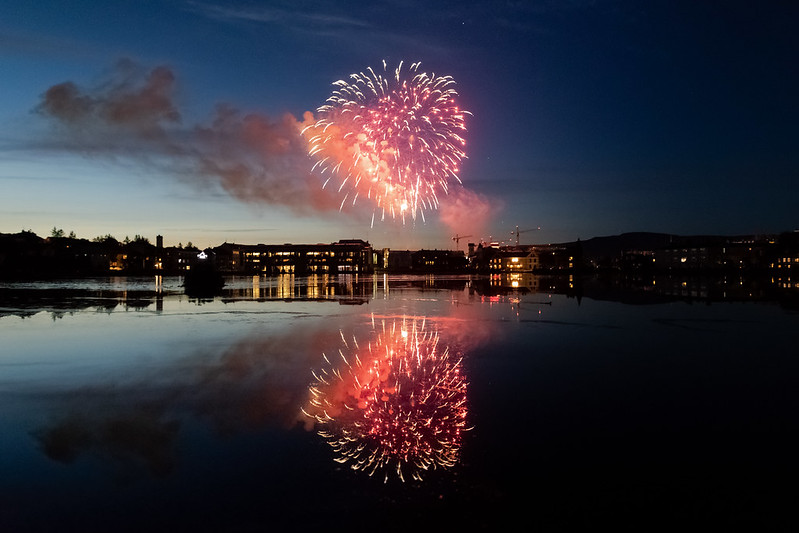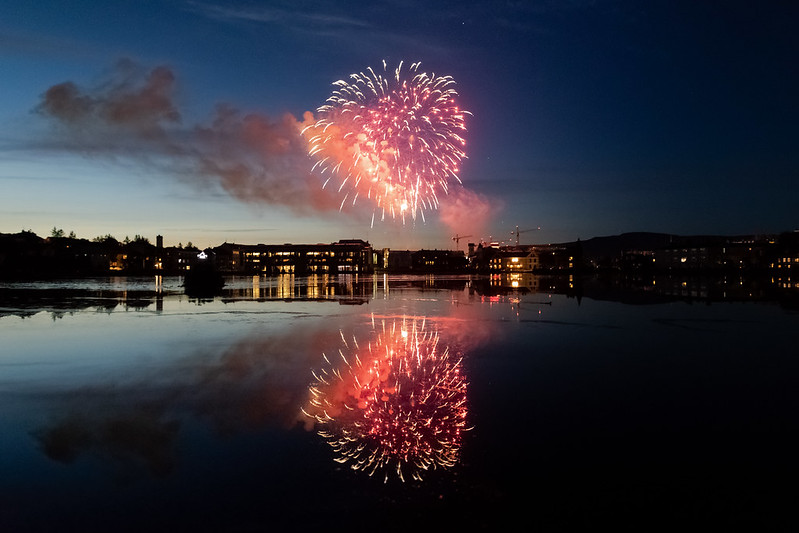 Photo from Flickr user/Finnur Malmquist
Fiskidagurinn mikli— the great fishing day
The Great Fish day is a yearly celebration in Dalvíkurbyggð, the Dalvik town located 44 km north of Akureyri. It takes place on the second Saturday of August and involves the participation of fish producers and community members from Dalvík.
They extend an invitation to visitors for a seafood buffet, which is available from 11:00 to 17:00 at the Dalvík harbor. The main objective of this kind gesture is to bring together a large number of individuals to sample fish and have a delightful day in Dalvík.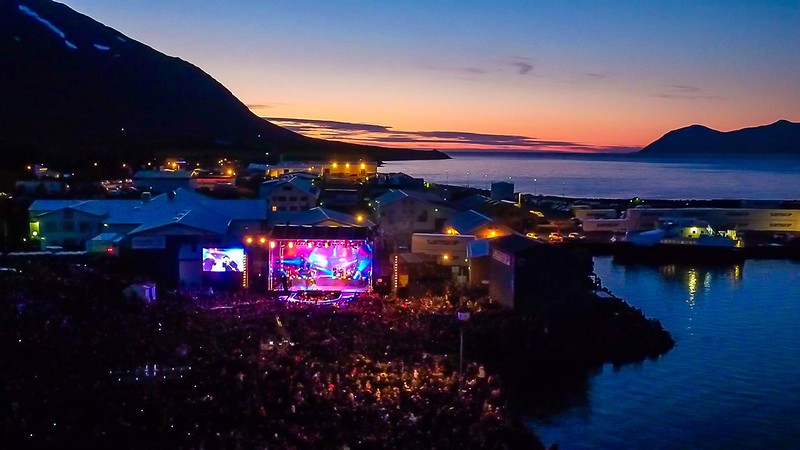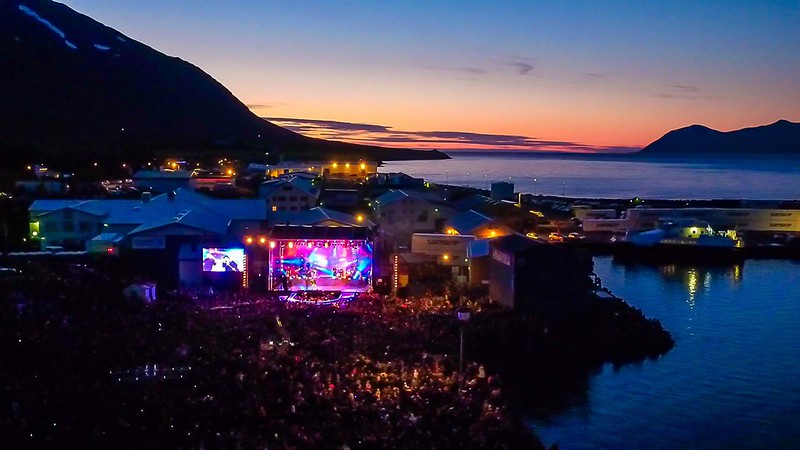 photo from Flickr user/ Axel Thorhallsson
Reykjavik Pride Festival
Celebrating diversity and LGBTQ+ rights, Reykjavik Pride is a week-long festival filled with colorful parades, concerts, parties, and cultural events. It takes place in early August, usually the second weekend of august, and brings together people from all over the world to support equality and inclusivity. The festival has been celebrated annually since 1999 and now brings in well over 100,000 visitors each year.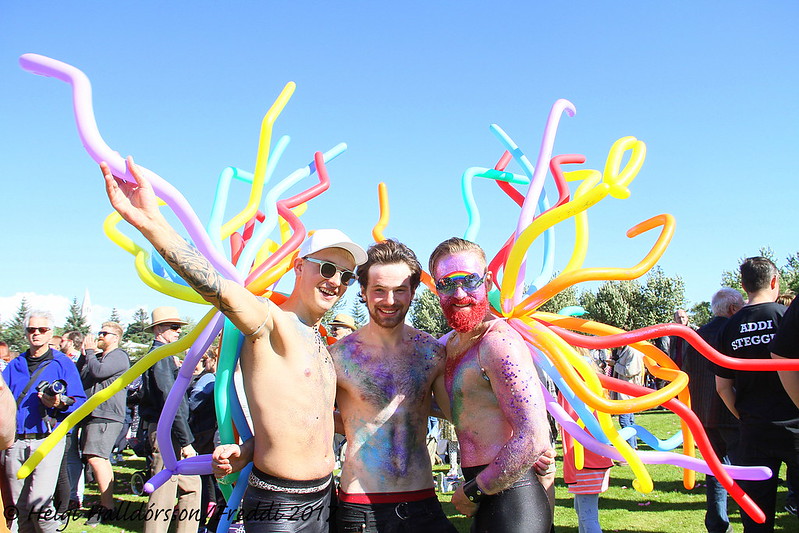 photo from flicker user/Helgi Halldórsson
Tips for traveling to Iceland in August
Before you book your trip to Iceland in August, here are some of our top tips for travelling during this month:
Make reservations early. Due to Iceland's increasing popularity as a tourist destination (especially in August) it's essential to make early reservations for rental cars, accommodations, and tours. This ensures availability and allows you to secure the best options for your trip.
Don't drive when you're tired. Despite the extended daylight hours, always prioritize rest and avoid driving when you're tired. Take frequent breaks and make sure to get enough rest so you stay alert and safe when driving.
Place your itinerary practically. While Iceland offers a huge rangeof attractions, it's important to plan your trip realistically. Consider the distances between destinations and allocate enough time to explore each location thoroughly. Don't rush through your itinerary, as you'll want to savor the beauty of each place you visit.
Travel with others. Traveling with friends or family not only enhances the overall experience but also helps in cost-sharing. Splitting expenses such as car rentals, accommodations, and meals can make your trip more affordable and enjoyable.
Explore beyond the Golden Circle. While the Golden Circle is a popular tourist route, don't limit yourself to just this area. August allows you to venture further and explore Iceland's breathtaking South Coast, Westfjords, and Westman Islands. These regions offer stunning landscapes, hidden gems, and a chance to experience Iceland's raw and untouched beauty.
Don't miss the hot springs. Iceland is famous for its geothermal activity, and visiting hot springs is a must-do experience. Take a dip in the iconic Iceland Blue Lagoon, unwind in the natural hot springs of the Myvatn area, or discover hidden local hot springs dotted throughout the countryside. Remember to follow proper etiquette and guidelines when enjoying these natural geothermal wonders.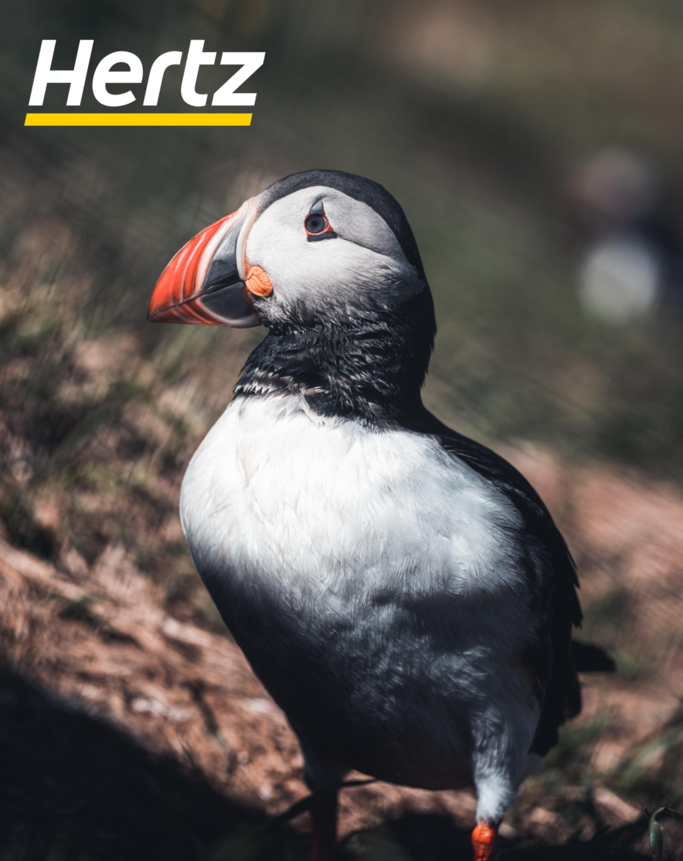 Start your adventure to Iceland in August
Visiting Iceland in August presents the unique opportunity to immerse yourself in its awe-inspiring landscapes, take part in thrilling outdoor adventures, and experience vibrant cultural events. From the long daylight hours and mild weather to the festivals and diverse attractions, Iceland in August is amazing.
To make the most of your trip, rent a car with Hertz Iceland to find the perfect vehicle to suit your needs. Whether you're taking a short trip around the Golden Circle, or driving through the F-roads to camp in the Westfjords, Hertz has the perfect vehicle for your group.
Having the freedom to navigate at your own pace is essential to have a fulfilling experience in Iceland. Make sure to book your rental car online and in advance, since summer is the busiest time of year. So, pack your bags, prepare for an incredible journey, and let Iceland's natural wonders and cultural charm captivate you.