Rent a cheap car for your Iceland vacation
Looking for a reliable economy rental car? Hertz Iceland is your go-to. Embark on an affordable Icelandic adventure with our top-notch economy car rental in Iceland, tailor-made for budget travellers looking to maximize their experience. Perfect for navigating the paved roads of Iceland in summer, our range of economical vehicles ensures a reliable and cost-effective solution for your journey, whether it's a brief stopover or an extensive exploration.
Hertz Iceland offers a wide selection of 2WD and 4WD economy rental cars in automatic and manual transmission. Regardless of whether you are looking for a city car like 2WD Toyota Aygo, a mini 4WD SUV like Suzuki Jimny, or an environmentally friendly option like Volkswagen e-Up, you can always find the vehicle fitting your needs.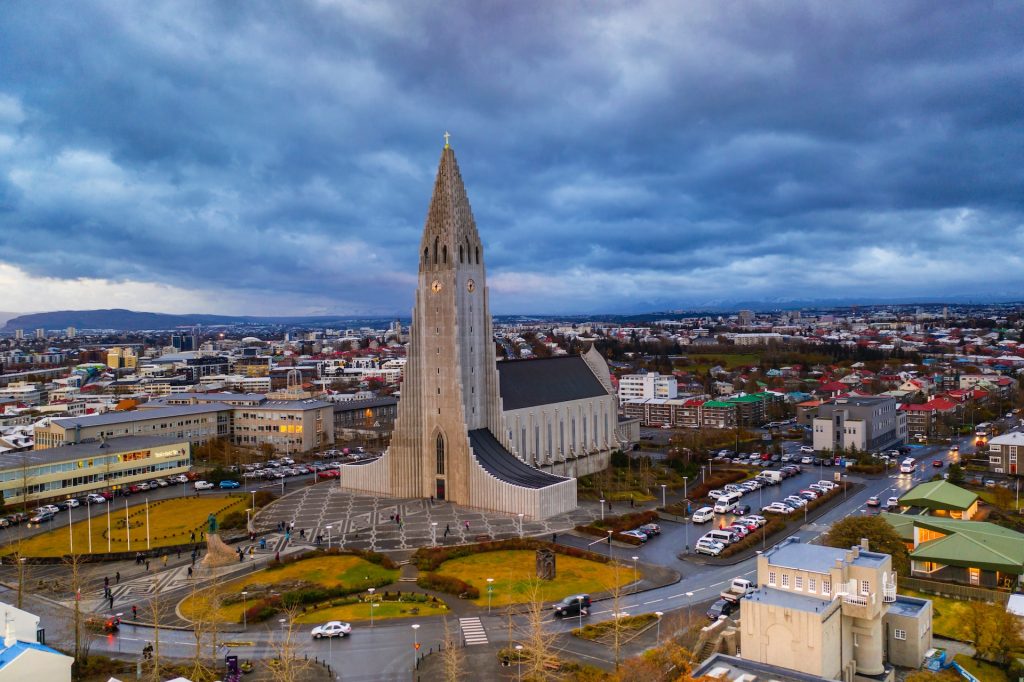 Why renting a cheap economy small car with Hertz Iceland?

Cost-Effective Travel:
By renting a small economy car with Hertz Iceland, you can enjoy significant cost savings without compromising on your travel experience. Our cheap rental rates for economy cars allow you to allocate more of your budget towards other aspects of your trip, such as accommodations, activities, and dining experiences. Experience the beauty of Iceland while staying within your budget with our affordable small economy cars.

Excellent Fuel Efficiency:
Iceland's diverse landscapes beckon travelers to explore its stunning natural wonders, from cascading waterfalls to black sand beaches. Our small economy cars are designed with excellent fuel efficiency in mind, allowing you to cover more ground and maximize your sightseeing opportunities. With lower fuel consumption, you can spend less on petrol and have more resources to make the most of your Icelandic adventure.

Easy Maneuverability and Parking:
Iceland's roads often present unique challenges, including narrow streets in towns and crowded parking lots near popular attractions. Our small economy cars offer easy maneuverability, making navigating tight spaces a breeze. You'll have the confidence to explore charming towns, park in small designated spaces, and access hidden gems that larger vehicles may struggle to reach. Enjoy the convenience of hassle-free parking with our compact rental cars.

Perfect for Solo Travelers and Small Groups up to 3:
Whether you're embarking on a solo adventure or traveling with a small group of friends, our small economy cars provide the perfect solution. With comfortable seating for up to four passengers, these compact vehicles offer a practical and cost-effective option for exploring Iceland. Experience the freedom of independent travel or enjoy intimate group journeys while staying within your budget.

Reliable and Well-Maintained Vehicles:
At Hertz Iceland, we pride ourselves on providing reliable and well-maintained vehicles for all our customers. Our small economy cars undergo regular maintenance and inspections to ensure they meet the highest standards of performance and safety. Rent with confidence, knowing that you'll have a reliable and efficient vehicle to accompany you on your Icelandic road trip.
Rent your cheap economy car with Hertz Iceland, pick it up from the KEF airport arrivals hall or any of our rental offices around Iceland. Book your vehicle today by choosing a date.
Iceland economy rental car FAQ
What are economy cars?
Economy cars are cost-effective, compact vehicles available for rent in Iceland. They offer excellent fuel efficiency, making them a smart choice for city driving and travel on main roads during the warmer months.
Why should I rent an economy car in Iceland?
Choosing an economy car for your Icelandic adventure is a budget-friendly option, providing you with a reliable and fuel-efficient mode of transportation to explore the stunning landscapes and attractions of the country.
Are economy cars suitable for driving on the Icelandic Ring Road or driving around Iceland?
While economy cars are perfect for city driving in Reykjavik and navigating main paved roads during summer months, we recommend opting for a 4×4 vehicle if your journey includes gravel roads or visiting Iceland in Winter to ensure a safe and comfortable travel experience.
Are economy cars suitable for Icelandic winter road conditions?
Economy cars are best suited for travel during milder Icelandic weather conditions between late May and early September. For winter travel, when roads can be icy and snow-covered, we advise renting a 4×4 vehicle to ensure your safety and enhance your driving experience.
Can I drive in the highlands or on F-roads with an economy car in Iceland?
Driving in the Highlands with a two-wheel drive economy car is against Icelandic law, as these areas require a vehicle that can handle challenging and rough terrains. However, at Hertz Iceland Car Rental, we have an exception in our economy car category – the Suzuki Jimny. This robust and reliable car is permitted on F-roads, making it a suitable option for those looking to explore the Highlands while adhering to local driving regulations.
What tyres do economy cars have at Hertz Iceland?
Our economy cars are fitted with the appropriate tyres for the season – winter tyres from November through April and summer tyres for the remaining months, ensuring your safe travel across Iceland.
Are economy cars safe for Iceland road trip?
Absolutely, economy cars provide a safe and dependable option for driving along Iceland's paved roads under normal weather conditions.
Rates include
Unlimited Mileage, Collision Damage Waiver (CDW) & vat.