Rent a Camper or Motorhome in Iceland
Rent a camper van with Hertz Iceland this summer, travel the island in freedom and enjoy your most cost-effective trip. As you might already know, summer is the best season in Iceland throughout the year.
Best time to self-drive with campers in Iceland
It has the warmest months of the year; all roads are open for tourists and locals to explore; most outdoor activities are available; it is also the only season to see puffins. The nice weather, accessibility around the country, and the possibility to experience nature make summer the peak season for travelling to Iceland. In other words, travelling to Iceland in summer could be pretty expensive.
If you want to visit Iceland in its best season but avoid overspending on accommodation and transportation, renting a camper van would be your best solution. By combining rental cars with housing, hiring campers in Iceland can always ensure you can stay overnight at any campsite whenever you want, giving you all the freedom in travelling and driving.
Experience the Magic of the Midnight Sun with a camper in Iceland
Summer in Iceland means long daylight hours, thanks to the phenomenon known as the midnight sun. Renting a camper van allows you to fully embrace this magical experience. Imagine driving along Iceland's scenic routes, surrounded by breathtaking landscapes, even in the late evening hours. With a camper van, you can easily adapt your schedule to take advantage of the extended daylight and witness the beauty of Iceland around the clock.
A chance to Camp in Scenic Locations
Iceland's natural beauty is best enjoyed by immersing yourself in its stunning landscapes. With a camper van, you have the opportunity to camp in some of the most scenic campsite locations the country has to offer. Wake up to breathtaking views, whether it's by a picturesque waterfall, beside a tranquil lake, or with panoramic vistas of majestic mountains. Renting a camper van allows you to truly connect with nature and create unforgettable camping experiences.
Convenience and Comfort on the Iceland Road with a camper
Hertz Iceland's well-maintained and new camper vans provide all the necessary amenities for a comfortable journey. Each van is equipped with sleeping facilities, a kitchenette, and bathroom facilities, giving you the convenience of a mobile home on the road. Enjoy the freedom of cooking your meals, having a cozy place to sleep, and access to essential facilities, allowing you to focus on enjoying your Icelandic adventure.
Embrace the Spirit of Adventure
Renting a camper van is synonymous with embracing the spirit of adventure. With Hertz Iceland's reliable and well-maintained fleet, you can embark on your summer journey with peace of mind. Campervans provide the flexibility to venture off the beaten path, explore remote areas, and discover Iceland's hidden treasures. Experience the thrill of spontaneity and the joy of waking up to a new and exciting destination daily.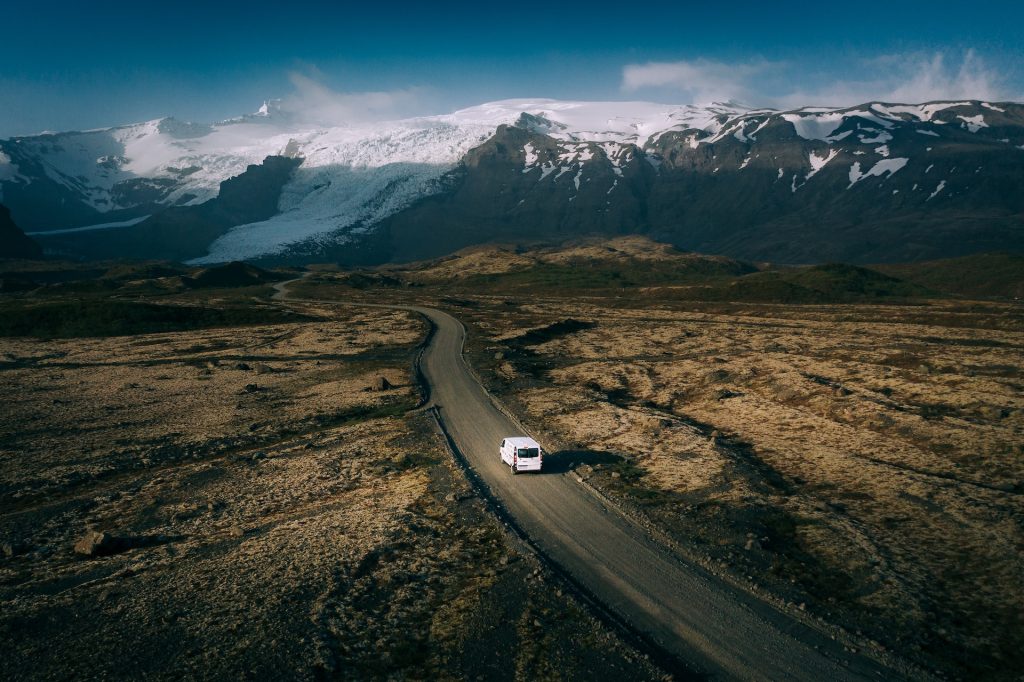 Rent a 4WD or 2WD camper van in Iceland
At Hertz Iceland, we offer three types of campers and motorhomes for rent, 2WD VW Caddy Beach Campers that can sleep two; 4WD Toyota Hilux Camper that can sleep three and a motorhome that can sleep four.
All our campers are fully equipped and with various extra options to rent or buy. Whether you are travelling with your loved one or your kids, you can always find the camper van that suits you the best with Hertz Iceland.
Hire your camper with Hertz Iceland today, get a high-quality car with the best service in town.
Please note: Our camper and motorhome can only be rented from Keflavík International Airport
The minimum rental period for all vehicles is 3 rental days
All vehicles are leased and handed over by our staff that is specially trained and knowledgeable about how all vehicle features and options work. If you have any questions about renting or driving the camper, please do not hesitate to get in touch. We are happy to assist anytime.
P.S. If you wonder how to operate and use the Hilux Camper and Motorhome before renting the car, you can refer to our Iceland Hilux camper user manual and Iceland motorhome user manual for more information.
Rental rate and extra of renting a camper with Hertz
Rates wth Hertz Iceland include
Unlimited Mileage, Collision Damage Waiver & vat.
Please note: Optional items for camper and motorhomes can only be booked by emailing hertz@hertz.is. If you would like to book any optional items with your rental campervan or motorhome, please complete booking your vehicle before sending us the optional items you would like to add to your booking. Please refers to THE EXTRA FOR CAMPERS PRICE LIST and learn more about the rental or purchase price for each equipment.
Feel free to send us an email or call our customer service centre if you have any questions. We are happy to assist at all times.