Before starting your unforgettable self-drive road trip with the best rental car in Iceland, the one thing you are sure will be visiting (not the waterfalls, glaciers or volcanoes) is the gas stations. Regardless of what vehicle you are renting, getting the right fuel at the right time and place is essential.
Here, we have gathered all practical information about gas stations, car refills and charging your EV/PHEV in Iceland. We will include where the gas stations around Iceland, approximate fuel prices in Iceland, how to use the self-service gas pump, how to pay for the gasoline refill, and where you can re-charge your EV/PHEV during your self-drive trip in Iceland.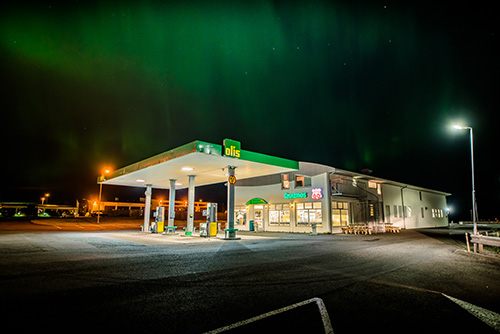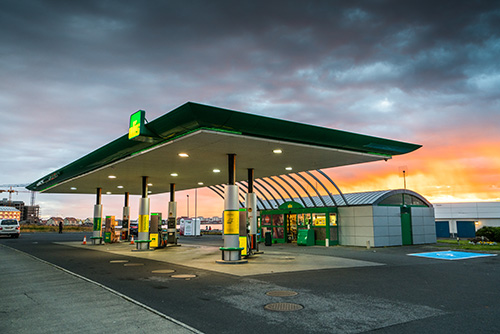 How much is the fuel in Iceland?
Iceland's gasoline price is just like the gas price in every other country; it varifies time by time. Looking at the data of the past 25 years, the lowest gasoline prices were at approximately 1.2 USD/Liter, and the highest was at about 2.6 USD/Liter. In early 2023, the average fuel price is 2.3 USD/Liter.
For the most updated average gasoline price in Iceland, you can check it on this website; if you want to plan ahead for your Iceland road trip and know precisely how much it costs to refill your tank(both diesel and gasoline) in different parts of Iceland, for example in the Reykjavik capital area, the south coast, Noth Iceland and so on, this Iceland gas stations fuel price website will be your little sidekick.
Where are the gas stations in Iceland?
There are four main fuel companies in Iceland; they are N1, Orkan, ÓB+Olís (they belong to the same cooperation) and Atlantsolía. N1 is the biggest fuel company with the most gas stations around Iceland, followed by Orkan, ÓB+Olís and Atlantsolía. There are also a small number of independent gas pumps that you can find in some towns and villages outside of the greater Reykjavik capital region. And if you are wondering, yes, Iceland does have ONE and only one Costco gas station located in Iceland's capital area. If you do have a Costco membership card, it is not a bad idea to bring it with you and tank up your car before returning your car to the KEF international airport, as Costco has (most likely) the cheapest fuel in Iceland at all times.

You can be 100% sure that you can find gas stations in all cities, towns and villages. Only in the greater Reykjavik capital region alone can you find over 80 gas stations and gas pumps scattered in the residential area. If you will travel along Route 1 Ring Road, it is also easy to find gas stations or self-serviced gas pumps along the way, and you will find them all within a 100 km distance apart from each other. For the remote areas like Westfjords, East fjords and North fjords, you will only be able to find the gas pumps inside the towns. If you do have a plan to visit these remote areas, paying attention to your fuel level and refilling your tank when you can is the best way to approach your itinerary.
The ONLY part in Iceland with absolutely NO gas pumps available will be the Icelandic highland area, which is only accessible during summer with a 4WD Jeep via F-roads.
Map of Iceland gas stations
The cheapest gas stations in Iceland
As mentioned previously, the cheapest place to fill your tank in Iceland is Costco. Sadly, we only have one Costco in Iceland located close to Hafnarfjörður town in the greater Reykjavik capital area. You can only go to Costco for refilling when you are close to Reykjavik.
So, where could you get cheaper fuel on your Icelandic road trip? Orkan is currently offering the cheapest fuel among the Icelandic local fuel companies, followed by ÓB and Atlantsolía.
N1 and Olís are costlier than the others. BUT N1 and Olis offer a lot more than only fuel. In many of their bigger fuel stations, you can also find canteens that offer cheaper hot food, snacks, ice cream and coffee. You can often buy other essentials for your road trip in those bigger stores (some even sell gloves, shuffles, jackets and such. If you want to save some money on lunches or dinner, it is a good idea to check out the gas stations on your way to the hotel or other accommodations.
Money-saving tips when you refill your gas in Iceland gas stations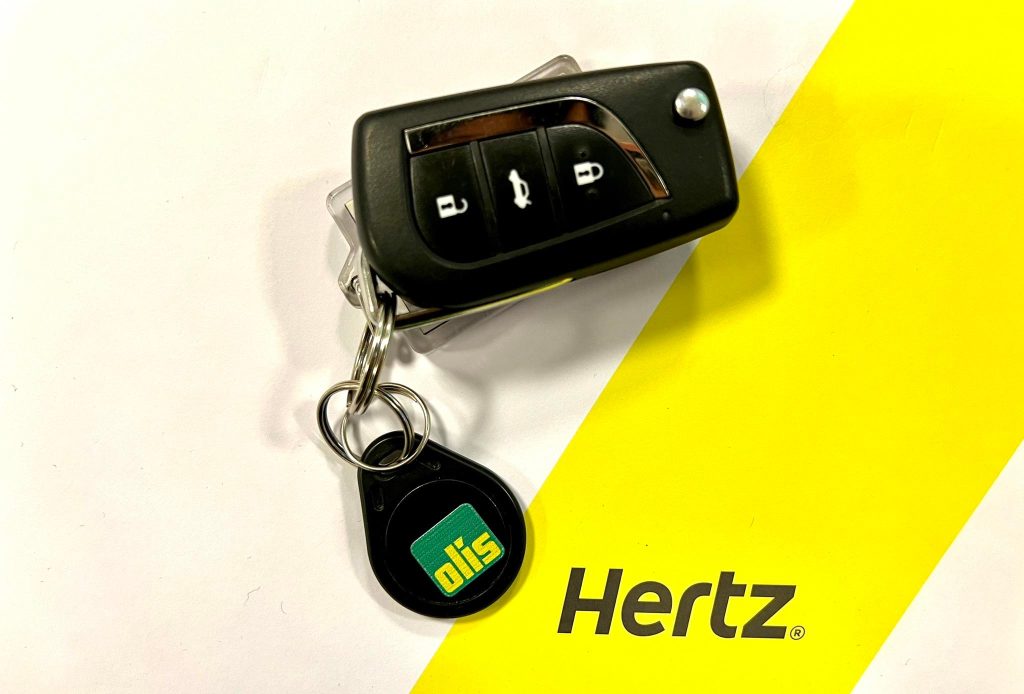 If you are renting with Hertz Iceland, you are in luck! You will find a little keychain attached with the olis+ob logo on every rental car from us, just like the one in the photo. If you go to the OB or Olis gas stations and use this keychain at the gas pump sensor, you can get a little discount on refilling your tank.

If you are unsure how to use the discount keychain on the pump, do not hesitate to ask the staff at the gas stations. We're sure they are more than happy to help you with it.
How to use the self-service gas pump? How to pay? What credit is accepted?
When stopping at a full-service petrol station in Iceland, most of the time, you have to fill up your car using the pump. Beware of the colour of the pumps. In most cases, a green handle is for petrol (gas, with an Icelandic word: bensín), and a black handle is for diesel (with an Icelandic word: Dísil).
Double or triple-check before refilling your tank to ensure you get the correct fuel for your rental car. In case of any incorrect fuel filled, you will need to bring the vehicle to a service centre and drain the fuel tank. All costs will be on you, and it will be expensive. So be careful.
Payment method at Icelandic gas station
You will need a credit or debit card with a 4-digit PIN to fill up your cars. This is important to note, as some credit cards will only have a postcode to enter. Check with your card company before visiting Iceland to be sure you can pay for the gas with these machines.
INSIDER TIPS: When you refill, if you choose the Fill-Up or Full-tank option at the pump, it triggers the machine to make a hold of about 15,000 ISK to 20,000 ISK (depending on the company policy), approx 100 to 140 EUR on your inserted card. The on-hold amount should be released immediately, but this can sometimes be delayed. You can select a set amount to avoid having this hold amount from your card.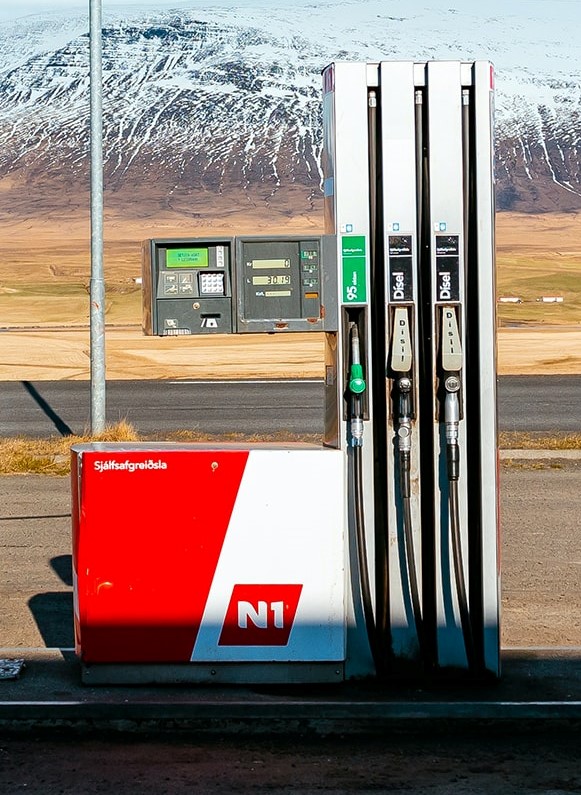 Charging your electric vehicle or PHEV at the gas stations in Iceland
There are charging stations all around the country. If you are driving along route 1 Ring road, the stations could be easily found along the way. If you plan to visit a remote part of Iceland, for example, Westfjords or Eastfjords area, you need to be careful about your car's battery level. There might not be charging stations available in the smaller villages or towns in those areas.
Iceland has two main eclectic car charger providers: ON (Orka náttúrunnar) and Ísorka. Both of them support vehicle recharge via smartphone apps. You can download the English ON app and English Ísorka app before you arrive in Iceland. Both apps support features like finding charging stations, paying with the app and checking the charger status (occupied/ available).
If you are renting a Tesla in Iceland, it can be charged at 200+ Recharge charging points found across the island, alongside 7 Tesla Supercharger points.
If you are renting a PHEV or EV or Tesla in Iceland with us, the questions of where you can charge the vehicle, how to charge it, and what you can do to save some money by making the car more fuel efficient might come to your mind right away. Here we have put together all the useful information about driving a PHEV/ EV and the Tesla in Iceland for you. We highly recommend you read over these detailed guides and familiarize yourself with EV and PHEV charging and operation before visiting Iceland:
Refilling your car in Iceland
Now you have all the know-how on how to get your car filled in Iceland during your road trip. Just one last tip for you: always check your vehicle's fuel level and get it filled when you pass by some gas stations on the way so that you will not be anxious about not having enough fuel all the time!
Have a nice journey, and make some good memories out there on the Icelandic roads! Be safe, and be happy!