Car rental in Reykjavik airport (RKV)
Reykjavik airport, also named Reykjavik city airport, is one of Iceland's four 'international' airports. It is located in Reykjavik city centre, next to the city attraction Perlan museum and Reykjavik university. Even tho it is labelled as the international airport, the only international flight that arrives and departs from this city airport is the flights between Iceland and Greenland Kulusuk. It mainly serves as a domestic airport with frequent flights between the north Iceland Akureyri, east Iceland Egilsstaðir and the Westfjords Bíldudalur.
It is very often that international travellers confuse this city airport with the Keflavik International airport (KEF), which is around 40 minutes from Reykjavik. If you are flying into Iceland on an international flight from Europe, America, Asia or elsewhere, please make sure you rent your car in Iceland from the correct airport.
PLEASE NOTE: RVK Domestic airport is served by Hertz Reykjavík Downtown location (address: Flugvallarvegi 5), and it serves ONLY domestic flights.
If you are arriving on a domestic flight, PLEASE kindly provide us with your domestic flight number when you make your reservation.
If no flight number is provided, our Hertz Downtown team cannot meet and greet you at the RKV domestic airport when you arrive. Sorry for the inconvenience.
Please call us if you have not provided your domestic flight number but have already arrived at the RVK airport; we can pick you up from the RVK airport.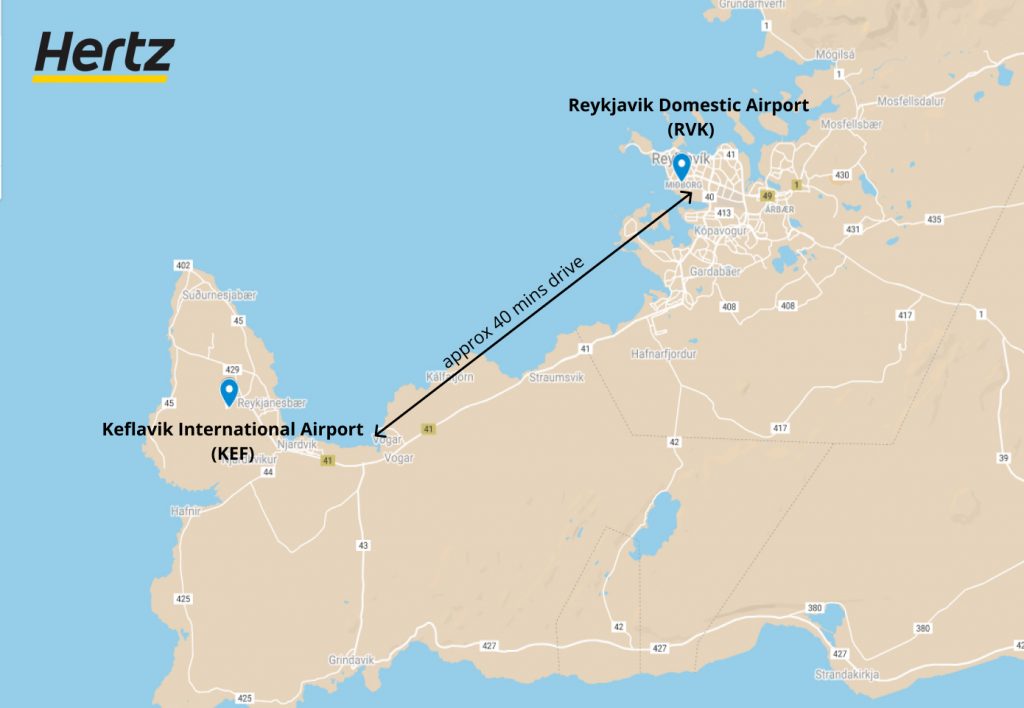 Even if you see this ⬇ at your departure airport in US/UK or other European countries, your flight will land at Keflavik international airport (KEF). So please double-check your landing airport before renting your car from the RKV domestic airport.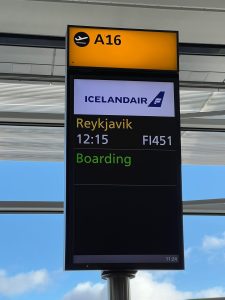 Our cars for rent in the Reykjavik airport location
Hertz Iceland car rental offers an extensive range of vehicles to suit your travel needs. 2WD/4WD, automatic/manual small, medium and large passenger cars, SUVs, vans, campers and minibuses, all of which are available at great rates. You can find all types of available vehicles at our Reykjavik airport station from the list below.
When picking up a car from Hertz Iceland, you will need:
your confirmed reservation email with the booking number
Valid Driving License(in Roman script) held at least 1 year
(if your driving license is not in Roman script) you also need an International driving license
to meet the minimum age requirement according to the rental car you booked
valid credit card (HCC Card, American Express, Mastercard or Visa) with the main driver (a.k.a car renter) on it
* We DO NOT take any deposit when renting out a car. The credit card information is held only for security purposes
We offer a ZERO excess rental car coverage package at our RKV airport rental desk. If you would like to maximize your rental car's protection level, you can ask any of our station staff when picking up your vehicle.
We strongly advise you to read our rental requirements and Car protection coverages and Extras: items and price list before renting a car with Hertz Iceland.
Tips for renting a car at Reykjavik city airport
Book in advance is highly recommended(ideally 3 months in advance): rental cars are in high demand in Iceland, especially during the busiest summer months(from June to August). Early reservation can ensure you rent the vehicle you desire at a relatively lower price. The closer to the rental date, the higher the rental price.
Rent a car according to your itinerary: for longer trips or trips in winter, a bigger 4×4 SUV is recommended; for shorter trips or trips in summer, a 2WD small car is suitable for smaller groups.
A 4WD car is compulsory for F-roads: if your itinerary involves highland areas or using any F roads, you must rent a 4WD vehicle according to Icelandic law. Please make sure you plan your route before visiting Iceland