Fuel-efficient, capable of handling Icelandic road conditions all-year-round, cheap in the rental price are terms that could well describe our 4×4 Dacia Duster. If you are looking for a cheap 4WD rental car in Iceland, Dacia Duster will be the vehicle you would not want to miss.
The Dacia Duster is one of our fleet's most popular intermediate 4WD vehicles. Welcome by the adventures around the world, the Dacia Duster is a car that could offer high performance with its 4×4 capability and keep the rental price at a relatively affordable range. Whether you plan to go on an adventure to the Iceland highland with F-roads, drive around the island in winter, or just go on a regular 5-day self-driving trip and visit the most famous Iceland attractions, the Dacia Duster can always offer what you want.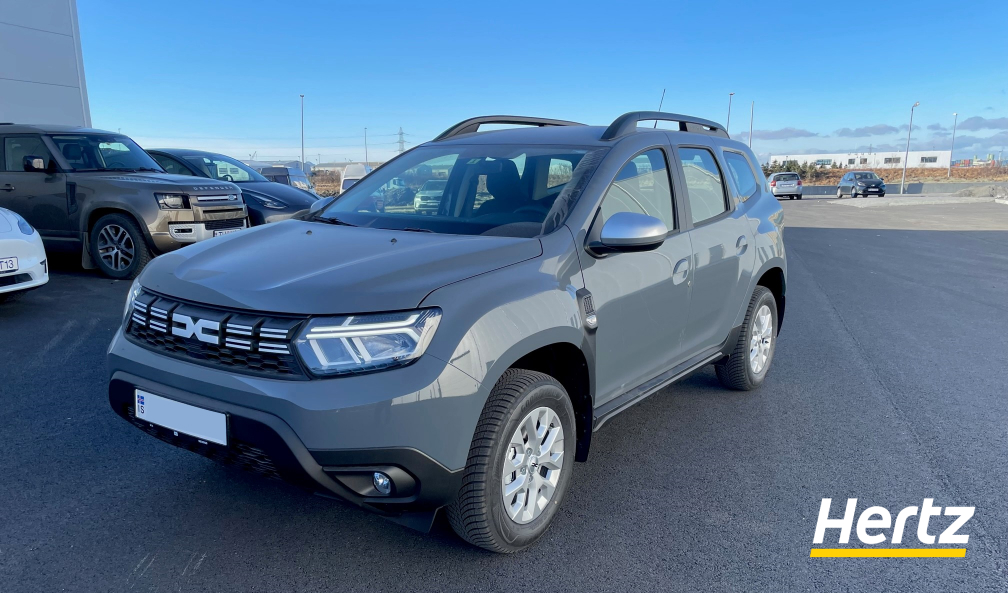 Why rent a Dacia Duster for an Iceland road trip?
The Dacia Duster is a vehicle known for its robustness, affordability, and off-road prowess. As a 4×4 manual SUV, it is the perfect companion for your adventures in the stunning landscapes of Iceland. The Duster's notable features include:
Powerful and Reliable 4×4 System: Dacia Duster comes equipped with a sturdy and competent 4×4 system, making it capable of tackling a variety of challenging terrains.
Fuel Efficiency: Despite its 4×4 capability, the Duster is renowned for its impressive fuel economy, ensuring your travels are both affordable and eco-friendly.
Spacious Interior: With a roomy cabin and ample trunk space, the Duster comfortably accommodates up to 5 passengers and their luggage.
Manual Transmission: The manual gearbox of the Duster not only provides engaging driving but also offers better control in demanding off-road conditions.
Robust Engine: It's powered by a reliable engine that performs exceptionally well, ensuring a smooth and powerful ride no matter where you're headed.
Comfortable Ride: The Duster offers a smooth and comfortable ride, even on uneven terrain, ensuring maximum comfort during long journeys.
Advanced Safety Features: It is equipped with modern safety features such as ABS, ESP, and multiple airbags, keeping you and your passengers secure throughout your journey.
Modern Infotainment System: The Duster's infotainment system provides all the modern amenities like navigation, Bluetooth connectivity, and audio system to make your travel entertaining.
Heating System: Given Iceland's cold climate, the efficient heating system of the Duster ensures your comfort throughout the journey.
Whether you plan on traversing the rugged highlands, journeying through the dramatic lava fields, or exploring the serene coastal roads, the Dacia Duster is the vehicle for you. Affordable, reliable, and built for adventure, this 4×4 is the perfect companion for your Icelandic journey.
Start planning your adventure now and experience the enchanting beauty of Iceland in a Dacia Duster. Choose Hertz Iceland for your car rental needs. We assure you an experience filled with convenience, quality, and unforgettable memories.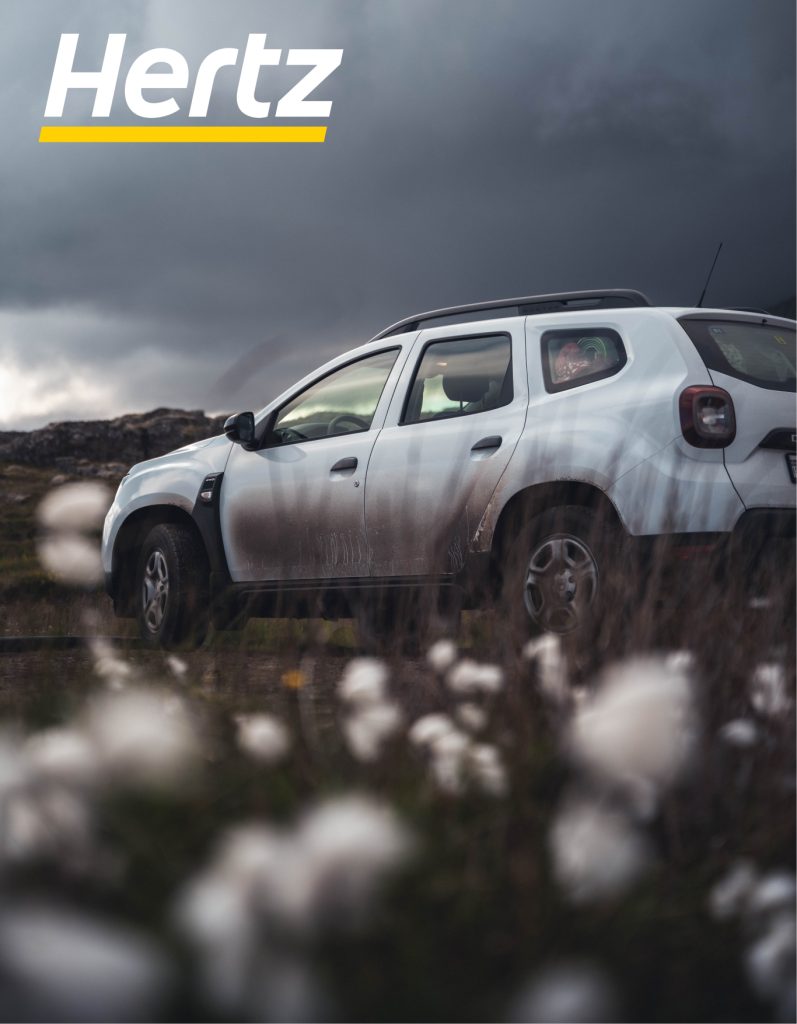 Where can you drive the Dacia Duster?
With the 4×4 Dacia Duster, you can visit most of the Iceland attractions around the country, including:
Blue Lagoon
Reykjavik
Golden Circle
The Ring Road (Route 1)
South Coast
East Iceland (Egilsstaðir and villages nearby)
North Iceland (Akureyri and towns, villages nearby)
West Iceland (Snæfellsnes peninsular and Westfjords area)
Icelandic highland area (when F-roads are open to the public during summer time)
What road condition can the Dacia DUster handle?
Our Land Rover Defender can provide a seamless driving experience on all different types of roads in Iceland, including:
Paved roads (main roads, highways, Ring Road and city roads)
Gravel roads
F-roads (Iceland mountain roads) when they are open in Iceland summer
icy and snowy roads in wintertime
What is included in the rental price?
Free cancellation (Up to 16 days before)
24/7 Emergency Phone Support
Discount on fuel
Collision Damage Waiver (CDW)
Third-Party Insurance
Unlimited Mileage/KM
VAT
Why rent a car in Iceland with Hertz Iceland?
We have 13 rental stations around the country, including Keflavik international airport, Reykjavik airport, Reykjavik downtown and Akureyri airport. You could easily pick up and drop off your rental car according to your travel plan. Not only with high flexibility and convenience in renting and returning cars, but we are also collaborating with car repair shops across Iceland. That means Hertz Iceland can assist you regardless of where you are and when you need help.
We only offer high-quality new rental cars to our guests. Get your vehicle at the airport arrivals hall and start your Iceland road adventure the way you like.
Basic rental requirements for Dacia Duster
You must be 23 years of age to drive this vehicle.
A valid credit card in the main renter's name is required to reserve and rent the vehicle.
The driver must present a valid driving license held for a minimum of one year at the time of rental.
An International Driving Permit (IDP) / International Driving License (IDL) is also required if your national driving license is not in Roman script.
Driving restriction
This vehicle is ALLOWED in the highlands F-roads. Please read our Terms & Conditions carefully before driving the car into Icelandic highland areas.
Please Note
Reservations are made by car category only. We cannot guarantee a specific car model.
More car features are listed below.Get more information about our car coverages and Extras, detailed rental requirements by clicking the links.