Land Rover Defender Rental Iceland: Brand new Defender 110
Experience the thrill of Iceland's landscapes with our brand new 4WD Land Rover Defender 110 rental. As a modern, high-tech off-roader with unique curb appeal, this full-size luxury SUV is your perfect companion for a stress-free journey around the island.
Key features of the new Land Rover Defender include:
Powerful Engine: Capable of handling various Icelandic roads and weather conditions.
Spacious Interior: Comfortably accommodates five people and can carry four pieces of luggage simultaneously.
Eco-Friendly: The interior is decorated with the leather-free material Resist, resulting in a lower carbon footprint than leather alternatives.
Latest Technology and Safety Assistance: Equipped with the latest technology and safety features, ensuring a seamless and safe Icelandic road trip.
The Land Rover Defender is an excellent 4WD rental car option for Iceland, capable of handling F-roads (mountain roads), rough Icelandic terrain, and gravel roads alike. However, please remember that off-road driving is illegal in Iceland, and you should always stay on the road.
No matter the season or month of your Iceland trip, the Land Rover Defender stands out as one of the best rental car options. With its powerful engine, spacious and eco-friendly interior, and the latest safety features, you can enjoy your Icelandic road trip with peace of mind.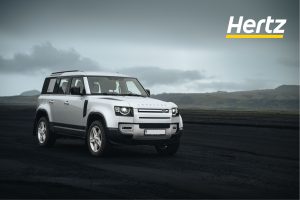 Where can you drive the Land Rover Defender?
With the Land Rover Defender, you can visit most of the Iceland attractions around the country, including:
Blue Lagoon

Reykjavik

Golden Circle

The Ring Road (Route 1)

South Coast

East Iceland (Egilsstaðir and villages nearby)

North Iceland (Akureyri and towns, villages nearby)

West Iceland (Snæfellsnes peninsular and Westfjords area)

Icelandic highland area (when F-roads are open to the public during summer time)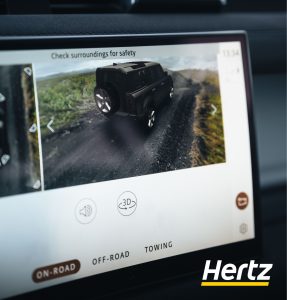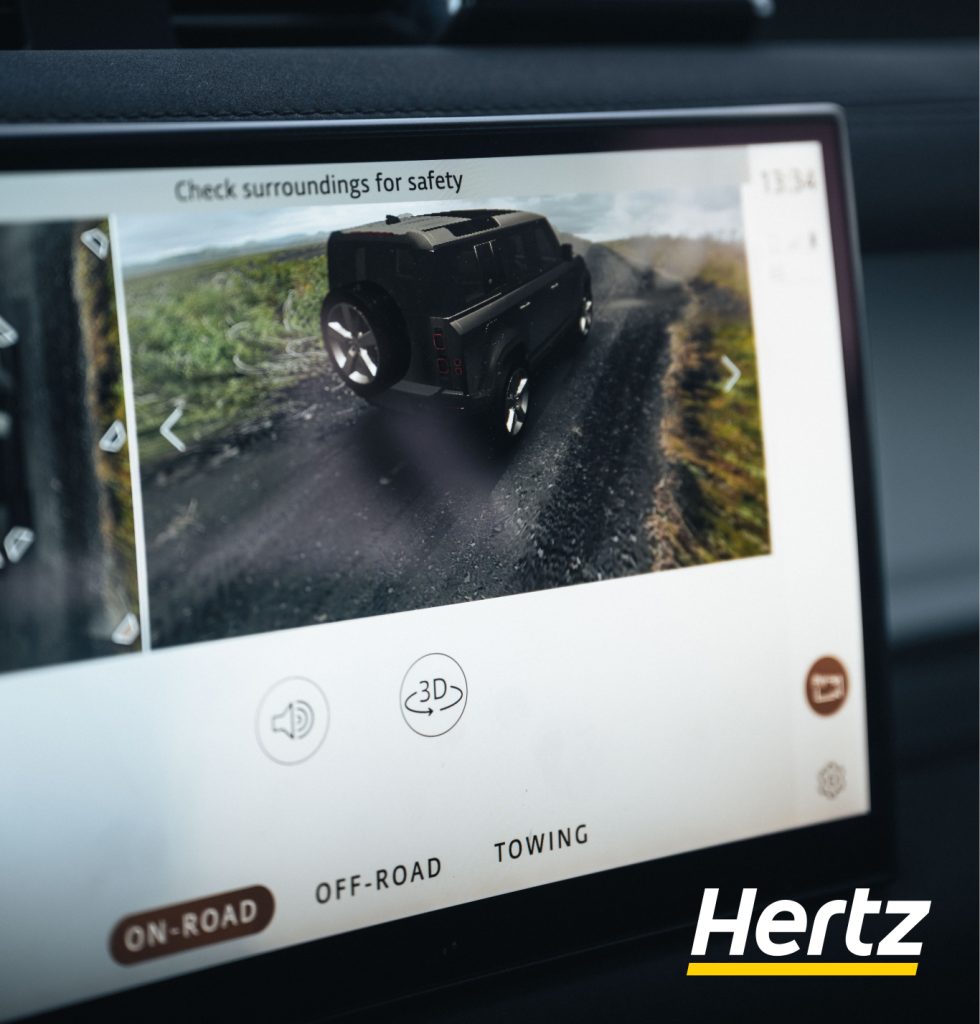 What road condition can the Land Rover Defender handle?
Our Land Rover Defender can provide a seamless driving experience on all different types of roads in Iceland, including:
Paved roads (main roads, highways, Ring Road and city roads)

Gravel roads

F-roads (Iceland mountain roads)

icy and snowy roads in wintertime
For renting the Land Rover Defender with us, you must be at least 25 years old and hold a driving license for at least one year.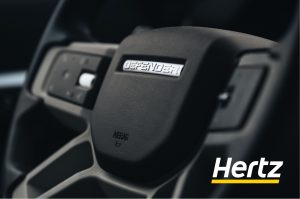 What is included in the rental price?
Free cancellation (Up to 16 days before)

24/7 Emergency Support

Discount on fuel

Collision Damage Waiver (CDW)

Third-Party Insurance

Unlimited Mileage/KM

VAT
Why rent a car in Iceland with Hertz Iceland?
We have 13 rental stations around the country, including Keflavik international airport, Reykjavik airport, Reykjavik downtown and Akureyri airport. You could easily pick up and drop off your rental car according to your travel plan. Not only with high flexibility and convenience in renting and returning cars, but we are also collaborating with car repair shops across Iceland. That means Hertz Iceland can assist you regardless of where you are and when you need help.
We only offer high-quality new rental cars to our guests. Get your vehicle at the airport arrivals hall and start your Iceland road adventure the way you like.
Rent your automatic gear transmission Land Rover Defender today by choosing a date.
Basic rental requirements for Land Rover Defender
You must be 25 years of age to drive this vehicle.
A valid credit card in the main renter's name is required to reserve and rent the vehicle.
The driver must present a valid driving license held for a minimum of one year at the time of rental.
An International Driving Permit (IDP) / International Driving License (IDL) is also required if your national driving license is not in Roman script.
Driving restriction
This vehicle is ALLOWED in the highlands F-roads. Please read our Terms & Conditions carefully before driving the car into Icelandic highland areas.
Please Note
Reservations are made by car category only. We cannot guarantee a specific car model.
More car features are listed below.Get more information about ourcar coverages and Extras, detailed rental requirements by clicking the links.