Here you can find all the rental requirements and our cancellation policy when renting your car with Hertz Iceland:
Do you need an International driver's license to rent a car in Iceland?
No, if you have held a driving license with ENGLISH info. If you hold a driving license, for example, from the EU/EEA countries, the U.S., Canada, or any Asia country printed with English information, you can rent a car from us directly with your VALID license.
If your driving license does not have any English information, then you will need to apply for an international driver's license or provide a notarized translation of your driving license.
You will need to present the original copy of your driving licence when renting with us; We do not accept virtual driving licenses for rental.
Please note: If your driving license is not categorised according to the IDP (International Driving Permit), for example, a driving license issued by the Hong Kong SAR government, we recommend you apply for an International driver's license to drive and rent a car in Iceland.
Driver's License: Minimum years held, and international driving license
The driver must present a valid driver's licence held for a minimum of one year at the time of rental. An International Driving Permit (IDP) / International Driving License (IDL) is also required if your national driver's licence is not in English/Roman script. We highly recommend you get an international driving license with you if your license is not in English, in case the Icelandic police do not recognize the language of your national driving licence. International driving licences are recommended for translation purposes and may only be used in conjunction with a national driving licence. Renting 10-seater (9 passengers + driver) or more vehicles, driving licence D (Type D) is required.
Additional Driver / Operator, i.e. extra driver
The person named on the reservation booking must be the main driver, present at the time of rental and payer of any rental charges. Additional drivers are possible with a small daily fee for each additional driver. The charge for an additional driver serves to cover the second driver under the same agreement as the main driver.
Please be reminded that if an undeclared driver drives the car and has an accident, the insurance is automatically invalidated.
The driving licence requirement applied to the main driver is also applied to the second driver. For further information regarding the second driver's licence requirements, .please refer to the "Driver's licence" section.
The second driver is also expected to meet the minimum age requirement depending on the type of car renting. For further information regarding the second driver's minimum age requirements, please refer to "Iceland car rental minimum age and exceptions".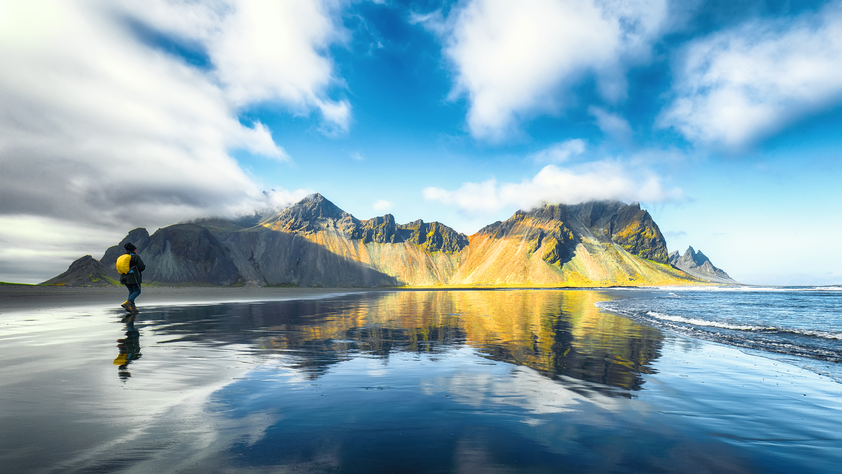 Car Insurances and coverage package in Iceland
By renting a car in Iceland with Hertz, some car insurances are already included with your rental (i.e. CDW, TPL). We also offer ranges of rental coverage packages at different price with different level of protection, please read our car protection coverages and extra price list for more information about the insurances details and prices. And you are also free to choose only reply on the travel insurances offered by your credit car company, if you find that is more convenient to you. It is not mandatory but highly recommend to get our MAX coverage package with ZERO excess online or at our rental desk.
How old to rent a car in Iceland? Minimum age and exceptions
The minimum age for rentals in Iceland is 20 years old for vehicle groups Economy, Compact, Compact Wagon, Intermediate 2 and 4 doors and Intermediate Wagon. For all other vehicle groups, the minimum age is 23 years old. For certain prestige/luxury cars, a 25-minimum age might be required. Please refers to the car description page for information about the exact age requirement of each car.
For further information, please contact our Reservation Center.
Do you need a credit card to rent a car in Iceland?
Yes, if you rent your car with Hertz Iceland, you must present a valid credit card to pick up your rental car. Please note we do not accept apple pay/google pay or other virtual credit cards.
Methods of Payment: A Credit Card is required, NOT virtual cards or apple/google pay
A credit card in the main driver's name is required for booking and renting the vehicle, regardless of where you reserved your rental vehicle with Hertz Iceland. However, you may opt to pay by other means at the termination of the rental, subject to specific terms and conditions being met.
Acceptable credit cards are H.C.C. card holders (booked via hertz.com) , American Express, Mastercard, and Visa. We DO NOT accept debit cards as a payment method. Sorry for the inconvenience. 
At the time of rental, authorization is obtained on your credit card based on the estimated rental charges. There must be sufficient credit on your card to cover all charges. i.e. we are NOT charging any deposit from your credit card, but obtaining authorization of a certain amount subjecting to your rental from the credit card you provided.
All online reservations will be charged as soon as the reservation is confirmed.
For further information, don't hesitate to get in touch with our Reservation Center.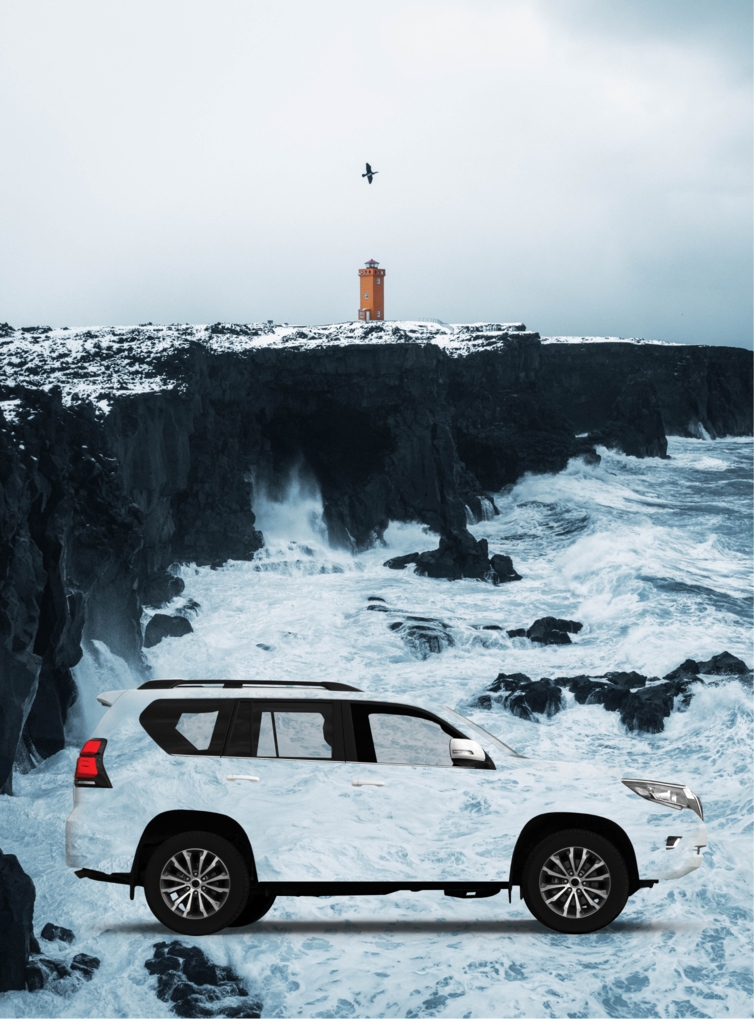 Driving Restrictions
Hertz 2WD vehicles are not allowed to be driven on roads marked F on official maps (i.e. F-roads, Icelandic mountain roads) and KJÖLUR, road nr. 35. and KALDIDALUR nr. 550.
Should these restrictions be ignored all waivers (Third Party Liability, CDW, TP, PAI), if accepted, shall be deemed null and void. The driver will be held fully responsible in case of accidents and will bear all consequences, including the cost of reparation of the damaged vehicle. For further information please contact the Reservation Center.
Please note: Off-road driving is illegal in Iceland. Please ONLY drive on marked roads and tracks at all times. If you drive off-roads, ALL car insurances and coverages you have on the rental car will be deemed null and void, the renter will be responsible for all car damages at full cost.
Please also be reminded that some plug-in hybrid 4×4 cars and electric 4WD cars in our fleet are NOT allowed on F-roads due to the battery position. Please check the rental car description and detail carefully before renting.
Airport Service Charge
An Iceland International airport Service Charge will apply to all rentals with pick-up at Keflavik International airport.
One-Way Rentals
One-way rentals are those customer starts the rental in one location and returns the vehicle to another. Availability is based on the location restrictions and the vehicle type being taken one-way.
One-Way fees
If the car is not returned at the same location as the pick-up took place, there will be added a One-Way fee.
Taxes
All rates are subject to a Government tax (VAT) at 24% and are included in all our rates.
Dropping off the car
Cars are not to be dropped off at hotels, they have to be returned to the rental location according to the agreement. If failed to do so Hertz will charge for the pickup and gasoline.
Opening hours
The car must be returned during office hours of the rental office you choose. Our opening hours can be viewed here.
Cancellation Policy and cancellation fees
You can enjoy a FREE cancellation up to 16 days before your rental time. Reservation that is cancelled more than:
16 days before – Free cancellation
15-8 days before – 40% of the total reservation value
7-2 days before – 50% of the total reservation value
1 day before – 80% of the total reservation value
No Show – 100% of the total reservation value
Vehicles reservation policy
Reservations are made by car category only. The vehicles shown in pricelists are only examples. We cannot guarantee a specific car model. Specific models within a car class may vary in availability and features, such as passenger seating, luggage capacity, and mileage.
Fuel
Hertz vehicles are rented with a full tank of petrol and therefore you are required to return your car with a full tank. A fuel and service charge will apply unless the car is returned with the same amount of fuel as when rented.
Please refers to our 'car protection and extra items and price list' page for more information about the price for extra driver/ equipment rental and the car insurance detail.
Hertz Iceland reserves the right to modify or amend its Terms of Service at any time without notice. Hertz Iceland also reserves the right of final decision on the interpretation of its Terms and Conditions.