Many of Iceland's greatest wonders are located are in remote locations on the island, and only reachable via F-roads. These mountain roads in Iceland are only open during summer, with the exact open time depending on the weather. This uncertainty is exactly what gives the F-roads in Iceland an air of mystery, perfect for those with an adventurous spirit.
So, what are the highland F-roads in Iceland? Are F-roads worth it and when do F-roads open in Iceland? While everyone loves a good mystery, this is the kind of road that needs prior preparation. If you want to learn more about the F-roads in Iceland, how to drive them and how to make the most out of them, then read on to find out everything you'll need to know.
---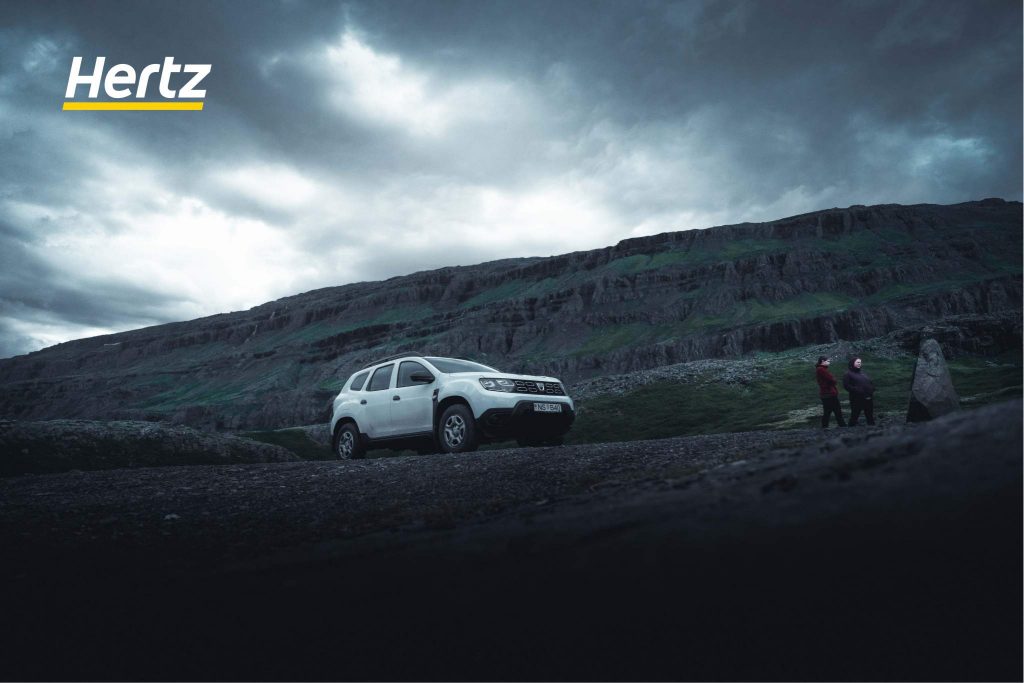 Table of content
---
What Are the Iceland F-Roads? What Are the Road Conditions?
F-roads are roads which enable you to access the highlands of Iceland and other mountain areas. They are called F-roads because they feature an "F" right before the road number. For instance, if you see a sign for F-208, this means that you are entering the F-road 208.
The "F" in F-road comes from the word "Fjalla," which in the Icelandic language translates into "mountain." These roads will take you through the untamed areas of Iceland, where you can see all its natural splendour and majesty.
Bear in mind that while the F-roads of Iceland can show you sights that you have never seen before, they are also "wild roads" which aren't always well maintained. This means that the roads can be rather dangerous if you do not prepare for them or do not visit at the right times.
F-roads are unpaved, and they are mostly filled with sand, gravel, and stone. In some cases, an F-road might take you straight through a river – and you won't even have a bridge to go over. Your car will be the one to do the "swimming". This is why F-roads are only recommended for skilled drivers that can handle the Iceland F-road conditions.
F-Roads Iceland Map
Whenever you're going 'off-road' with F-roads, it is recommended to have a map with you to keep you on the route. We have prepared the highland F-Roads Iceland map for you to use.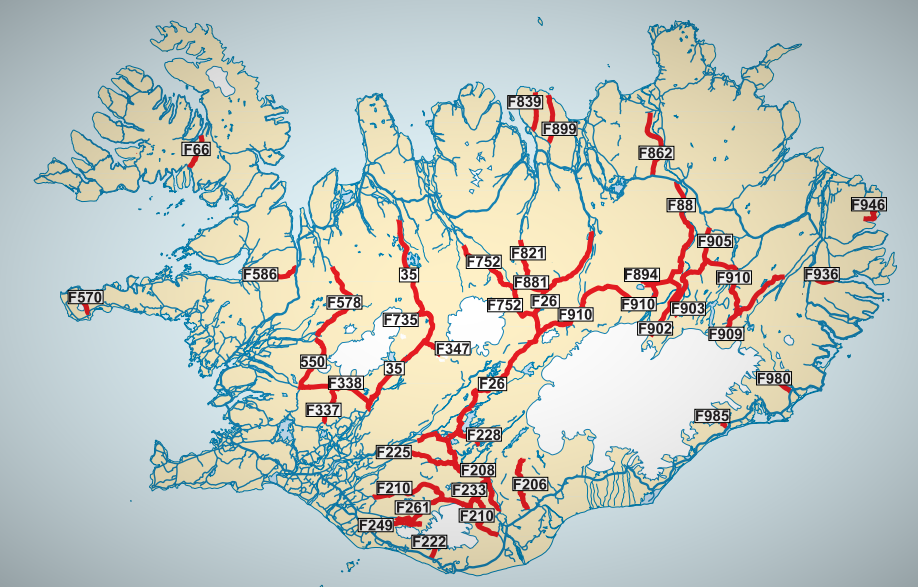 When Do F-Roads Open and Close?
Part of the F-roads' beauty is that you can't always be certain when they open or when they close. Very often, it will depend on how safe the road is during a specific time of year. For instance, if snow is still expected or certain road conditions might make them dangerous, then the roads may remain closed – even if technically speaking, they were supposed to be open.
Estimated Opening of mountain roads(F-roads)in Iceland Timetable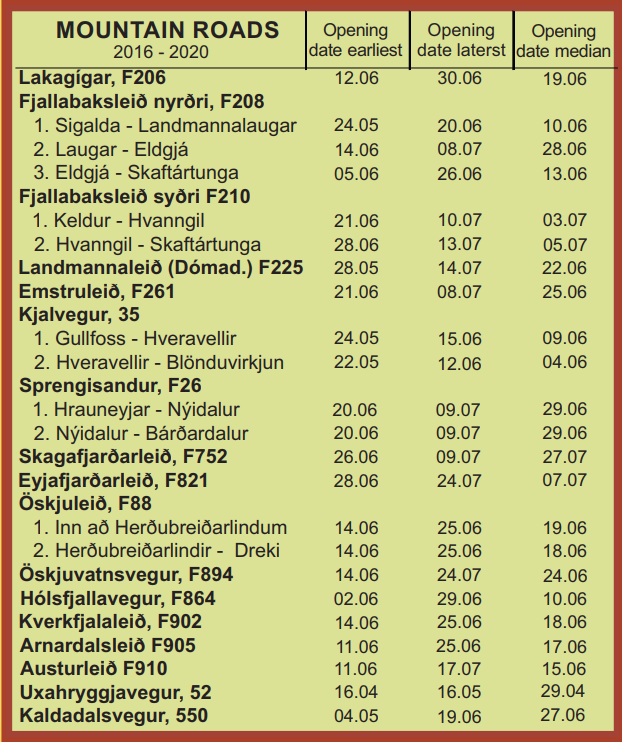 For the most part, the Icelandic Road and Coastal Administration will provide a seasonal timeline for when the F-roads Iceland open and close. Usually, this will happen in June, but the weather will still play a big factor in there.
For instance, if winter decides to overstay, then there is a good chance the opening might be delayed to July or mind July. The same applies to F roads closing time: if the weather remains good for longer, the average closing time might also extend to September or rarely early October.
It's always smart to keep an eye on what the Icelandic Road and Coastal Administration says about the road conditions during the time of your trip. You may usually find that sort of information here.
Best Time to Drive on F-roads. Are Winter F-Road Trips Possible?
You may only visit the highlands during the summer, as F-roads Iceland winter trips are not permitted for the average adventurers. At that point, the roads will be closed, so you won't be able to drive yourself through the highlands. On average, the best time to visit would be July, as you get plenty of sunshine and enough warmth, but that also depends on the moods of Mother Nature.
Winter visits are possible too – but only if you go with a guided tour conducted by a licensed operator driving a well-equipped 4×4 super jeep. If you have no such license or do not want to go on a local tour, you will not be able to enter the F-roads – no matter if you have a properly-equipped car.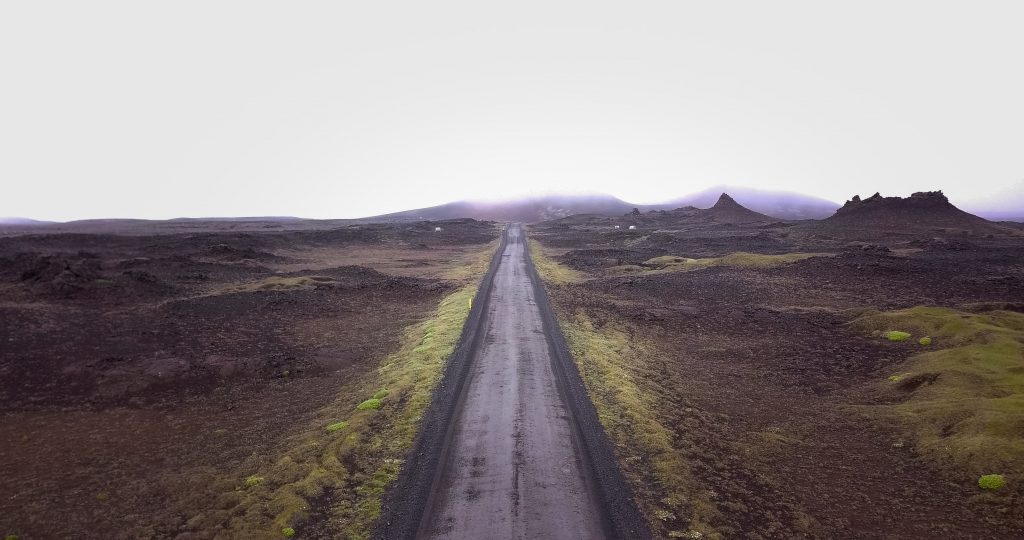 What Car Will You Need for F-Roads?
Iceland has a law that says you can only drive through the F-roads if you have a 4×4 car. However, even if you do not have a jeep yourself, there are plenty of ways for you to get an Iceland F-road car rental. These vehicles are a necessity, and the most recommended type is a 4WD raised Jeep.
It is advised that if you are not confident in your driving skills, or if you don't have much experience in driving 4×4 Jeeps, you should not try to adventure yourself on the F-roads in Iceland. Go for a local tour instead for example the cheapLandmannalaugar bus tour,Þórsmörk super jeep tour, as they are much cheaper.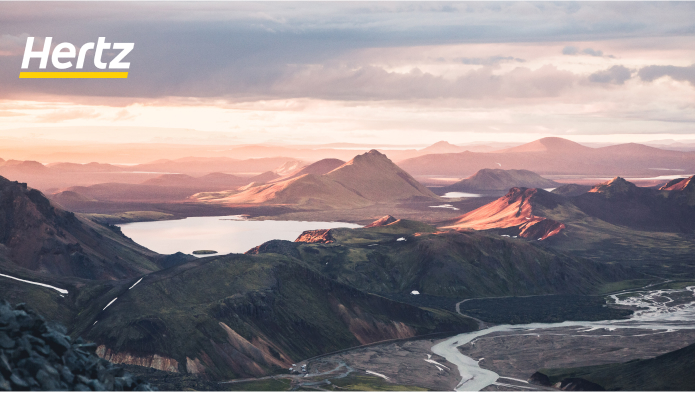 If it's not your first time riding a 4×4, then you might want to consider checking out the Hertz 4×4 car list. They can suggest a few choices for driving through the F-roads Iceland.
We also have a few recommendations that you can try out, based on your needs and your personal preferences:
1. Affordable Car Rental
You may rent the 4×4 Suzuki Jimmy if you are looking for a lower rental price. Bear in mind that this car may not be suitable for every road on the highlands, and it might have a few limitations when crossing rivers. Often, it will depend on the river flow for that particular time. A similar good alternative would be the 4WD Dacia Duster, as there are many Dacia Duster Iceland F-roads that you may take.
2. Passenger and Luggage Space
If you don't mind paying a regular rental price in exchange for more passenger and luggage space, then we recommend theKia Sportage automatic or the Kia Sportage manual vehicle. These are often great options for those who want to visit the Iceland F-roads as a family looking for adventure.
3. Full-Sized Vehicle
If you want the full package, then the Toyota RAV4 is typically a good choice. It has a powerful engine that can handle the rough terrains of the Iceland highlands, as well as plenty of passenger and luggage space.
4. Luxury Choice
If you want to drive in style, then we recommend you take the Land Cruiser. It is the supreme 4WD car to take on the highlands, and it is also highly trusted by the locals.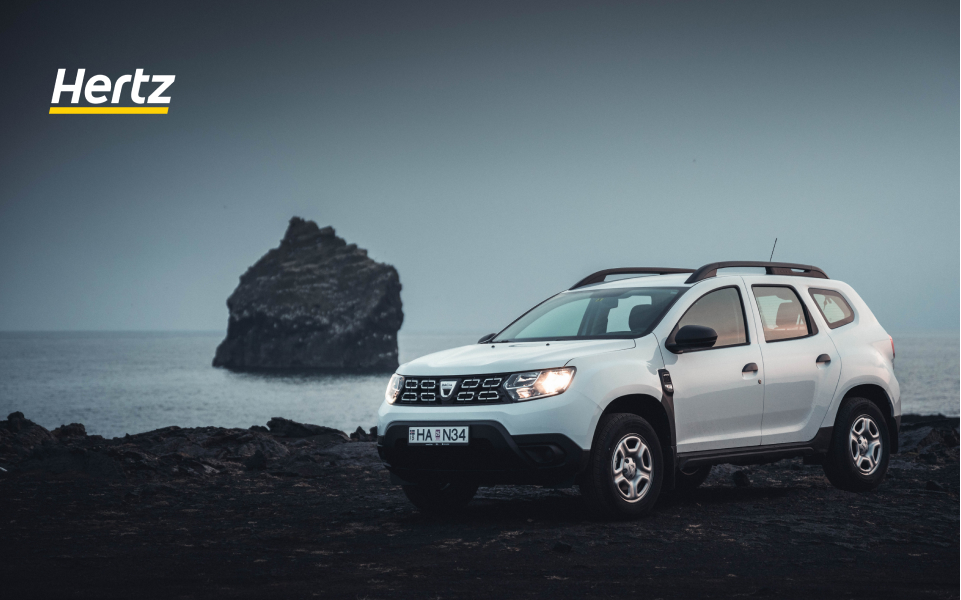 How to Drive F-Roads? Top Tips to Consider
Driving through the F-roads Iceland can be rather tricky, so you need to be well-prepared. Here are some tips to keep in mind as you are trying to maneuver your way through the Icelandic roads.
1. Travel in Groups
When driving on F-roads, it's recommended to travel in groups – and by this, we mean using more than one car. These friends will be your most robust backup and instant help force if you need help.
2. Keep Slow and Steady
When driving on F-roads Iceland, keep a slow and steady pace. There may be multiple sharp turns or blind spots along with loose gravel and rocky one-lane bridges, so you need to be extremely careful on the road.
3. Don't Rely On Insurance
You may be tempted to get an F-road car rental, but you should also remember that some types of damage are not covered by insurance. For instance, if the under-carriage of your 4×4 gets damaged by trying to cross over a water body, your insurance won't be of any help. You'll be held fully responsible for trying to cross over dangerous surfaces in the first place.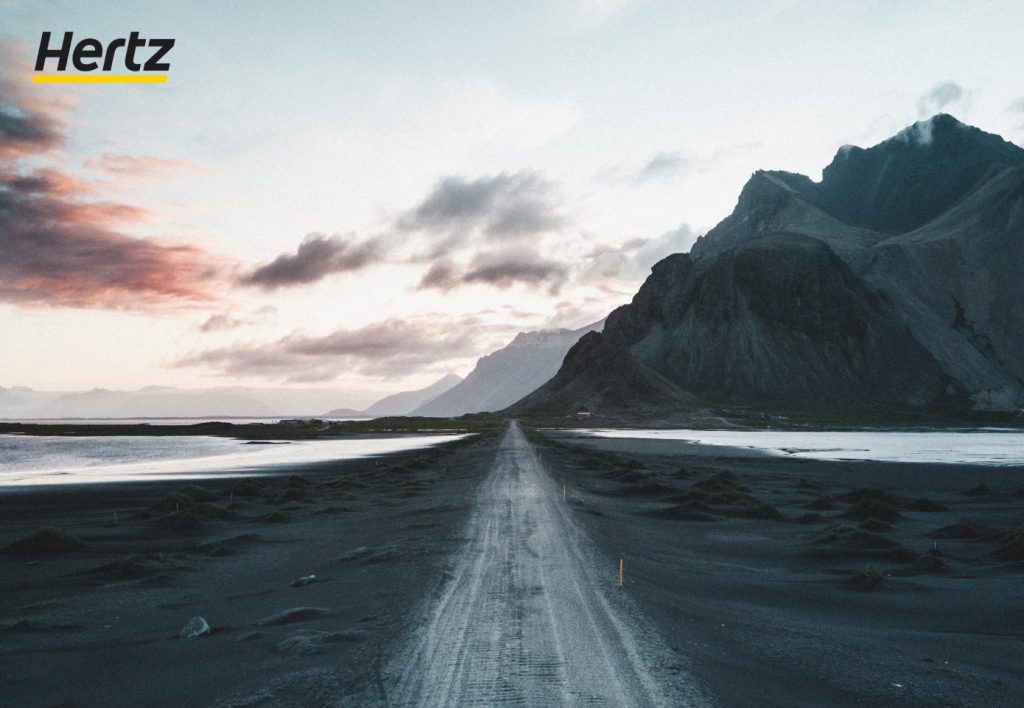 4. Bring Extra Food and Drinks
Whatever amount of food and drinks you may think you need, you should always bring more. It's not out of the ordinary to get stranded due to unpredictable weather or car problems, so it always pays to have enough amounts of food.
5. Check Traffic Situation
Whenever you may be setting out, always make sure that the roads are open for traffic. Check with the Icelandic Road and Coastal Administration to make sure that the roads have opened and that it's safe for you to pass through.
6. Have an Emergency Number Saved
While driving over the Iceland F-roads, you can go a long way without a signal, as the connection is very unstable. As a result, you might not be able to get in contact with your friends and family through regular means if you have an emergency. The Iceland emergency number is 112, and you might want to hang onto it. It works even if you do not have a mobile connection.
7.Prepare for All Types of Weather
Weather in Iceland can change in the blink of an eye, so you may want to make sure you are prepared for everything. Your car should have all-season tires, your trunk should have all the recovery gear necessary, and you should also have appropriate clothing. That rain jacket might feel like an extra weight in your car, but you'll thank yourself for bringing it along if you get stuck in the rain, having to recover your car.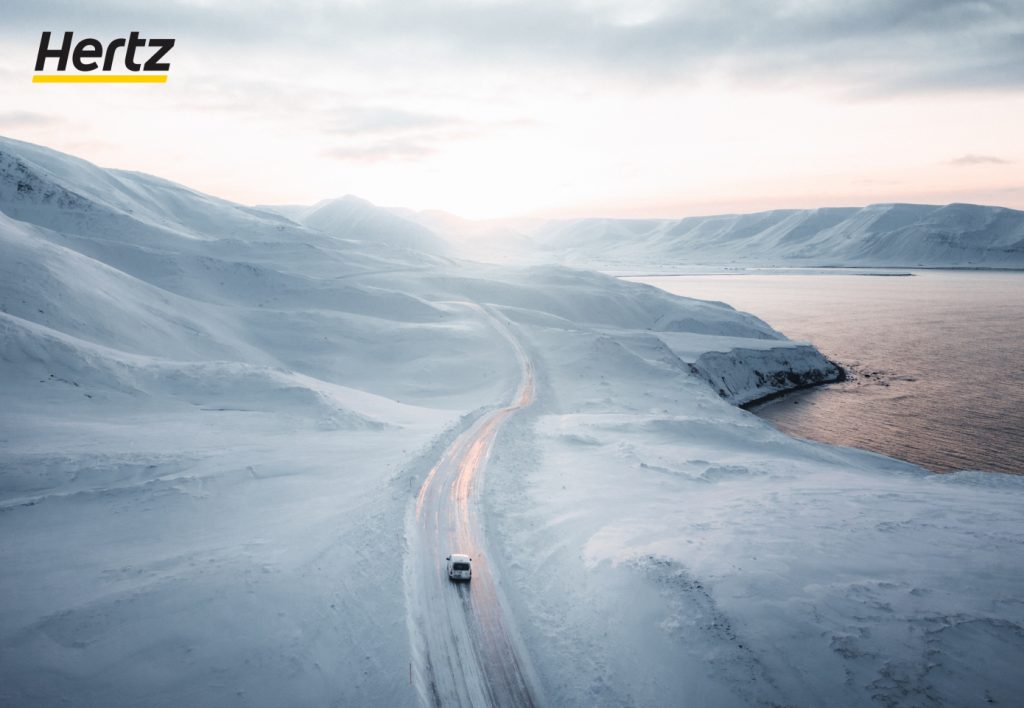 8. Fill Up on Gas
Before you set out, make sure you have a full tank. The highlands only have one petrol station, which is the Hveravellir, so you should make sure you don't give your car any opportunities to run out of gas.
9. Stay On the Road
No matter where you may be in Iceland, it's illegal to go off the road. As tempting as off-roading may be, you need to stay on the market trail. It's one of the reasons why you can't avoid crossing vehicles in the highlands, in which case you will need good driving skills.
To sum up, the 9 tips of driving on Iceland F-roads are:
Travel in Groups
Keep Slow and Steady
Don't Rely On Insurance
Bring Extra Food and Drinks
Check Traffic Situation
Have an Emergency Number Saved
Prepare for All Types of Weather
Fill Up on Gas
Stay On the Road
Where Can You Go and What Can You See with F-Roads? Is It Worth the Risk?
The landscapes and views you may get on the F-roads Iceland are among the most beautiful sights you can see, which is why making a trip is highly worth it. Bear in mind that if you are not confident in your driving skills, you should book a local tour. You might get some super jeeps to go around with, or you may go by mountain buses.
Here are just some of the stunning highland sights that you can see on the Iceland F-roads: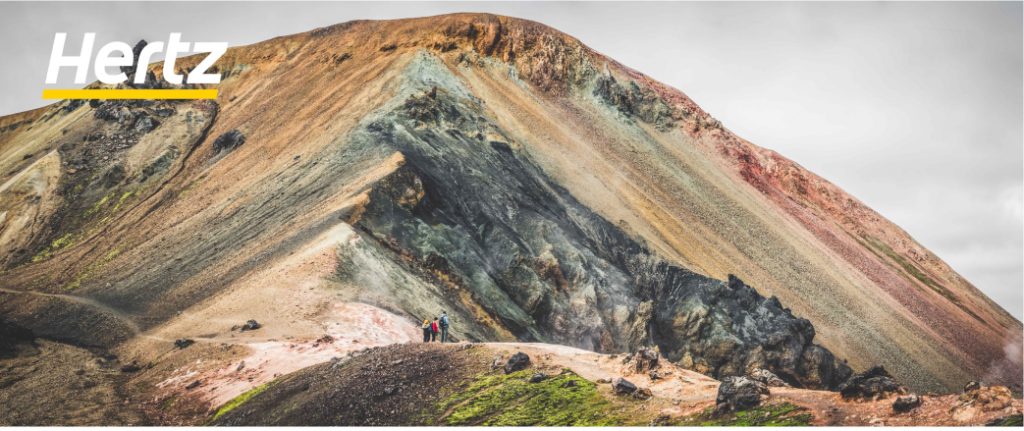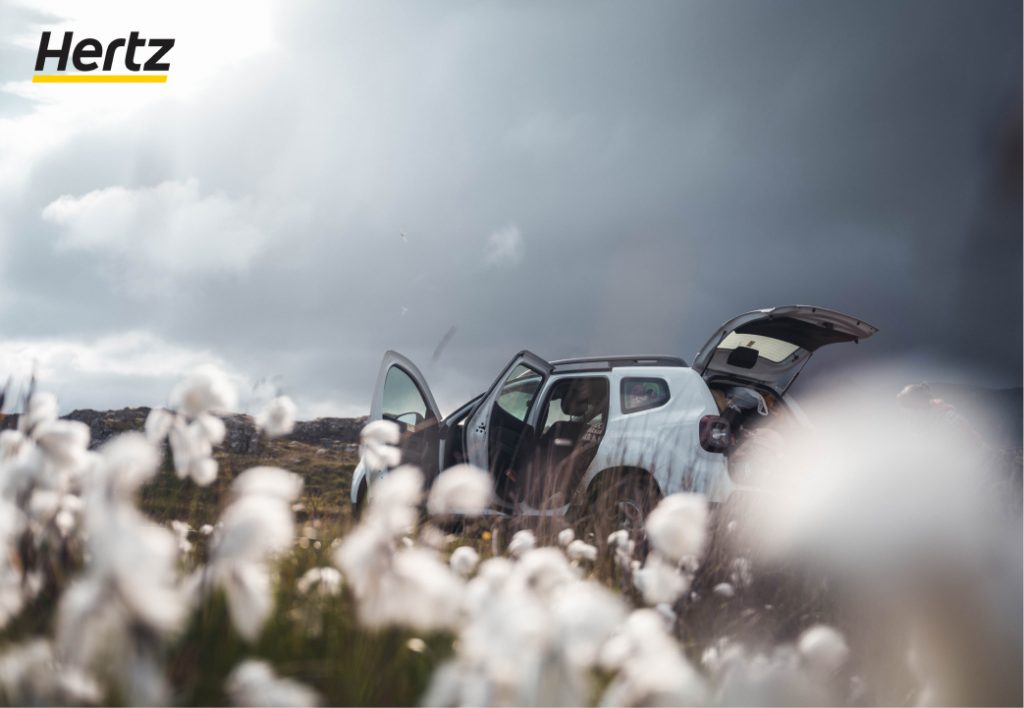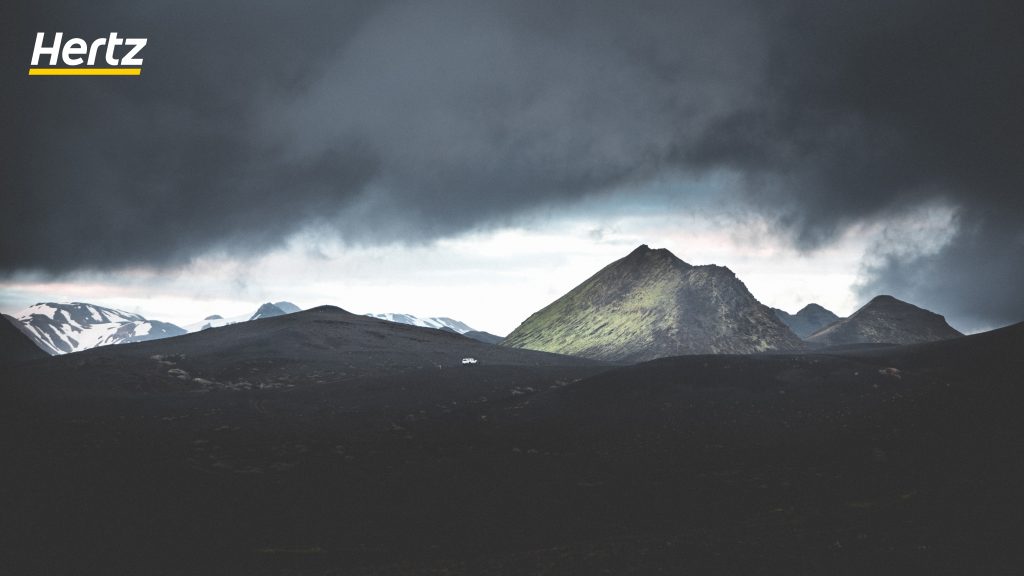 Four Safety Recommendations When Driving on F-Roads
Going on F-roads might be challenging due to the nature of the roads, so you must keep some safety considerations in mind. Here are the most important points:
1. Get an Appropriate Car
Before you set on to explore the F-roads, you must make sure that you have a 4×4 vehicle. Even the best F-roads to drive in Iceland have their difficulties, so unless you have a 4WD vehicle, you won't be able to get over the terrains. Other vehicles are not properly equipped for this.
2. Let Someone Know
Whether you are going alone or with someone else, let someone know of your plans. This can be a ranger, a friend, or anyone else that can pinpoint the authorities in your direction if anything goes wrong.
3. Get a map
When you are traveling the F-roads, there is a good chance that you might not get a GPS signal for your unit – in which case, you'll need a detailed map beforehand. You may download and print a map of the route that you want to take. Don't rely on standard maps from gas stations, as they may not be as detailed.
4. Always check the Road Conditions before hitting the road
Even if you checked a couple of weeks before, during the planning stage, you should also check right before your departure. Talk with rangers or local people, to ensure that the roads are in the best and safest condition that they could be.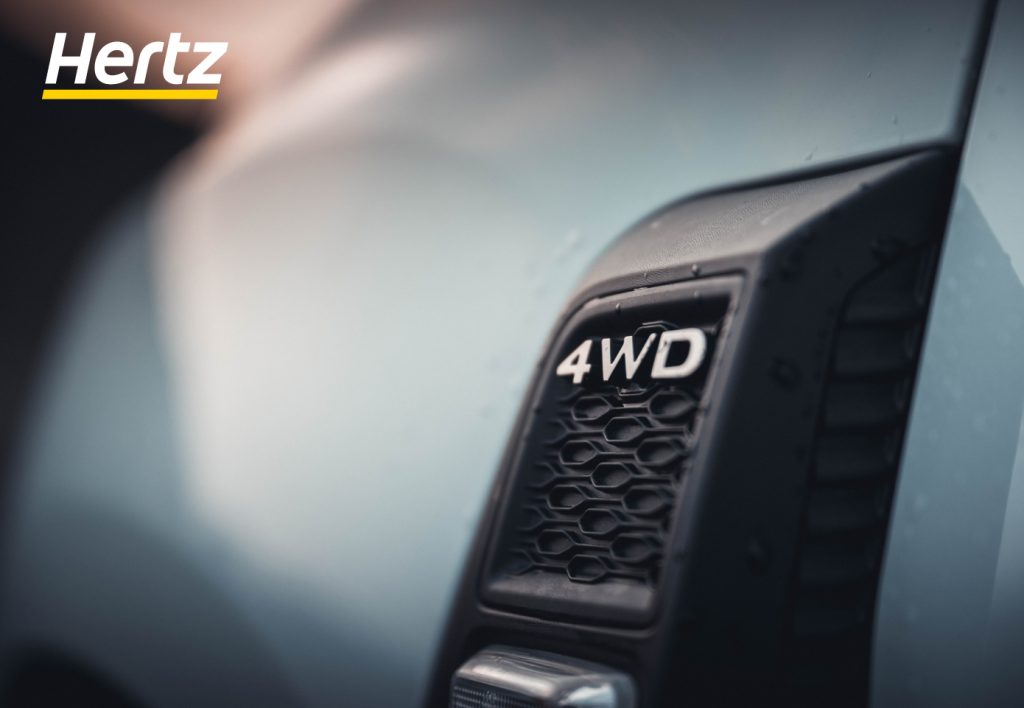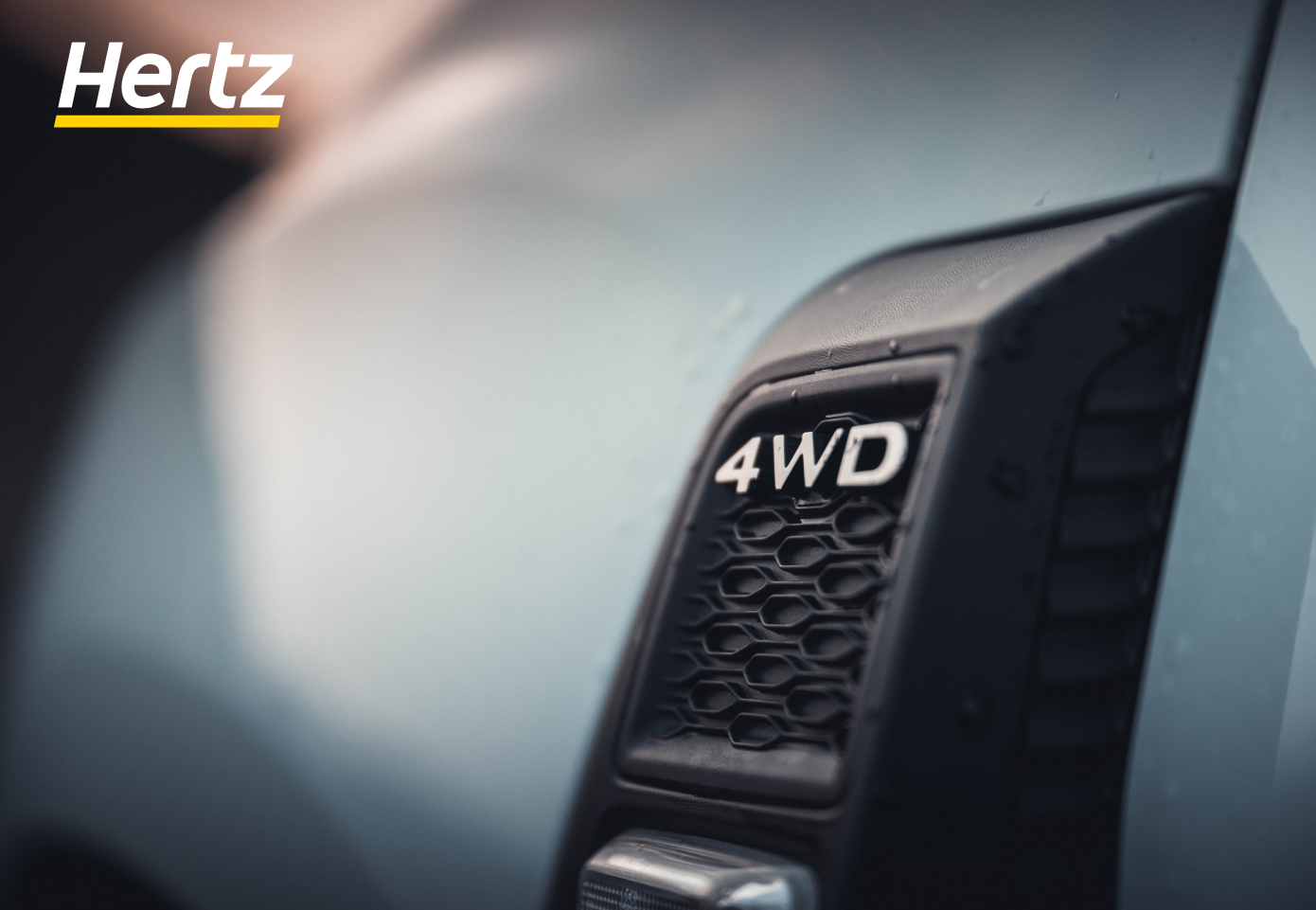 The Bottom Line
Before you set up on a drive through the Iceland F-roads, you need to become acquainted with the rules of the highlands. Get the necessary gear, know the road conditions, and get a good road map. Renting a good 4×4 is essential, as the difficult roads will need a car with a lot of power.
You can always book your 4×4 in advance – something we actually recommend you do during the high season (i.e., summer). You can book your car through Hertz Iceland, and if you have difficulties in choosing a car, Hertz can help you with advice – so, contact us via email at hertz@hertz.is. To find out more about renting a car from Reykjavík or KEF Airport follow the links to the Hertz Iceland blog.