One of the top attractions that bring tourists to Iceland is its countless waterfalls. There is no official record for how many waterfalls exist in the country, but it's estimated to be around 10,000 or more! Many of the beautiful waterfalls in Iceland are located in remote areas of the island, meaning you'll need enough time and specific vehicles to reach them. Although you may be able to find a tour operator to take you to visit a waterfall, they are all easiest to access by car.
When you're trying to decide on the best Iceland waterfalls to visit on your trip, you'll see a lot of the word "foss." That is because foss means waterfall in the Icelandic language. In this article, we will be introducing the top ten Iceland waterfalls and how you can get there by rental car.
Related links: Find your best rental car in Iceland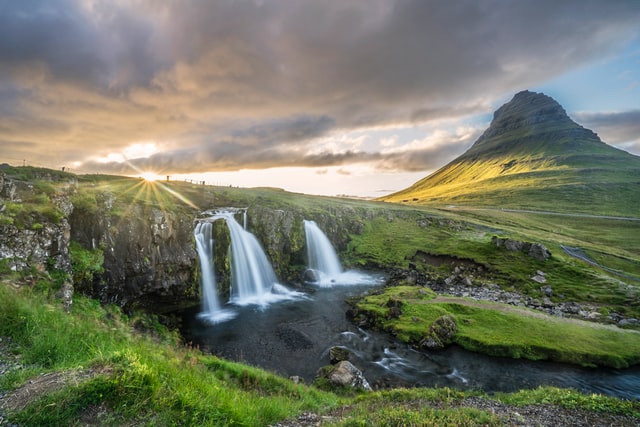 Table of content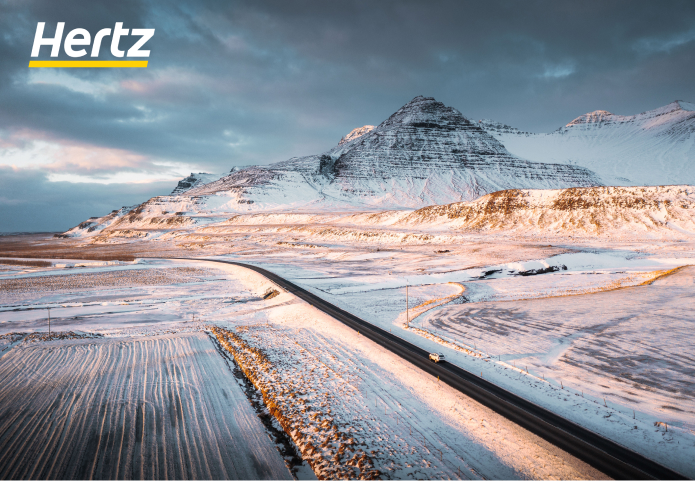 Facts about waterfalls in Iceland
The waterfalls in Iceland are unique to those you'll find in other parts of the world. The mix of massive glaciers, the large volume of precipitation, and high mountains combined with the cycle of thawing and freezing each year have contributed to the thousands of waterfalls that you'll find dotted around Iceland. Here are some interesting facts about the waterfalls in Iceland:
There are an estimated 10000+ waterfalls in Iceland.
During the spring and summer months, the volume of water coming over the falls increases dramatically because of all the meltwater, changing many from a light cascade to a loud roar!
Iceland is home to two of the world's best waterfalls, according to World of Waterfalls. These include Dettifoss coming in at number six and Gullfoss at number seven.
Some of the waterfalls in Iceland are actually hot because of the geothermal springs.
Iceland uses several of its waterfalls to generate hydropower for hydroelectricity power plants; however, the dams and reservoirs required when building these plants has a negative impact on the landscapes in Iceland. Some corporations want to build more power plants using the waterfalls to generate power, but there has been a lot of pushback by locals and environmental groups who want to preserve the country's beauty.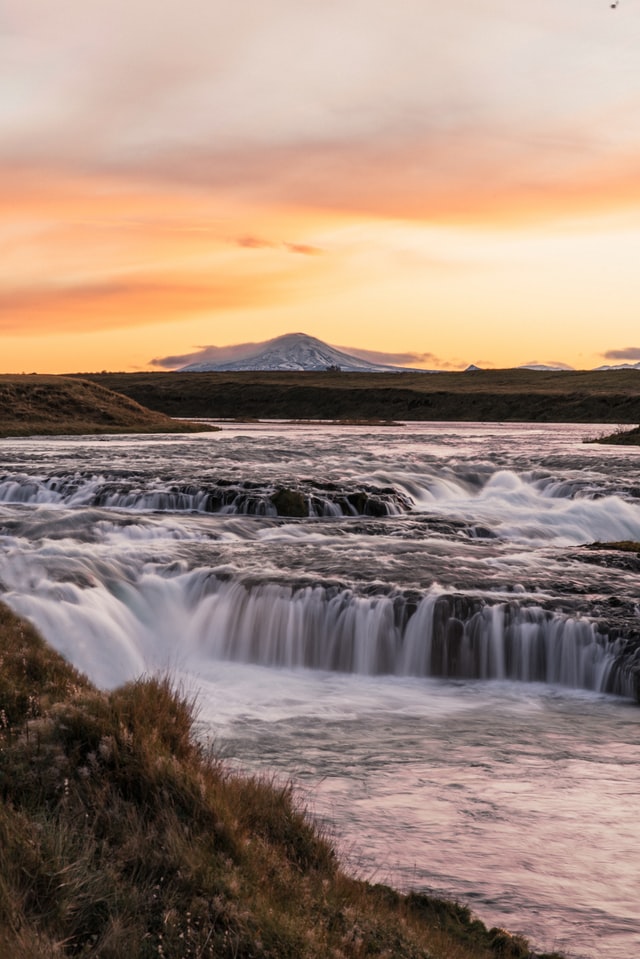 Map of 10 Best waterfalls in Iceland
Here you can find a map where we've marked out all of the ten waterfalls that you'll find detailed in this article.
What car should you rent if you want to visit waterfalls in Iceland?
If you're coming to Iceland to visit some of our impressive waterfalls, you'll want to rent a car. Having a rental car will enable you to reach multiple waterfalls in a day if you want to and also access waterfalls that aren't on a typical tour itinerary. Before you choose your rental car, you'll want to consider factors such as:
The weather at the time you'll be visiting
How many people will be in your group
How much luggage you'll be bringing
If you're going to be driving to the Highlands or on any F-roads
How long is your entire trip to Iceland
Which waterfalls do you plan on visiting and the road conditions to get there
Once you know this information, you can make a strategic decision about what car to rent.
2WD economy and compact cars are best suited for small groups of 2-3 people max, who bring a small amount of luggage. But you won't want a 2WD in the winter, nor will you be legally allowed to take one on any F-roads. An intermediate or full-size car is the better option for groups of 4 or 5, and they are available in 2WD or 4X4, so you can choose what suits your group best based on the season. If you're planning to spend a week on the road doing some serious waterfall hopping, we always recommend a 4X4, or you might want to rent a campervan.
If you're unsure which is the best rental car to explore Iceland's best waterfalls, you can check out some of our resources to help you here.
Best waterfalls in Reykjavik and South Iceland
Firstly, we will start with the south of Iceland, and the area around Reykjavik, where you will likely fly in to.
1. The must-see waterfall: Gullfoss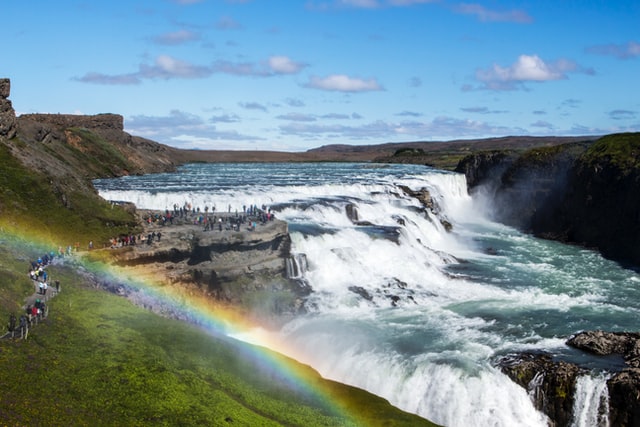 Gullfoss is Iceland's most famous waterfall and one of the top ten waterfalls in the world. The name means Golden Waterfall, and it's actually how the Golden Circle route got its name. It's also one of the easiest waterfalls to access from Reykjavik since it's only about a 2-hour drive away. Its proximity to Reykjavik is a massive benefit because it means that Gullfoss is easy to access all year round via a paved, well-maintained road.
How to visit Gullfoss by car?
The route to Gullfoss is very easy to follow. It's essentially a straight shot east out of Reykjavik, and with all the signs, you won't be able to miss it. If you're visiting Gullfoss in the summer, then a small, 2WD car will suit you just fine, but we always recommend a 4X4 in the winter since the weather can be highly variable.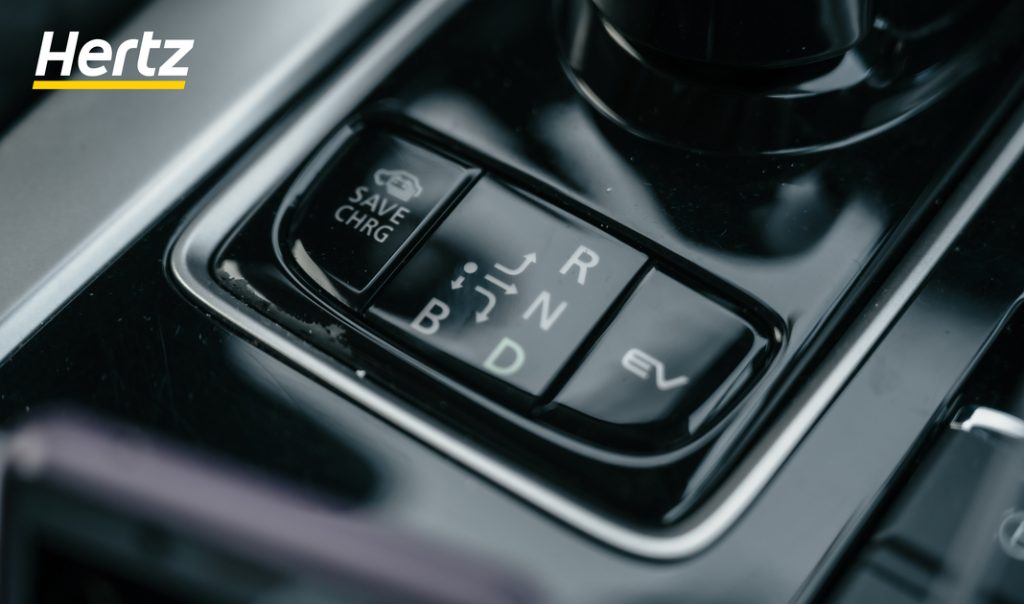 2. The one you can go behind: Seljalandsfoss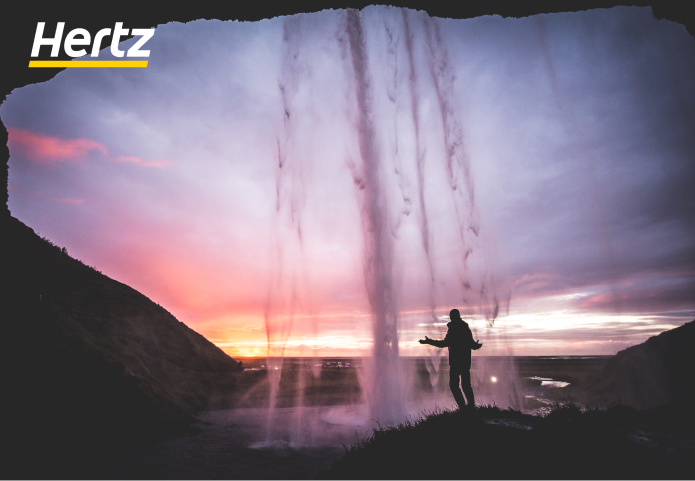 Seljalandsfoss is a dramatic 60m drop along the Seljalands River. Due to the steepness of the cliff, visitors can actually walk behind the waterfall, which is a unique experience and is also the primary reason why it's one of the most photographed natural features in the country. There is also a wide cavern behind the falls and a pathway that visitors can walk to circle around the falls in the summer (but be careful, it's slippery!)
How to visit Seljalandsfoss by car?
Seljalandsfoss is located about an hour and a half southeast of Reykjavik and is just off the popular Ring Road route. You just need to take Route 1 eastward out of Reykjavik, and it will take you straight there. Because of its location near the Ring Road, it is possible to access Seljalandsfoss all year round. In the summer, renting a 2WD rental car is sufficient to get you here safely, but in the shoulder seasons and winter, we also recommend a 4X4.
3. Believed to have treasure behind it: Skogafoss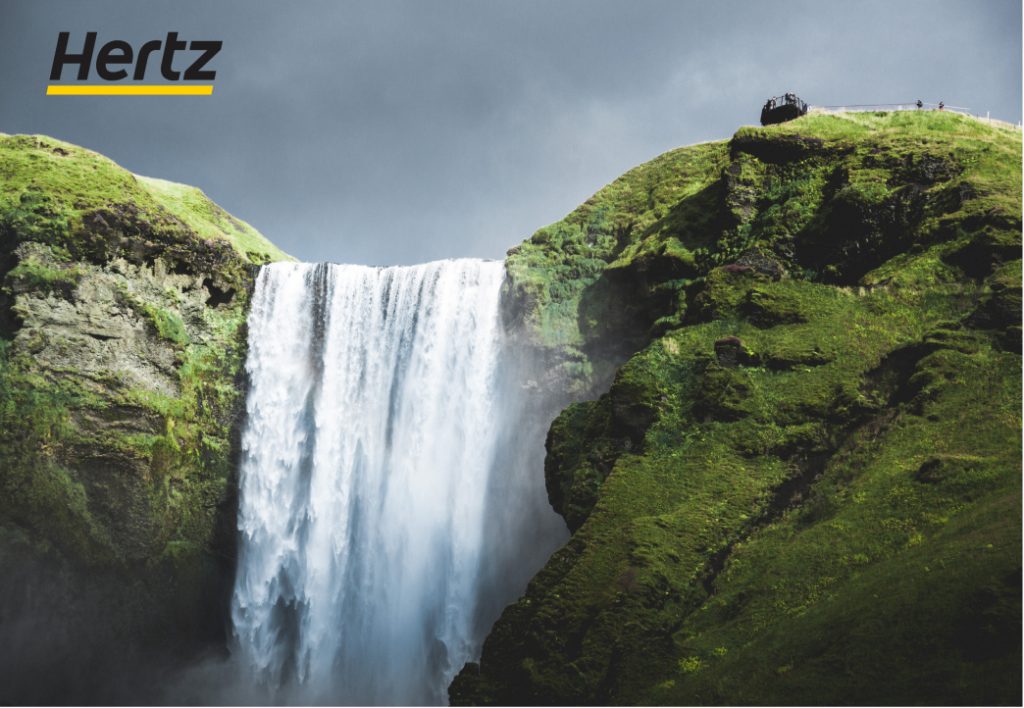 Only about 25 minutes up Route 1 from Seljalandsfoss, you'll find Skogafass. Skogafass is one of the most popular stops on typical Southcoast tours and has a unique and magical history. The spray from this waterfall generates a substantial cloud of mist which means you're likely to see a rainbow or two when it's sunny. If that's not magical enough, there is also a legend that there is a secret chest filled with treasure behind the waterfall! Skogafoss also marks the start of the Fimmvörðuháls hiking path to the Highlands.
How to visit Skogafoss by car?
Skogafoss is just east of Seljalandfoss on Route 1. It's about two hours total from Reykjavik. Like other waterfalls located on the Ring Road, you'll have no trouble driving this road all year round. We still recommend a 4WD in the winter because of the variable weather, but a 2WD compact or full-size will serve you fine in the summer.
4. Icelandic feature: Svartifoss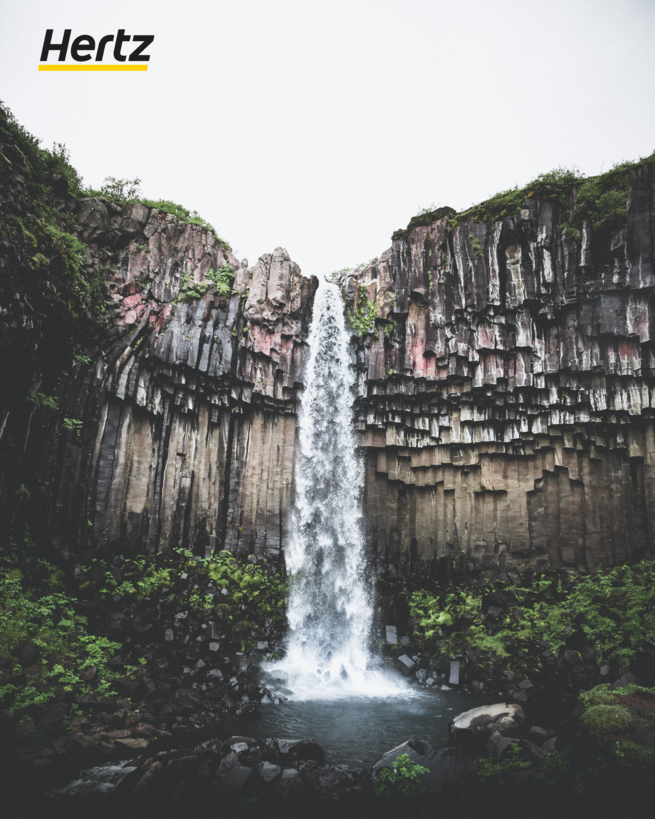 Svartifoss is definitely an iconic feature of the Icelandic landscape. Dark columns surround the waterfall on both sides made from basalt and have inspired archeological designs like Hallgrimskirkja church, located in Reykjavik. Svartifoss can be found inside the Vatnajökull National Park, with multiple different hikes to get you there.
How to get to Svartifoss by car?
Svartifoss is also located on Route 1, about four hours drive from Reykjavik. The Ring Road is well-maintained throughout the year, so you shouldn't have any issues reaching it, but always keep an eye on the weather when you're traveling. You can visit it in a campervan, 4X4 intermediate/full-size car, or, in the summer, an economy or electric car.
Best waterfall in the East
There are many waterfalls in the East of Iceland, but only one has made it onto our top ten list.
5. Iceland's third tallest waterfall: Hengifoss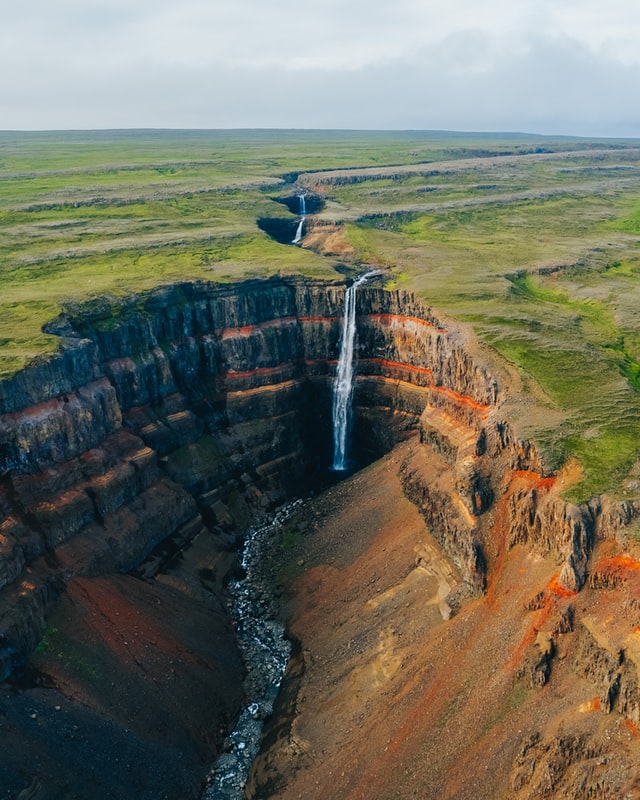 Sitting at a whopping 128 meters is Hengifoss, Iceland's third tallest waterfall. It's pretty far from the capital of Reykjavik, but if you're doing a week on the Ring Road, then this is definitely somewhere you don't want to miss. The water drops off the side of black lava cliffs, striped with bright red clay making it quite the sight to behold. The hike to Hengifoss is longer than some of the others (about 1 hour to the falls), but it's not very strenuous, plus you'll get to see another waterfall on the way.
How to get to Hengifoss by car?
Hengifoss is located around 30 minutes southwest of Egilsstaðir, known as the capital of the east. It's situated on Route 1, so you can't miss it. Egilsstaðir makes a great base to stay for a night while exploring the Ring Road. Plus, you can access Hengifoss all year long with most vehicles, but we recommend a 4X4 in the winter months.
Best waterfalls in the North
Northern Iceland has some of Iceland's most powerful and breathtaking waterfalls. Here are our top two.
6. The most powerful waterfall in Europe: Dettifoss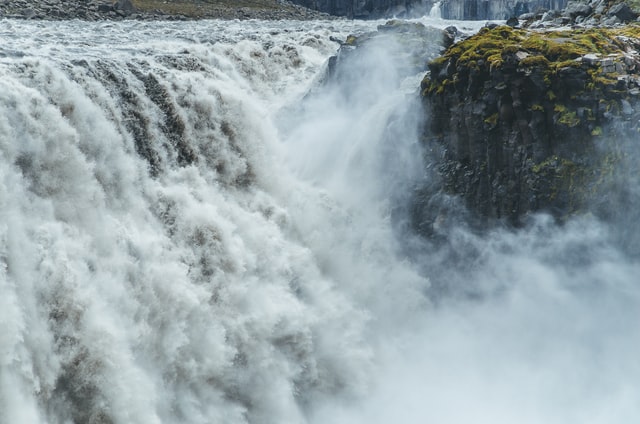 Dettifoss tops Gullfoss on the list of the best waterfalls in the world, so if you have the time, you need to head north and check it out. Although it's not the highest in Iceland (about 45 meters), it's incredibly wide and often touted as being the most powerful waterfall in Europe due to the huge volume of water that runs over the falls (193 meters cubed per second!). The waterfall is fed by Vatnajökull, the largest glacier in Europe, explaining why it's so powerful.
How to get to Dettifoss by car?
Dettifoss is one of the few waterfalls on our list that is not located directly on Route 1. There are a few ways to reach the falls, but the easiest is to take road 864 off Route 1 and drive about 45 minutes to reach Dettifoss. Part of this road is a dirt track, so it will often be closed between November and May whenever there is snow or wet conditions. If you really want to see Dettifoss, you'll want to go in the summer. Regardless of when you visit, you will always want to rent a 4WD vehicle, preferably something higher off the ground.
7. Waterfall of the God: Godafoss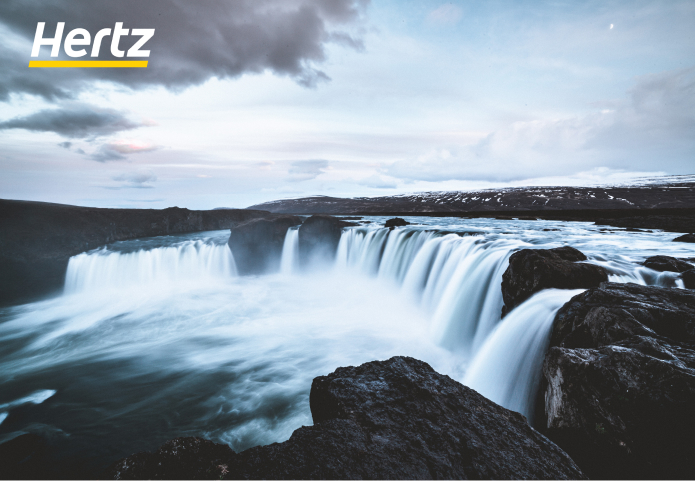 Godafoss is translated to the waterfall of the god. This Northern Icelandic waterfall is horseshoe-shaped, making it unique from many of Iceland's single-drop waterfalls. It's also fed by the Vatnajökull glacier, and the water and spray are cold, even in the summer, so make sure you come prepared with proper clothing and footwear.
How to get to Godafoss by car?
Godafoss is situated on the northern portion of Route 1, meaning it's accessible all year long. That said, its location means that the weather in winter can be even more variable than in other parts of Iceland, so you're going to want a 4X4 rental car just in case. One this to note is that Godafoss is a great place to witness the northern lights if you visit between October and March. It's just over 5 hours from Reykjavik, so you'll want to plan it as part of your Ring Road multi-day itinerary.
Best waterfalls in the West
And let's not forget the west! There are three of Iceland's best waterfalls in the Western portion of the country.
8. 'Staircase' of the Westfjords: Dynjandi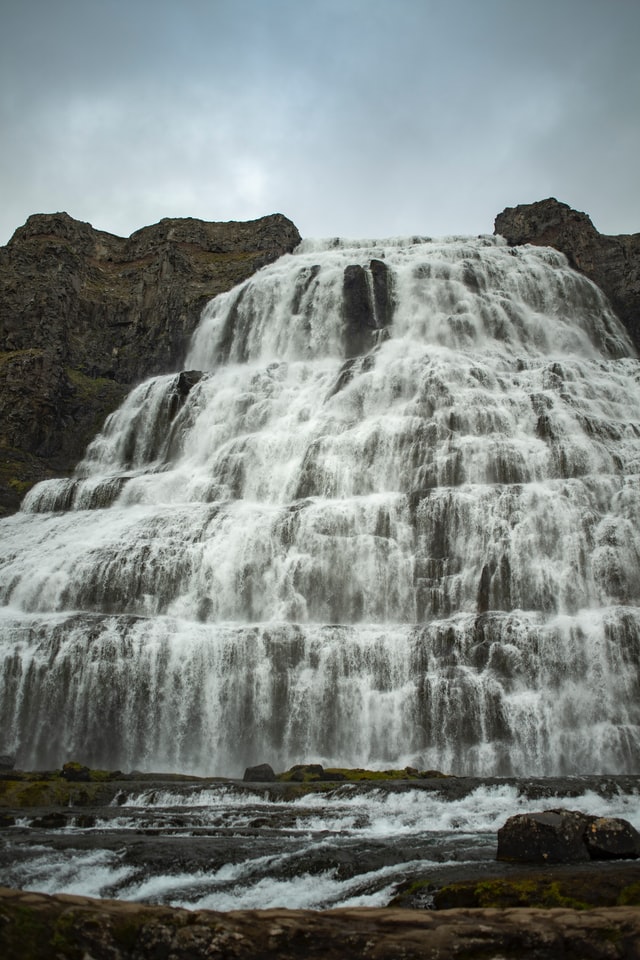 Many of Iceland's waterfalls are single drop, and some are multi-drops, but not many cascade in the way that Dynjandi waterfall does. It's about 100 meters high and located in the Westfjords, very isolated from the rest of the country. Once you get to the pathway, it's only about 15 minutes to walk up to Dynjandi, and you'll pass smaller waterfalls along the way. It's absolutely jaw-dropping to stand at the bottom of this giant waterfall, and because it's not as touristy up in the Westfjords, you'll feel more in touch with nature.
How to get to Dynjandi by car?
It is highly recommended to rent a car to get to Dynjandi. You won't be able to make this trip in one day since it takes about five to six hours to reach the trailhead from Reykjavik. It's a straight shot north out of Reykjavik, following signs for Vestfjarðavegur basically the whole way. The drive can be easy in the summer, but you'll definitely need a 4X4 rental car as part of the road is gravel. The road closes in the winter (usually around the end of October) and reopens in the spring (late April), but the exact dates vary by the year.
9. Second tallest in Iceland: Glymur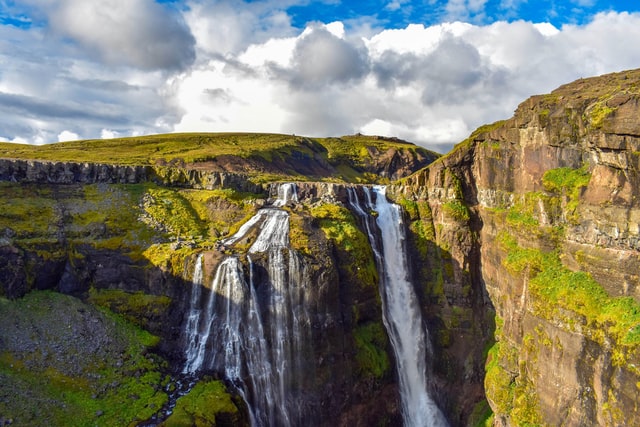 Glymur is the second tallest Icelandic waterfall and is 198 meters in height. When you look on the map, it seems very close to Reykjavik, with the drive being only about an hour away. But once you reach the entrance, it's still a two-hour hike to reach the falls. The hike takes you through caves, across rivers and ends with incredible views of the falls. You don't want to attempt this in the winter since the hike can get dangerous when the paths are snow-covered.
How to get to Glymur by car?
It's relatively easy to reach the trailhead by car, taking Route 1 north out of Reykjavik, but instead of going under the fjord, you'll take road 47 right. The drive itself isn't overly complex; it's the hike you'll have to worry about during the cold, rainy, and snowy months. That said, we still recommend you rent an SUV, regardless of the season.
10. Flowing out from the lava: Hraunfossar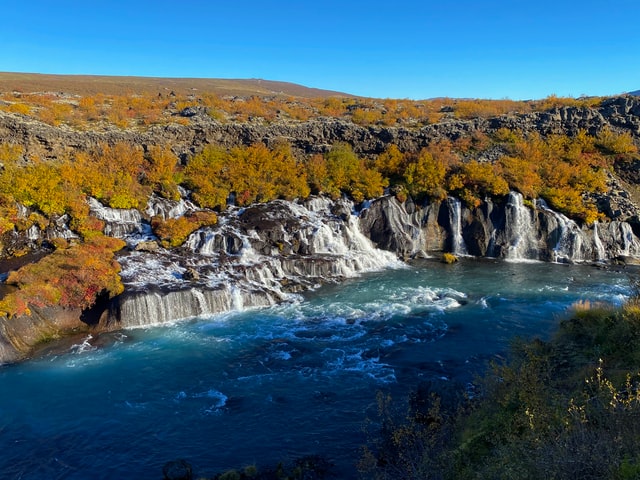 Hraunfossar translates to "lava falls," and this series of small waterfalls emerges directly out of the porous lava, making them unique to other waterfalls you'll encounter in Iceland. Hraunfossar is part of a lava field called Hallmundarhraun, which was formed after a volcano erupted underneath the Langjökull glacier. There are also many hidden caves near the waterfall due to the years of volcanic eruptions.
How to get to Hraunfossar by car?
To get to Hraunfossar, follow Route 1 north out of Reykjavik until you reach the Route 50 turn-off point. Route 50 will eventually merge into 518, which will take you right to the Hraunfossar turn-off. It will take close to two hours to reach the parking lot and an additional 30 minutes to experience the falls. The road is generally okay, especially in the summer, but we always recommend a bigger SUV to visit Hraunfossar throughout the year.
List of other waterfalls in Iceland if you want to explore more
If you want to explore even more waterfalls during your time in Iceland or find some hidden gems, we've got a few more options. Some of these waterfalls are located in the Highlands, which means you'll only be able to access them in the summer with a 4X4 car. Others are located far from main roadways, meaning you'll need a longer time in Iceland if you want the chance to visit them.
Haifoss
Aldeyjarfoss
Barnafossar
Selfoss
Faxi
Kirkjufellsfoss
Hrafnabjargafoss Waterfall
Oxarafoss
Bruarfoss
Ófærufoss
Þórufoss
Hjalparfoss
Gljúfrabúi
Kvernufoss
Sveinsstekksfoss
Folaldafoss
Klifbrekkufossar
Fardagafoss
Rjukandi
Urriðafoss
Morsárfoss
Álafoss
Sigöldafoss
Remember to always rent a vehicle that is suitable for your itinerary, so you don't have to miss out on any of these waterfalls.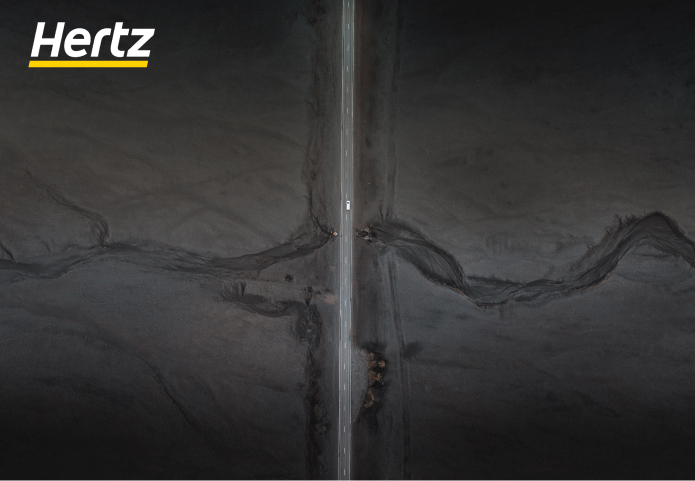 Best 10 Iceland waterfalls
he waterfalls that we've included in this roundup are the 10 best waterfalls that Iceland has to offer. Whether you're in Iceland for a few days and want to stick close to Reykjavik or heading around the Ring Road for a week or two, make sure you don't miss these gems. To truly experience the Iceland waterfall scene to the fullest, you'll need a rental car. Always book your rental car online and in advance, especially in the high season, to avoid missing out on the best option for you.
If you're having difficulty choosing the best car for your Iceland trip or need some extra advice, you can always contact us via email at hertz@hertz.is. Book your rental car with Hertz Iceland today!