If you really want to experience Iceland to the fullest, then there's no better way than heading to the Icelandic Highlands. But these unmaintained routes are inaccessible in the winter months as they are primarily snow-covered.
But visiting Iceland in the summer gives you the unique opportunity to access the highlands via the Iceland F-roads, provided you have the appropriate vehicle. Not only is it illegal to drive on these roads without a 4X4, but the many river crossings will prove a huge challenge to anyone not prepared. We're not talking about crossing rivers on a bridge, either.
Most of the unpaved F-roads have unabridged river crossings, which can cause water damage to your car or, at the very least, provide a huge setback to your Iceland itinerary. But with the right rental vehicle and some understanding of how the rivers work, you can safely navigate the river crossings and continue on your Iceland adventure!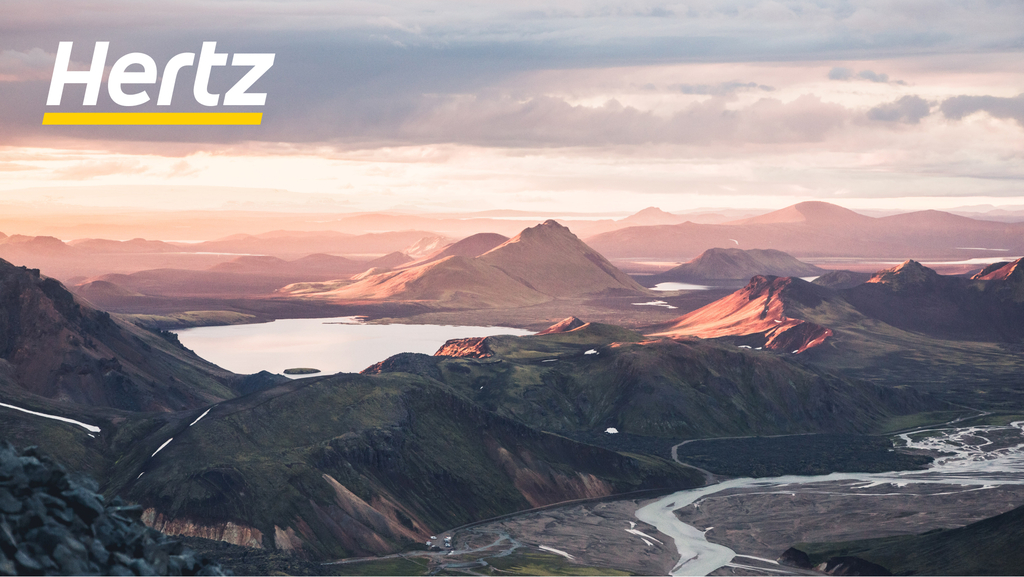 What is a river crossing in Iceland?
Iceland is a country that has no shortage of water. Although most of the year much of the water is frozen in glaciers and snow, during the summer, the glacier melt sends huge volumes of water through the rivers, into the lakes and over Iceland waterfalls.
A river crossing in Iceland is essentially anywhere where water flows across the driving routes. Unless you are able to drive through the water, you'll have to turn around and go back the way you came, which can really put a damper on your experience.
The routes where you'll encounter river crossings are called the f-roads in Iceland, which are unpaved mountain routes that take you through the highlands. Since the majority of Iceland's population lives near to the coastline, that is where you'll find maintained, paved routes, like the Iceland Ring Road.
But for the adventurous travelers who want to get off the beaten path, the only way to navigate the highlands is via the f-roads, which are only open from about June to September. And if you're driving the f-roads, you will inevitably encounter river crossings.
Types of river crossings in Iceland
Not all river crossings are created equally, and they are constantly changing depending on the Iceland weather conditions. A location could be very easy to pass one day and the next day have a higher volume of water. Here are the different categories of river crossings and where you may find them: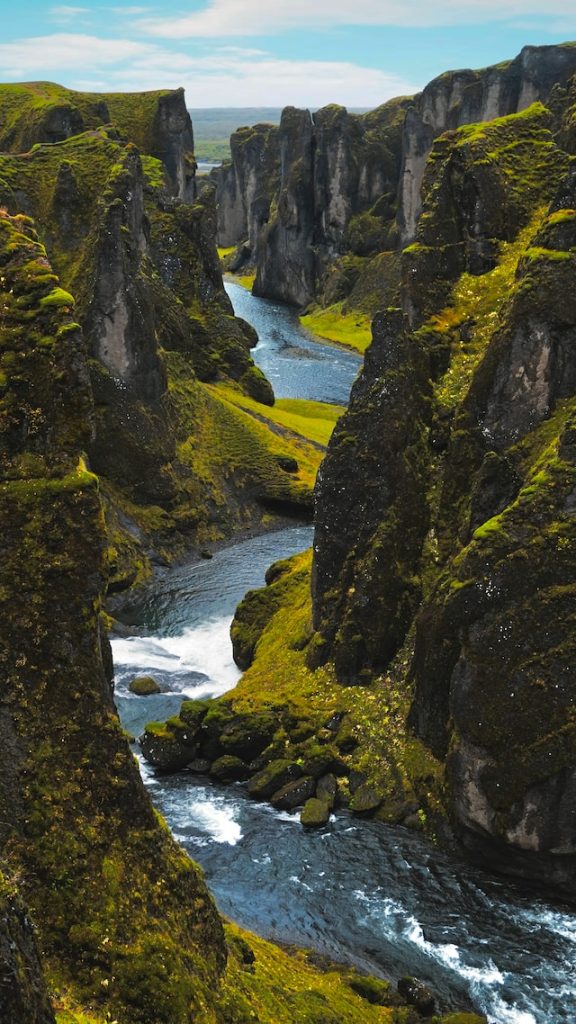 1. Very shallow river <20 cm
The first category of river crossing is very shallow, with water depth only up to about 20 centimetres (8 inches). These types of river crossings are usually not permanent features on these roads and can occur after a big snow melt or rain. They are easy to cross for any car (even in a small 4WD).
2. Small Rivers <40 cm
The next level up is a small river crossing with a water depth of up to 40 centimetres (15 inches). Although it's not overly deep, you will still need a good amount of ground clearance to ensure your car doesn't sustain water damage and that you don't get stuck. Don't try to cross even a small river without a 4WD car.
3. Medium Rivers <70 cm
Now, this is where things start to get interesting. Medium river crossings are typically permanent features on the F-roads with a water depth of up to 70 centimetres (28 inches). The crossing is still manageable, even if you don't have a ton of experience with river crossings, as long as you have a 4X4 SUV.
There is a risk of flooding the engine depending on where you air intake is, so never try to cross at this depth unless you have a 4X4 SUV with lots of ground clearance. You'll find medium river crossings on many of the F-roads into Landmannalaugar, such as F208 and F224.
4. Big Rivers 70 cm+
Big river crossings in Iceland are all those that are deeper than 70 centimetres (28 inches), usually rapid glacial rivers.
For big rivers, If you aren't experienced at river crossings, then it's best to avoid these, as not only could you damage the rental vehicle, but it's also quite dangerous. If your vehicle floods or gets buried in the river, then you're putting yourself and your passengers at risk.
To navigate these crossings, you need a big, sturdy 4X4, experience in river crossings and a good understanding of river crossing rules. Deep river crossings can be found on F206 to Lakagigar, which many take to visit the Laki Craters. And also on F249 on the route to Thorsmork Valley Nature Reserve.
Preparations for river crossing driving in Iceland
The proper preparation measures will ensure that you're safe when crossing rivers in Iceland and don't end up having to turn around and head back to the main routes. Here are some of the things to get together so that you're fully prepared for what to expect:
Vehicle requirements: what rental cars to rent?
As the unbridged river crossings are located on f-roads, you will legally need to drive a 4WD vehicle. Ideally, we'd recommend a 4X4 SUV with the highest clearance from the ground (a Land Rover Defender or Toyota Land Cruiser, for example). The higher, the better! Bigger wheels will also be your best friend to help you cross the rivers safely and effectively without having to worry about getting stuck.
It's also important to keep the location of the air intake in mind because if water gets into your air intake, you will flood the engine. Let your rental car provider know that you're planning on heading into the highlands so they can provide you with the most suitable 4X4 option. If you plan to camp while in the highlands, you can even get rent a 4X4 camper in Iceland.

Gear and equipment: what should YOU bring?
Beyond the vehicle itself, there are some extra items that you'll want to bring with you when planning river crossings in Iceland.
One of the hardest parts about river crossings is accurately assessing the water depth.
Unless the river is very shallow or small, you might not be able to see the depth all the way through.
Prepare for the fact that you may have to wade out into the river yourself to assess depth. If you have room in your luggage, bring high rubber boots, or at the very least, some neoprene socks or water shoes.
You'll also want to carry a tow rope in incase you end up stuck and need another vehicle to help pull you out.
If you can source a snorkel which will keep your air intake about the top of the vehicle, then it's a nice piece of gear to have installed before doing any river crossings.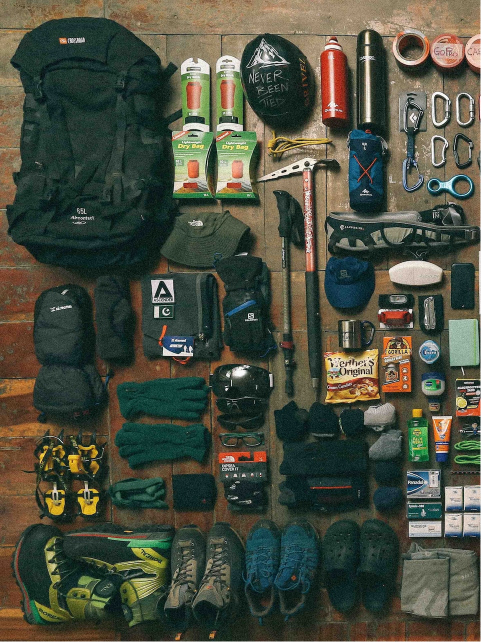 Safety measures: MUST DO before crossing the rivers in Iceland
River crossings can be really fun and give you a way to access parts of Iceland that not many tourists get to see. But safety should always be the number one priority when heading out into Icelands Highlands. Here are some of the top safety measures to help you prep:
Check road.is for up-to-date road conditions. Make sure the roads you plan to take say "passable."
Always examine the river before crossing to assess depth.
Stay within yellow markers, or along the ropes.
Always take the shallowest path.
Cross with windows open in case you need to make an emergency exit.
Don't switch gears while crossing, and cross slowly.
Choose a 4X4 vehicle with the most clearance.
Have a plan for where you are going, and a backup plan in case it doesn't work out.
If the water is deeper than your tires, it's too deep to cross.
How to do river crossing driving in Iceland
Here are the top things to keep in mind when handling river crossings in Iceland:
1. Understanding water depth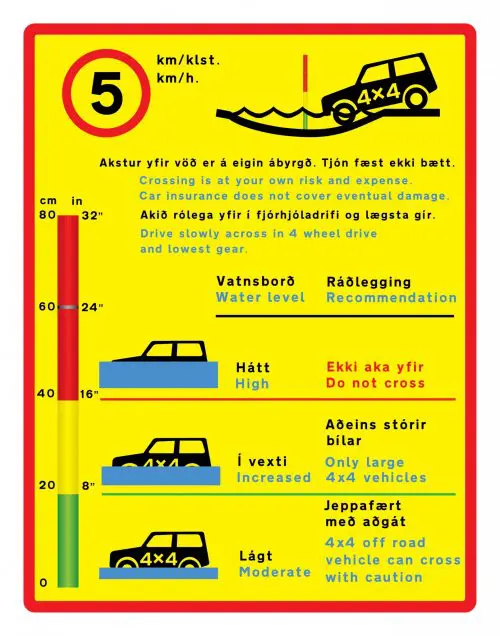 The most important thing you need to understand before crossing rivers is the water depth. Before attempt to cross the river, Understanding water depth will enable you to figure out which category of river crossing you're dealing with and whether or not you're equipped for it.
Water levels can change each day based on weather conditions, so one day, the river may be low, but the next be much deeper. Always get out and check the depth.
If the water reaches the top of the tires, then it's too deep to cross. Or if it's deeper than your waist level, then it's better to turn back. Another rule of thumb is that the calmer the water looks, the deeper it is. Being able to see water running across rocks or pebbles means that it's more shallow and a better spot to cross.
The water level should be AT LEAST 10 cm(4 inches) below your air intake!
2. Choosing the right path
Always choose the path of least resistance. You want to aim to cross the river at its shallowest point, which is almost never right across the centre.
There are typically yellow markers that are placed to indicate where the best path to cross is, or sometimes you'll see a rope.
Stay inside those markers. Also, try to drive with the flow of the river, not against it.
3. Using a spotter
When you're in the vehicle, it's hard to see what's going on outside. Have one of the members of your group act as a spotter and stand outside to keep an eye on the depth. If the water starts to get up near the top of the tires, the spotter can let the driver know, and they can either drive a different route or turn back.
4. Maintaining constant speed
One of the biggest mistakes people make when navigating river crossings is trying to drive across them too fast. Remain in a low gear (first or second), and never attempt to change gears while driving through the water. If you're going so fast that water is splashing up over the windscreen, then you're going too fast and could end up with water in your engine. A good general speed is around 10kph.
What to Do if You Encounter Problems
Even if you take all the precautionary measures we've listed and follow our guidelines, there is still a chance you could encounter problems. Here are a few of the most likely scenarios you may experience when doing river crossings in Iceland and what to do about them.
Vehicle stuck in the river
The most common problem that travellers run into when crossing rivers is that they underestimate the depth and end up stuck. Now, if the river is relatively shallow, then it's not as big of an issue as you and your passengers can safely get out of the vehicle and wait to be towed out. You may even be able to get yourself out with some careful reversing and rerouting.
But if your vehicle gets stuck in a bigger river, it can be a scary experience (as high as you are buying a new car). If the river is too deep and fast-moving for the occupants to get out of the vehicle and onto dry land, you can try to get everyone onto the roof as you wait for help to be towed out or stay in the vehicle if it feels sturdy, safe and there's no water coming into the vehicle.
Once the vehicle is out of the river, you can just keep driving as normal, and if you don't, we still recommend keeping the vehicle running.

Engine flooded
Another common problem is that water ends up getting into the air intake or directly under the hood and flooding the engine. This can happen if you try to drive through the river too fast or the water is too deep. If the engine becomes flooded, it will stop running, leaving you stranded.
Unfortunately, a flooded engine can cost a lot to repair, and in most extreme cases, it could become completely destroyed. The only option if your engine ends up flooded with water is for it to be taken to a mechanic and for them to attempt to repair it.
Vehicle damage
The most common part of the vehicle that becomes damaged in a river crossing is the undercarriage.
No insurance in Iceland covers water damage or any damage to the undercarriage, even if you get the most premium option. So vehicle damage can end up costing you a lot.
When you're driving out on the unpaved f-roads, gravel can fly up and damage both the undercarriage and the sides of the vehicle, causing scratches to paint.
So, make sure to drive slowly and purchase the most comprehensive Iceland car rental insurance so you're covered for any extensive damage.
Start your Iceland river crossing adventure
Exploring Iceland's highlands is an amazing adventure, but one that requires some preparation and knowledge of how to cross the many rivers encountered along the way.
Responsible river crossing driving will help protect the environment, your group and ensure that you have a positive experience in the highlands. It's important that you have a sturdy 4X4 rental vehicle, a good understanding of river crossing rules, and the right gear and equipment to accurately assess water depth and ensure your safety when crossing rivers in Iceland.
With the right vehicle, equipment, and knowledge, you can safely navigate the river crossings and experience the beauty of Iceland's highlands. Hertz Iceland , one of the best car rental companies in Iceland, is here to help you start your Iceland river crossing adventure.
You can book your rental car online and in advance to ensure you get the most suitable vehicle for your trip. And don't forget to check out more of our rental car tips for valuable information about renting a car in Iceland.
Wish you a safe Iceland highland adventure ahead!