When you think of Iceland, what comes to mind? One of Iceland's top natural features is our black sand beaches, with the most famous being Reynisfjara. The black sand beaches of Iceland are otherworldly, and you've likely seen them many times before in movies and tv series.
The sand sparkles against the backdrop of the foaming waves, blue ocean, and unique rock formations that define the coastlines. Reynisfjara is not to be missed if you're travelling to Iceland, and it's accessible all seasons of the year. But how do you get to the black sand beach in Iceland, and what type of car do you need to get there? Find out all this and more by reading on!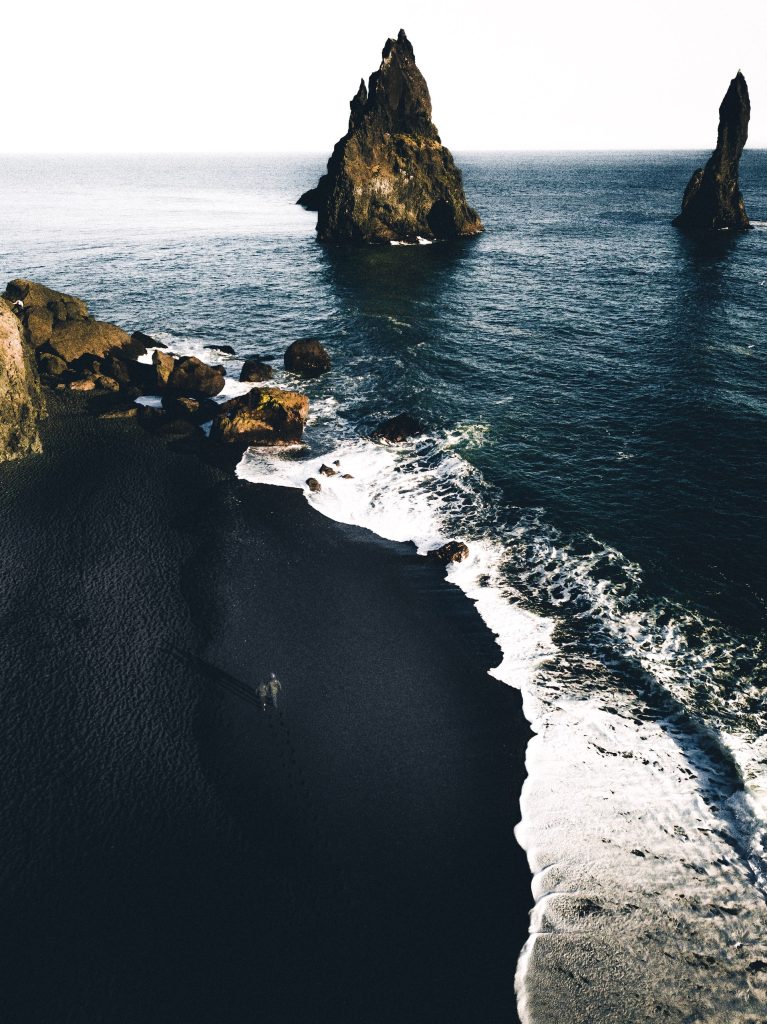 Table of content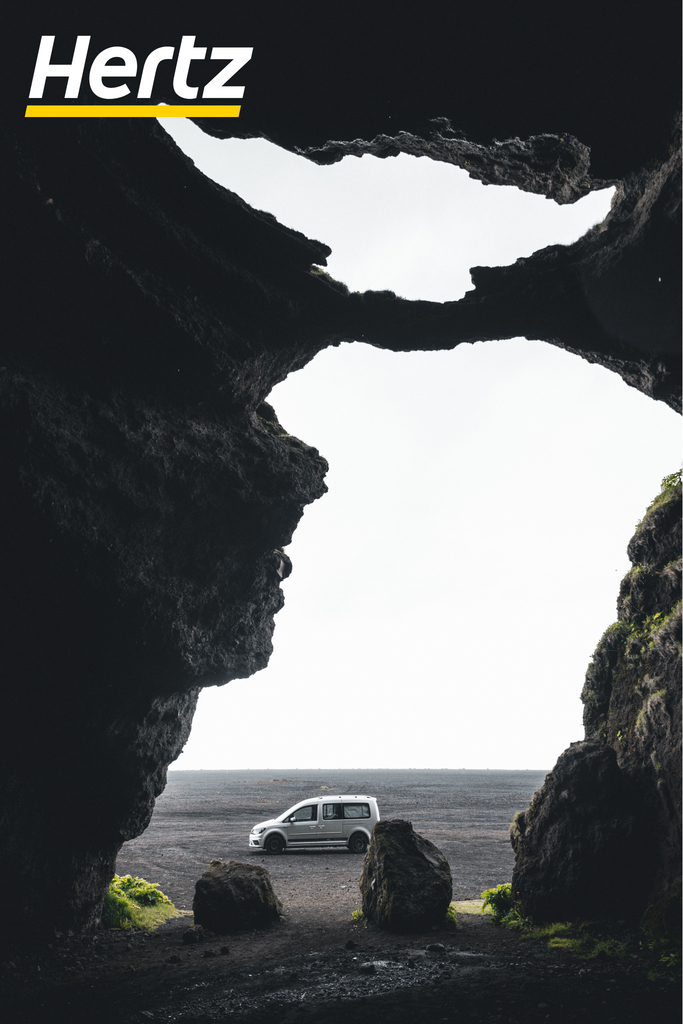 What causes black sand beaches in Iceland?
The black sand beaches in Iceland were all formed in the same way. Unlike the sand we are used to seeing in other parts of the world, the sand found on the black sand beaches in Iceland is a result of the many centuries of volcanic activity on the island.
After an eruption, when hot lava comes in contact with the ocean's cold water, it solidifies to form black rock. As that rock erodes, it leaves behind the black sand that is now found on the beaches around the island. So, you're essentially walking on lava!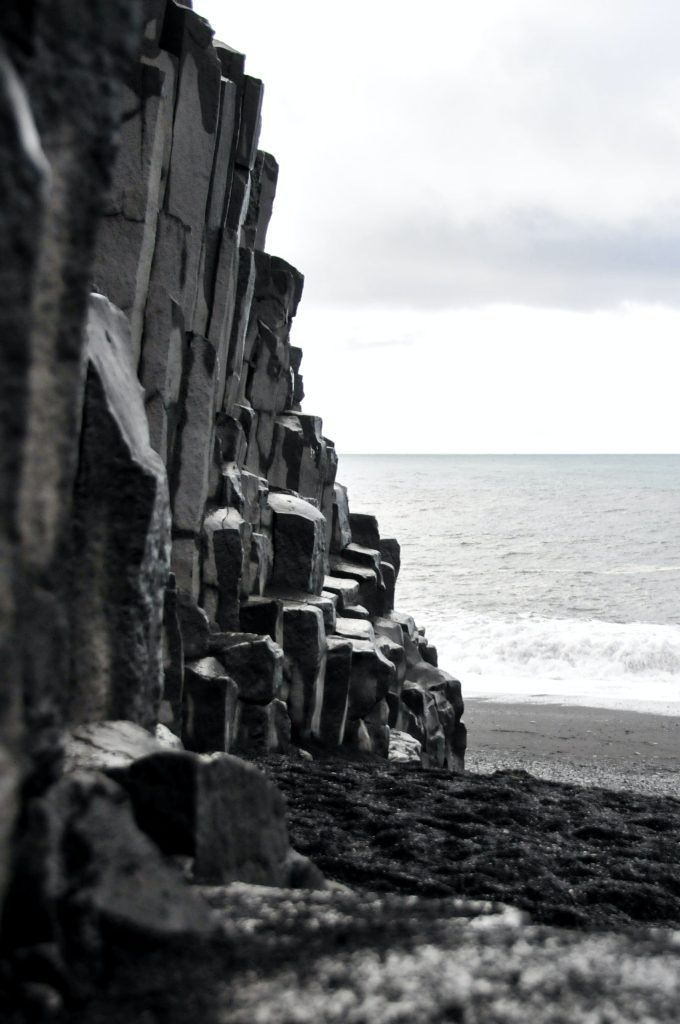 Where is the black sand beach in Iceland?
There are many black beaches in Iceland, but the most famous black sand beach is Reynisfjara. This beach is located on south coast of iceland, near the village of Vik. You can find it just off Route 1 Ring Road, so it's very easy to get to.
This beach is one of Iceland's most beautiful black sand beaches, with its large basalt rock formations and thundering ocean waters. But be careful not to get too close to the shores as the ocean is incredibly powerful here. Reynisfjara is also super accessible and easy to get to from the capital of Reykjavik.
You'll likely have seen this beach in Game of Thrones or Iceland travel videos and photographs. Beyond the towering hexagonal basalt columns and miles of black sand, you may also get a chance to see puffins nesting in the area.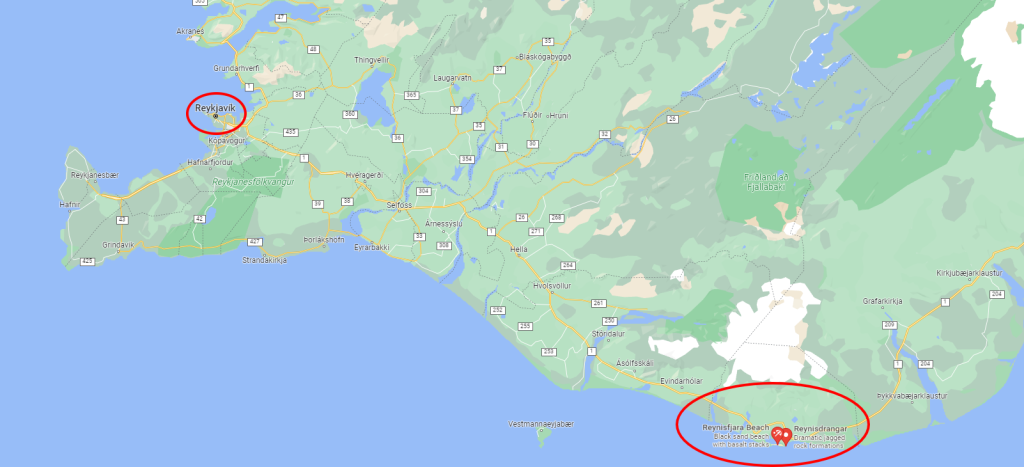 Fun facts about the black sand beach
Want to know more about Reynisfjara black sand beach? Here are some fun facts about this black sand beach in Iceland!
The rocky basalt formations just off the beach's coast are called Reynisdrangar and are 216 feet high.
Icelandic folklore says these formations were once trolls, dragging a large ship towards land through the night. But it took them too long, and when the sun rose, it turned them all to stone.
It's entirely free to access Reynisfjara beach, with free parking for your rental car.
You can see this beach in Season 7 of Game of Thrones.
Many sea birds nest in the cliffs, including guillemots, arctic terns, fulmars and puffins!
Watch out for "sneaker waves", which are powerful waves that can sometimes reach the shores, resulting in rip currents. Aim to always keep a safe distance at 100 feet away from the shoreline.
Reynisfjara can also be seen in Star Trek, Rogue One and Noah.
The beach is made up of small pebbles, not the super fine sand you'd see elsewhere.
There is a small restaurant on-site at Reynisfjara, so you can warm up with a nice meal before or after you explore.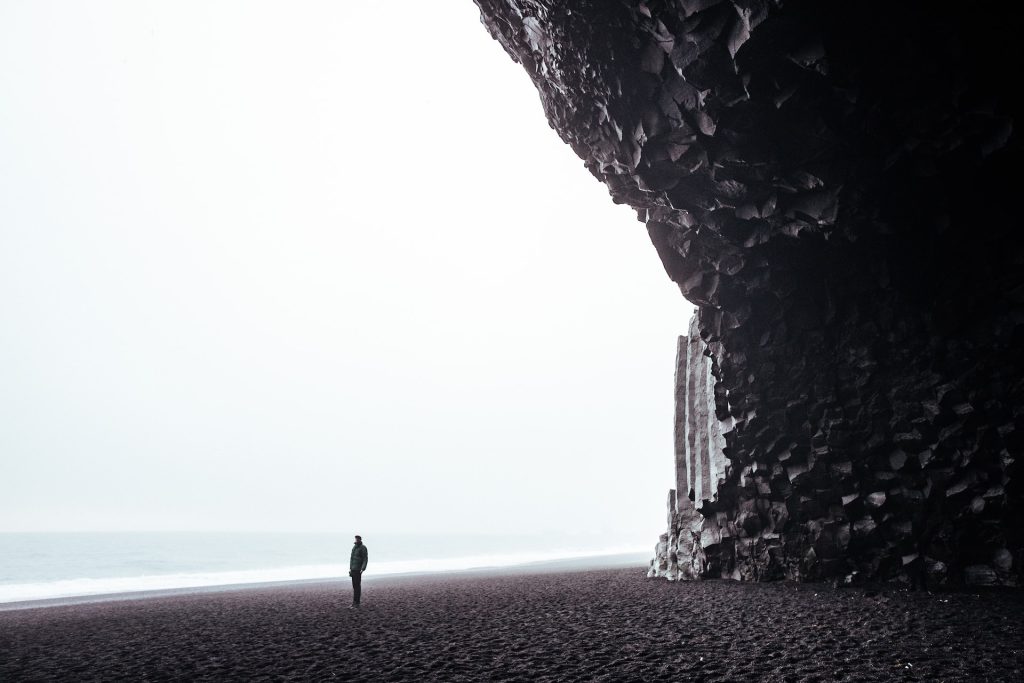 How to get to the black sand beaches in Iceland
If you're ready to enjoy the black sand beaches in Iceland, you'll be happy to know they are easy to access. You won't have to drive down F-roads or any treacherous pathways to reach the beauty that is Reynisfjara. In fact, it's located right off the Route 1 Ring Road.
To get to Reynisfjara from Reykjavik, you just need to take Route 1 south out of Reykjavik. You will take about 2.5 hours drive and around 181km on Route 1, and just before reaching the city of Vik, you will exit the Ring Road onto Reynishverfisvegur.
From here, it's only another 5 minutes up the road to read the parking lot for Reynisfjara Beach. Once you're done enjoying your time on the beach, you can head back up to Route 1, and it's only another 10 minutes to reach the town of Vik, where you can recharge get some food; and it's also a great place to get accommodation for the evening.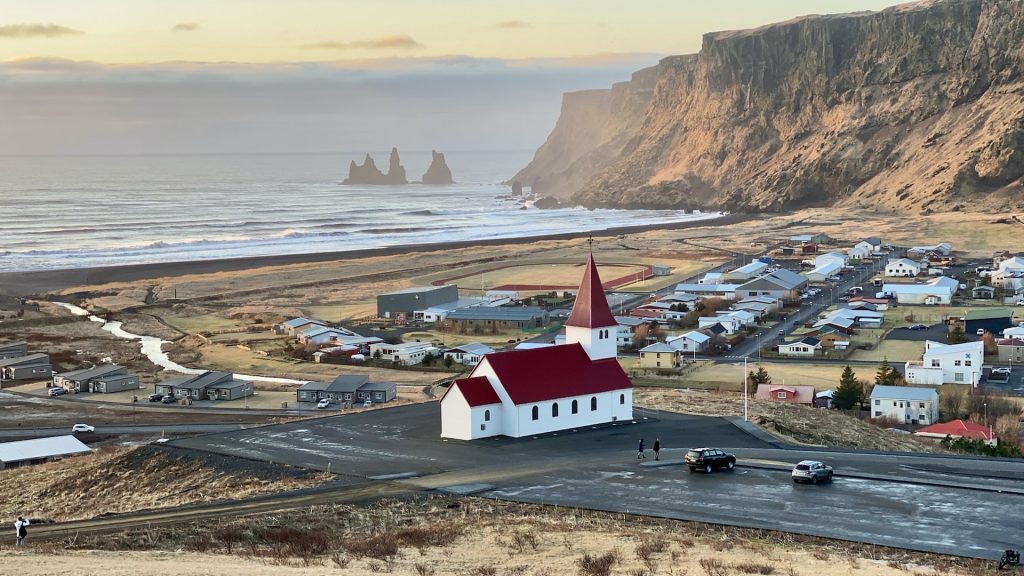 Best rental car recommendations
A rental car is the best way to explore Iceland when visiting, regardless of the season. Iceland doesn't have much in the way of public transportation, and with all the attractions so far spaced apart, taking taxis is incredibly pricey. With a rental car, you have the freedom to move around wherever you want, at your own pace. But which rental car is best for visiting the black sand beaches in Iceland?
Since Reynisfjara Beach is located just off Route 1, you can reach it easily with most rental cars. The road is well maintained, even in the winter, and is fully paved along the route. We always recommend renting a 4X4 SUV during the winter, as even the Ring Road can become slippery due to snow and ice.
It is the safer option, plus there is tons of room for all your luggage. If you're visiting during the summer months, then an economy, compact or intermediate car will suit you if you're travelling with a smaller group. Ultimately, you want your group to be comfortable and safe. Check out our car rental tips to help you choose the perfect vehicle for your group.
When is the best time to visit Reynisfjara Beach?
Reynisfjara Beach is one of Iceland's most popular beaches and the top-visited black sand beach in Iceland. Because of that, it can get pretty busy, especially during the summer months(especially between June and August). Summer is still an incredible time to visit the black sand beaches, as you're more likely to have good weather conditions.
Tour buses usually come into the area from late morning to early afternoon, so if you want to avoid the crowds, we recommend visiting early in the morning or later in the afternoon. It's a great idea to base yourself in Vik either the night before or the night after visiting Reynisfjara Beach so you can beat the tourist crowds and enjoy a more peaceful time on the beach.
That said, Reynisfjara Beach is accessible all year long. During the winter, you can experience the towering basalt columns with a sparkly dusting of fresh snow, making them look even more magical. And at this time of year you have a better chance of glimpsing the Northern Lights. The shoulder seasons of spring and fall are also less busy, so you can enjoy a more natural experience at Reynisfjara, plus prices for rental cars, accommodation and flights will be less during this time.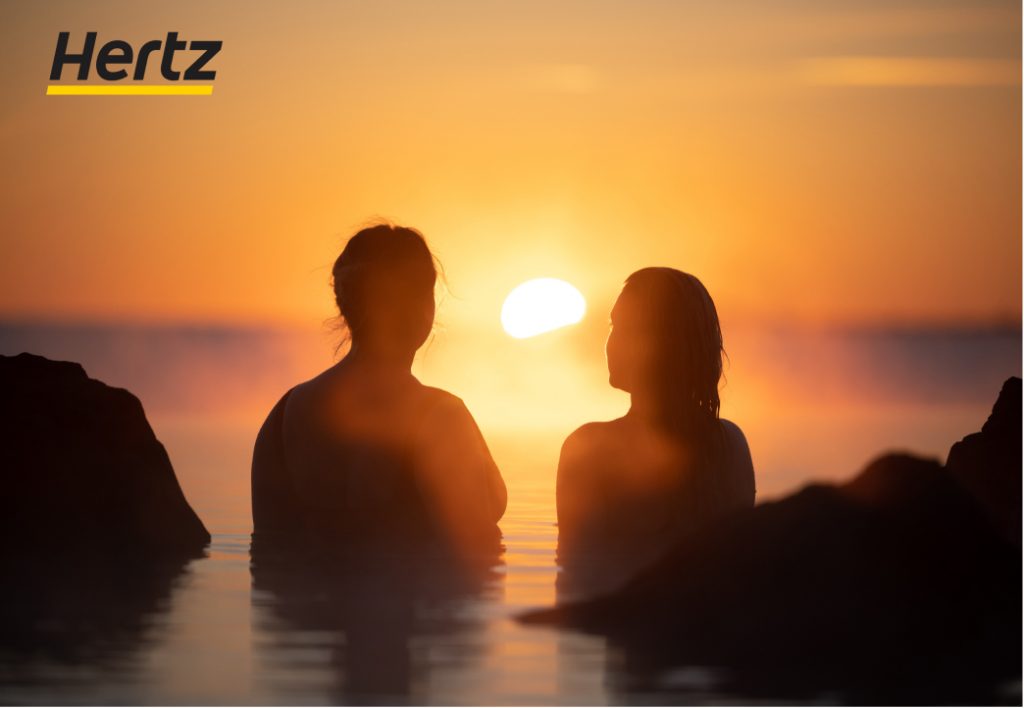 How much time do you need at Reynisfjara?
To have enough time to experience the beach fully, take some pictures, and try to spot some birds, we would recommend spending around an hour at the beach. You could easily come here for a day trip from Reykjavik or visit it as part of a more extended self-drive tour around Iceland's South Coast or Ring Road self-drive tour.
Is it free?
Visiting Reynisfjara is entirely free! You can spend as long as you want out on the beach for free, and there is a free parking lot where you can leave your rental car while you're there. The only cost will be for any food or drinks that you want to purchase from the small restaurant that is located near the parking lot.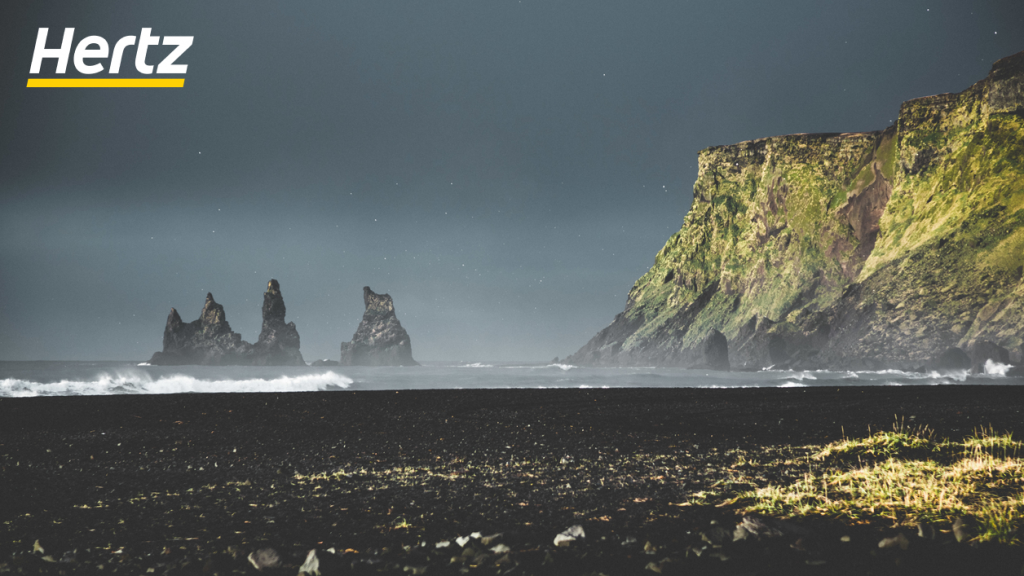 Watch out! Be safe! Why is Reynisfjara dangerous?
The Atlantic Ocean is incredibly powerful, especially at Reynisfjara Beach. The current is strong, and the tides are unpredictable, resulting in riptides that can quickly drag you out to sea. Many people have unfortunately been swept out in these currents since sneaker waves can often come out of nowhere.
So even if you aren't in the water, you need to be careful. NEVER attempt to swim at Reynisfjara Beach because the currents are very strong, and the water temperature is freezing throughout the year.
And also never try to climb rocks near the sea. Stay at least 100 feet away from the ocean at all times. The tallest wave measured here was 120 feet high! That's the height of a 10-story building.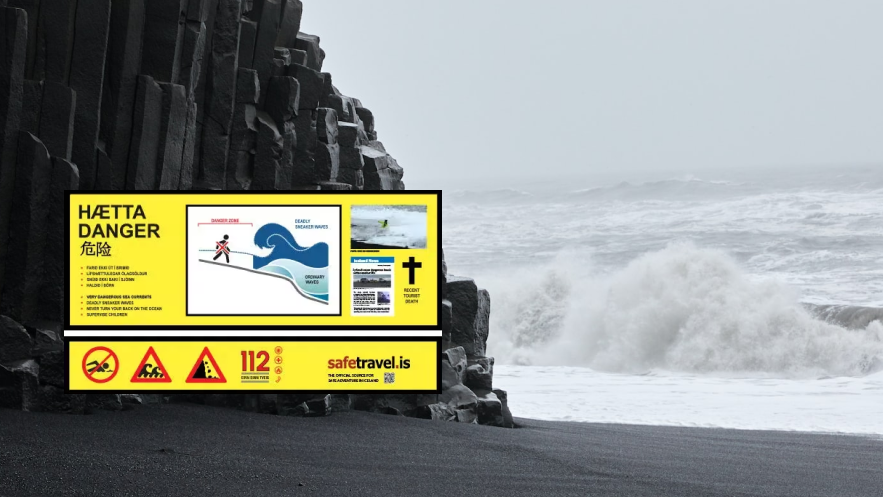 The other black sand beaches worth visiting in Iceland
Reynisfjara is an incredible black sand beach, but there are also other black sand beaches that are worth visiting while you're in Iceland. Here are some of our favourites.
Sólheimasandur Black Sand Beach
The Sólheimasandur Black Sand Beach is located in South Iceland and is a result of eruptions from Katla volcano. This beach is best known for the abandoned United States Navy plane wreck (DC-3) that still sits on the beach.
You can find the beach around 2 hours south of Reykjavik, around 8km past the turn-off for Skógafoss waterfall on the Ring Road. You will need to hike approximately 4km to reach this beach from the parking lot. If you visit on a clear day, you'll have the chance to glimpse Mýrdalsjökull glacier in the distance.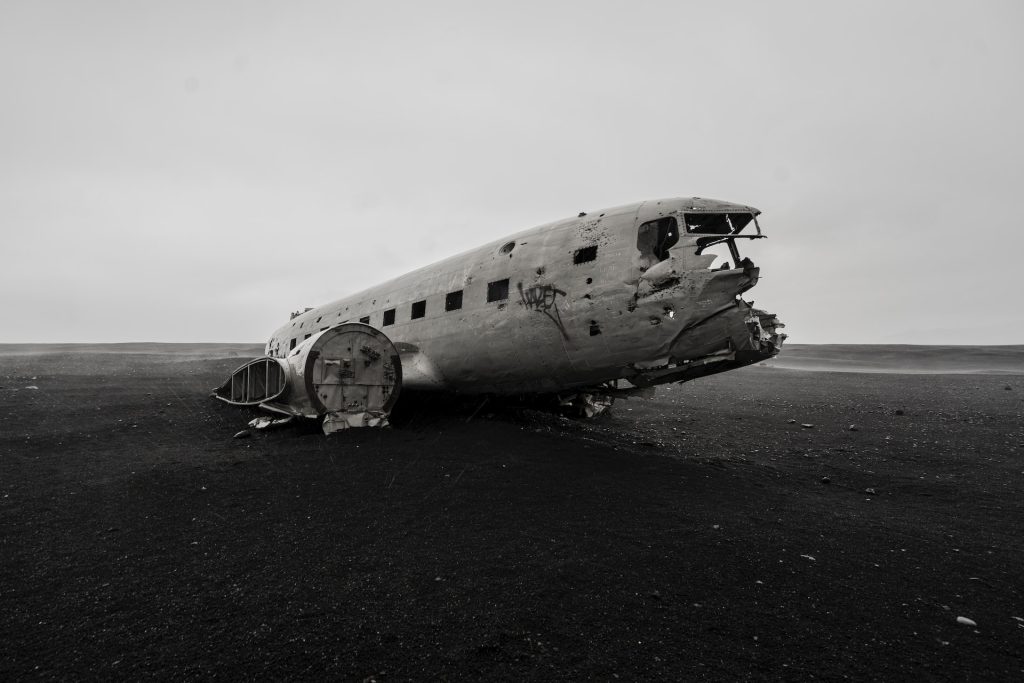 Dyrhólaey Peninsula Black Sand Beach
You can find the Dyrhólaey Peninsula at the most southern tip of Iceland, which actually used to be an island. It offers views of Reynisfjara Black Sand Beach and a beautiful span of black sand beach on the other side, with its iconic archway made of lava.
The name translates to "the hill island with the door hole." You can only walk on this beach at low tide, but there are many small caves and unique rock formations, including Arnardrangur or Eagle rock. It's only about 2.5 hours to reach Dyrhólaey from Reykjavik.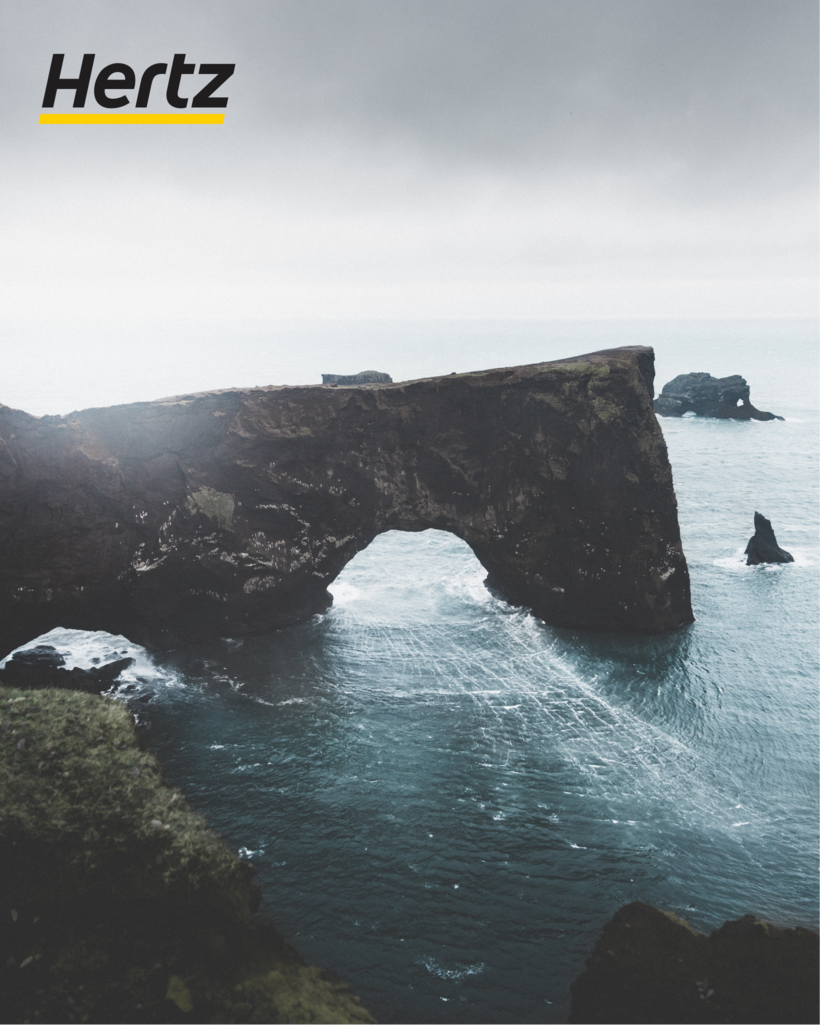 Diamond Beach
Diamond Beach is located on Iceland's south coast, near the Jökulsárlón Glacier Lagoon. It was given its name because of the small pieces of ice sprinkled across the black sand beach that sparkle like diamonds when they are hit by the sun.
The ice comes from the snow melt of Jökulsárlón Glacier. Some of these ice chunks may even appear blueish in colour because of the blueness of the water. Many photographers visit this beach to capture the beauty.
Diamond Beach is around 377km from Reykjavik, which is about a 5-hour drive. So we recommend combining your visit with other attractions in the area and staying overnight in a nearby town like Höfn.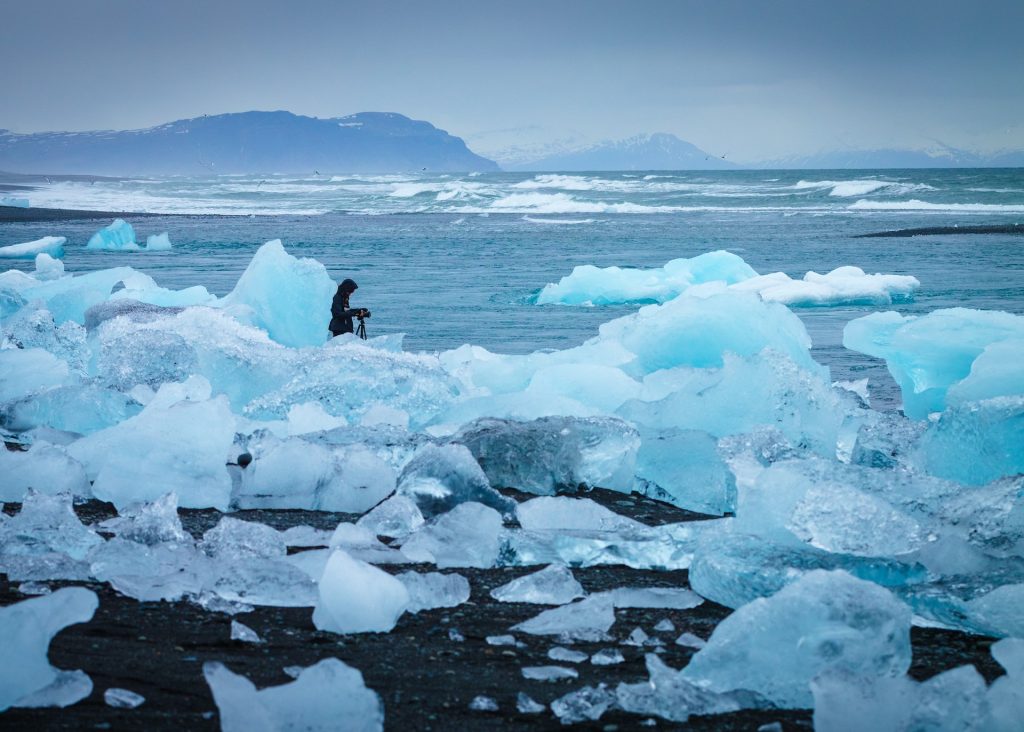 Stokksnes Black Sand Beach
Stokksnes Black Sand Beach can be found in East Iceland, just north of Höfn. You can reach it via a short gravel road (about 5km in length) that branches off the Ring Road, so it's a great addition to a self-drive Ring Road tour. The area is one of the most popular tourist stops in southeastern Iceland, with the Stokksnes Black Sand Beach being one of the highlights. It's less visited than other black sand beaches, so that you can enjoy it without huge crowds of tourists.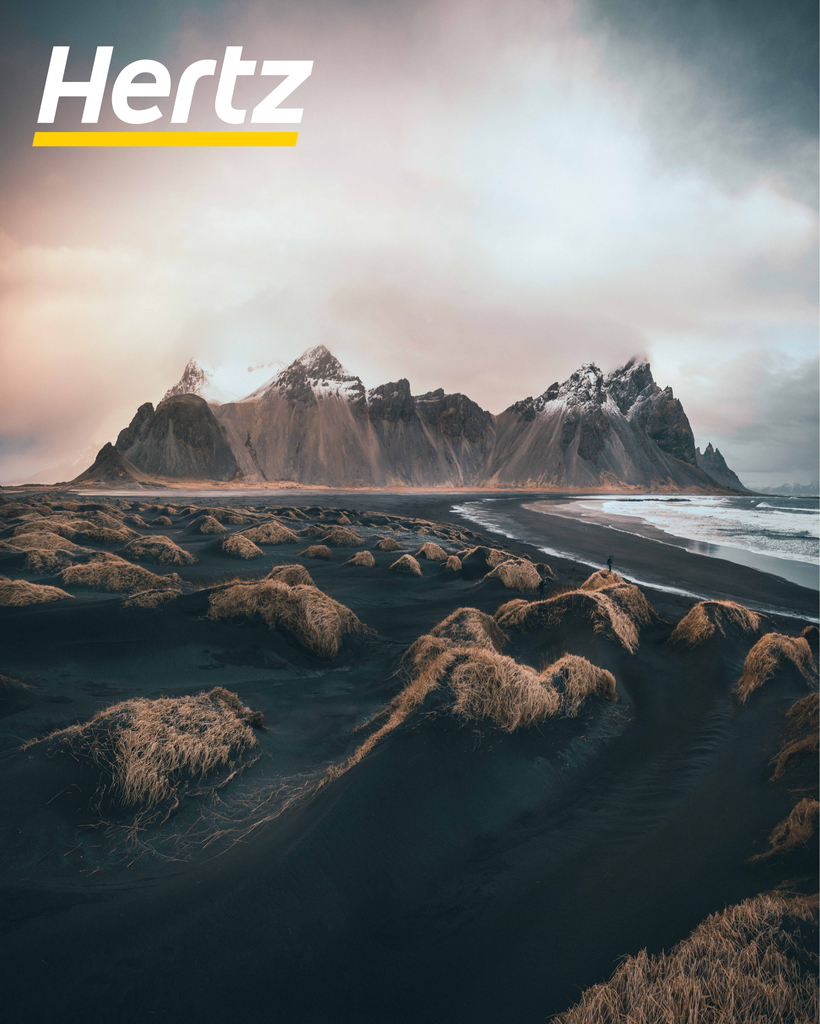 Djúpalónssandur Black Lava Rock Beach
Djúpalónssandur, also called black lava pearl beach, is a black pebble beach located on the Snæfellsnes peninsula. Rather than sand, you'll find smooth black pebbles covering this beach, which have been named the pearls of Djúpalón. The beach is right in the middle of Snæfellsjökull National Park, which features a dormant volcano now topped with a glacier. When visiting the beach, you will also pass by the black lagoon, Svörtulón.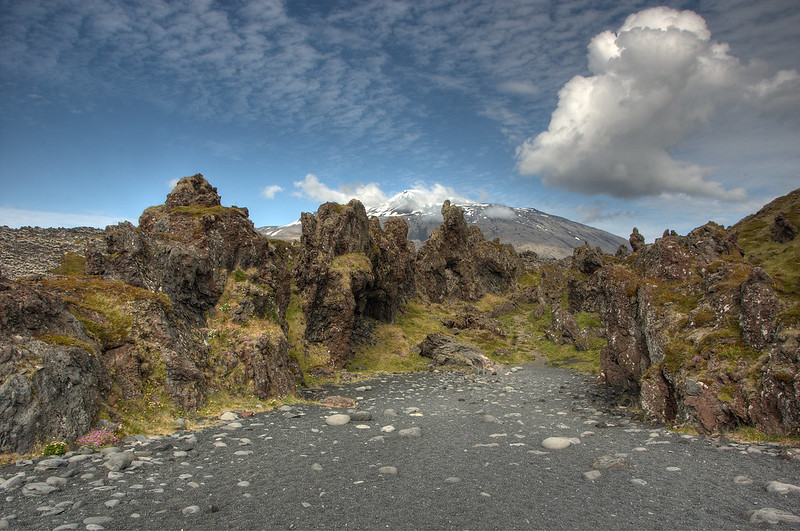 Seltjörn Black Sand Beach
Of all the black sand beaches in Iceland, none are as accessible as Seltjörn. It's the easiest black sand beach to get to from Reykjavik, located just 10 minutes away from the capital. It's a great place to snap some photos if you have a shorter trip to Iceland and cannot visit the other black sand beaches. It's a local Icelandic hot spot, with many Icelanders visiting to have barbeques, go fishing in the pond or take a stroll.
Visiting the black sand beaches in Iceland
If you're planning a trip to Iceland, make sure to include some of these amazing black sand beaches in your itinerary (or even try to hit them all!). Reynisfjara should not be missed, but if you can make time, it's also worth visiting a few of the other great black sand beaches.
By travelling Iceland with a rental car, you'll have the freedom and flexibility to go wherever and whenever you want. This allows you to explore Iceland at your own pace and access areas you wouldn't be able to otherwise. Get in touch with us at hertz@hertz.is if you need any help planning your Icelandic adventure, and make sure to book your rental car online and in advance to ensure you get exactly the vehicle to suit your needs.