The winter in Iceland is truly magical. Although many tourists choose to visit in the summer months because the weather is warmer, there are amazing activities that can only be done in the winter. The winter months offer the unique opportunity to explore Iceland's ice caves and the bucket list chance of seeing the northern lights. Best of all, you can see many of Iceland's best winter attractions in as little as 7 days on a self-drive tour.
In this article, we will cover everything you need to plan your Iceland 7 days road trip in the winter, including where you can stay, what are the must-see attractions and how much to budget.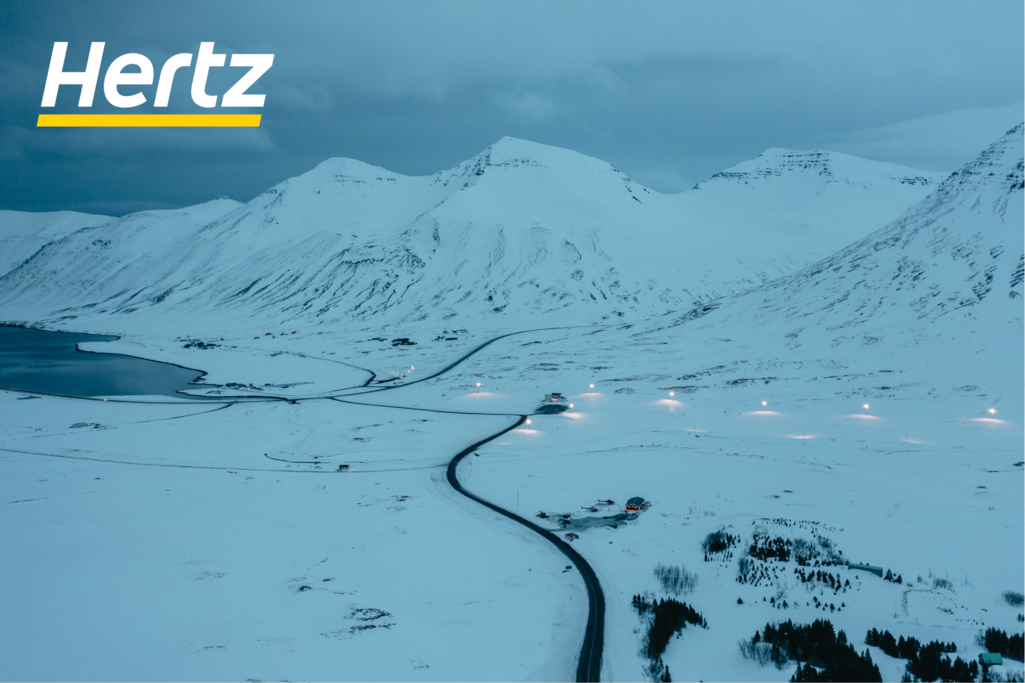 Table of Content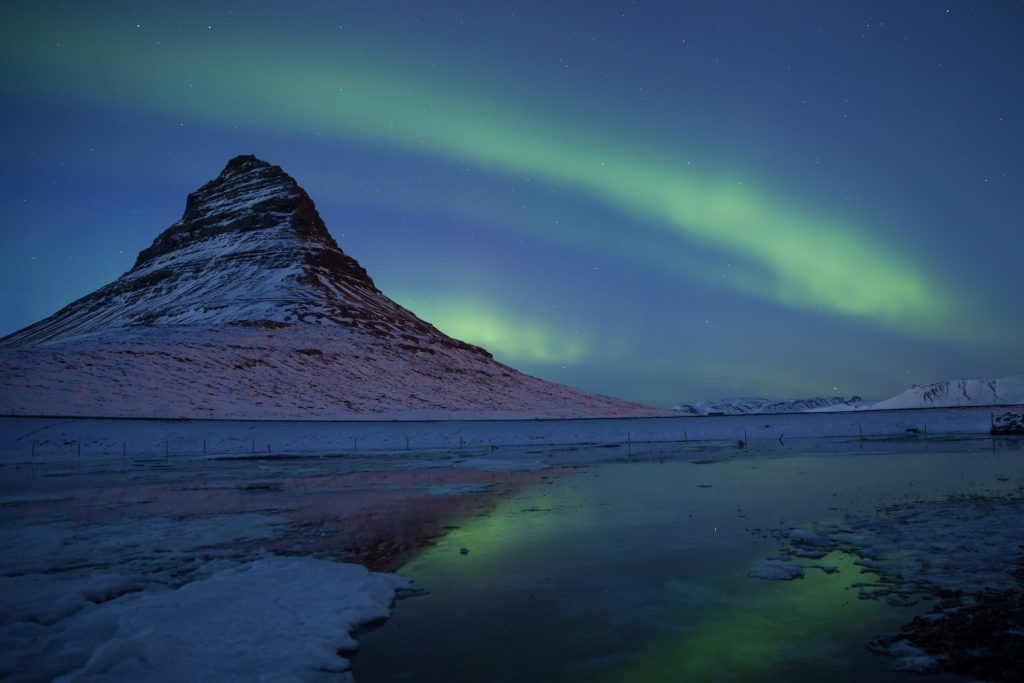 Weather, temperature and general info about winter in Iceland
The winter in Iceland is longer than just about anywhere else in the world. The official winter months run from November to April, but realistically, it's more like late September until May. In the north of Iceland and the Westfjords, you'll likely see snow for almost 9 months. The days are short in the winter, with the shortest day having only 4 hours of daylight.
During the winter, you can expect unpredictable weather conditions and sudden storms. These conditions can lead to temporary road closures around the country, so it's important you always check conditions before heading out on the road. Don't forget to read the Iceland safe driving tips before visiting Iceland.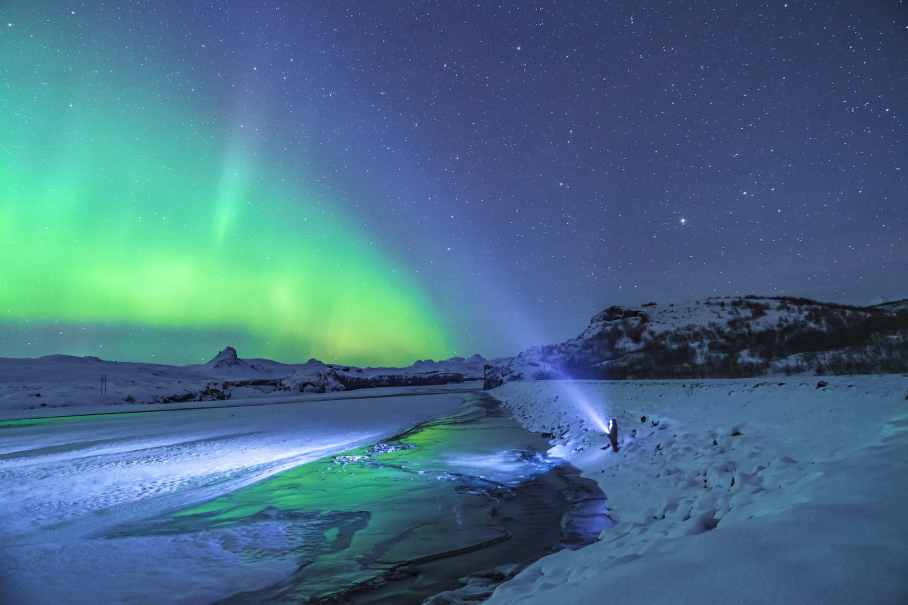 How is the Icelandic winter weather, average temperature and road conditions in different regions?
| | | | | | | |
| --- | --- | --- | --- | --- | --- | --- |
| | Reykjavik capital region | South Iceland | East Iceland | North Iceland | West Iceland- Westfjords area | West Iceland- Snaefellsnes |
| Average temperature | -3ºC to 7ºC ~27ºF to 45ºF | -6ºC to 2ºC~ 21ºF to 36ºF | -5ºC to 6ºC~ 23ºF to 43ºF | -4ºC to 6ºC~ 25ºF to 43ºF | -2ºC to 6ºC~ 28ºF to 43ºF | -3ºC to 6ºC~ 27ºF to 43ºF |
| Road condition | Relatively easy to drive, but you can expect snowy and icy roads. | Relatively easy to drive, but you can expect snowy and icy roads | Difficult driving conditions and heavy snow is expected | Difficult driving conditions and heavy snow is expected | Extremely difficult driving conditions and very heavy snow is expected | Relatively easy to drive, but you can expect snowy and icy roads |
| | |
| --- | --- |
| Weather | Snowy and windy with unexpected snowstorms. It will feel much colder if you are outdoors, especially on glaciers, where it gets very windy. |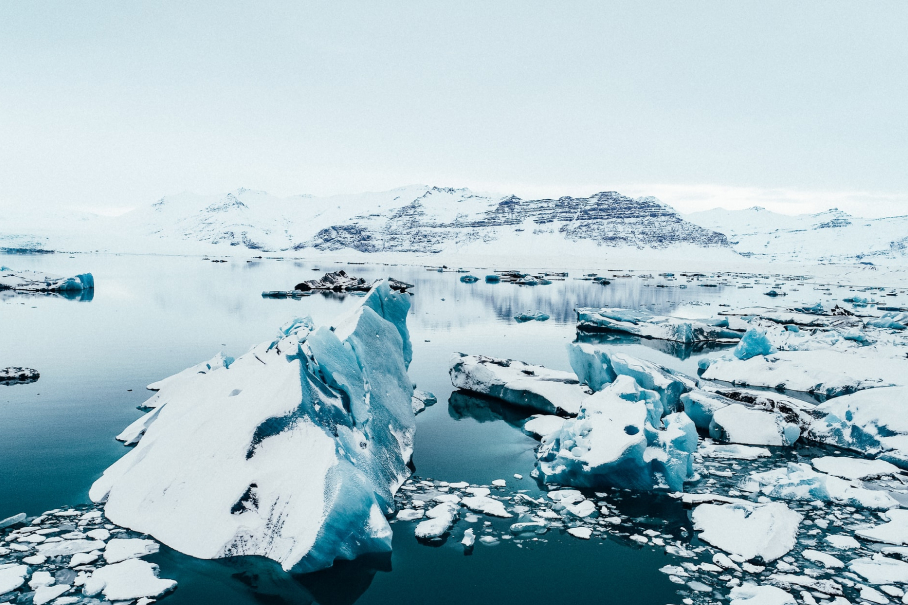 How to budget for your 7-day Iceland trip? What car should you rent for this trip?
The great thing about the winter season in Iceland is that it's more budget-friendly than other months of the year. It's the low season for travelling to Iceland, so the demand for everything is lower (excluding Christmas and New Years).
What you will need to budget for is flights, accommodation, food, and your rental car.
A flight from the US to Iceland during the winter will run you anywhere from $180 to $500 one-way, depending on where you're flying from. With it being slightly more expensive in the week of Christmas. From European countries like London or Germany, you're looking at about 30 to 100 Euro.
For accommodation, you'll spend about $180 USD/25,600 ISK per night for a hotel in Reykjavik, or $80 USD/11,400 ISK in a smaller town like Vik. But you can save even more by staying in a hostel.
For rental cars, your cheapest option will be a 2WD economy or compact car at around 16,200 ISK per day. But what we'd highly recommend when driving in the winter is a 4X4 SUV, which will run you about 22,100 ISK for a basic SUV up to 47,000 ISK for a luxury model.
For food, you can expect to pay around 3700 ISK per person for lunch and 4225 ISK for dinner.
Lastly, if you want to try out some outdoor activities and join local tours, you'll also need to add that into your budget. You can check out the various prices for local tours here.
What car should you rent for a 7-day self-drive tour?
If you're ever visiting Iceland during the winter, regardless of your itinerary, we always recommend a 4WD vehicle. Roads are often snow-covered and slippery during the winter months, so even maintained roads can pose a risk. A 4X4 is the safest option, plus will accommodate the extra luggage you likely have with all your winter gear.
For a smaller group, a compact or intermediate 4X4 car will suit you well. Larger groups should opt for a full-size or SUV. If you need some more information about renting a car in Iceland check out all of our car rental resources.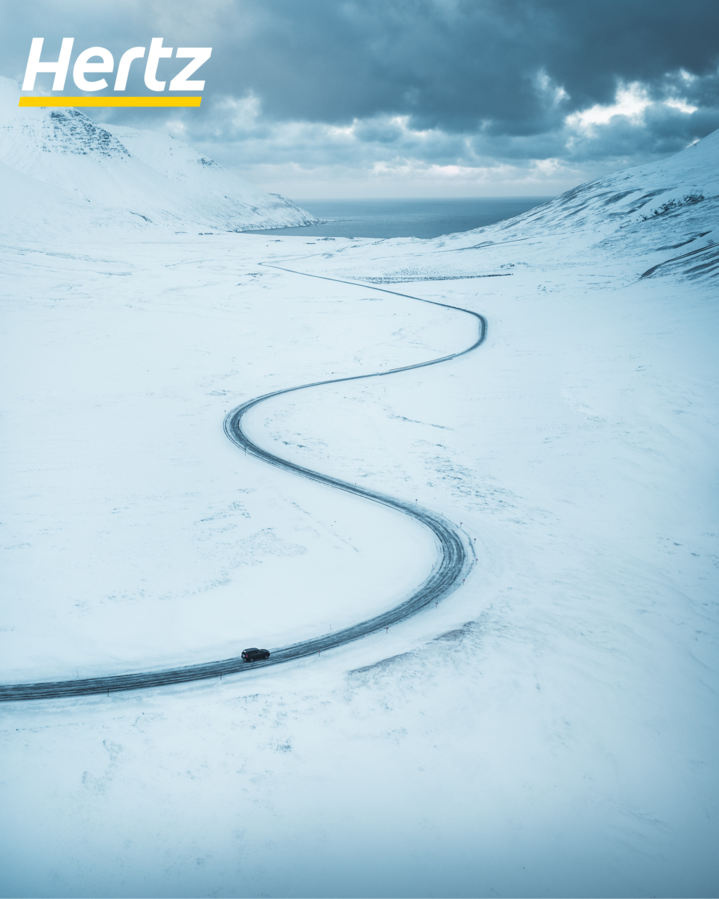 How to plan for 7 days on the road in Iceland? Things and tips you must know:
This itinerary is the ultimate 7-day road trip for first-time visitors to Iceland. If it's your first trip to Iceland, you want to hit all the top classic attractions and activities around the country. You can tweak this itinerary according to your likes/dislikes and spend more time in the places you like the most.
Here are some of our top tips for planning your 7-day winter Iceland road trip:
You can never be 100% sure of the weather and road conditions during the winter. There is always the possibility of road closures due to bad weather, so you may have to adjust your itinerary accordingly. Be ready to be flexible with your plans.
The Iceland emergency number is 112, so program it into your phone in advance in case you need to.
Learn about driving in Iceland before you rent your car so you understand the rules of the road.
Always check the weather before you head out onto the road. You can check vedur.is for weather updates and road.is for road condition updates.
It may look like you can get around the entire Ring Road in a week, but a week will not be long enough to thoroughly enjoy the route, especially during the winter.
Always book your accommodation and rental cars in advance. If you want to ensure you get your first choice of hotel and car, then you need to plan ahead, or they could be unavailable.
Winter is the most likely time to see the northern lights in Iceland, but it is still dependent on weather and luck. You can find out more information about how to see the northern lights in Iceland here.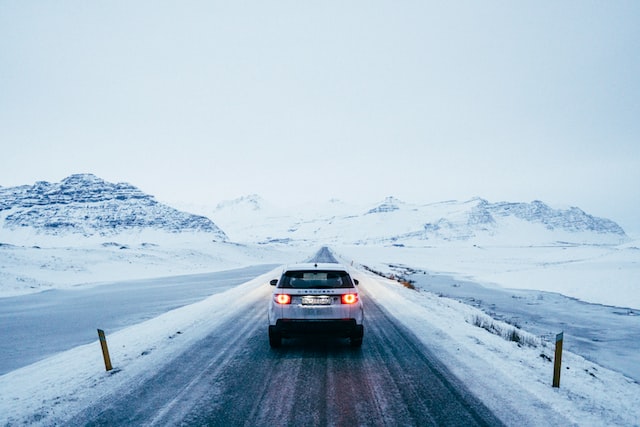 7-day self-drive classic route map with must-see attractions included
7-day Iceland road trip: detailed itinerary
Day 1: Fly to Reykjavik and stay overnight
Day 2: Snaefellsnes Peninsula
Day 3: Snaefellsnes Peninsula to Golden Circle, stay overnight in the Golden Circle area
Day 4: South Iceland, stay overnight in Vik
Day 5: South Iceland, stay overnight in Hofn
Day 6; South Iceland and head back to Reykjavik, stay overnight in Reykjavik
Day 7: Fly back home
Day 1: Arrival in Iceland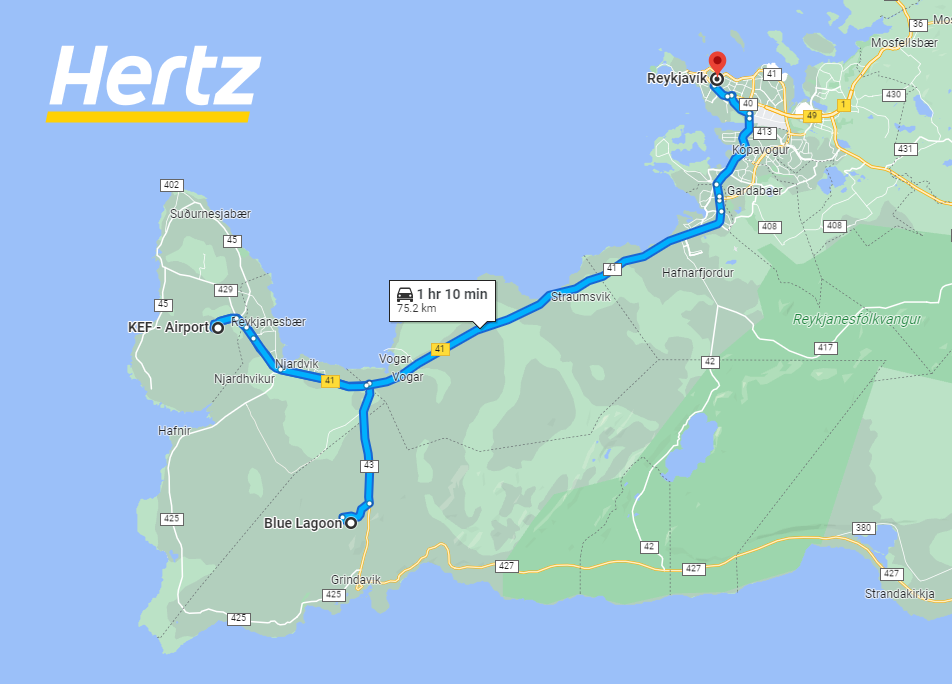 Route: KEF airport → Blue Lagoon → Reykjavik
When you arrive to KEF airport you can pick up your Hertz rental car right at the airport. You'll find the Hertz booth in the arrivals hall. Then you can head to the Blue Lagoon, which is the main attraction for the first day and is the most popular spa in Iceland. You can also push the Blue Lagoon to your final day, depending on what time your flight lands.
In the Reykjavik area the other main attractions you can visit include:
Harpa, the cultural and social centre of Reykjavik
Hallgrimskirkja, the largest church in Iceland
Sun Voyager sculpture, waterfront Viking ship sculpture
Perlan, beautiful fine dining restaurant and museums in a glass dome
You can also visit museums and restaurants or head to the swimming pool like a local.
Here are some optional things you can do by joining a tour:
Day 2: Snaefellsness Peninsula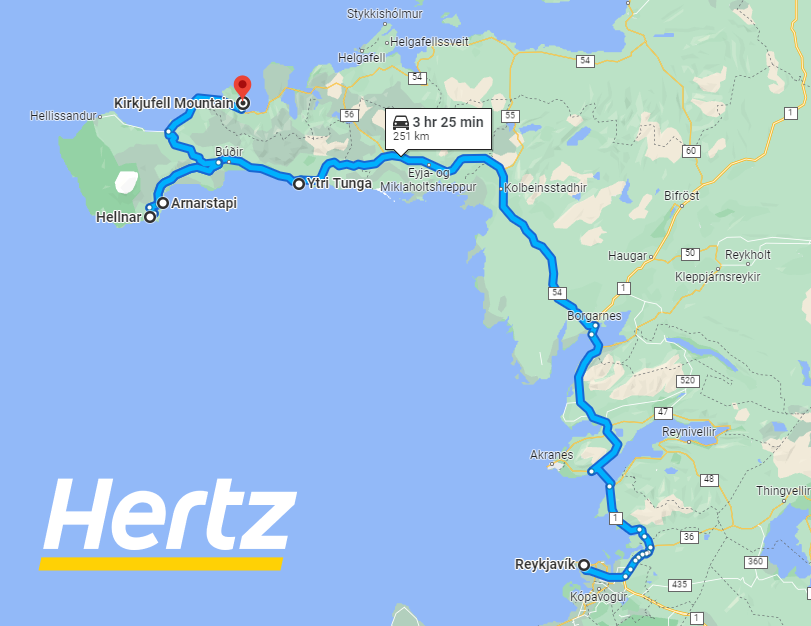 Route: Reykjavik → Ytri Tunga Seal Beach → Búðakirkja church → Arnarstapi → Hellnar → Londrangar → Djupalonssandur Black Beach → Kirkjufell Mountain → hotel/cottage.
Day 2 will take you northwest out of Reykjavik to the breathtaking Snaefellsnes Peninsula. There is tons to see in the area, which is why you'll be spending two days here. The peninsula is packed with canons, waterfalls, ocean-facing cliffs, black pebble beaches and quaint, friendly villages. It's also a great spot to see the northern lights. On Day 2 make sure to stop at:
Ytri Tunga Seal Beach, golden sand beach
Búðakirkja black church
Arnarstapi & Gatklettur, village and arched stone formation
Hellnar, small fishing village
Londrangar, cliff-side rock pinnacles
Djupalonssandur Black Beach, black lava pebble beach
Kirkjufell Mountain, the most photographed mountain in Iceland
You can also check out Stykkisholmur Town, Raudfeldsgja Ravine,Olafsvik Town & Grundarfjordur Village,Bjarnafoss Waterfall, Ondverdarnes and Svortuloft Lighthouse. You can stay in the peninsula, which is what we recommend for potential northern lights viewing, or head to the Golden Circle.
Here are some optional things you can do by joining a tour:
Day 3: Golden Circle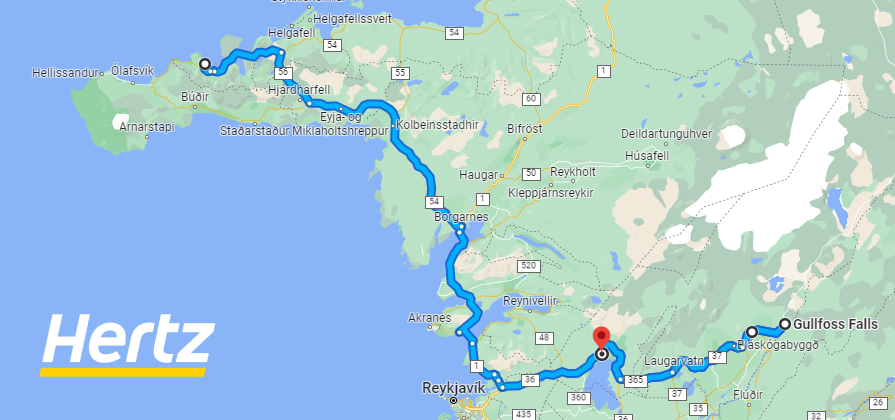 Route: Snaefellsnes → Golden circle attractions → Thingvellir National Park → Geysir Geothermal Area → Gullfoss → hotel in Golden Circle
Day 3 you will finish up any extra activities you want to see in the Snaefellsnes Peninsula before heading toward the Golden Circle. This route will take you to Iceland's iconic geothermal geysirs, waterfalls and to the historic place you can see two continents at once. On Day 3 you'll visit:
Thingvellir National Park, where you can see the rift valley caused by the separation of tectonic plates
Geysir Geothermal Area, home to one of the best-known geysers in the world
Gullfoss, Iceland's most iconic waterfall
You will also have time to visit Skalholt, Thjorsardalur Valley, Solheimar Eco-Village, Helgufoss and Thorufoss Waterfalls, Fridheimar Tomato and Horse Farm , Kerid Crater.
Here are some optional things you can do by joining a tour: Snowmobiling on Langjokull Glacier, Secret Lagoon in Fludir, Fontana Geothermal Baths, snorkeling in Thingvellir National Park.
Day 4: South Iceland via Route 1 Ring Road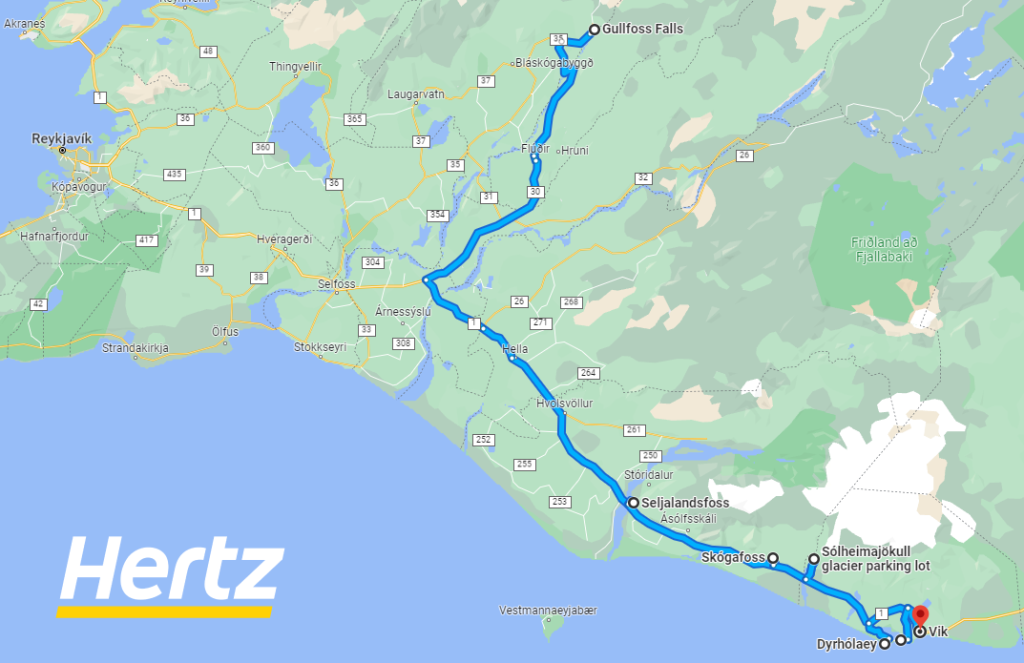 Route: Golden Circle hotel → Seljalandsfoss → Skógafoss → Sólheimajökull Glacier → Cliff Dyrhólaey → Reynisfjara Black Sand Beach → hotel in Vik area
The fourth day of your winter Icelandic road trip will spent heading to South Iceland via Route 1 Ring Road. From your hotel on the Golden Circle start your day visiting the towering Seljalandsfoss waterfall and Skógafoss, which is a great place for an epic photograph. You'll also hit other waterfalls and have the opportunity to do some glacial hikes. You'll spend the night in the southern town of Vik. On day 4 make sure to visit:
Seljalandsfoss, 60m high glacier waterfall
Skógafoss, a wide, flat waterfall that you can walk up to
Sólheimajökull glacier, an accessible glacier that you can hike onto
Cliff Dyrhólaey, walk to cliff for great view of the beach and huge natural arch
Reynisfjara Black Sand Beach, surrounded by iconic basalt columns
Vik, seafront village
You can also visit Gljúfrabúi Waterfall, Kvernufoss, Sólheimasandur Plane Wreck (DC-3 Plane Wreck), Katla Ice Cave (must book a tour), and Hjörleifshöfði Cave.
Here are some optional things you can do by joining a tour:
Day 5: South Iceland (Vik to Hofn)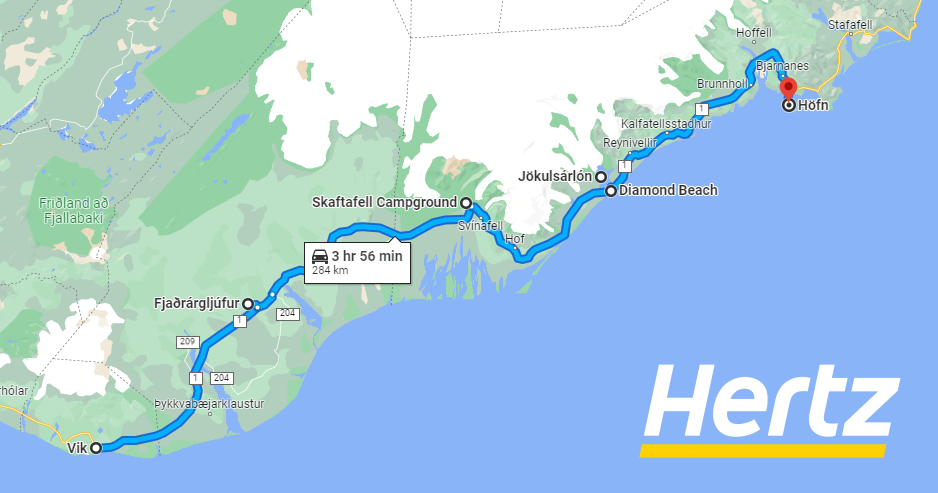 Route: Vik hotel → Fjaðrárgljúfur Canyon → Skaftafell National Park → Jökulsárlón → Diamond Beach → hotel in Hofn
Day 5 will also be spent on the South Coast, travelling from the towns of Vik to Hofn. This area of the country contains large glaciers, glacial lagoons, and the epic Fjaðrárgljúfur Canyon. The glacial tongues weave through the valleys creating picturesque canyons. From your hotel in Vik, you'll head to:
Fjaðrárgljúfur Canyon, a 100-meter-deep canyon
Skaftafell National Park, a wilderness area with huge glaciers and trails
Jökulsárlón, a glacial lagoon with blue waters and icebergs
Diamond Beach, black sand beach with iceberg fragments
Hofn, second largest town in the southeastern part of Iceland
If you have time you can also visit Eldhraun Lava Fields, Svínafelljökull viewpoint, Hofskirkja, Fjallsárlón.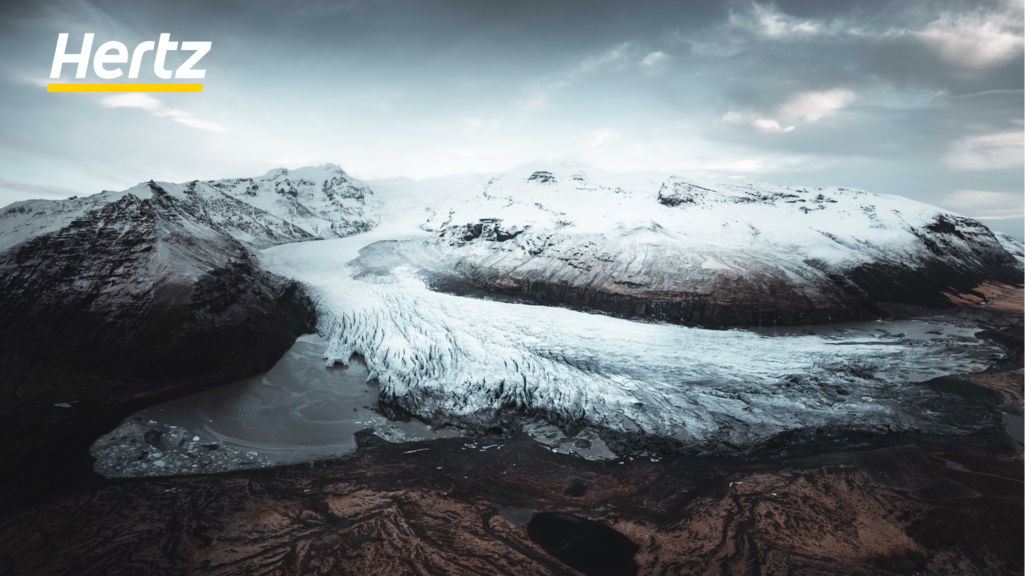 Day 6: South Iceland + drive back to Reykjavik

Route: Hofn → Glacier ice cave tour near Jökulsárlón (highly recommended) → Any attractions missed along the way → Hotel in Reykjavik
On your last full day in Iceland we highly recommend checking out the glacier ice cave tour near Jökulsárlón. From there, you will start your journey back to Reykjavik, hitting any of the attractions you missed on your first way through the route.
Aim to visit Stokksnes and Vestrahorn mountain, plus any additional attractions on the route from Hofn back to Reykjavik. You can also join some tours if you'd like as well.
Here are some glcier ice cave tours you can choose from:
Day 7: Fly back home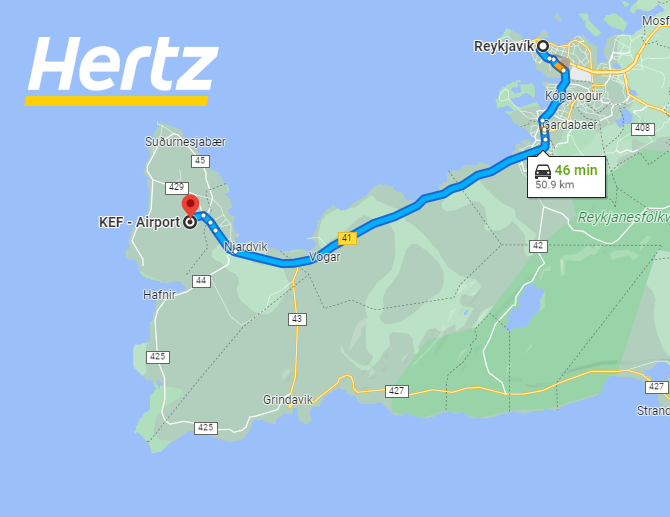 Route: Reykjavik → Blue Lagoon (if you didn't visit on day 1) → KEF airport
It's your last day in Iceland, so it's time to head home. If you didn't make it to the blue lagoon on the first day, you can visit it today before heading to the airport. Then you can head directly to the airport and drop your rental car at the Hertz KEF airport car return station.
Iceland 7-day winter itinerary
A 7-day road trip in Iceland is the perfect introduction to the best attractions in the country. Visiting in winter means you'll get to experience unique experiences that you can't other times of the year, and for more budget-friendly prices. This itinerary can be modified based on what you and your group like the best, and you can add on tours on the way to round out your trip. From hot springs to volcanos and waterfalls, Iceland has a bit of everything. Make sure you always book your car online and in advance to ensure you get the perfect rental car for your winter road trip.