One of Iceland's most notable features is its volcanoes, with around 130 of them in total. That's why it's called the land of fire and ice! The most recent eruption was the eruption of Fagradalsfjall on March 19, 2021, which lasted for 6 months and put a spotlight on Iceland's volcano scene. Now, many tourists are coming to Iceland specifically to see the volcanoes.
If you're visiting Iceland, you don't want to miss some of the amazing volcanoes on the island. In this article, we will round up the top 5 articles in Iceland, tell you where they are located and how to visit them with a rental car. Read on to find out everything you need to know about Iceland's best volcanoes!
Related links: Rent a car in Iceland; Our KEF airport arrival hall office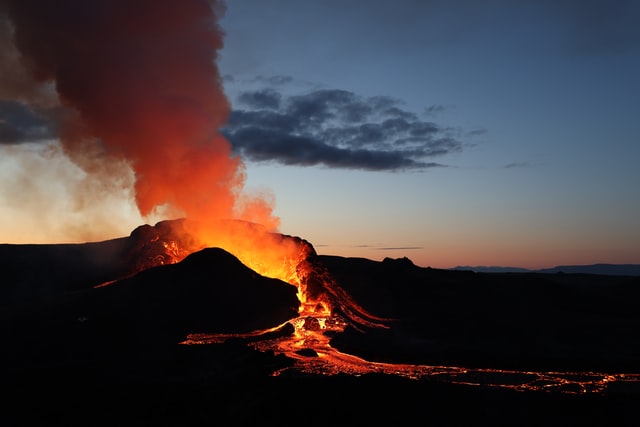 Table of content
Facts about volcanoes in Iceland
Iceland has 130 volcanoes in total
There are 32 volcanoes currently considered active in Iceland
In the last 500 years, the volcanoes in Iceland have produced 1/3 of global lava output
18 volcanoes have erupted in Iceland since the island was settled in 871 CE
Any volcano that hasn't erupted in 10000 years is considered extinct
Iceland is a volcanic hotspot because of its location on the Mid-Atlantic Ridge, which is a tectonic plate boundary
Some of the most famous modern volcano eruptions in Iceland include:
1963-1967, Surtsey
2014-2015, Holuhraun
2010, Eyjafjallajökull & Fimmvörðuháls
2011, Grímsvötn
2021, Geldingadalir
In case you are curious: 2021 erupted Iceland volcano — Geldingadalir volcano is NOT erupting anymore. However, you will still be able to hike to the volcanic site and see the newly formed lava field.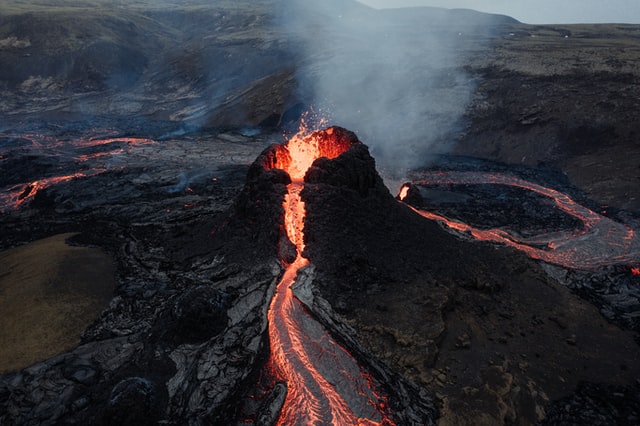 Volcanoes in Iceland Map: Our top 5 picks and other famous volcanoes in Iceland
The map below features all the fantastic volcanoes that we recommend in this article along with some of the other famous volcanoes in Iceland.
What car should you rent if you want to visit volcanoes in Iceland?
When you're renting a car to visit the volcanoes around Iceland there are a few main things you'll need to consider. These include:
The weather during the season you're visiting
The number of people you're traveling with
How much luggage you'll be bringing
The volcanoes you're visiting, which areas of the country they're located in, and what roads you'll need to take to get there
If you're visiting in the summer months then you can visit most of the volcanoes with an economy or compact car, if you have a small group. Intermediate and full-size cars are better for groups of 3 or more, and you'll definitely want a 4WD vehicle if you're visiting in the winter. For more tips on renting cars in Iceland check out some of our resources on car rental tips. You can find tons of articles here about how to rent cars in Iceland and what types of cars to rent.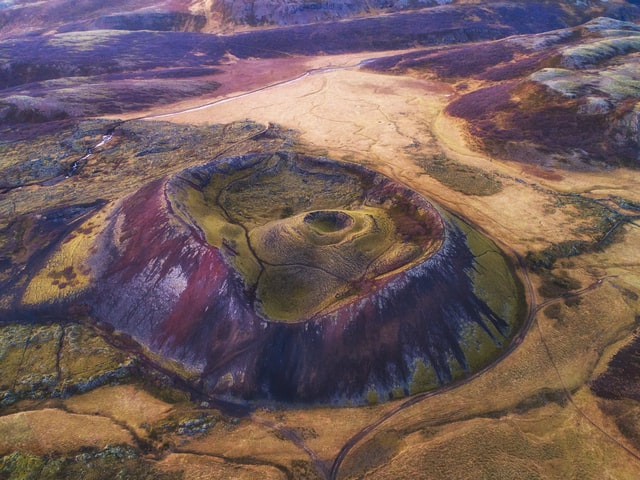 Our top 5 Iceland volcano picks
1. The only volcano in the world where you can visit its magma chamber: Thríhnúkagígur Volcano (Þríhnúkagígur)
Thríhnúkagígur Volcano is a dormant volcano that erupted around 4000 years ago. Its name in Icelandic translates to Three Peaks Crater, for obvious reasons as you'll be able to see all three craters and even descend into one. One of the craters, characterized by a small cinder cone, is a whopping 700ft deep! With most volcanoes, the magma chambers (where the lava comes up out of the earth), are sealed off after eruption by solid lava. But this isn't the case with Thríhnúkagígur.
It's actually the only volcano in the world where you can visit the magma chamber, as the solid lava that is normally in the chamber is not there. While experts don't know for sure why this is, they expect the magma was just sucked back down into the earth, or that it solidified and cooled in the walls of the crater.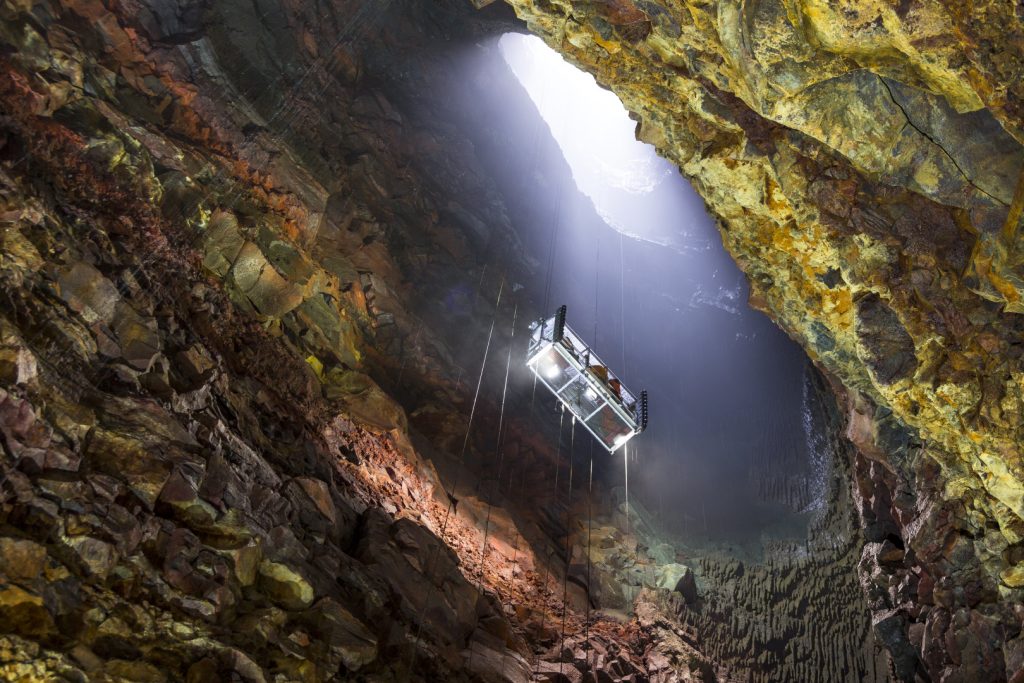 Where is Thríhnúkagígur?
Thríhnúkagígur Volcano is located just under 34km (21 miles) southeast of Reykjavik. It only takes about 40 minutes to reach the volcano by rental car and the drive is very straightforward.
When to visit?
Though you can see the volcano from the outside year-round, if you want to get the most out of your time at Thríhnúkagígur Volcano then you should plan to visit in the summer. Summer is the only season where you can go inside the volcano and you'll have to enter with a professional guide.
What car should you rent for this trip?
Both a 2WD and 4WD rental car will be acceptable for your trip to Thríhnúkagígur Volcano as you will only need to drive yourself to the meeting point to join the tour.
2. The notorious one, causing havoc to air travel in 2010: Eyjafjallajökull
Eyjafjallajökull is a subglacial volcano in southern Iceland. It actually sits underneath the Eyjafjalla Glacier with it's longest eruption recorded in 1821, lasting for 14 months straight. But that's not what the volcano is known for. It's most recent eruption in 2010 was sparked by a series of small earthquakes which caused new fissures to surface undeath the glacier. The lava melted the glacier quickly which caused ice, water and mud to enter nearby rivers, causing flooding which damaged roads and farmland. In addition, the steam and ash caused by the volcano put a stop to all commercial air travel and 800 people had to evacuate the area.
Now, you can stop at one of the tourist viewpoints just off of Route 1 to get a glimpse of the volcano on the horizon.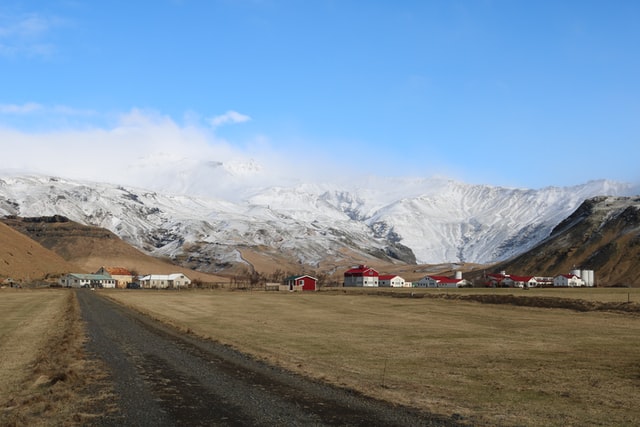 Where is it?
You can see Eyjafjallajökull volcano by driving about 1 hour and 40 minutes south out of Reykjavik on Route 1. Once you get to the town of Hvolsvöllur you'll exit onto road 261 and drive until the road comes to an end, where you will be able to see the volcano. Depending on the season and conditions you could potentially cross the river for a better look, as long as you have a 4X4 SUV.
When to visit?
You can see Eyjafjallajökull volcano from a distance all year long since it's viewable from the Ring Road. If you want a closer look via the route above then you'll want to go in the summer.
What car should you rent for this trip?
The ideal car for this trip depends on the season. For a small group in the summer a 2WD will suffice. For a bigger group in the summer an SUV or 4X4 SUV is best. In the winter we always recommend a 4X4 SUV.
3. One of the largest and most active volcanoes in Iceland: Katla
Katla is another subglacial volcano in Iceland's southern region and lies under the Myrdalsjökull icecap. Of all the volcanoes in Iceland, Katla is the most active, experiencing an eruption once every 50 to 100 years. The last major eruption was in 1918, so statistically, it is due for another one any time now, but its volcanic activity is being closely monitored to ensure it's safe for visitors to go and see. That said, because of its location you can't get very close to the volcano itself and will have to view it from a distance unless you book a helicopter tour or super jeep tour.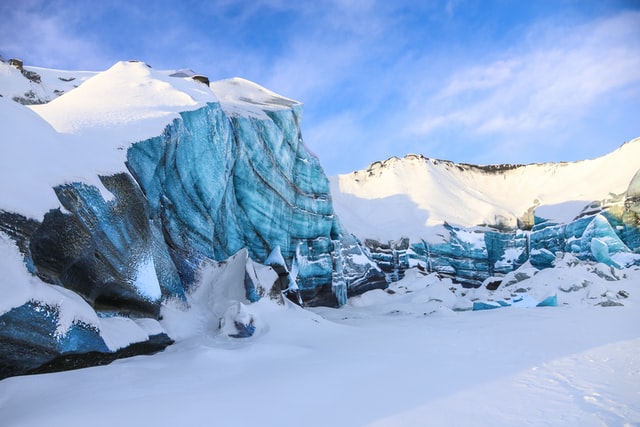 Where is it?
You can catch a glimpse of Katla volcano right on the Ring Road. As you drive out of Reykjavik towards Vik you'll be able to see Katla on the north side of the highway as soon as you pass the bridge by Seljalandsfoss waterfall, which is about 1 hour and 45 drive from Reykjavik.
When to visit?
You can see Katla from the Ring Road all year long. You can also join a Katla ice cave tour to visit both the volcano and the ice cave. Or, join a glacier hiking tour on its glacier tongue, Solheimajokull glacier. Both of these tours operate all year round.
What car should you rent for this trip?
For a small group in the summer a 2WD will suffice. For a bigger group in the summer an SUV or 4X4 SUV is best. In the winter we always recommend a 4X4 SUV.
4. The one in the north: Krafla
Krafla is located north of Lake Mývatn in northern Iceland. The volcano's crater is around 10 km (7 miles) wide but there is over 90km (56 miles) of fissure zone surrounding it. Since Iceland was settled Krafla has experienced 29 eruptions, with one of those lasting for five years! What was iconic about this eruption was that the lava spray was so high it was visible from the South Coast. There are plans to harness the power of this volcano to support Iceland's green energy initiatives.
Krafla's proximity to other beautiful natural sites in Iceland makes it a great place to visit. Although it's far from the capital, if you make your way to the north you can also enjoy Lake Mývatn, Dettifoss waterfall and Ásbyrgi canyon.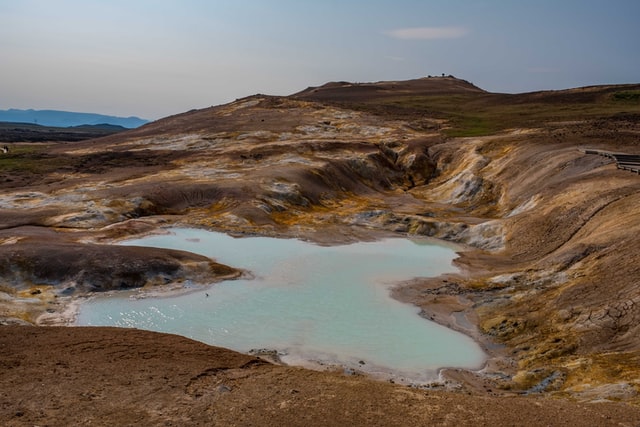 Where is it?
Krafla is located just off the Route 1 Ring Road in North Iceland. It's around 485km (301 miles) from Reykjavik, which takes 6+ hours to drive so we'd recommend visiting Krafla as part of a multi-day or week-long self-drive tour around the Ring Road. Akureyri is a popular place to stop and stay overnight on your way to Krafla. You'll exit Route 1 just past Lake Mývatn.
When to visit?
The best time to visit Krafla volcano is the summer. It is always most accessible between June and August. During the winter the road to Krafla is always covered with heavy snow and almost always closed due to bad weather.
What car should you rent for this trip?
You should always rent a 4X4 SUV if you're planning on visiting Krafla.
5.The door to the center of the earth: Snaefellsjokull Volcano
You'll find the Snaefellsjokull volcano in west Iceland on the Snæfellsnes Peninsula. It's right in the middle of the national park and it's about 1446 meters tall making it visible from Reykjavik on a clear day. This volcano is also subglacial, covered by snow and ice and was the subject of Jules Verne's Journey to the Center of the Earth. The volcano features lots of different rock formations both on and around it, which became a huge part of Icelandic folklore. It was said they were trolls that became immobilized by the sun. The last time that Snaefellsjokull Volcano erupted was in approximately 200 CE, but it's still considered active since it's been under 10000 years since the last eruption.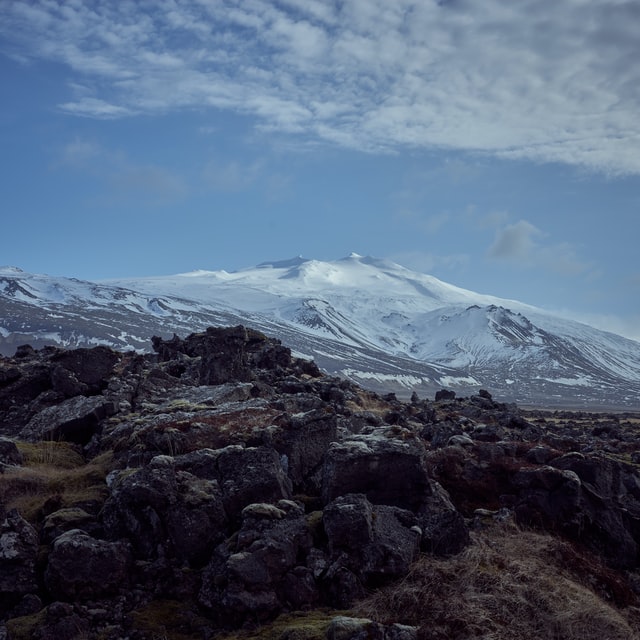 Where is it?
Snaefellsjokull Volcano is located on the western tip of the Snæfellsnes Peninsula, approximately a 3-hour drive and 197km (122 miles) from Reykjavik.
When to visit?
You can see Snaefellsjokull Volcano from a distance all year round from the Route 1 Ring Road by looking across the bay. During the summer you can drive into the national park and see it from there.
What car should you rent for this trip?
For a small group in the summer a 2WD will suffice. For a bigger group in the summer an SUV or 4X4 SUV is best. In the winter we always recommend a 4X4 SUV.
Safe travel tips when visiting Iceland volcanoes
The weather in Iceland can be unpredictable, and you could find yourself stuck in remote areas if a storm hits. While it's unlikely that a volcano will erupt during your trip it's still important to take all the necessary safety precautions when visiting volcanoes in Iceland with a rental car. Here are some of our top tips:
Check the daily weather forecast on vedur.is
Check the daily road conditions on road.is
Don't underestimate the variability of road conditions in Iceland. If you're not a super confident driver then you may want to consider joining a local tour to the volcanoes and using your rental car for the other days of your trip
Jot down Iceland's emergency number – 112
Stick to marked paths when exploring geothermal areas, especially mud pools. The water in the pools can reach up to 100°C.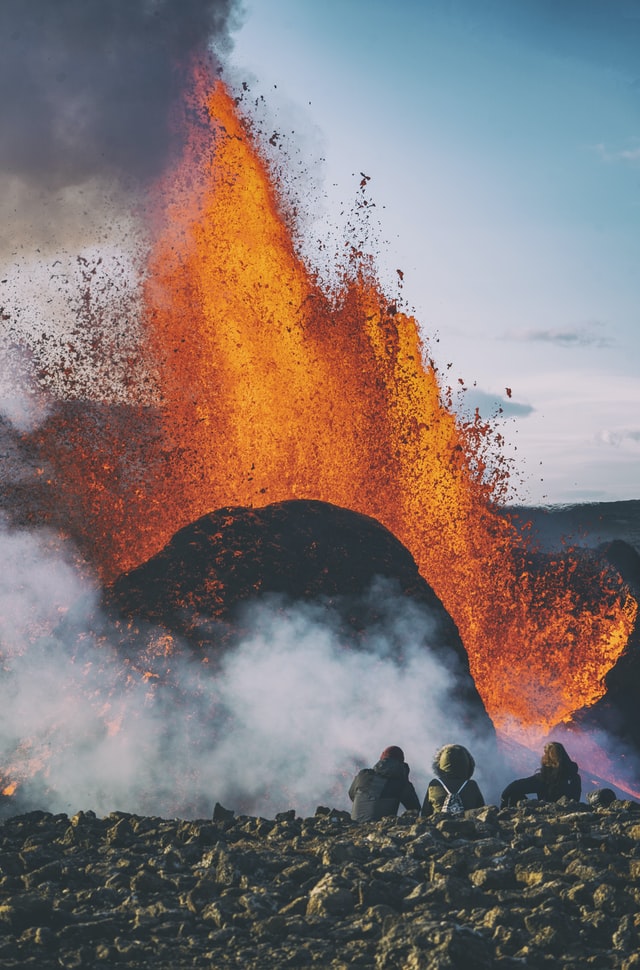 Visiting volcanoes in Iceland
When you're visiting Iceland, touring the volcanoes is a non-negotiable. The top five we've featured on this list are super accessible with a rental car, but if you have more time you can explore other attractions and volcanoes around the island. Always remember to book your rental car online and in advance, especially during the high season. And if you're having difficulty choosing the perfect car for your Iceland trip or need some advice don't hesitate to content hertz@hertz.is for support. Book your rental car with Hertz Iceland today and get ready to explore some of the islands volcanoes.