With a name like Iceland, you might assume that visiting the country in the winter will be cold, dark, and, well… icy. But the reality is that visiting Iceland in the winter offers the unique opportunity to experience things you can't experience during other parts of the year. And it doesn't get as cold as you think! The purpose of visiting Iceland is to explore terrain that you won't find anywhere else in the world, and the best time to do that is in the winter. A winter Iceland self-drive trip will truly be one that you will never forget, and in this article, we will cover all the reasons why. Plus, we will include some information about winters in Iceland and some safety tips for driving on the roads.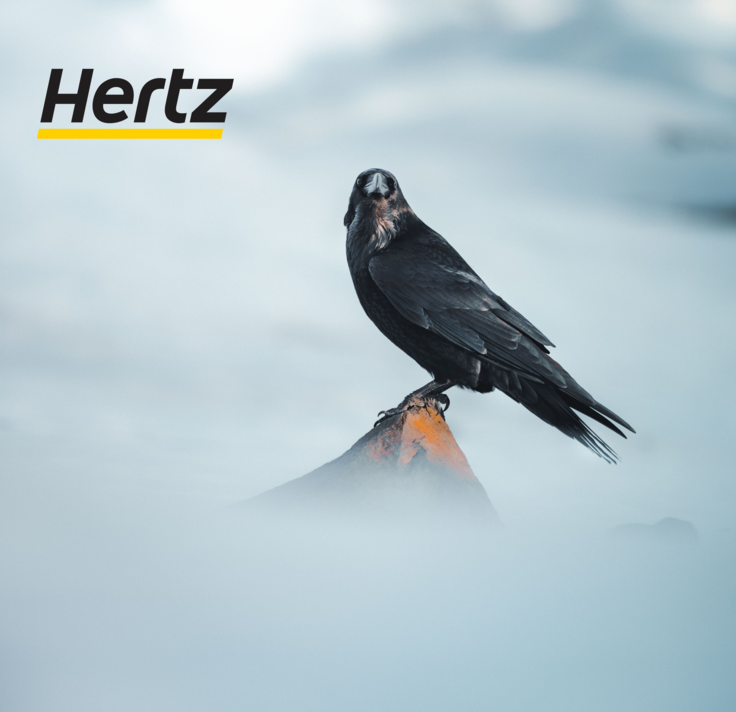 Table of content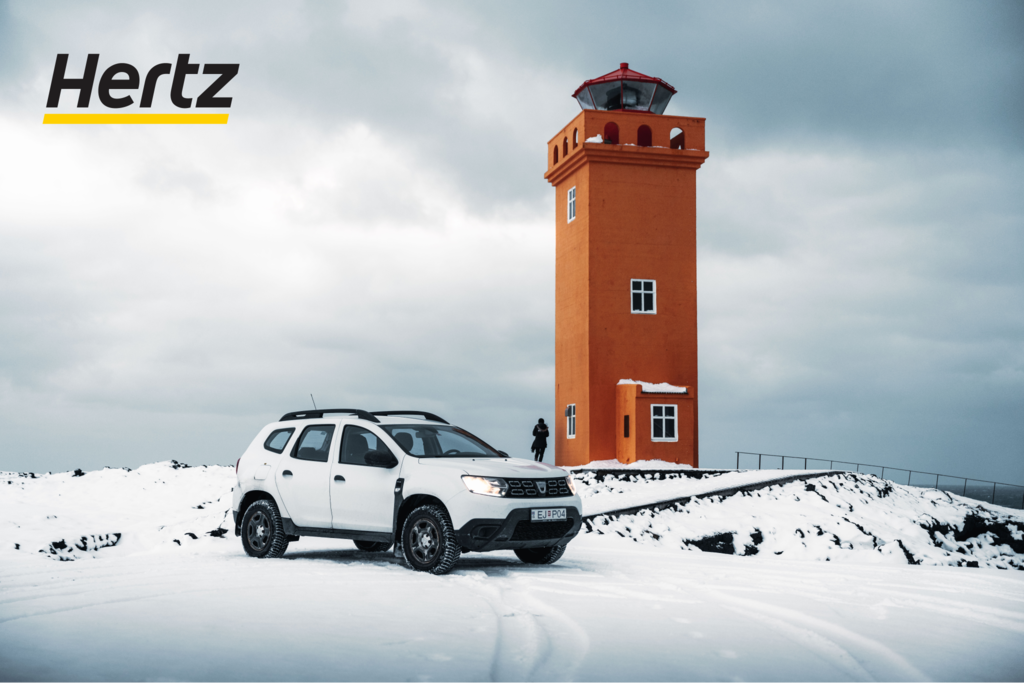 Iceland in winter: quick facts
We know you have some burning questions about Iceland in the wintertime, and we have the answers!
When are the winter months in Iceland?
The winter season in Iceland is longer than in most other countries, running from November until the end of March. That said, both October and April can also be icy and crisp. As a general rule, as long as you're visiting between the end of October and mid-April, you should be able to participate in most winter activities in Iceland.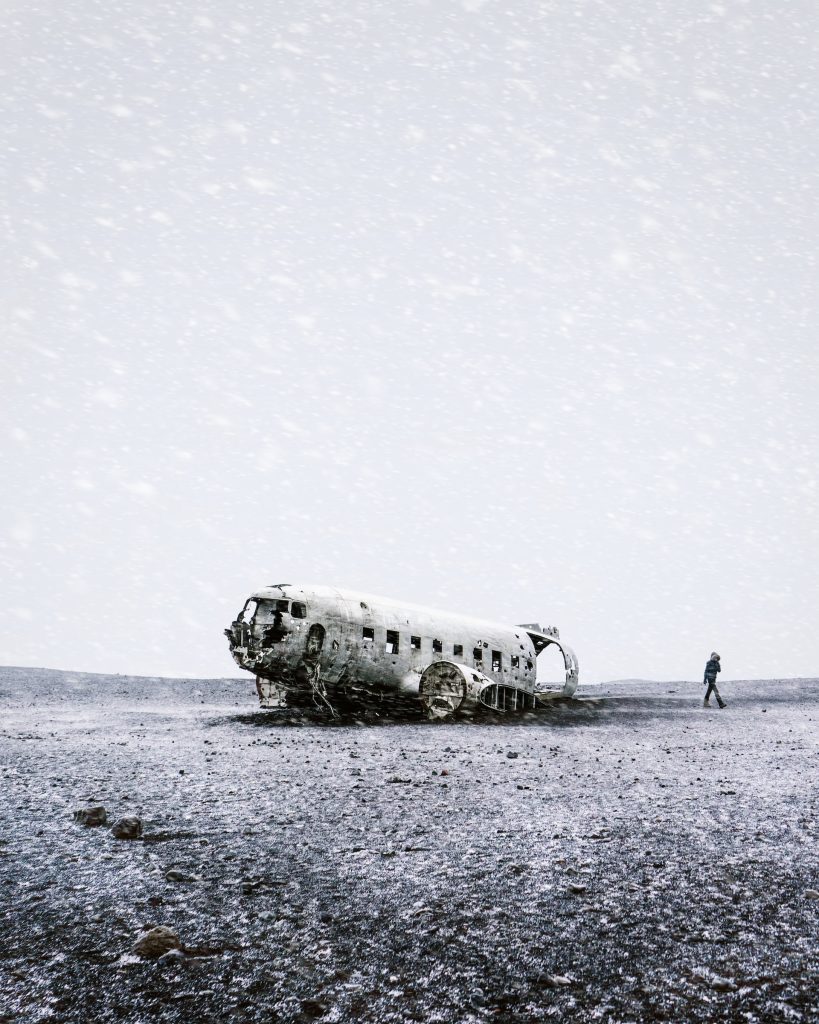 What is the temperature in winter in Iceland? How cold is it?
If you're from Europe or North America, you could be used to temperatures as low as -20°C. But in Iceland, the temperature usually only goes down to a low of -6°C month of the year, and that's in the coldest part of Iceland. The winter average is between -6°C to 7°C (or 21ºF to 45ºF).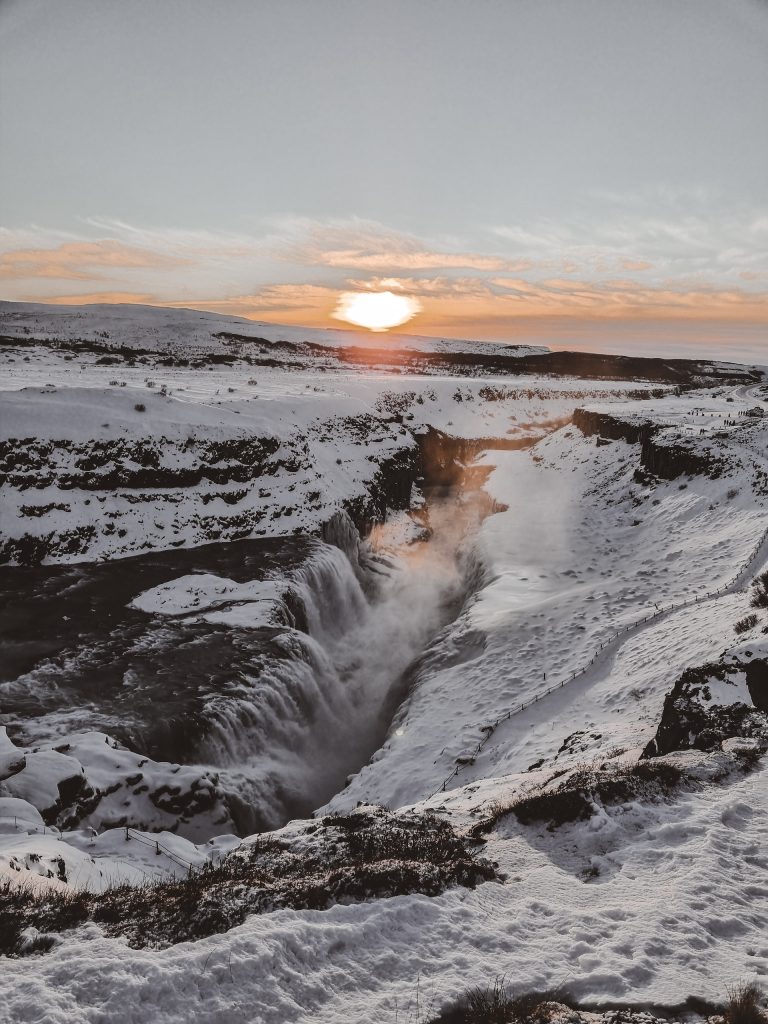 How is the weather in Iceland during the winter?
The weather conditions in Iceland can vary dramatically during the winter months. One minute it might be sunny, and the next, snowy and windy. That said, the temperature still is relatively mild for winter. Storms can be common, and you need to be incredibly careful on the roads when they hit. Visibility may be low, and roads can become icy.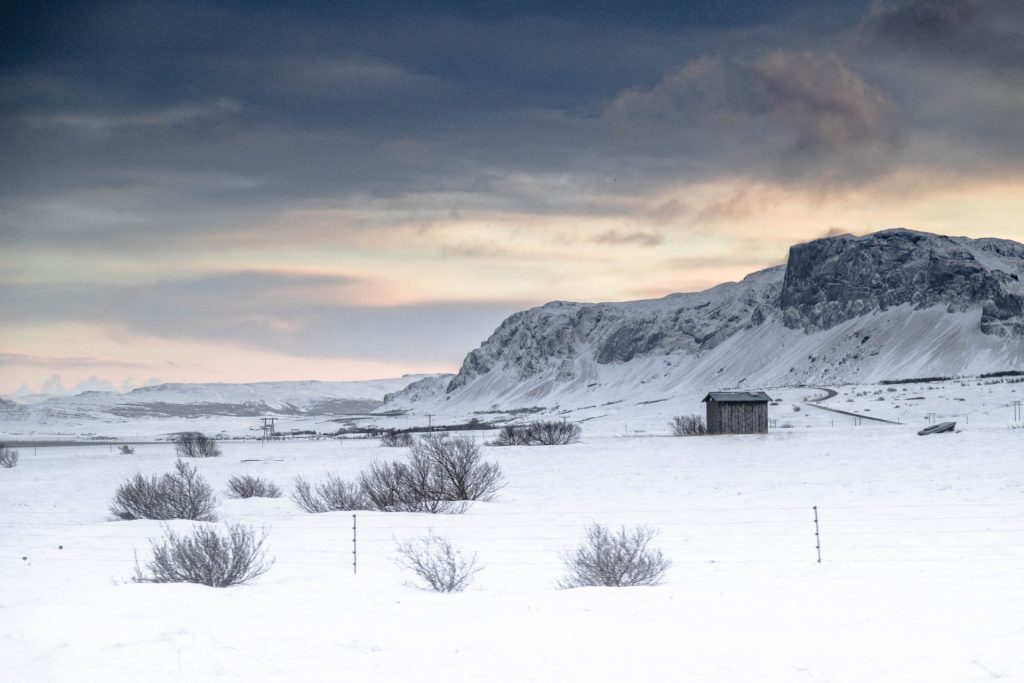 Is Iceland completely dark in winter?
Iceland is not completely dark in the winter. Days are much shorter, especially during December and January, when there are only about 4-5 hours of daylight. But from December 21 onwards, daylight increases by about 3 minutes per day. During November and March, you'll get full 8+ hours of daylight. By planning your days effectively, you'll still have plenty of time to enjoy Iceland's attractions.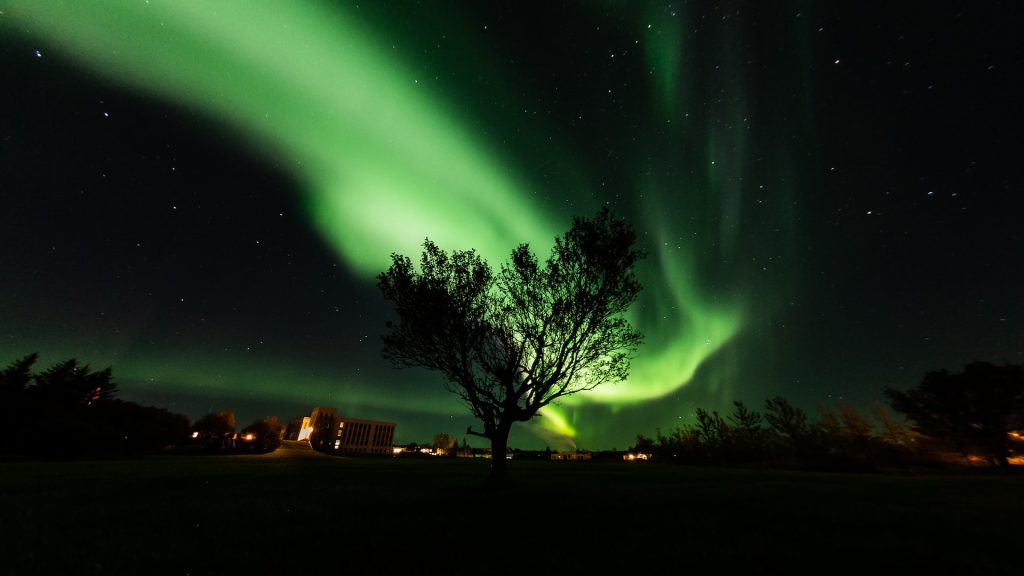 What are the road conditions like in the winter?
If you're sticking to main roads, like Route 1, they are usually well-maintained, even in the winter. That said, when unexpected storms hit, you need to be prepared for delays. That's why it's essential to factor in buffer time for any self-drive trip during the winter. Roads in Northern Iceland or the Westfjords will be hard to drive during the winter, with some roads being closed entirely. There are also no street lights outside the urban areas of Iceland, so we advise only driving during daylight and planning your accommodation stops. For more information, you can check our Iceland road system and condition guide.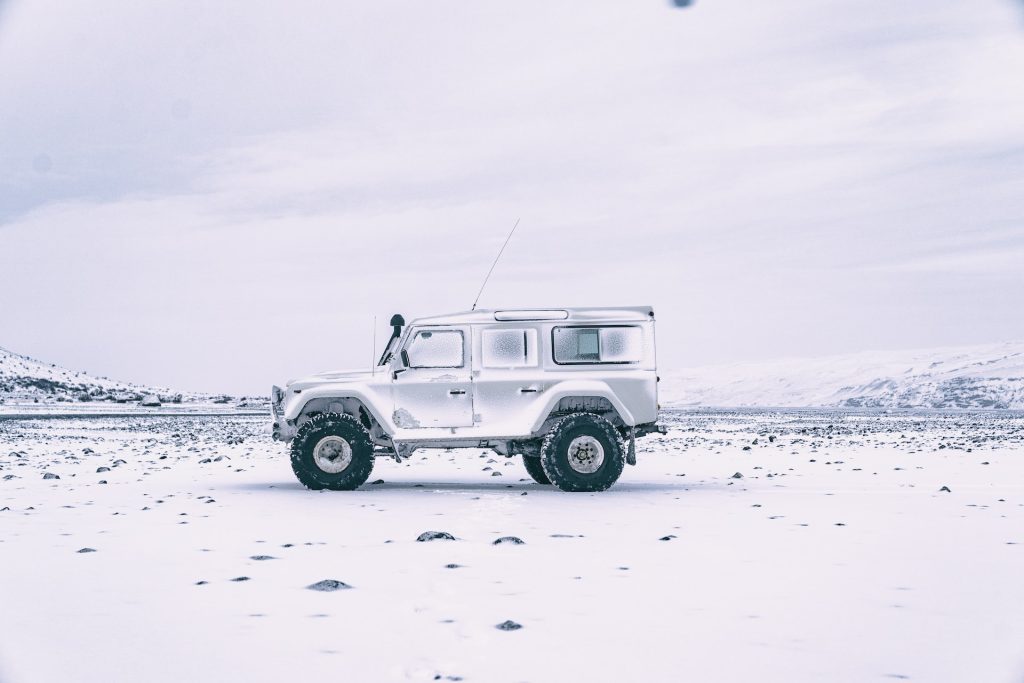 Reason 1: Winter is the cheapest and less crowded season to visit Iceland
When travelling anywhere, it seems that the best places have already been discovered. Visiting beautiful attractions that are packed with tourists takes away from the experience, especially when visiting natural wonders. Winter is the low travel season in Iceland, meaning you may even have some locations all to yourself! Tours will be more intimate and easier to book, plus they will be cheaper due to the lower demand. Accommodation, flights and car rentals are also most affordable during the winter, so it's a win-win. Christmas and New Year's are the only exceptions.
Best rental cars for winter Iceland road trip
During the winter months, it's highly recommended that you rent a 4X4. Depending on your group size, you can rent a compact, intermediate or full-size 4WD. But a 4X4 SUV will always be your best option during the winter. 4WD rental cars are easier to get out of the snow if you get stuck or snowed in. The higher the car chassis, the better. Plus, a 4X4 will help you to handle winter road conditions.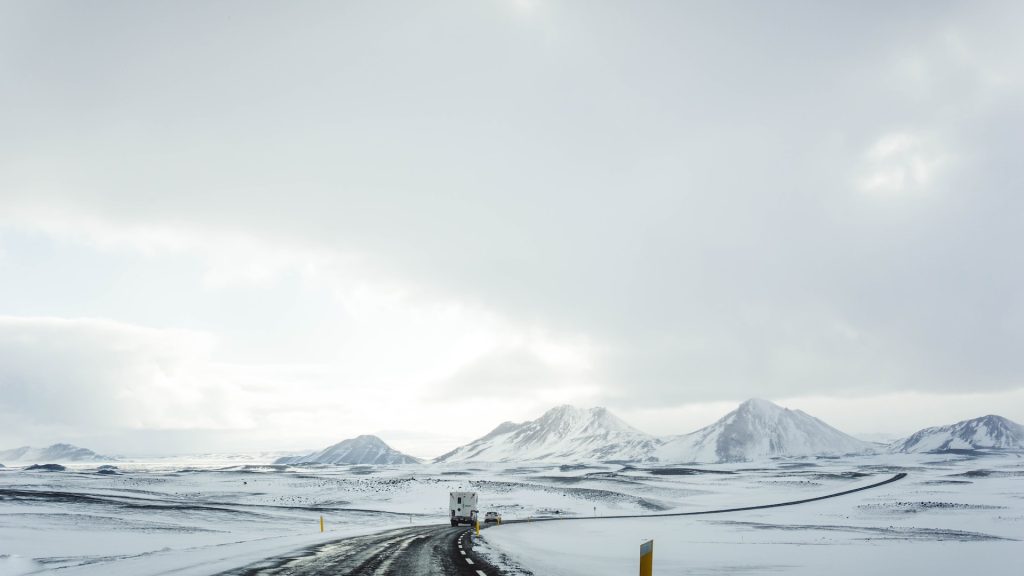 Reason 2: The best time to chase the northern lights
In order to see the northern lights, it needs to be dark. And in the winter, there are way more hours without sunlight, so your chances of seeing the northern lights dramatically increase. Still, you'll want to get far away from the city lights and avoid nights where the full moon is out to ensure the best view possible. Check out Vedur.is for the Aurora forecast to see when your best chances to see the northern lights are. A clear night is when you're most likely to catch a glimpse, so bundle up and be patient, and you might just get lucky. We've pulled together a complete guide on how to see the northern lights in Iceland, so have a read for more information.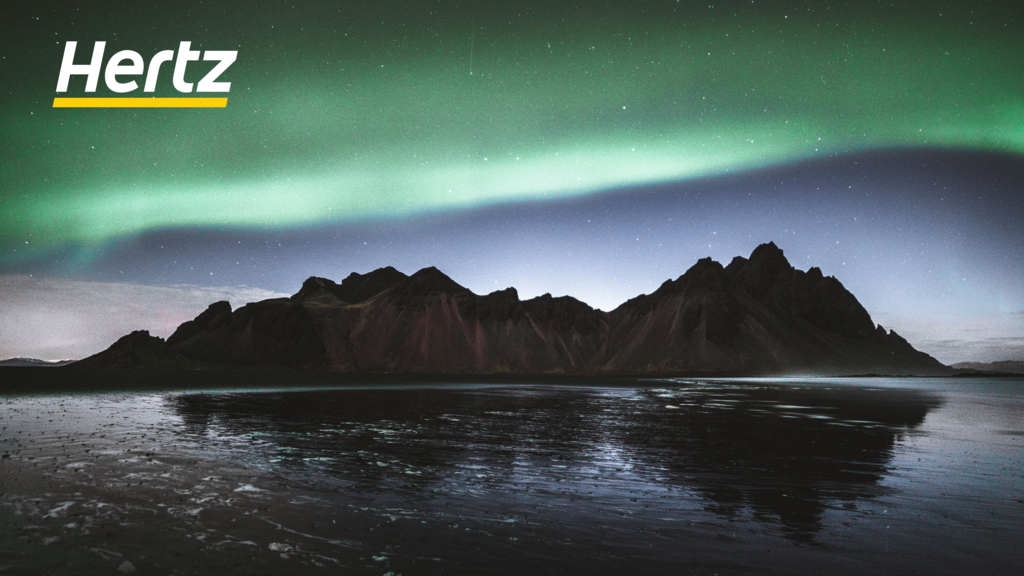 Reason 3: It's the only season you can see the glacier blue ice cave in Iceland
One of the most popular photographs everyone takes in Iceland features the beautiful blue ice caves. But did you know that you can only access most of them during the winter? Because they are made entirely of ice, they are only safe to enter during the winter months, when the temperature is cold enough to keep the ice frozen. They are formed from glacial meltwater and geothermal activity, which melts the glaciers and then freezes during the winter. You will need to take a tour with a professional guide to visit the blue ice cave because even in the winter, they can still be unsafe if you don't know your way around them. You will also need specialized equipment to enter the blue ice caves. There are many incredible ice caves in Iceland that you can visit with your rental car during the winter.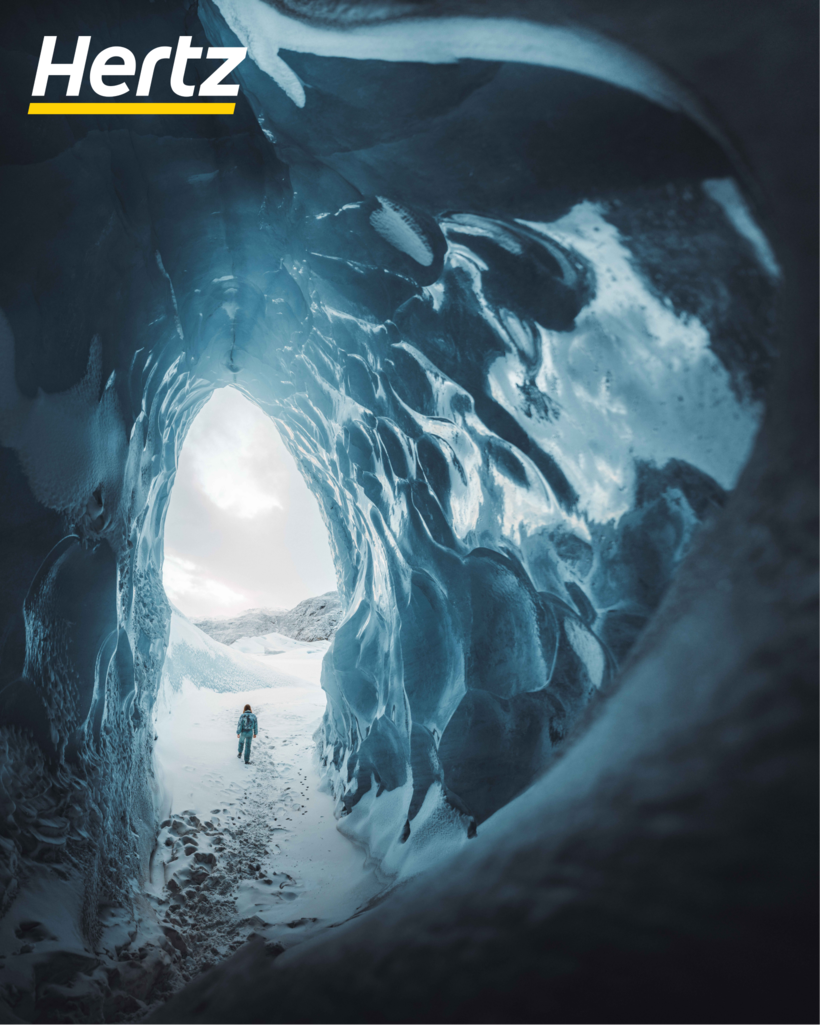 Reason 4: Winter lighting is good for pictures
Lighting is key for taking the perfect picture. If you're visiting one of Iceland's beautiful attractions, but the sun is in the wrong position, it can dramatically impact the quality of your photos. The dramatic lighting in the summer needs to be timed accordingly, but winter lighting is much softer, with stunning golden tones. The sun never rises too high in the sky in the winter months, so you won't need to worry about harsh lighting and can get that perfect shot for your memories. In general, everything looks more otherworldly and magical during the winter months, so you'll get photos that are unlike anything you'd get anywhere else.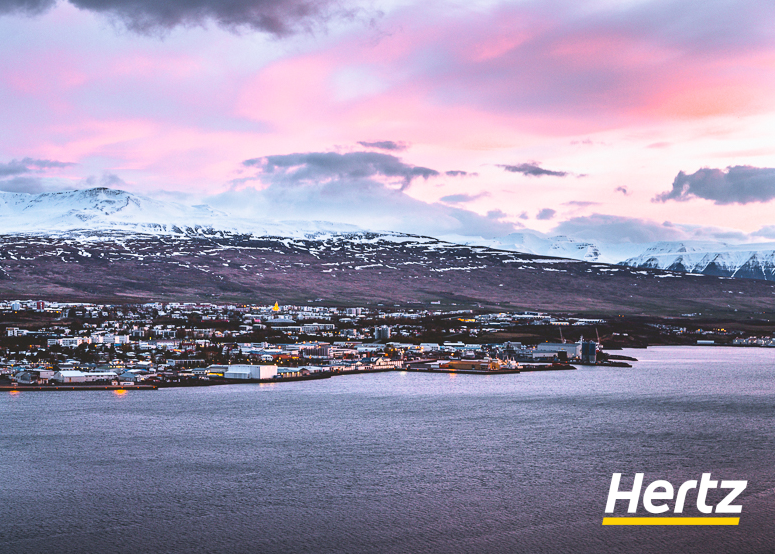 Reason 5: Best time to enjoy the hot springs
Jumping into a steaming hot spring just doesn't sound as appealing during the summer, when we'd likely prefer to feel the cool spray of a waterfall. Climbing into hot springs during the winter is incredibly relaxing and enjoyable after a chilly day exploring ice caves or hiking glaciers. The hot springs in Iceland are created by geothermal water coming up through the ground, and they can be found all over Iceland.
The most famous hot spring in Iceland by far is the Blue Lagoon, which is very close to Reykjavik and easy to access. But it's not as natural or secluded as some other hot springs around the country. That said, not all hot springs in Iceland should be bathed in, as many have boiling water or spouting geysers that can burn you. Stick to these top 15 Iceland hot springs, with some of our favourites being Sky Lagoon, Reykjadalur, Vok Bath, and Mývatn Nature Baths.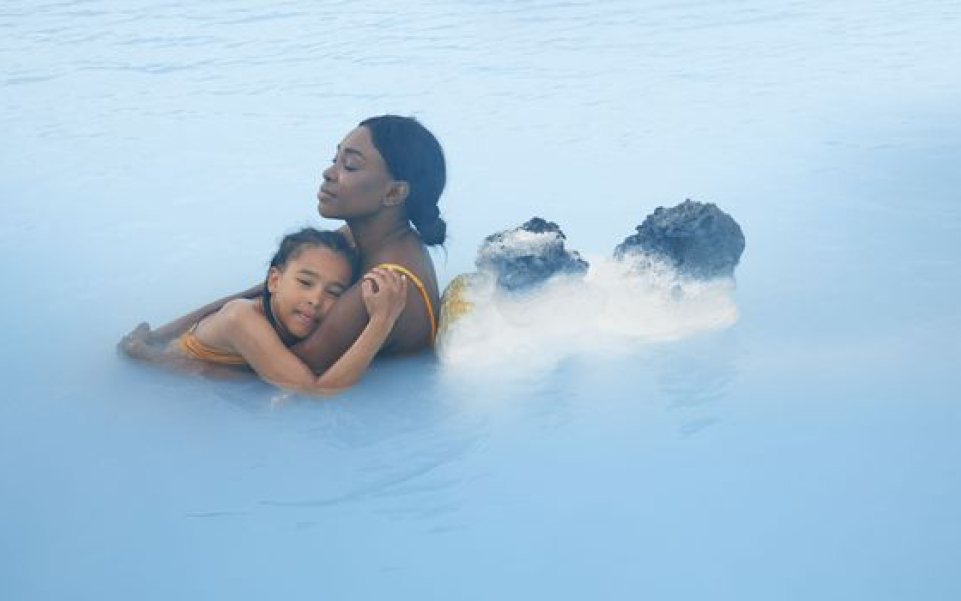 Reason 6: It's not as cold as you think
Many tourists avoid Iceland in the winter because they assume it's freezing cold. But that myth has likely come from the fact that the country is called Iceland. In fact, Iceland doesn't get as cold as many other countries in Europe do. Due to the location of Iceland, and its proximity to the warm Gulf Stream, the temperatures stay pretty mild (similar to those of Amsterdam or London).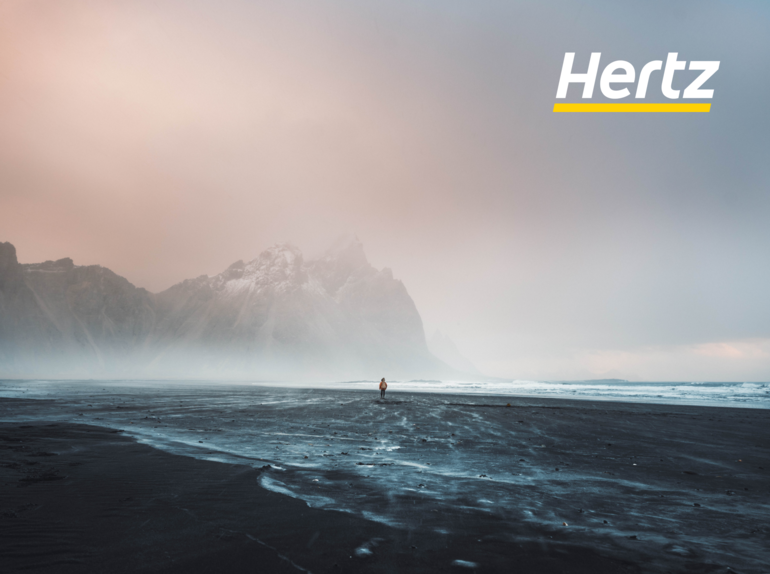 Driving in Iceland: winter safety tips
Winter driving in any country comes with an added layer of risk. Variable weather conditions, snowstorms, and slippery roads mean you must be extra careful and attentive when driving. Most of the roads you'll be driving in Iceland will be well-maintained, even through the winter months. But if an unexpected storm blows through, you need to be prepared. There are frequent road closures, especially on less popular routes, so you must keep this in mind.
Here are some of the most important safety tips for driving in Iceland during winter:
1. Rent the appropriate car
The most important thing you can do to ensure your safety on the Icelandic roads in the winter is to hire the appropriate rental car. There's a huge difference between a 2WD compact car and a 4X4 SUV when it comes to winter road capabilities. It's important that you rent a car that has a good grip on slippery roads and quality braking capabilities. Rental cars should be prepped for the winter with winter tires, winter wiper blades, and full maintenance checkups. Renting your car from a trusted operator like Hertz will ensure it's winter road ready!
2. Stay on major routes
You can see the majority of Iceland's best attractions without having to venture too far off major routes. The Route 1 Ring Road is a great option to hit Iceland's hotspots, as well as the route out to the Snaefellsnes Peninsula. These routes are well maintained throughout the year, so stay on these routes. Some areas in Northern and Eastern Iceland are more challenging to navigate during the winter, with some routes being closed entirely. There is still plenty to see in Iceland on the paved, major routes.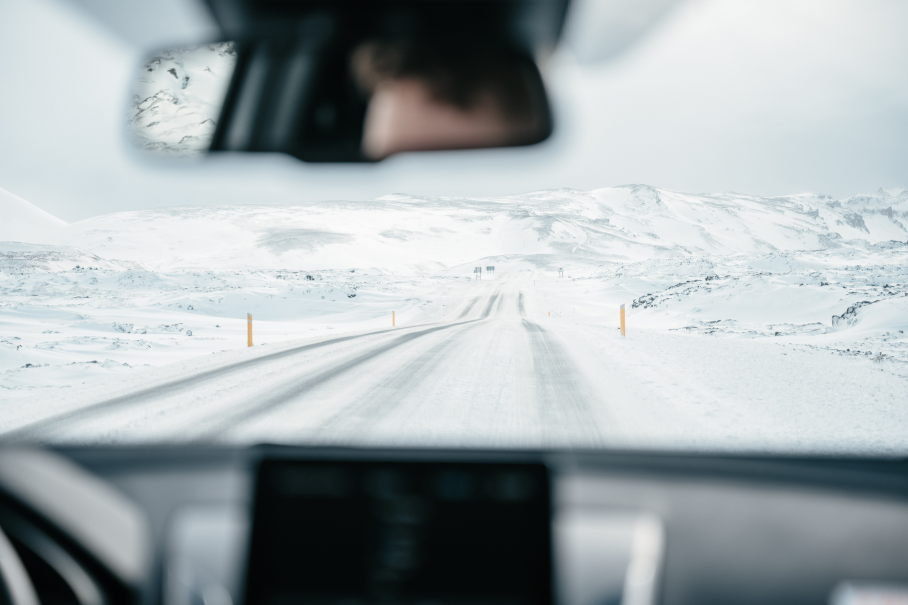 3. Check the weather and road conditions every morning
Before you head out onto the road each day, it's essential that you check the weather and road conditions. You can visit vedur.is and road.is for up-to-date information about what's going on in your area and adapt your itinerary if needed. Be ready to stay put if bad weather is forecast for the day.
4. Always include buffer time in your itinerary
Something to keep in mind about a self-driving trip in the winter is that mother nature makes the final plans. We can't control the weather or conditions, and your itinerary may be impacted by storms. Never expect to rush through tons of attractions during your stay in Iceland. Instead, include buffer time in your itinerary. You can always visit some extra attractions if you have more time, but you don't want to end up trying to rush through things and putting your group at risk on the roads. Buffer time means you won't be disappointed or have to sacrifice a top attraction on your list because you didn't account for poor weather conditions.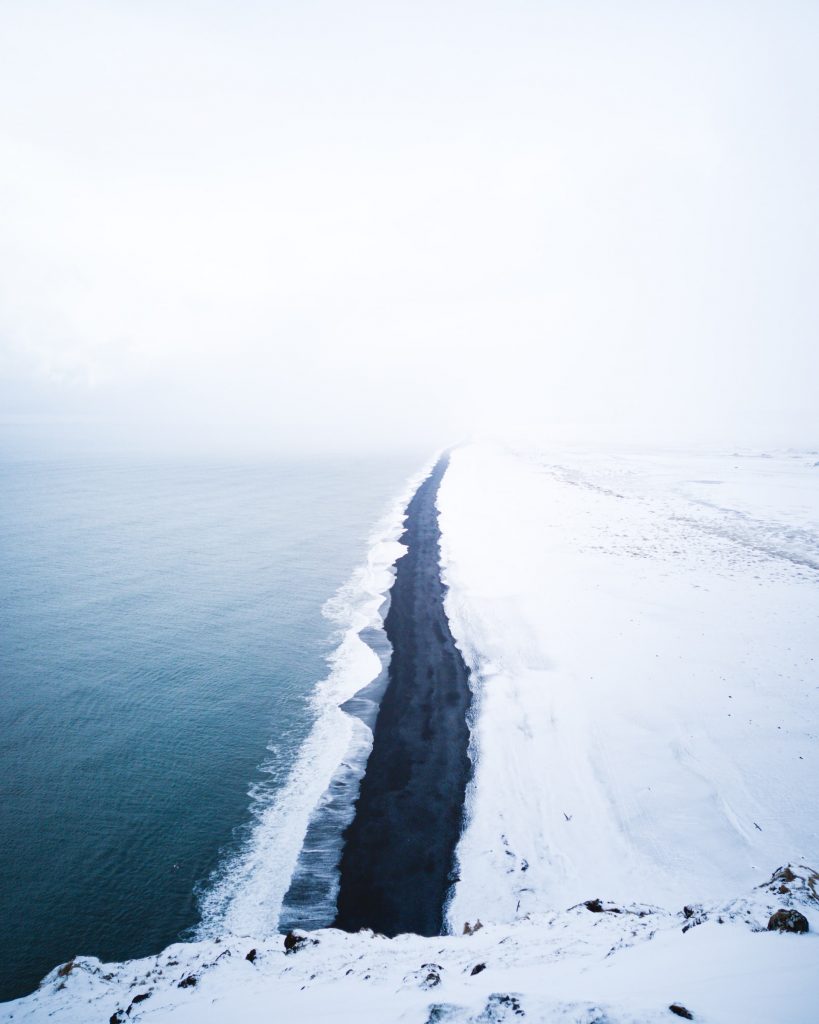 5. Stick to the speed limits and drive steady
Winter is not the time to re-enact Fast and Furious on Iceland's roads. The speed limits are there for a reason, and it's important you stick to them. If you're not used to driving on slippery roads, you'll quickly see how easy it is to lose grip. Slamming on the brakes has the opposite effect you'd expect when on slippery roads, as does turning the wheel too quickly. Drive slow and steady to stay safe.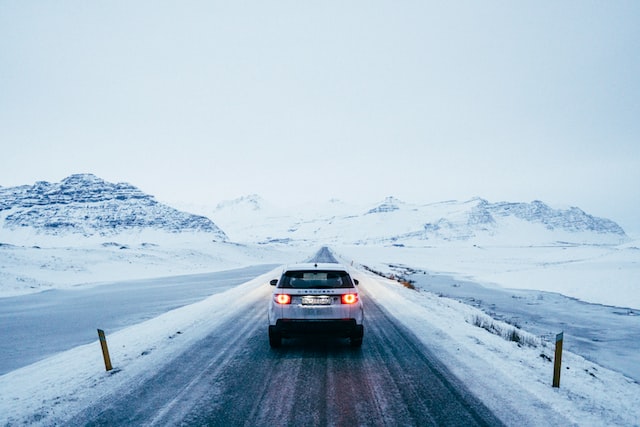 Iceland winter self-driving trip
A winter self-driving trip in Iceland is one of the best ways to experience this beautiful country. From blue ice caves to the northern lights, visiting in the winter season means there are unique and magical things to see that you won't see any other time of year. Plus, you'll save money and get many attractions all to yourself. Before visiting Iceland on a self-drive trip, make sure you rent a suitable car online and in advance to ensure you get the best option for your group.