Not only seeing the Northern light, Iceland is also one of the best places in the entire world for whale watching, which is why it's one of the most popular activities for tourists visiting the country. Iceland's location in the North Atlantic, surrounded by cool, nutrient-rich waters, makes it an ideal habitat for up to 12 different species of whales and other marine life. This gives visitors a unique chance to see a variety of whale species up close.
In this article, we will explore the best places to go whale watching in Iceland with a rental car, as well as the best time to visit, the different whale species you can expect to see, and tips for joining a whale watching tour.
We will also talk about how you can combine a whale-watching experience with the rest of your Iceland itinerary and which rental car you should choose. Whether this is your first time going whale watching, or your first time, Iceland offers an unforgettable experience that you won't want to miss.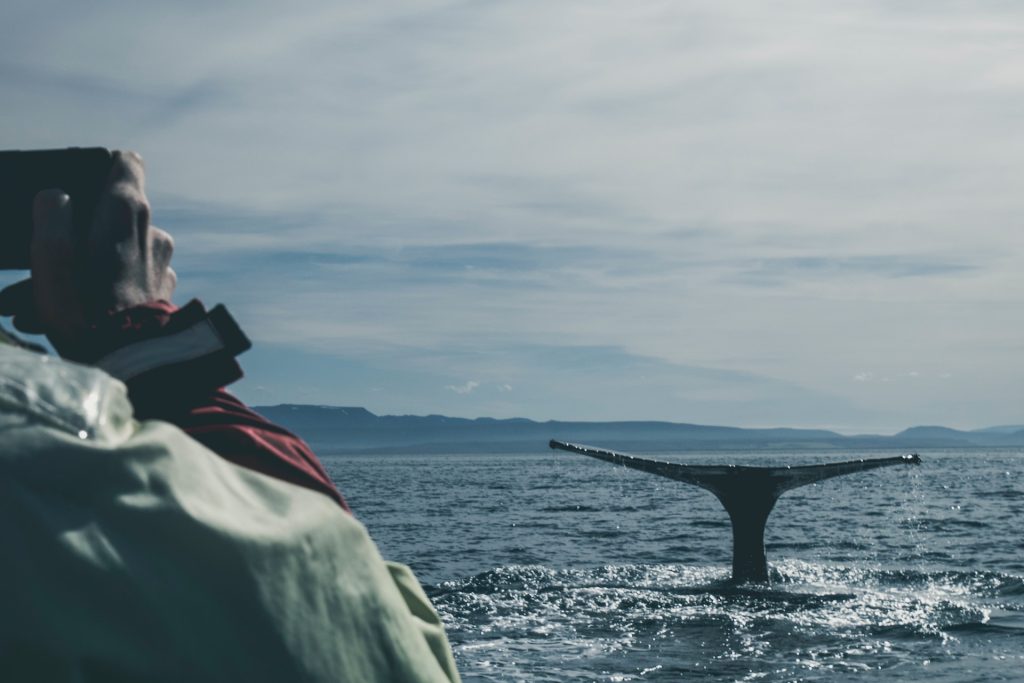 Table of content
What whale species can you see in Iceland?
The best places for whale watching in Iceland
Rental car recommendations for whale watching in Iceland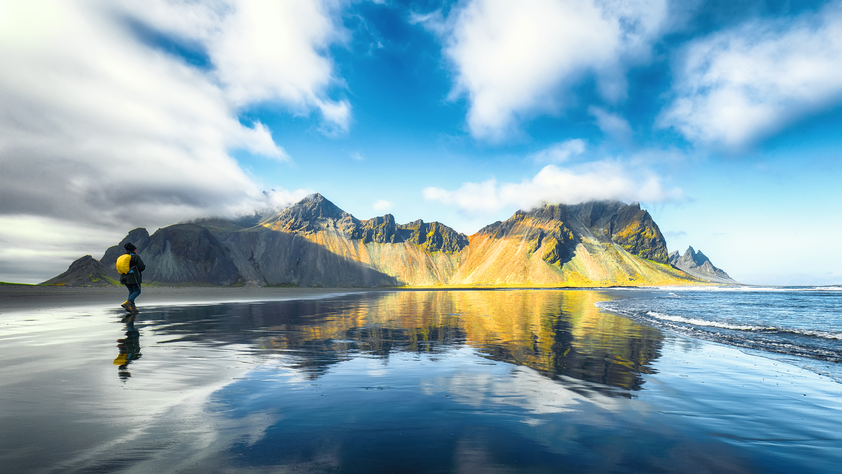 When is the best time to go whale watching in Iceland: Iceland's whale watching season
Summer is the best season to go whale watching in Iceland, with the season typically running from late May to early September. During this time, the weather in Iceland is milder, and the seas are calmer, making for a more pleasant experience on the water. Additionally, summer offers longer daylight hours, which means more time for whale-watching tours!
While whale watching is possible year-round in Iceland, the winter months can be more challenging due to harsh weather conditions. But for those willing to brave the cold, winter whale watching can offer a more intimate experience with fewer crowds and the possibility of seeing different species of whales than those that pass through in the summer.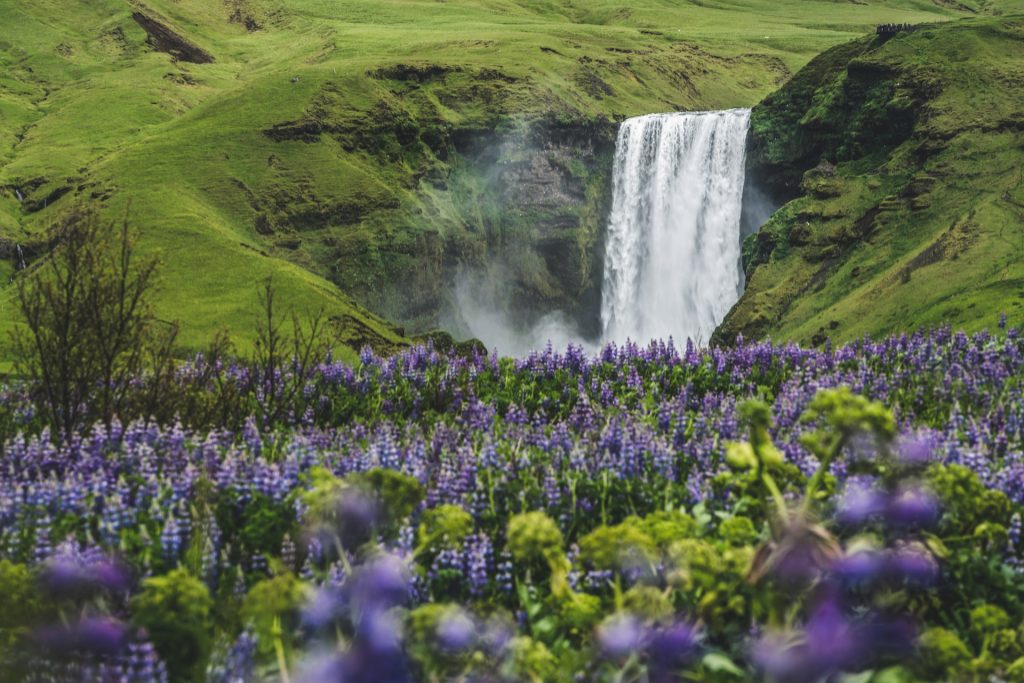 What whale species can you see in Iceland?
Iceland is home to a variety of whale species that come and go throughout the year, with the majority coming into Icelandic waters to feed during the summer months. Some of the whale species you can see in Iceland include:
Minke whale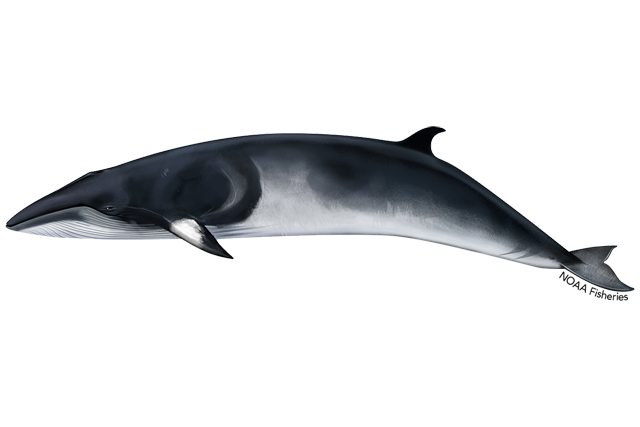 The minke whale is the smallest baleen whale and is often seen on whale-watching tours in Iceland. Although they are smaller than other species, they can still be over 30 feet long. They are known for their curious and playful nature, and can often be seen swimming near the boats, so there's a good chance you'll see one!
Humpback whale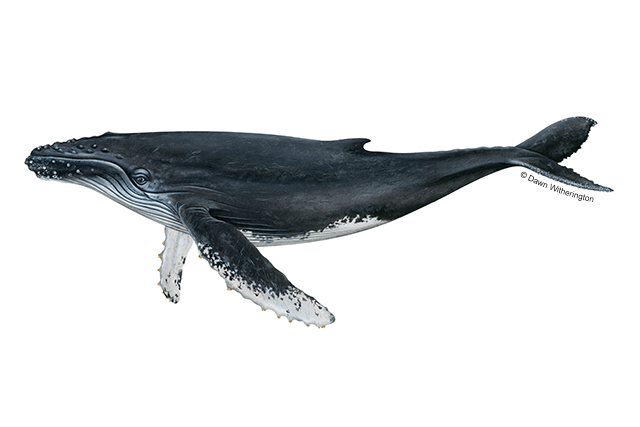 Humpback whales can grow up to 16 meters long and weigh up to 36,000 kilograms. They are known for their distinctive knobby head, long fins and barnacles hitching rides on their skin. Humpback whales are also known for their acrobatic displays, such as breaching and tail slapping. These whales are very likely to be spotted off the coastal waters of Iceland during peak whale-watching season.
Sperm whale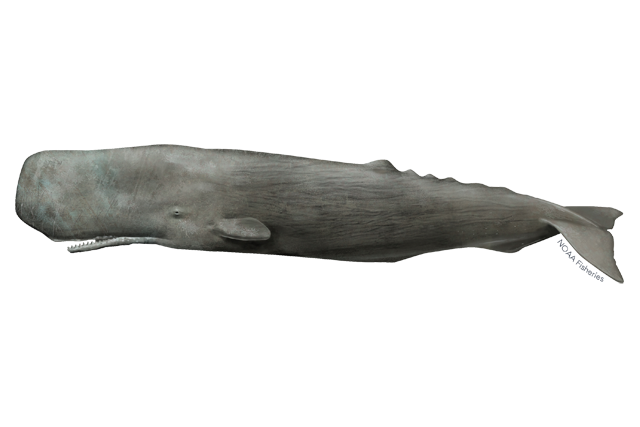 The sperm whale is the largest toothed whale and is known for its distinctive head shape. They can be seen in deeper waters off the coast of Iceland, although sightings can be rare since they can hold their breath for so long and don't need to come up to the surface often.
Orca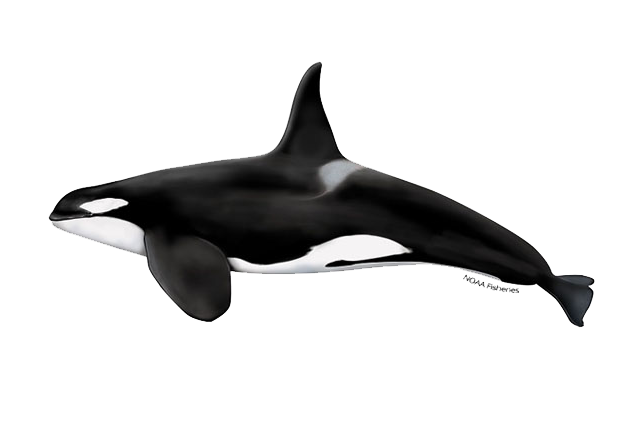 Orcas, or killer whales, are highly intelligent and social marine mammals that are known for their distinctive black and white markings. They are apex predators and can be found in all of the world's oceans, including the waters around Iceland. Although they are usually called whales, they are technically the largest species of dolphin. They come and go from Iceland throughout the year but are easiest to spot during the summer.
Blue whale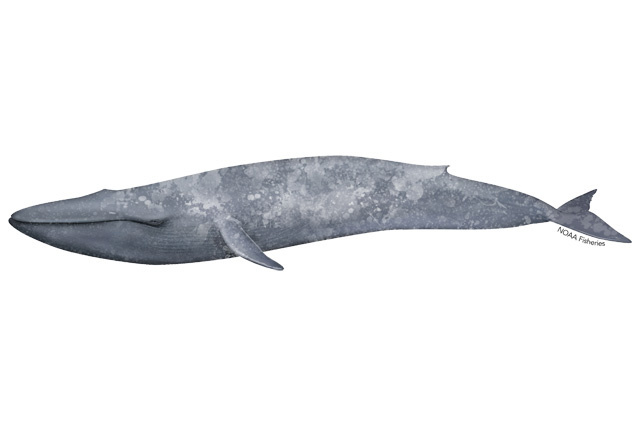 The blue whale is the largest animal on earth and can grow up to 100 feet long. They are known for their distinctive blue-grey colouration and long, streamlined bodies. Sighting of blue whales off the coast of Iceland are rare, as they typically inhabit very deep waters. But it's still possible to catch a glimpse of them around the end of June.
Fin whale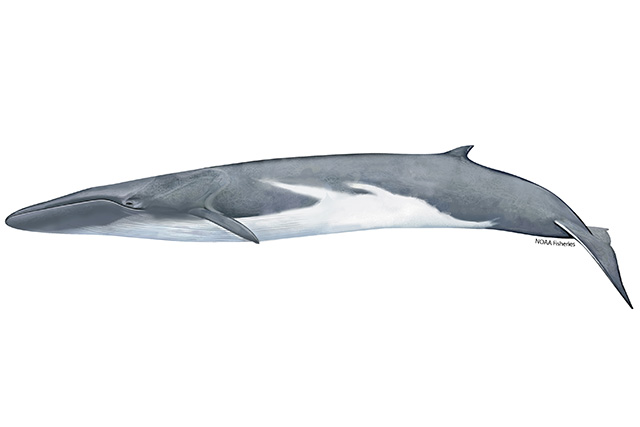 The fin whale is the second-largest animal on earth, with tall dorsal fins and discoloured lower jaws. Fin whales are commonly found in the waters around Iceland, especially during the summer months. Visitors to Iceland can take whale-watching tours that explore the country's coastal waters and have a good chance of spotting these majestic creatures.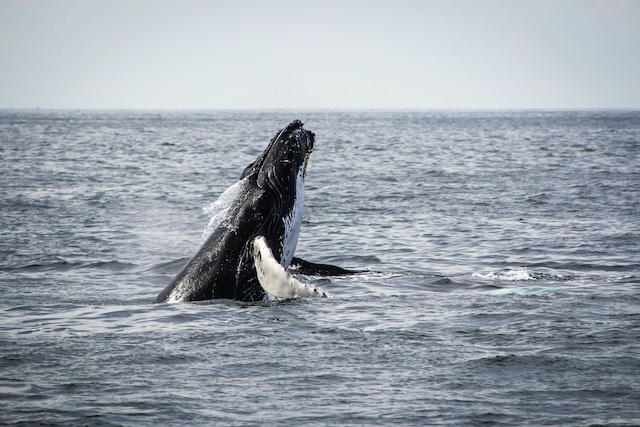 The best places for whale watching in Iceland
There are several locations around Iceland where visitors can go whale watching, each offering a unique experience and the chance to see different whale species. Here are some of the top places to go whale watching in Iceland(and all of these places have tour operators offer :
Reykjavik: Faxaflói Bay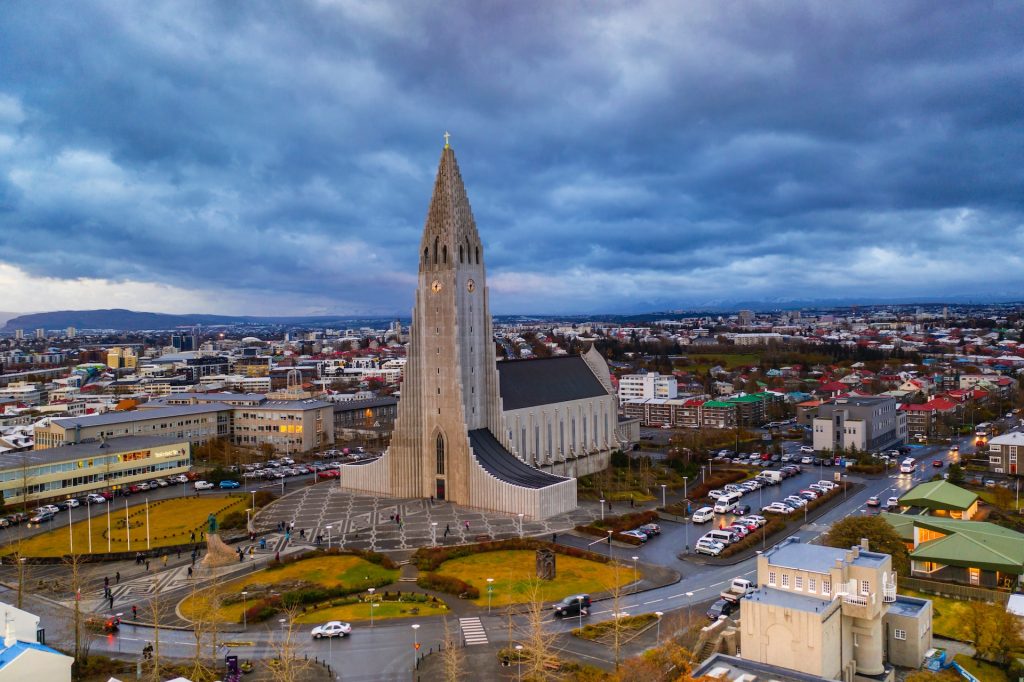 Reykjavik, the capital city of Iceland, is a popular starting point for whale-watching tours. Tours typically depart from the Old Harbour and take visitors out to Faxaflói Bay, which is known for having a variety of marine life. While sightings can vary depending on the season, visitors may see minke whales, humpback whales, dolphins, and porpoises on a tour from Reykjavik.
Husavik: The whale-watching capital of Europe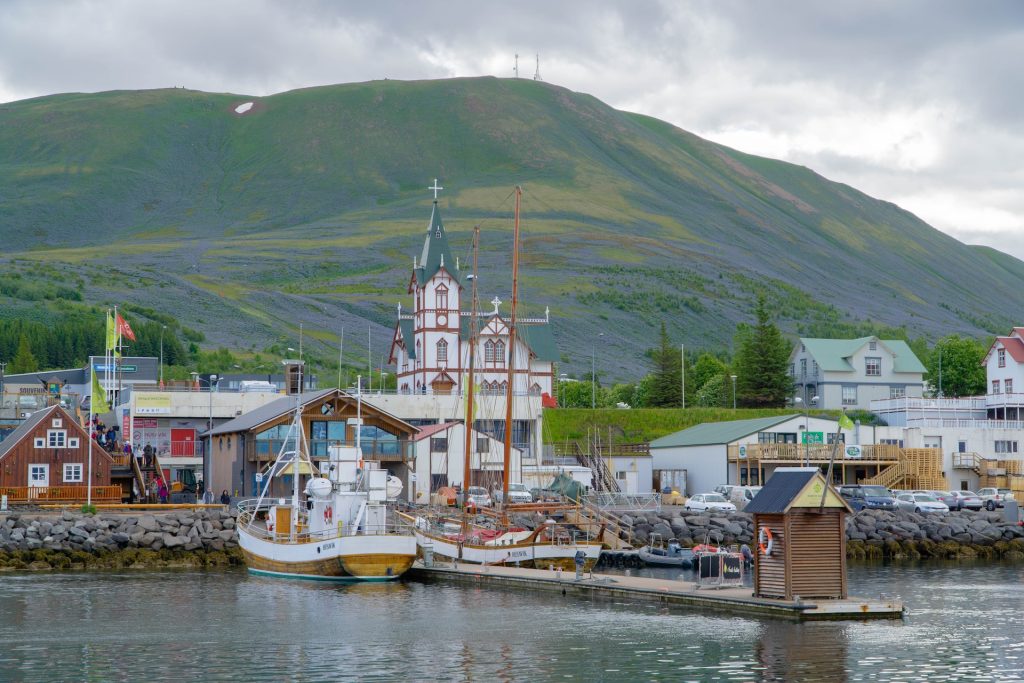 Husavik is a small town located on the north coast of Iceland, and it's widely considered the whale-watching capital of Europe. From here, visitors can join one of many whale-watching tours that depart from the town's harbour. The most commonly seen species of whales in the waters around Husavik are humpback whales, minke whales, and blue whales. Visitors may also spot fin whales, sperm whales, and orcas, along with various species of dolphins and porpoises.
Husavik also offers a range of other top things to do in Iceland for visitors, including a whale museum, an Icelandic horse riding tour, and a trip to the nearby Icelandic hot springs. For those interested in the history of whaling in Iceland, the Husavik Whale Museum provides an in-depth look at the industry and its impact on the local community.
Akureyri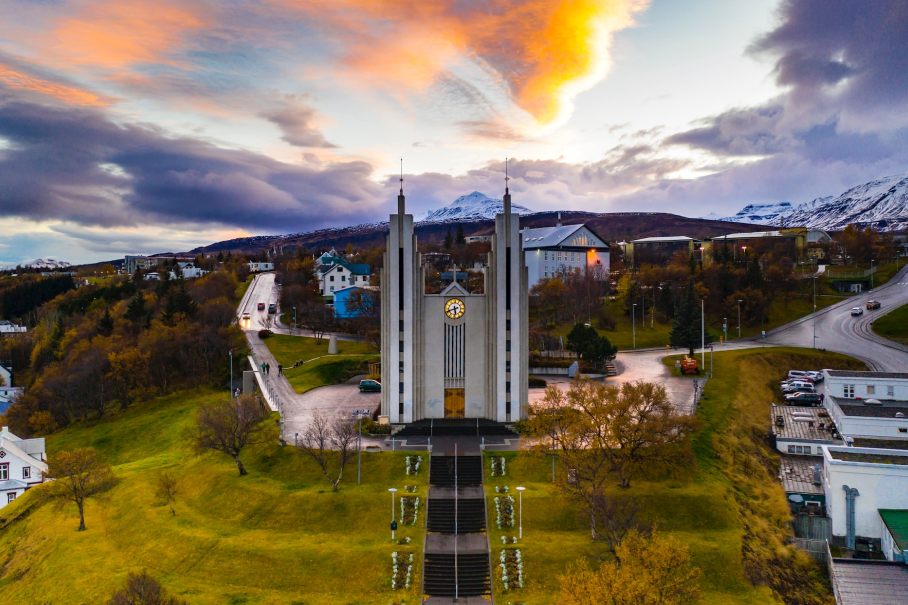 Located on Iceland's northern coast, Akureyri is another popular spot for whale watching. The fjord is home to several species of whales, including humpback whales, minke whales, and harbour porpoises. Visitors can also see a variety of seabirds and, if they're lucky, catch a glimpse of the elusive killer whale.
Snaefellsnes: Grundafjordur town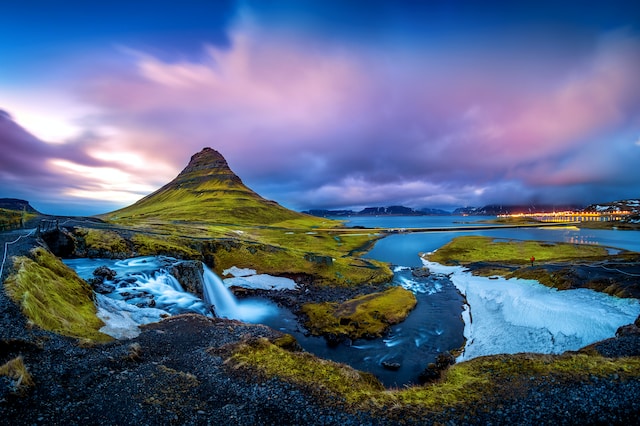 Grundafjordur is a small town on Iceland's Snaefellsnes Peninsula, known for its picturesque harbour and stunning views of the surrounding mountains. Visitors can take a whale-watching tour from here and see several species of whales, including humpback whales, minke whales, and orcas. The area is also home to a large population of seals, and visitors may see them lounging on the nearby beaches.
Rental car recommendations for whale watching in Iceland
When it comes to choosing a rental car for whale watching in Iceland, it's important to keep a few things in mind. First and foremost, consider the time of year you'll be visiting.
Summer rental cars
In the summer months, a small or medium-sized car is often sufficient for two people. For those looking for a budget-friendly option, consider an economy or compact car like a Volkswagen Polo or Toyota Yaris. However, if you're travelling with a larger group, or you want a bit more space and comfort, consider renting a mid-size SUV, or full-size car like a Toyota RAV4 or Hyundai Tucson. These cars are perfect for larger groups or families and offer plenty of room for luggage and camera equipment.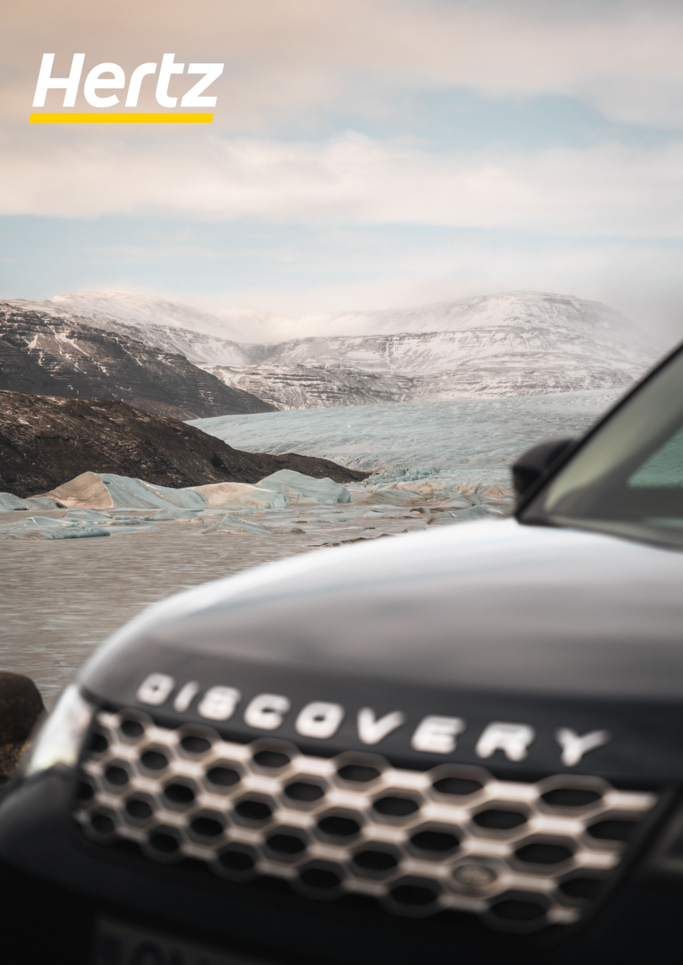 For those who want the ultimate freedom and flexibility, renting a camper can be a great option. This way, you can travel and sleep in an Iceland campervan without having to worry about booking accommodation separately. Camping in Iceland is a great way to experience Iceland in the summer.
If you're conscious of your carbon footprint, consider renting a hybrid or electric vehicle such as a Tesla. These cars are becoming increasingly popular in Iceland and can be a great way to explore the country without leaving a large environmental impact.
Winter in Iceland
4×4 rental cars are always recommended during the winter months, especially if you're planning on driving in more remote or mountainous areas. The weather in Iceland can be unpredictable, and road conditions can change quickly, so it's important to be prepared. Renting a 4WD SUV will enable you to access all the best whale-watching spots in Iceland and so much more.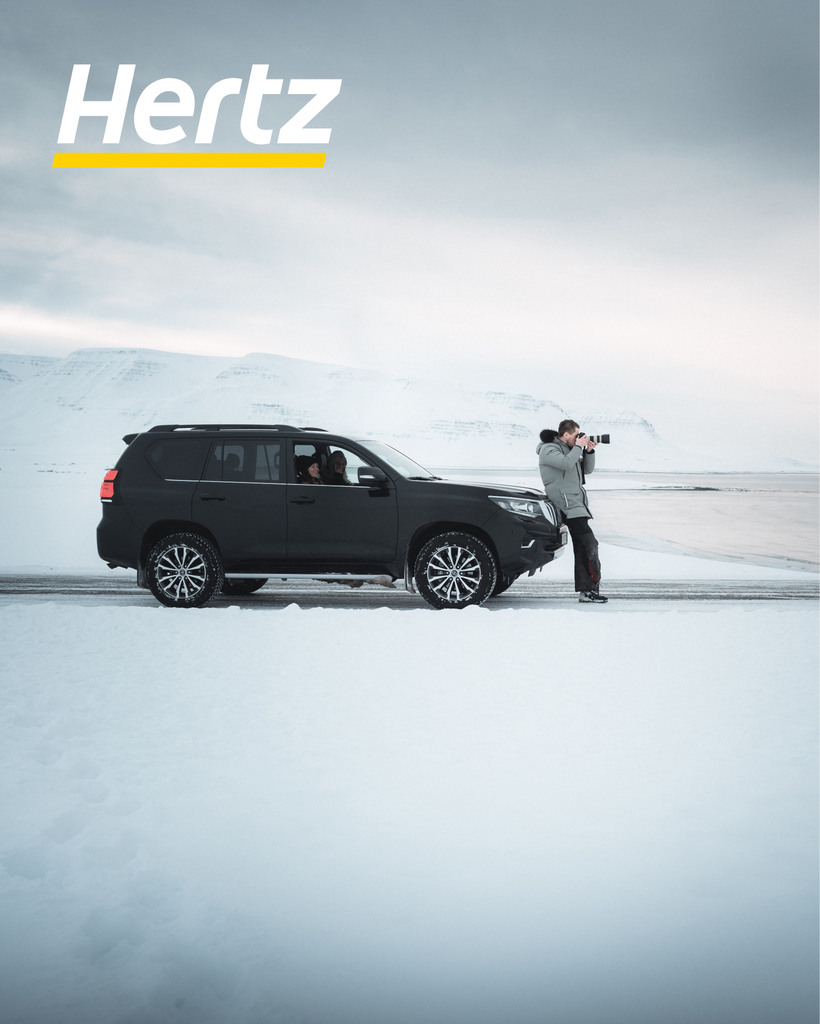 Tips for joining a whale-watching tour in Iceland: What to wear and more
If you're planning to join a whale-watching tour in Iceland, there are a few things to keep in mind. Here are some tips to help you make the most of your experience:
Choose a reputable tour operator
There are many whale-watching tours available in Iceland, but not all of them are created equal. Do your research and choose a tour operator with a good reputation and track record. Look for companies that prioritize the well-being of the whales and who have experienced guides who can answer your questions and provide insight into the animals' behaviour.
Dress warmly
Even in the summer months, the weather in Iceland can be chilly on the water. Dress in warm layers and bring a waterproof jacket and pants, as well as a hat and gloves. You'll also want to wear sturdy, non-slip shoes that will keep your feet dry. Check out our entire Iceland packing list to ensure you have everything you need for whale watching in Iceland.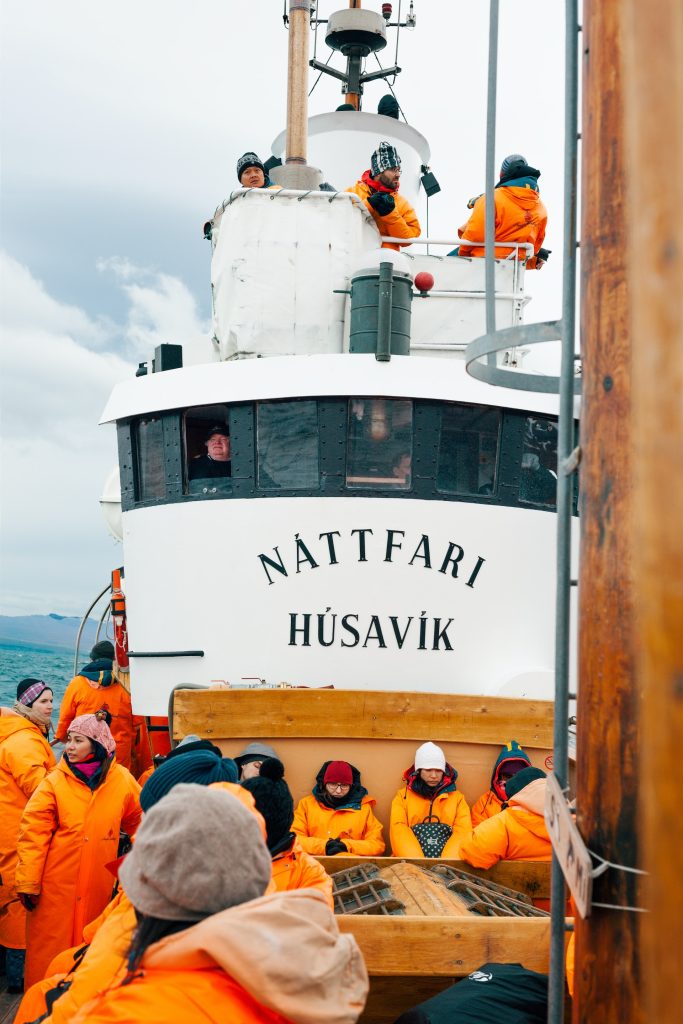 Be patient
Whale watching is a waiting game, and there's no guarantee that you'll see any whales on your tour. Be prepared to spend several hours on the water, and don't get discouraged if you don't see anything right away. Keep your eyes peeled for other marine life, such as dolphins and seals, which are also commonly spotted on whale-watching tours.
Follow the rules
The Icelandic government has strict regulations in place to protect the whales and other marine life. Make sure you follow the rules and guidelines set out by your tour operator, and respect the animals' space and habitat.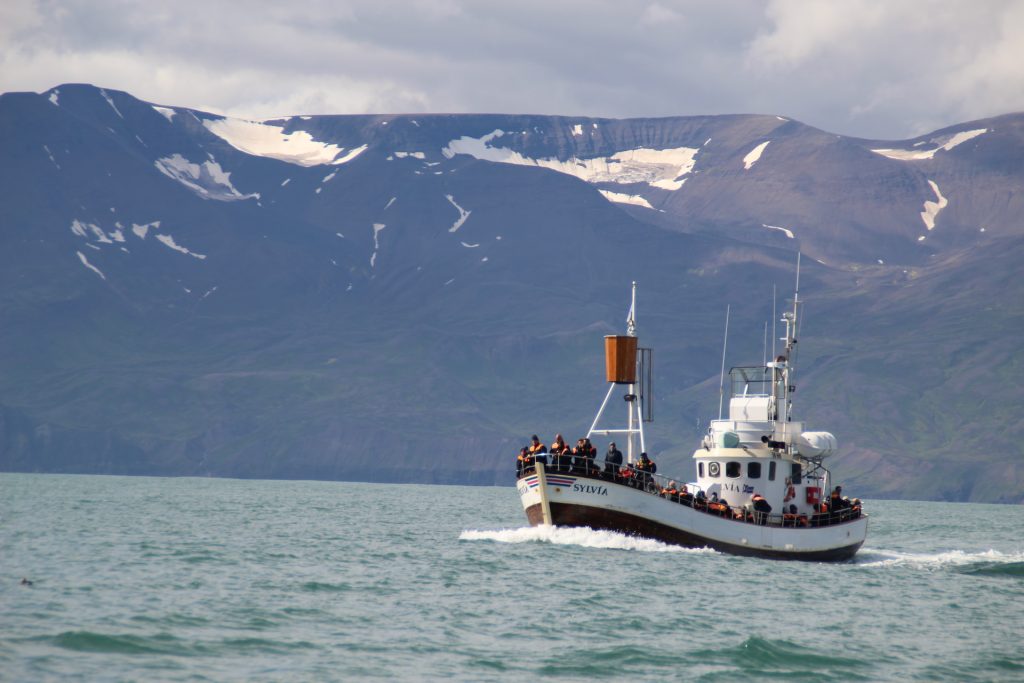 Other marine life to look out for in Iceland boats
While whale watching is one of the main Iceland attractions, visitors may also encounter other marine life on their tours, like seals basking on the rocky shores or sea birds diving for fish. White beaked dolphins harbor porpoises, and whales also live in the waters close to Iceland throughout the entire year.
Harbour porpoises can grow up to 1.8 meters in length. They are dark grey in colour and have a small, triangular dorsal fin. Porpoises are known for their shy behaviour, which can make them difficult to spot. But a trained guide on a whale-watching tour will be able to point them out to you.
White-beaked dolphins, on the other hand, are a more common sight in Iceland's coastal waters. These dolphins grow up to 3.5 meters in length and are highly social animals, and are often seen swimming in groups called pods.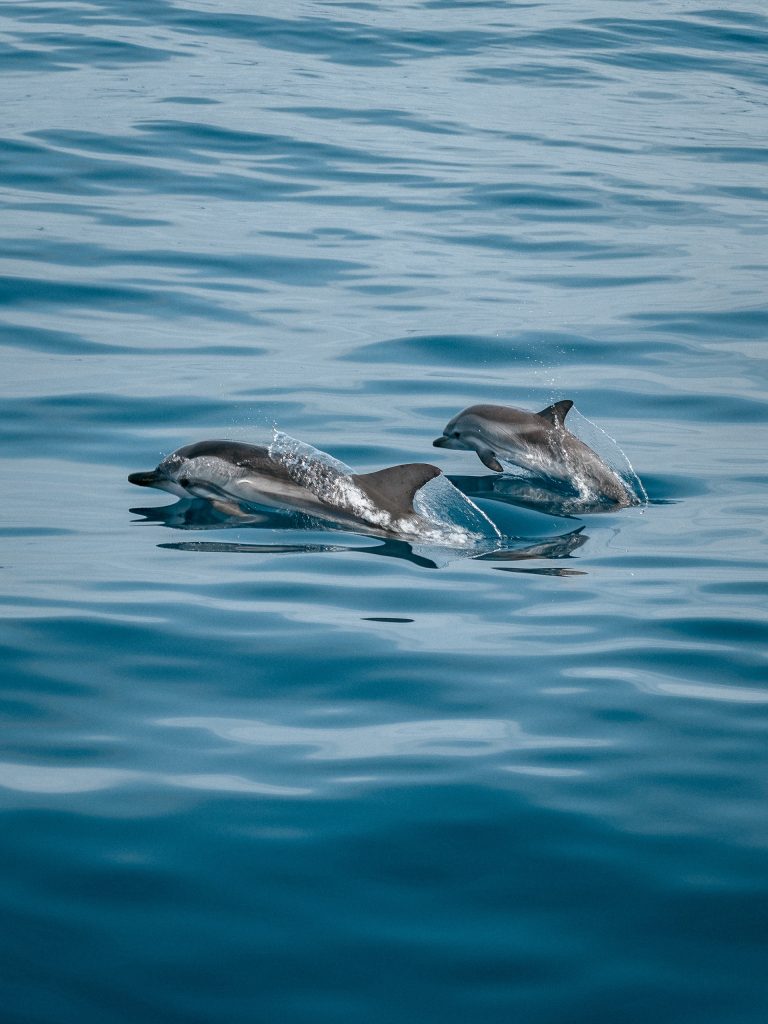 Book your Iceland whale-watching adventure
Iceland is a fantastic destination for whale watching, and the best way to see these magnificent creatures is by renting a car and exploring the country's coastline. With a little bit of planning, you can choose the best time of year to go and the best locations to visit, maximizing your chances of seeing the whales you're interested in.
When it comes to choosing a rental car for your whale-watching adventure, it's important to consider your budget, space requirements, and the rest of your self-drive itinerary. Hertz Iceland offers a wide range of rental cars, from budget-friendly options like small/medium cars to more comfortable mid-size SUVs and eco-friendly hybrids or electric vehicles.
Have a look through our car rental tips to choose the best option for you, and make sure to book your rental car online and in advance. So, pack your bags and head out on the open road to explore Iceland's beautiful coastline and experience the wonder of whale watching.