Witnessing an Iceland New Year's celebration will change the way you view the holiday forever. Each country has unique local traditions and New Year's Eve celebrations in a different way.
If you're planning to spend the holidays in Iceland, then it's essential to have an understanding of all the options available to you so you can craft your Iceland itinerary accordingly. From comedy shows to bonfires and fireworks displays, Icelanders know how to ring in the new year with style and welcome visitors to join in the festivities.
Keep in mind that during the Christmas and New Year period, public transportation services will be reduced, so you will want to rent a car in Iceland in order to have full flexibility throughout your trip. Public tours may often choose not to run on these dates, so it's actually the best time for a self-drive trip as you won't be competing with as many crowds.
In this guide to new year, we will cover everything you need to know about how Iceland New Year's is celebrated, including the best things to do, whether you're celebrating New Year's Eve in the Reykjavik area or whether you choose to ring in the new year in the countryside. 
What to Do in Iceland on New Year's Eve
There is so much to do in Iceland on New Year's Eve that you will likely find yourself wishing that the occasion could extend beyond the one-day celebration. From fireworks displays to a night out on the town to seeing the incredible northern lights, there are so many exciting things about celebrating New Year's in Iceland.
Watch the Firework show
While you may have watched the fireworks on New Year's Eve before, the experience is entirely unique in Iceland. Rather than fireworks being lit off in one spot by a local organization, as is common in many other countries, in Iceland, everyone is allowed to shoot them off. And that means you can expect a substantial amount of fireworks that you can watch from basically anywhere.
That said, there are several notable places in Reykjavik where we would recommend watching the fireworks displays, including the Hallgrímskirkja Church, widely considered by locals to be the best place in the whole country to witness the displays. You can also get a breathtaking experience watching fireworks displays at the Öskjuhlíð hill, close to the Perlan, or at the increasingly popular killer hill, Víghóll, in Kópavogur.
There are even fireworks cruises where you can be out on the water while you watch the fireworks that greet the Iceland New Year. However, watching fireworks is not the closest you can get to the action, as you can also buy fireworks from local stores in the capital and join in on the fun. Many locals duel in firework "battles," which tend to be a lot of fun while getting the satisfaction of knowing that your fireworks purchases go to a good cause, the Icelandic Search and Rescue Teams.
The best time to watch the fireworks is either between 8 pm and 10:30 pm or at midnight. They are lit off in two rounds, with the earlier round generally when the families with younger kids come out and the second round to ring in the new year.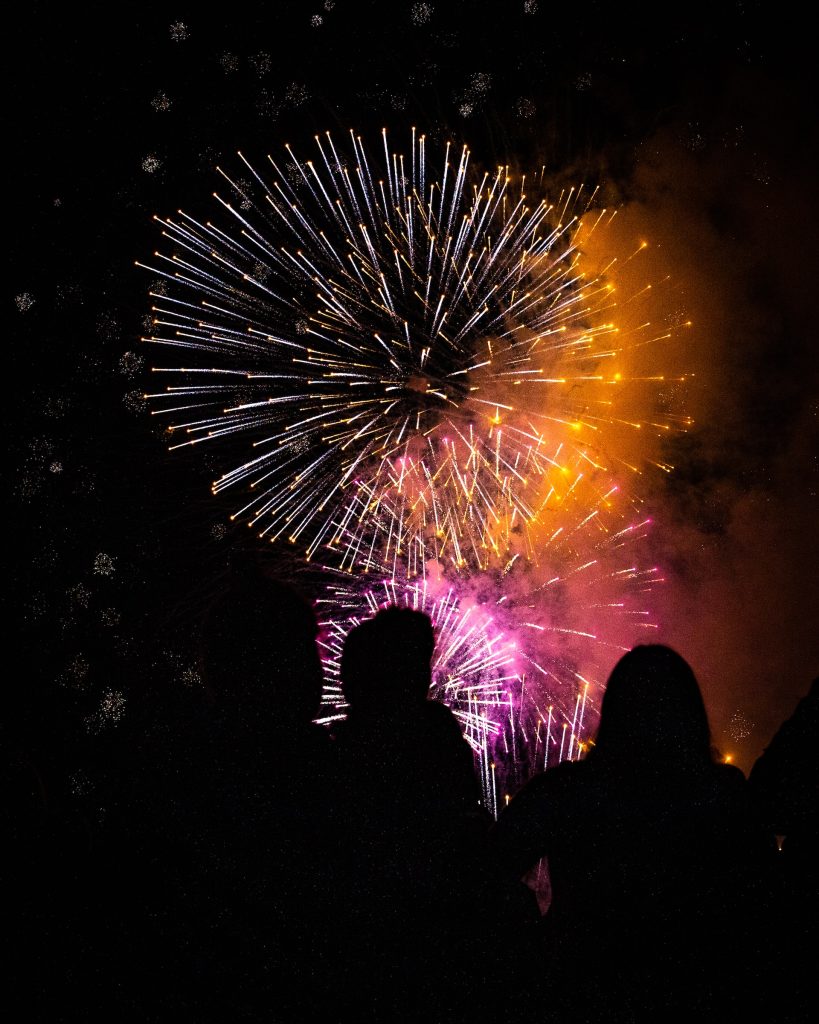 Bonfires in Reykjavík on New Year's Eve
Community bonfires are a unique local tradition that has roots in ancient Icelandic rituals. If you believe in the local folklore, you might even get a chance to see many Icelandic elves that people believe come out only on New Year's Day, or even see the dearly departed who cross the veil between life and death to see loved ones again.
More realistically, you can enjoy music and camp songs at bonfires, which can be as high as two stories tall. The bonfires follow an Icelandic tradition that is more than 200 years old, where people gather and say goodbye to the experiences of the past year to make room for new ones.
While bonfires may seem like an odd tradition, especially right in the middle of the winter in Iceland, it is something that Icelanders look forward to all year and a great opportunity to bring family and friends together. There are up to 20 bonfires in the Reykjavík area on New Year's Eve and as many as 100 fires all over the country.
The most popular bonfire is the community gathering on Ægisíða Street in west Reykjavík, and visitors are always welcome to join in. Bonfires start around 8:00 or 8:30 pm, accompanying the fireworks displays, and will usually last until around 10:30 at night.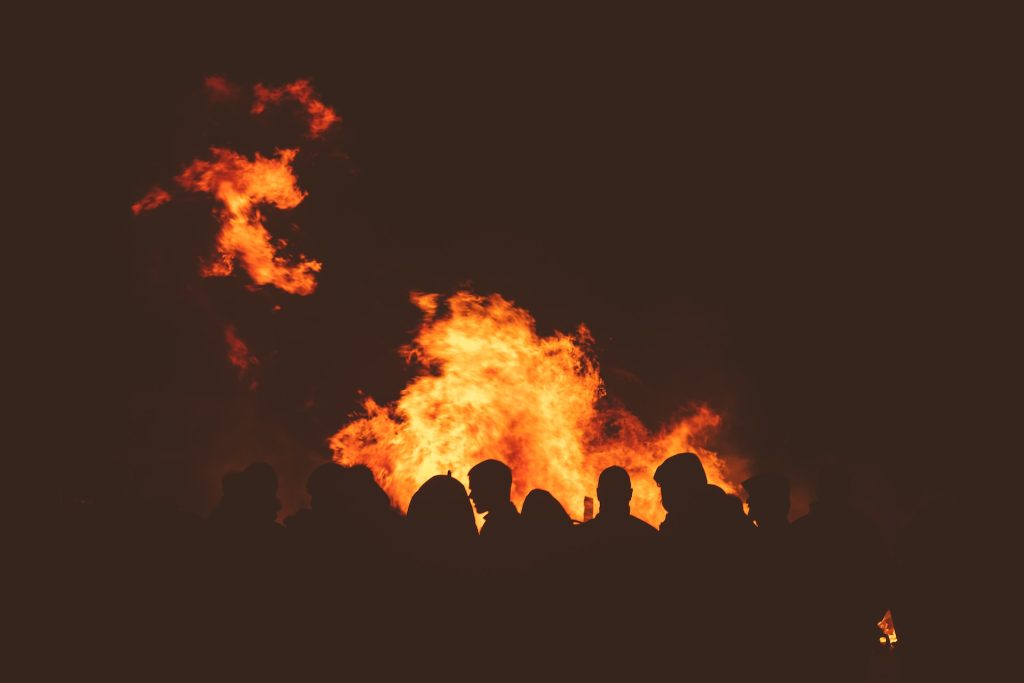 Watch a Comedy Show: Ára.m.ótaskaupið
The reason why bonfires and fireworks displays end or take breaks at 10:30 pm on New Year's Eve is that Icelanders want to get back home to watch the Ára.m.ótaskaupið comedy sketch show.
The Ára.m.ótaskaupið show, or Skaupið as it's called by the locals, comes on at exactly 10:30 pm and lasts until 11:30 pm on New Year's Eve, and is the biggest modern tradition in Iceland. Think of it as the Icelandic Superbowl of comedy shows. You likely won't find anyone in the country that will miss it.
The show looks back on the most notable events of the outgoing year in short and hilarious comedy sketches, and you can watch it on the state-run TV channel. It's usually in Icelandic, but it still has English segments and is a great way for non-locals to experience a true Icelandic experience. Considering the entire country is usually shut down at that hour, there are few options to pass the time, so sit back and enjoy top-notch Icelandic comedy. 
Enjoy a Night Out
Once Ára.m.ótaskaupið is over, you can return to the vibrant nightlife for the rest of the evening. More fireworks displays will continue, and New Year's Eve parties will be in full swing all over the country. Simply walking around the streets of Reykjavik can be a great experience, but if you head to local bars and clubs, you can party as late as 5 a.m.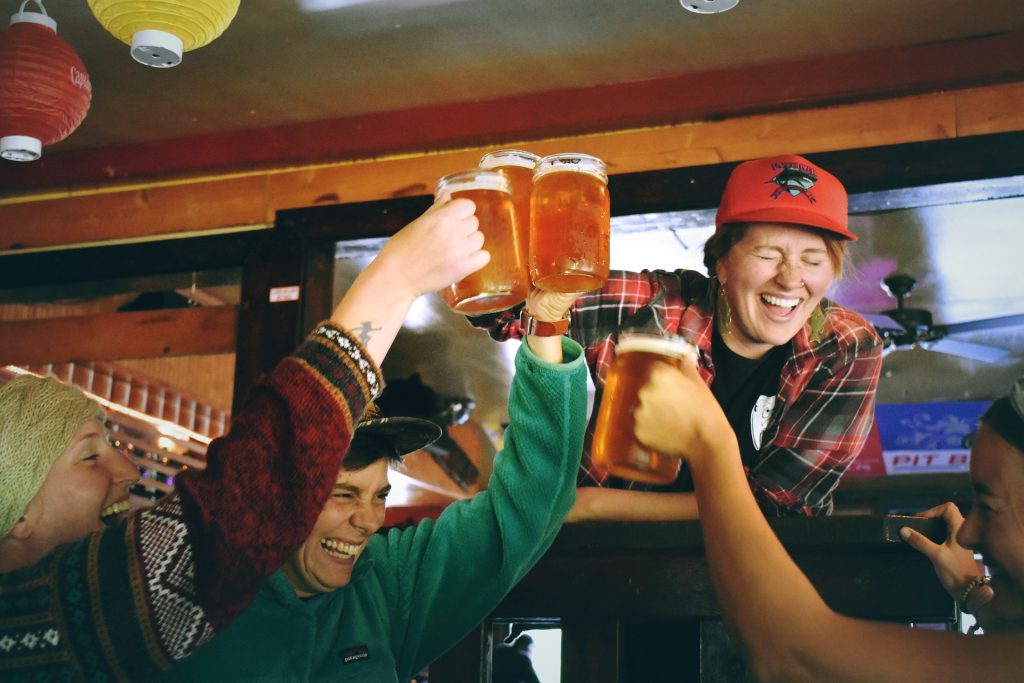 What to do in Iceland's Countryside on New Year's Eve
While Reykjavik is definitely the place to be on New Year's Eve, there are still a ton of fun experiences that you can have outside the capital. If the party scene is not really your thing, or if your planned Iceland itinerary has you outside of cities in Iceland during New Year's, then you can enjoy some of these great countryside attractions:
See the Northern Lights
Since New Year's Eve is in the dead of winter, it's the most optimal time of year to see the northern lights in Iceland. The dark and frosty winter nights present the perfect opportunity to see this amazing wonder of the world, which adds a sense of magic to one of the most enchanting nights in Iceland.
While there is no guarantee that you will see the northern lights, the Icelandic countryside gives you the best chance of doing so as it is away from the hustle and bustle of the city, which usually comes with a substantial amount of artificial light.
Thingvellir National Park, the Snaefellsnes Peninsula, as well as the Westfjords and areas around Akureyri, are the best spots for people looking to enjoy the marvel of the northern lights on New Year's Eve. You can consider to chase the aurora with a rental car or join northern lights tours.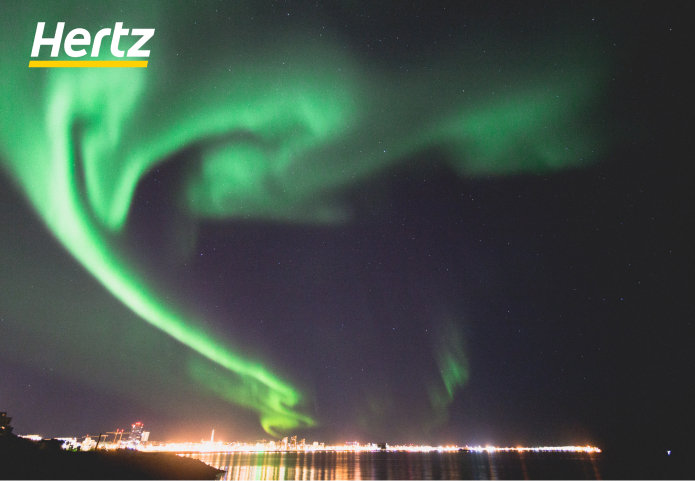 Enjoy the Local Activities
Akureyri, Iceland's "capital of the north," also offers uniquely Icelandic pastimes and traditional activities that are sure to leave a lasting impression. When you are there, join locals in celebrating the passing of another year with bonfires, music, delicious local Icelandic cuisine, and winter thermal baths to usher in the new year.
There are lots of geothermal baths and Icelandic hot springs in North Iceland that you can enjoy, including Forest Lagoon, Hauganes Hot Tubs, and the famous Myvatn Nature Baths; just keep in mind that most will close early on New Year's Eve, so you can still make plans afterward.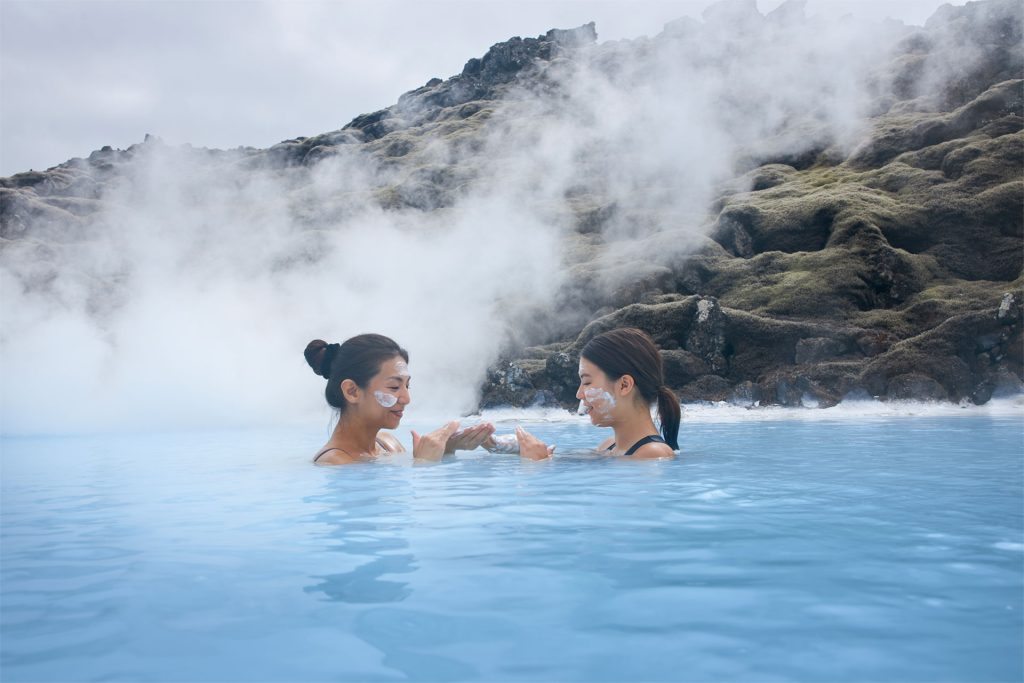 Rent a Cabin
One of the best ways to celebrate New Year's Eve in Iceland's countryside is to rent a cabin and cozy up with loved ones. A cabin in the countryside allows you to gaze upon the bright stars of the winter night, and if you get lucky, you might get to see the northern lights from the comfort of your cabin.
Cabins come in different sizes, with several featuring beautiful natural hot tubs and fireplaces, as well as peace away from the city noise. Some of the best cabins in Iceland on New Year's Eve can be found in the Akureyri area, as well as the Snaefellsnes peninsula, where you will find the Arnarstapi Cottages and the Westfjords, where we recommend the Dalahyttur Lodges.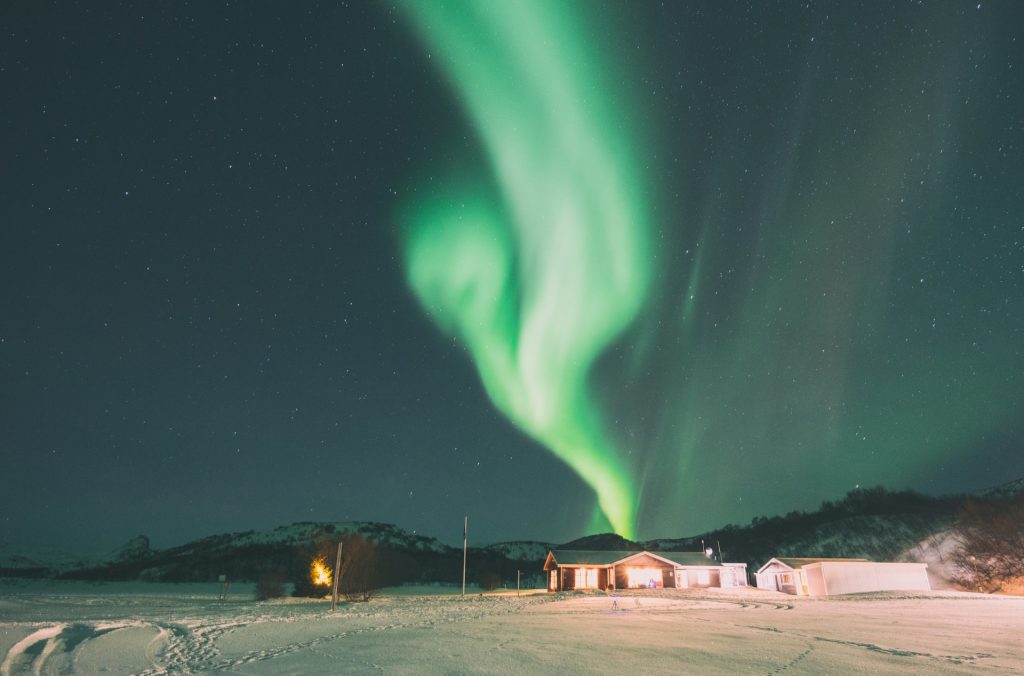 Do a New Year's Self-Drive Tour
One of the best ways to see Iceland on New Year's Eve is with a self-drive tour, which allows you to explore the country's beautiful landscape at your own pace and convenience. Each route through Iceland holds unique and sensational attractions that will make your New Year's one to remember.
Iceland's Ring Road is the most popular route in the country, beginning and ending at Reykjavik. Along the route, you'll see many of Iceland's most iconic natural landscapes, including Iceland waterfalls like Seljalandsfoss and Skogafoss Waterfalls and Reynisfjara, Iceland's black sand beach.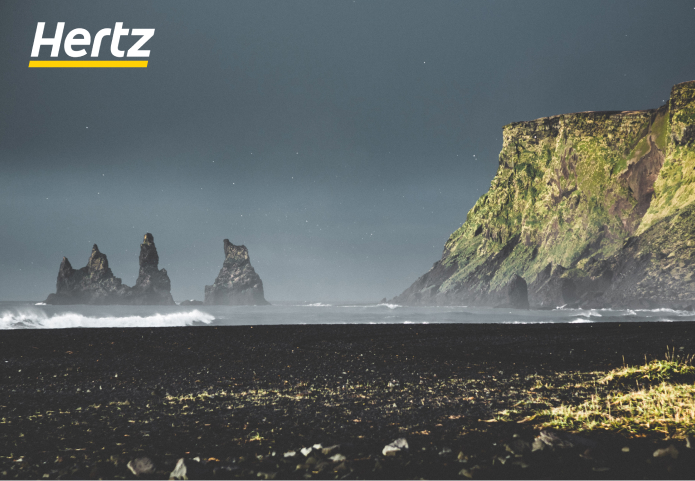 The Golden Circle route can be done in one day, featuring geysers, geothermal baths, and some of Iceland's best cafes and restaurants. You can also visit the Snæfellsnes peninsula, where you will find the beautiful Snæfellsjökull National Park, as well as the Kirkjufell mountain, where the hit TV show Game of Thrones was filmed.
It's important to note that Iceland's roads can be challenging to drive during the winter months due to the ice and snow. You will need to stay up to date on the latest Iceland weather conditions at all times and can check vedur.is for the most accurate data. Some road networks might be closed during the winter periods as a safety precaution, especially the F-roads in the Highlands of Iceland or parts of the Westfjords.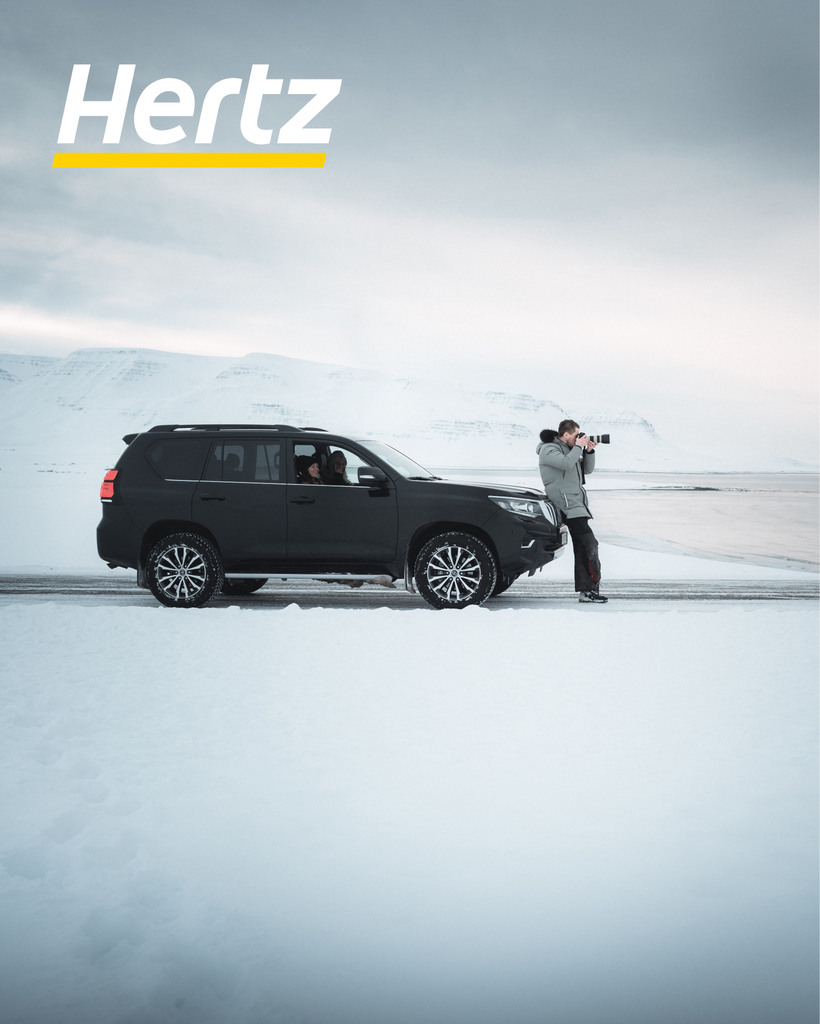 Best Rental Cars For Visiting Iceland During Christmas and New Years
With Christmas and New Year's celebrations firmly in the middle of winter, you can expect Iceland road conditions to be slippery and icy, and you're at the mercy of unexpected winter storms. You will need to take special precautions if you decide to have an Icelandic New Year's Eve in Iceland, most importantly by renting a 4X4 vehicle to navigate the tricky terrain.
In Iceland in December and Iceland in January, it's especially important to prepare for the weather to be variable and add buffer time to your itinerary to account for any storms that may delay your travel plans.
You can choose from several 4WD options that suit your group and luggage needs while still offering you comfort and safety for your winter getaway in Iceland. The Christmas and New Year's periods are especially busy, with tourists flocking to the country for an authentic taste of Iceland's New Year celebrations.
You will want to book a rental as early as possible to ensure that the vehicle you require is available during your trip. Make sure that you also have comprehensive Iceland car rental insurance, which is even more important during the winter period.  

How Do You Say Happy New Year in Icelandic
If you are going to spend New Year's in Iceland, then you can fit right in with the locals by learnings how to say "Happy New Year" in the Icelandic language. To say Happy New Year in Icelandic, you say "Gleðilegt nýtt ár," which is pronounced: "Gleh-thehk neet owr."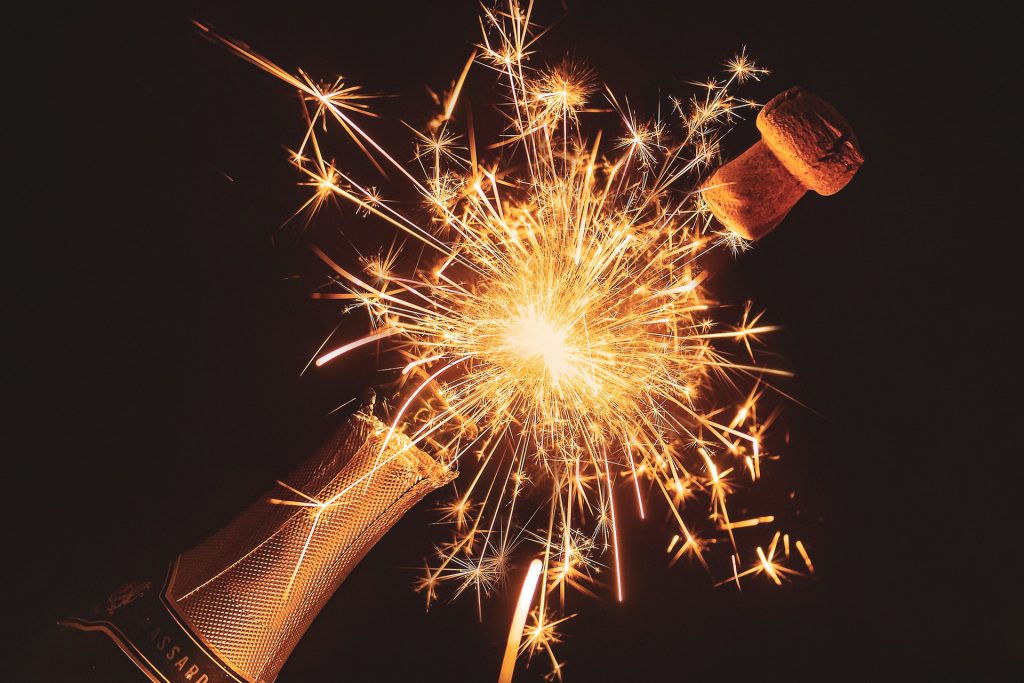 Celebrating Iceland New Year Like a Local
There really isn't any better way of celebrating New Year's than a traditional Icelandic New Year's celebration. From the local bonfires and fireworks displays to cabins in the countryside and the opportunity to see the Northern Lights, your New Year's experience in Iceland is guaranteed to be memorable. If you plan to visit Iceland during the Christmas and New Year period, renting a 4X4 vehicle is a smart choice to navigate the sometimes challenging winter roads safely.
Booking your rental car online and in advance is highly advised, as this is a busy time for tourism in Iceland. Celebrating New Year's in Iceland is an experience that will leave you with cherished memories and a deep appreciation for the Icelandic way of welcoming the new year.