No matter which route you travel in Iceland, you are sure to encounter something magnificent. But while many tourists flock to popular spots like the Golden Circle and the Blue Lagoon, there's a remote part of Iceland in the far west that offers a truly unique and unforgettable experience. We're talking about the Westfjords, a captivating and untouched part of Iceland that's waiting to be explored.
A summer self-drive trip to Iceland Westfjords itinerary gives you and your group the freedom to immerse yourself in the breathtaking beauty of this remote region of Iceland. With rugged cliffs, powerful waterfalls, charming villages, and an abundance of quirky wildlife, the Westfjords promises an adventure you won't forget. Renting a car and exploring this hidden gem of Iceland will take you away from the crowds, allowing you to experience the vastness of this untouched region.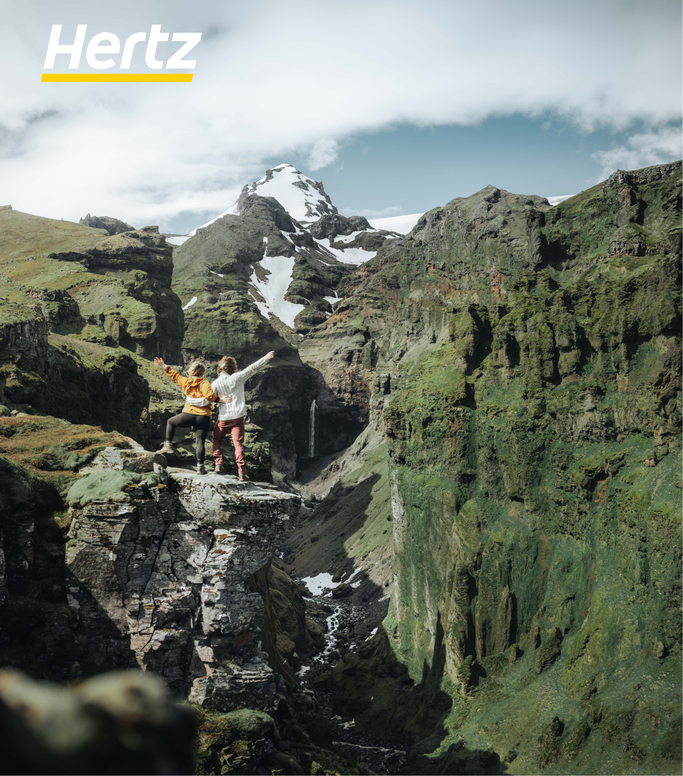 Table of content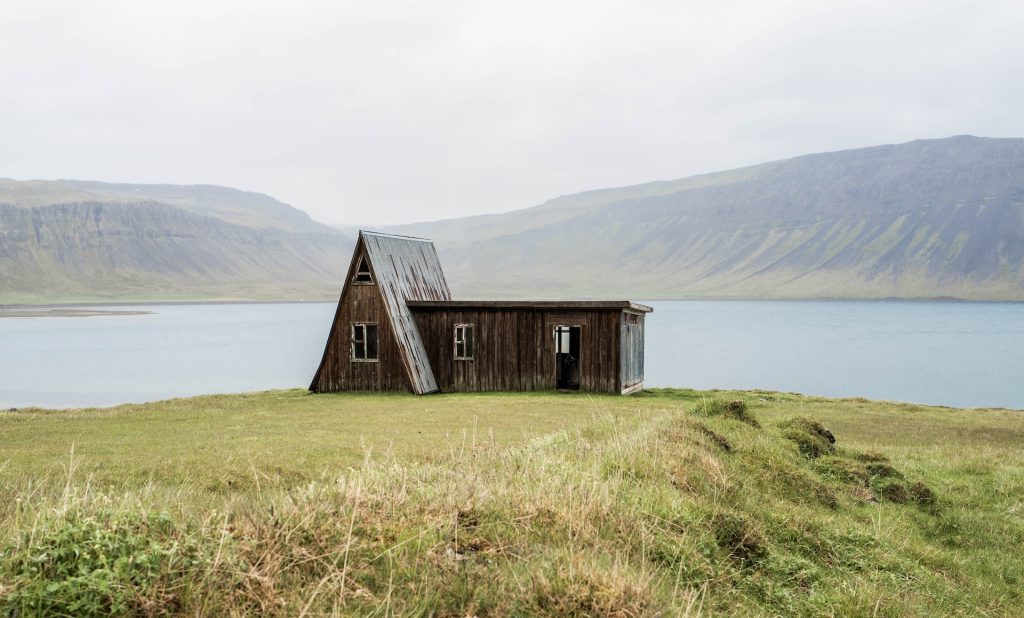 Where is Westfjords Iceland?
The Westfjords is a region of Iceland that's located in the far northwest of the country. The area is known for its towering mountains, deep fjords, and pristine, untouched wilderness.
Location map of Iceland Westfjords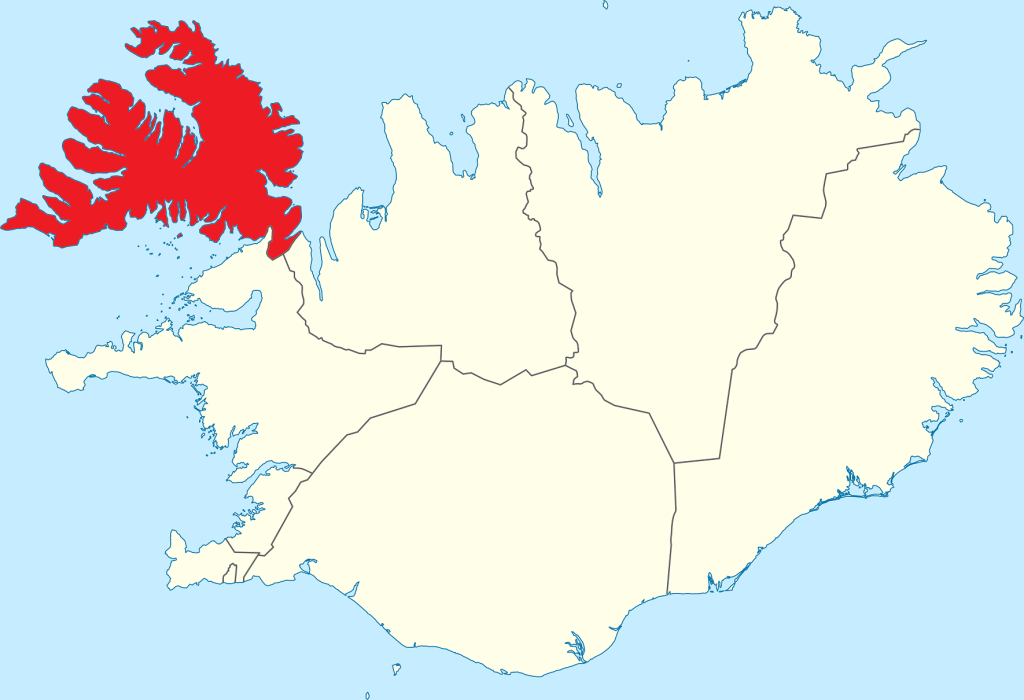 It has stayed this way as it can be challenging to access, meaning that most tourists stick to the classic Route 1 Ring Road or choose to spend their time visiting hotspots on the South Coast of Iceland.
But for those who love the outdoors, crave adventure and want to get off the beaten path, venturing out to The Westfjords is definitely worth it. The Westfjords are incredibly isolated, making it the perfect destination for travelers seeking tranquillity and solitude while being immersed in nature.
Westfjords attractions and route from Reykjavik map
What to do in the Westfjords Iceland
There are tons of activities for nature enthusiasts and adventure seekers within the boundaries of the Westfjords. Some of the best things to do in this region include exploring some of the most epic Iceland waterfalls, visiting Icelandic hot springs and geothermal pools, and hiking through the untouched wilderness of the area.
There are seemingly endless trails throughout the Westfjords, offering everything from easy strolls to more challenging, multi-day treks. As the Westfjords is so isolated and doesn't receive such a high volume of tourist traffic, it is a haven for much of Iceland's iconic wildlife. When out in the Westfjords, you'll have opportunities to see a variety of bird species nesting in the cliffs, including puffins!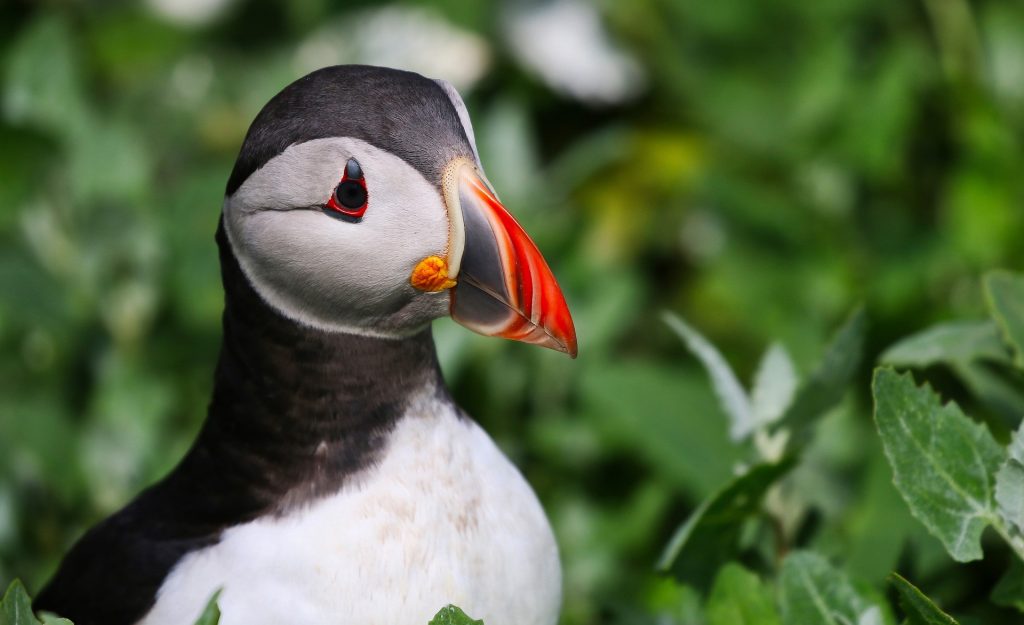 Best time to visit the Westfjords Iceland
The best time to visit the Westfjords is during the summer, from late May to early September. Many of the access roads that run through the region are nearly inaccessible during the winter, with many closing due to snow coverage. You'll find many Iceland F-roads here, which are unpaved roads that often feature river crossings, and by law, you must drive a 4X4 vehicle when driving these routes.
During the summer, the roads in the Westfjords are generally more accessible, as much of the snow will have melted, allowing for better driving conditions. However, it's important to note that the Westfjords can still present a challenge due to its mountain passes, roads close to cliffs, and river crossings. Additionally, the weather in this remote area can be unpredictable, so it's advisable for inexperienced visitors to exercise caution.
If you're considering a winter visit to the Westfjords, we only recommend it for those who have previously visited Iceland and are familiar with the region's conditions.
Winter in the Westfjords brings its own unique charm, with snow-covered landscapes and a quietness that you won't find anywhere else. However, it's crucial to be well-prepared and informed about the weather and road conditions before embarking on a winter adventure.
And also important to understand that much of the area will be inaccessible, and unpredictable weather can mean you need to alter your itinerary in the case of sudden storms. You can check road.is for real-time information on road conditions.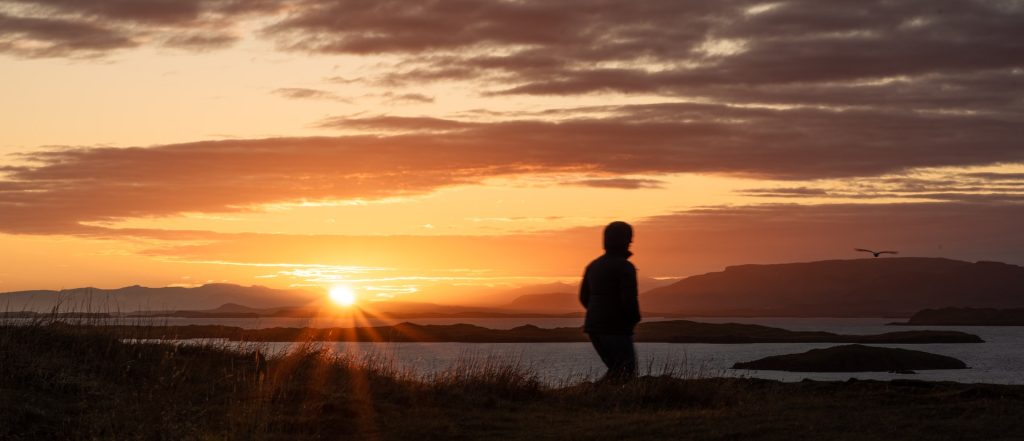 How to get to Westfjords Iceland
To fully experience the Westfjords, renting a car is the best (and pretty much the only) way to travel. Having a vehicle allows you to explore remote and off-the-beaten-path locations at your own pace, and there isn't really any other option for transport into the Westfjords.
When booking a rental car, you MUST choose a 4WD vehicle for a trip to the Westfjords. The Westfjords' terrain can be challenging, with gravel roads and steep inclines, and a 4WD provides the necessary traction and stability to navigate the area safely. Not only that, but it's illegal to drive a 2WD vehicle on the F-roads. You can also rent a 4X4 campervan if you decide you want to camp in the Westfjords.
If you're starting your journey from Reykjavik, you have two options to reach the Westfjords.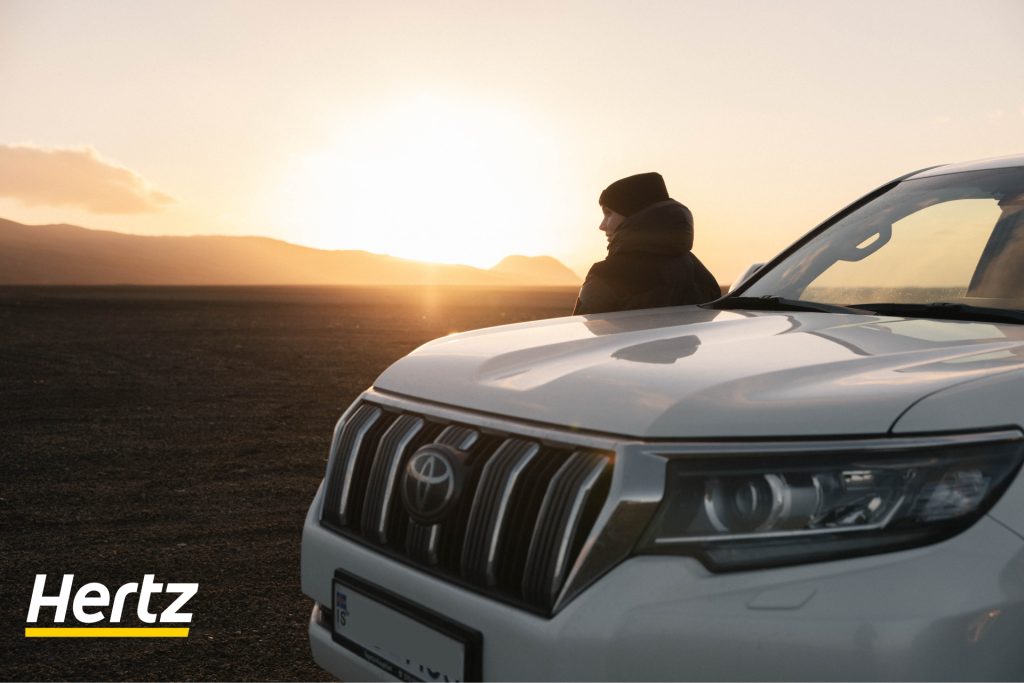 The first option is to drive north from Reykjavik to the town of Stykkishólmur on the Snæfellsnes Peninsula. From there, you can take a ferry from Snæfellsnes peninsula to Brjánslækur, a small village in the southern Westfjords. The ferry ride offers magnificent views of the coastline and is a memorable way to begin your adventure in the Westfjords.
The second option is to drive along the Iceland Ring Road to the town of Búðardalur and then continue north towards the Westfjords. This route will take you through the fjords, mountains, and Icelandic countryside. For a self-drive trip focused solely on the Westfjords, a recommended itinerary would be a minimum of 7 days.
This timeframe allows you to fully explore the region's highlights and have enough time to appreciate everything the Westfjords has to offer. However, if you plan to combine the Westfjords with the Ring Road itinerary or Iceland Golden Circle, you should allocate at least 12 days to ensure you have enough time for driving, sightseeing, and downtime.
P.S. Remember to fill your car whenever you see a gas station when travelling Westfjords, as some inhabitant area does not have. Read more about the Iceland gas station guide.

What to see in Westfjords Iceland
There are endless things to see within the vast landscape of Westfjords, but here are a few highlights that you don't want to miss:
Dynjandi Waterfall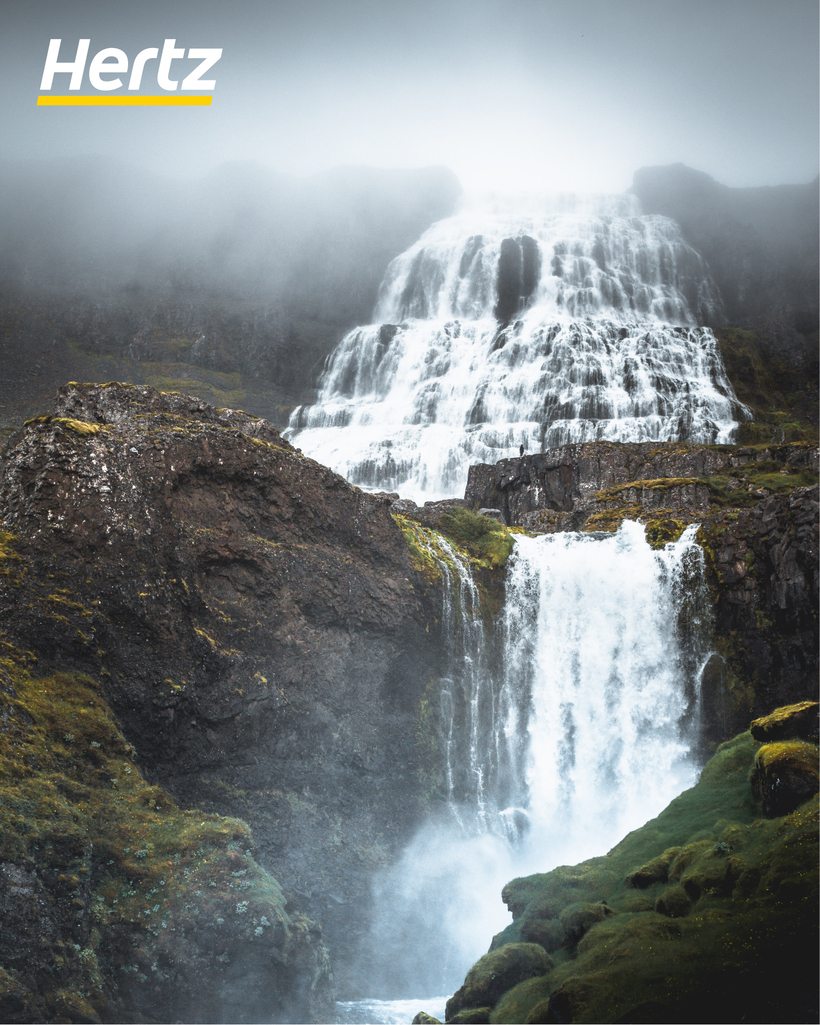 While you're likely to encounter many different waterfalls in Iceland, the most majestic of them all is Dynjandi Waterfall. ItThis Icelandic waterfall deserves special recognition for its series of cascades, gracefully plunging down the mountainside.
The sight of water gushing down in tiers, resembling a bridal veil, has earned Dynjandi the nickname "Jewel of the Westfjords." To fully appreciate the waterfall, visitors can hike to the top, where they can take in a panoramic view of the surrounding fjords and mountains. This vantage point offers a truly unforgettable experience to see the landscape of Iceland in a way that most tourists don't get the opportunity to.
Hornstrandir Nature Reserve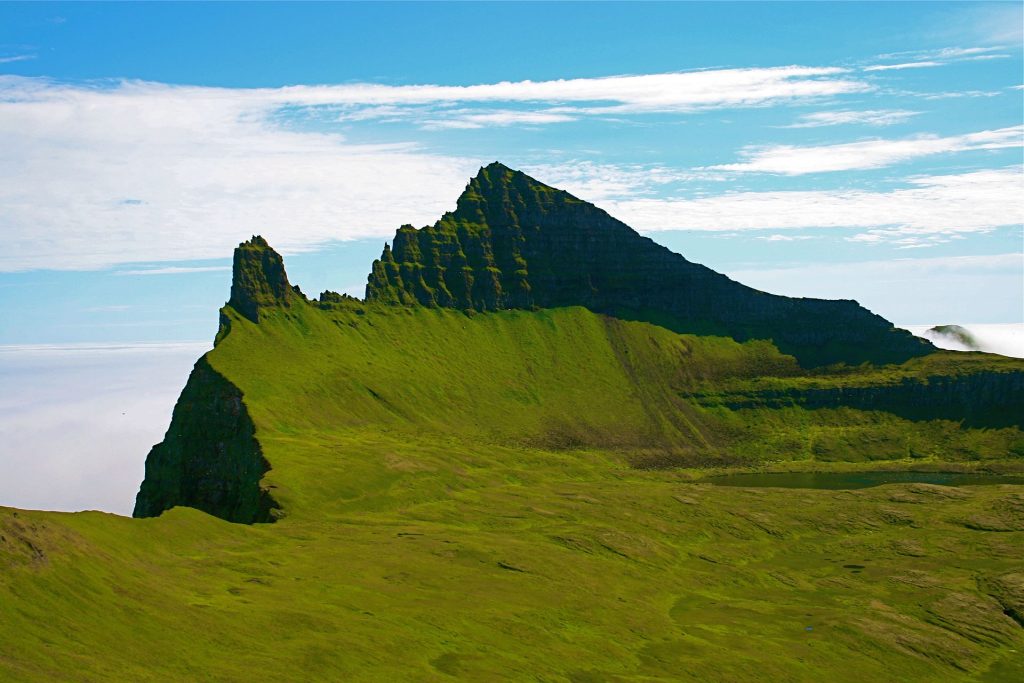 photo from wiki/ Mickaël Delcey
The Hornstrandir Nature Reserve is the most remote part of the westfjords, an absolute paradise for travelers looking for an untouched wilderness adventure. This area is only accessible by ferry or private boat from Ísafjörður, and there are no roads or shops in the area. Hiking is the only way to explore this nature reserve, with trails connecting the harbors, birds nesting cliffs, and some of the farming villages, but there are no permanent settlements within the reserve.
As you make your way through the trails, make sure to keep an eye out for arctic foxes, eagles, and seabirds since this is one of the best places to see them. Also, be sure to check out Hornvik Beach, Graenahlid, and Hornbjarg Cliff.
Látrabjarg Cliff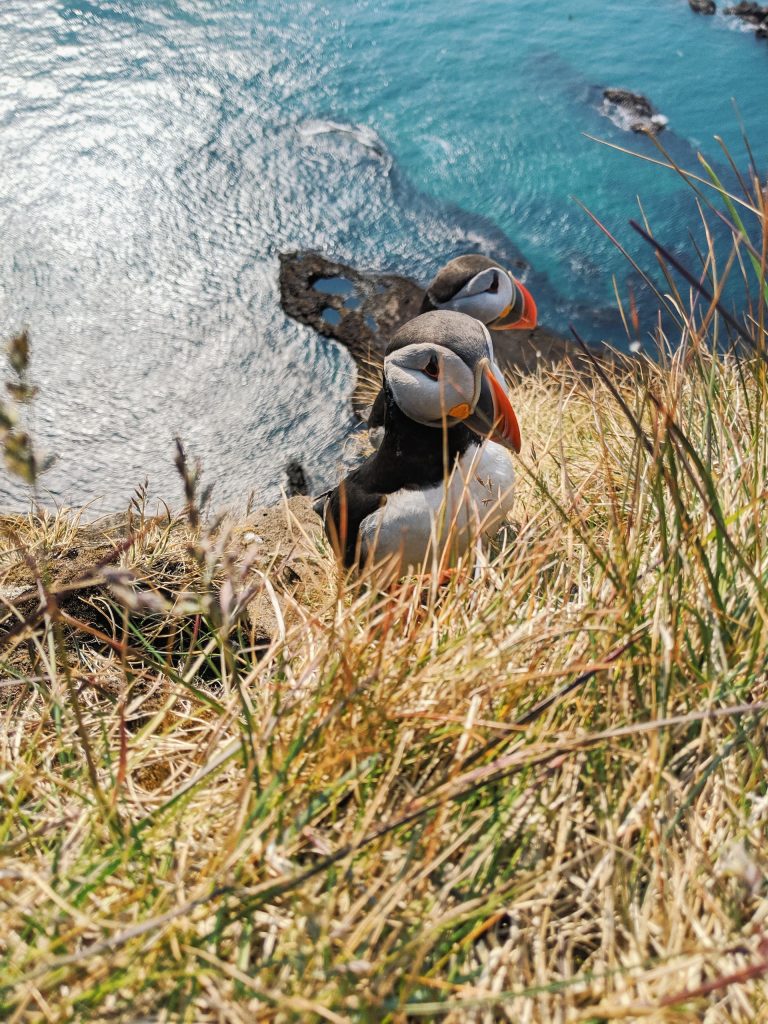 Látrabjarg Cliff is a towering cliff on the most western point of Iceland. This dramatic cliff not only provides incredible ocean views but is also one of the most popular nesting sites for Atlantic puffins!
Birdwatchers and photographers flock to Látrabjarg to witness these iconic and cute seabirds in their natural habitat. Besides puffins, you can also see razorbills, guillemots, and other seabirds nesting and soaring above the coast.
At its highest point, Látrabjarg cliff stretches 441 meters (1,447 ft) high, making it the largest sea cliff in Iceland. It's also an amazing spot to catch a glimpse of Iceland northern lights, provided you're there during the season from September to March. But the best time to see them from Látrabjarg is during the fall (September/ October), as, during the winter, the roads to the cliff are often snow-covered and inaccessible.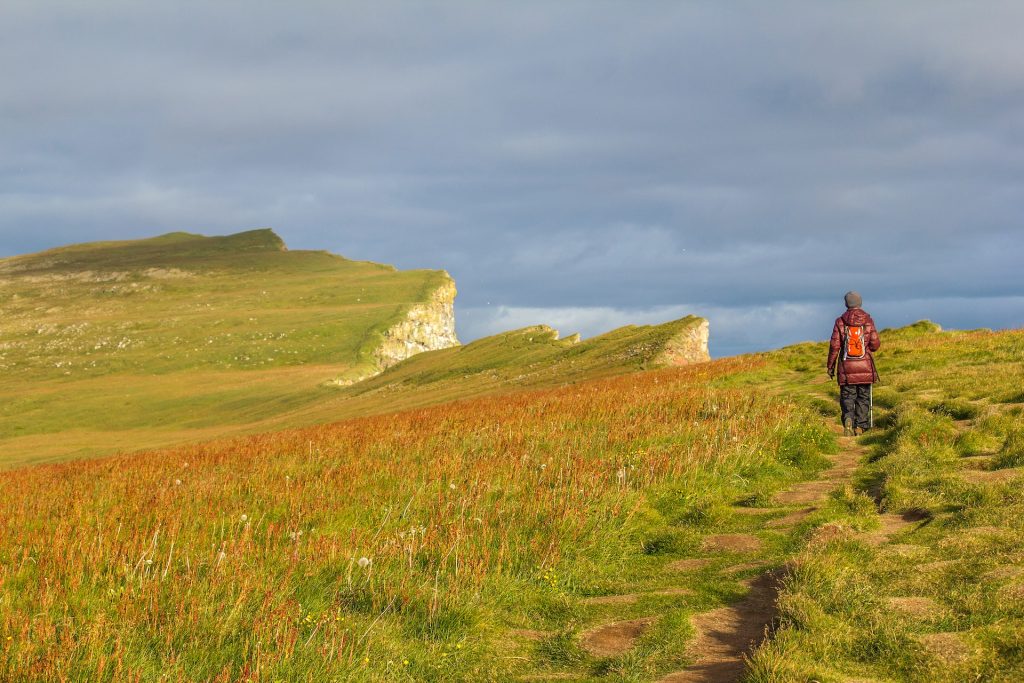 Rauðasandur Beach
Tucked away in the Westfjords is Rauðasandur Beach, also called Red Sands beach. What sets this beach apart from others is, you guessed it, its striking red and golden sand, which is very different from the black sand that is associated with Iceland's other beaches.
The secluded beach stretches for 10 kilometers, and coastal walks and hikes allow you to connect with nature and explore nearby attractions, and you'll likely have most of the beach to yourself because of its remote location. The color of the sand contrasting against the cliffs makes it a fantastic place for photographers looking to capture the powerful Atlantic Ocean and the beauty of the Icelandic cliffs.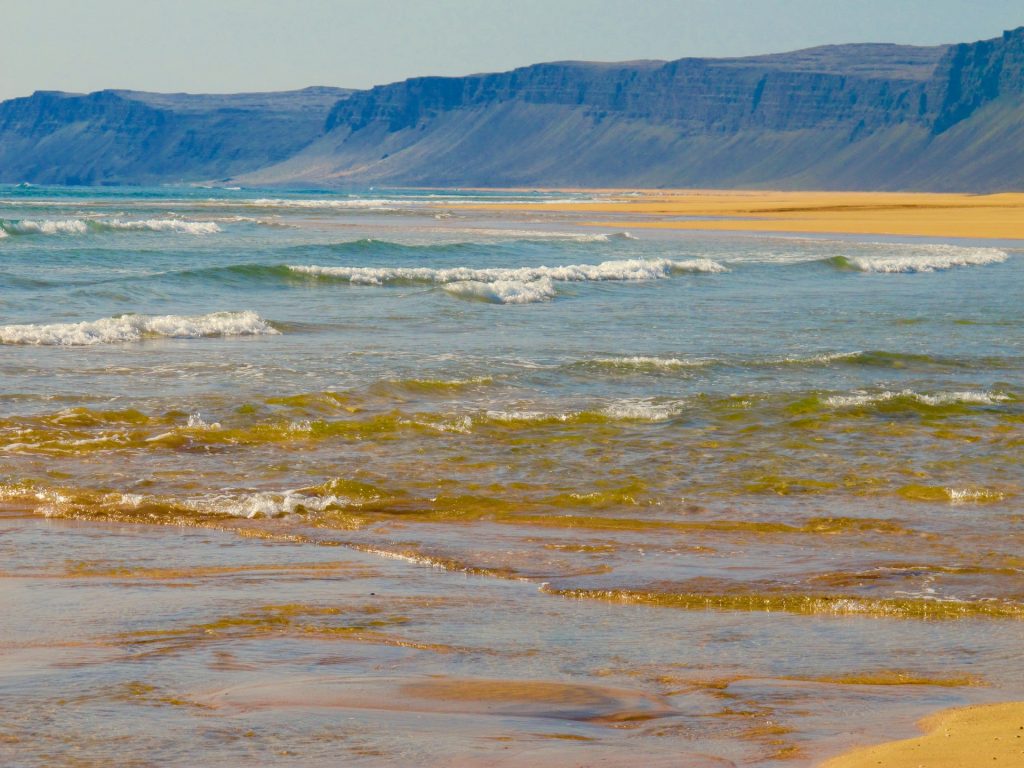 Villages and towns in Westfjords
For a true representation of how local Icelanders live, you need to visit the charming villages and towns of the Westfjords. Each one has its own unique character and way of life. Ísafjörður, the largest town, has colorful streets, cultural attractions, and outdoor adventures like kayaking and whale watching.
Bildudalur is a tranquil fishing village with harbor views and the Sea Monsters Museum. Holmavik is known for its witchcraft history, featuring the Museum of Icelandic Sorcery and Witchcraft, traditional turf houses, and hiking and birdwatching. These settlements provide a glimpse into the local way of life and the rich cultural heritage of the Westfjords. If you are visiting the villages, don't forget to visit a local swimming pool with hot tubs and soak yourself into these hot pools.

Accommodation options and other recommendations
When it comes to accommodations in the Westfjords, you have several options to choose from. Hotels, hostels, guesthouses, and campsites are all available, catering to various preferences and budgets. However, due to the remote nature of the region and limited availability, we recommend always booking your accommodations well in advance, especially during the peak summer season.
Here are a few recommended accommodations in the Westfjords:
Hotel Ísafjörður: Located in the heart of Ísafjörður, this hotel offers comfortable rooms with modern amenities. It provides easy access to nearby attractions, restaurants, and shops.
Hótel Laugarhóll: Situated in a picturesque valley, this guesthouse offers a tranquil and relaxing atmosphere. It features cozy rooms, a restaurant serving local cuisine, and access to nearby hiking trails.
Reykhólar HI Hostel: This eco-friendly and budget-friendly accommodation is located in a small village on the edge of the Westfjords looking out over Breiðafjörður bay. They offer dormitory-style rooms in a historic home from 1947.
Camping: For those who prefer to immerse themselves in nature, camping is a popular option in the Westfjords. There are several well-equipped campsites throughout the region, providing basic facilities and stunning views. Whether you prefer tent camping or staying in a campervan in Iceland there are many campsites to choose from that will provide you with everything you need. Remember that wild camping isn't allowed in Iceland, so you will need to camp in Iceland designated campgrounds.
Remember, regardless of the accommodation you choose, be sure to book in advance to secure your preferred dates and ensure a smooth and enjoyable trip.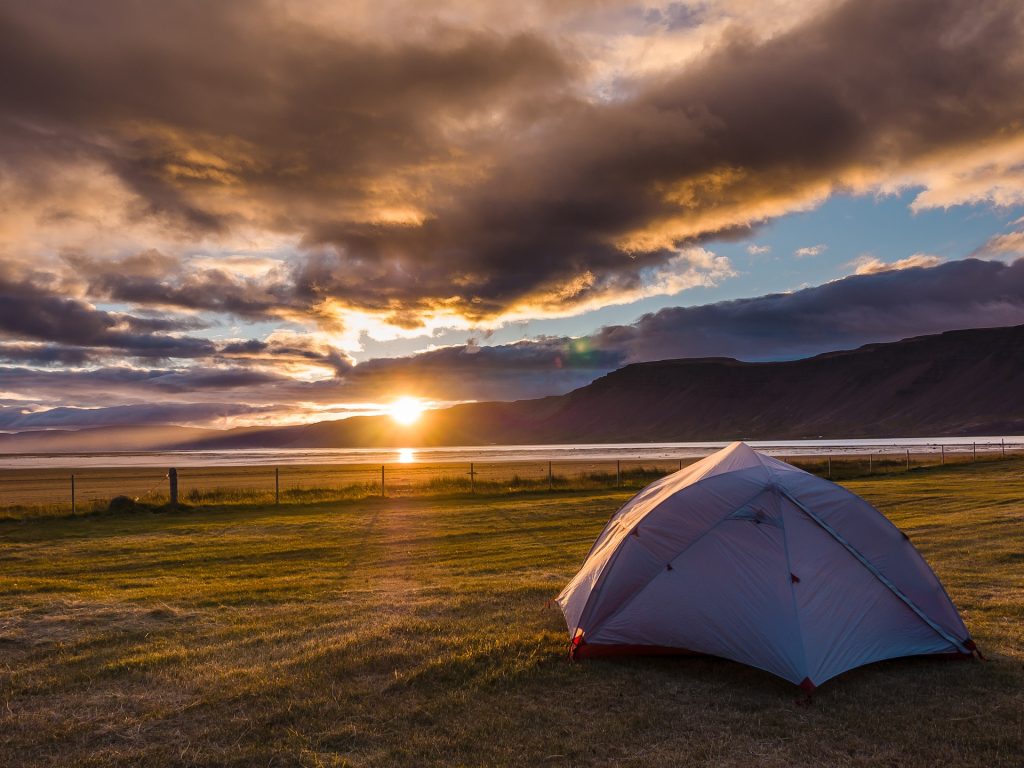 Explore the Westfjords Iceland
A self-drive trip through the Westfjords, Iceland's remote and captivating region, is a truly unforgettable experience. From thundering waterfalls to untouched nature reserves, charming villages, and wildlife, the Westfjords is an incredible spot for the adventurous traveler. To make the most of your journey, rent a 4WD vehicle and embark on an adventure through winding scenic roads.
Take the time to explore attractions such as Dynjandi Waterfall, Hornstrandir Nature Reserve, Látrabjarg Cliff, Rauðasandur Beach, and the charming villages of the region. For better road conditions and milder weather, the summer is the best time to explore the Westfjords.
But if you're a first-time visitor to the Westfjords, it's advisable to be cautious and well-prepared. Check out these Iceland car rental tips and make sure to always book your rental car online and in advance with Hertz Iceland to ensure you get the perfect 4X4 vehicle for your Westfjords road trip.