The charming town of Akureyri is nestled between the mountains and sea in Northern Iceland. Akureyri is the second-largest urban area in Iceland, and it's full of historical and cultural gems waiting to be discovered inside the city and its surrounding area. It's Iceland's hub for whale watching, local festivals, and arts and a gateway to natural attractions. Owning one of the international airports of Iceland, Akureyri is now more accessible to travelers from around the world.
In this article, we'll cover everything you need to know before embarking on your journey to Akureyri Iceland. You'll find out about the town's history, what kind of rental car you need, and the top things to see and do in the area so you can make the most out of your time in Akureyri.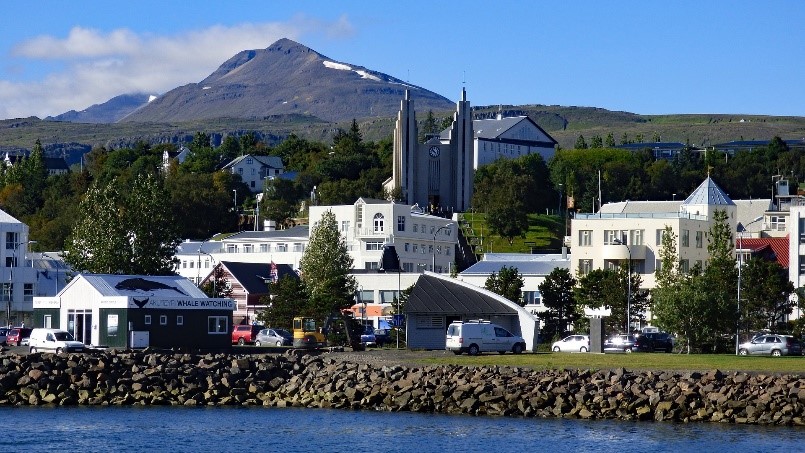 Table of Content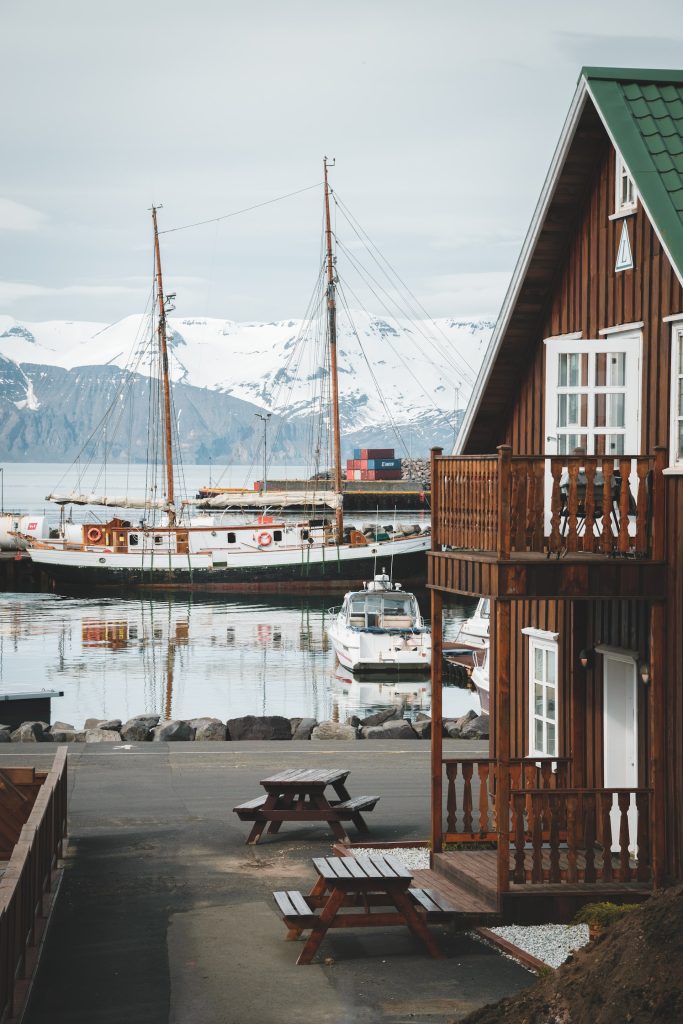 Brief History of Akureyri
Akureyri has been dubbed the capital of north Iceland. And although it only has a population of 19,000, it is the second-largest city in Iceland. The roots of the name Akureryi are blurry, with it translating to "field sand-spit."
This is likely because of the cornfield that was once present in the region's gullies. An Irish Viking named Helgi Magri Eyvindarson was the first settler in Akureyri, after landing there with his wife back in 890AD, but no official settlement was established until it became a trading post in 1602. And finally, in 1778, a permanent settlement was formed.
In WWII, the Royal Air Force used Akureyri as an operating base for the Norwegian-British No. 330 Squadron, where they would launch their Northrop and Catalina flying boats. Since then, it's become the heart of Iceland's north coast and attracts many tourists who are visiting Iceland on self-drive road trips to experience its charm and stunning natural landscapes.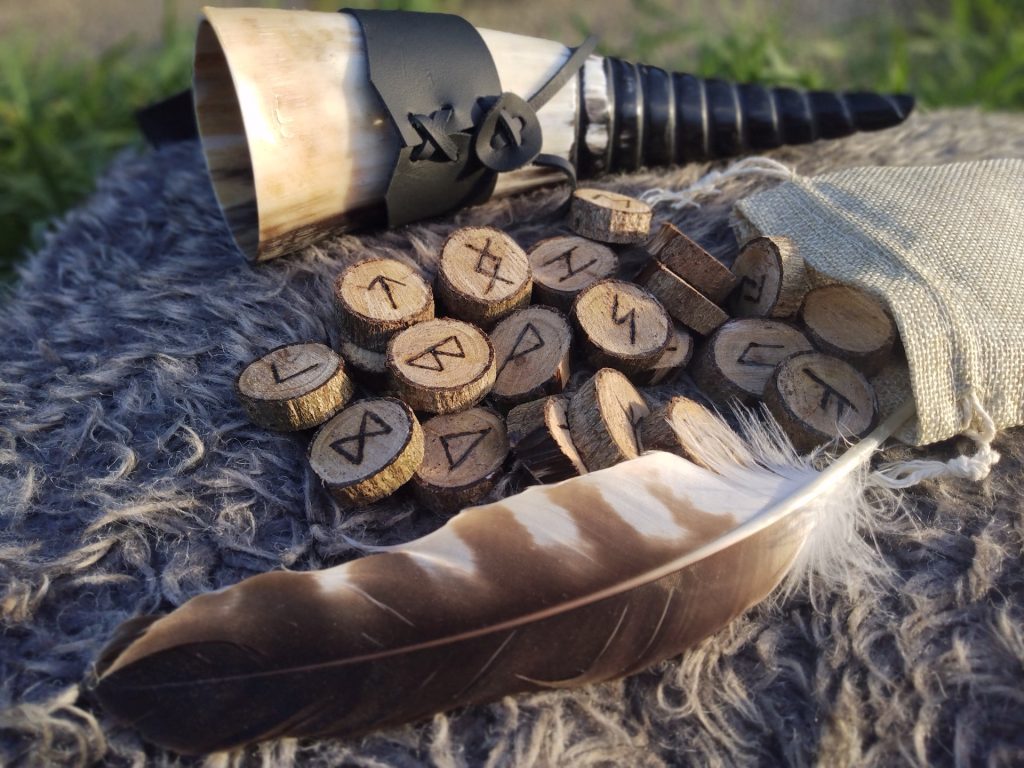 Why are there heart-shaped traffic lights in Akureyri?
Stopping at a red light in Akureyri is a uniquely pleasant experience, thanks to the heart-shaped design of the traffic lights. The heart-shaped lights have become a popular feature among visitors to Akureyri, as well as among the locals. The hearts were introduced after the 2008 financial crisis in Iceland, as a way to promote positive thinking and emphasize the things that really matter. In addition to the traffic lights, you can also find plenty of red hearts made of the flower "forget me not" decorating windows, cars, and signs throughout the town. The harbor area near Hof Cultural House is a perfect spot for a selfie with the glowing red traffic light in the background. So be sure to stop by Akureyri and experience the heartwarming traffic lights for yourself!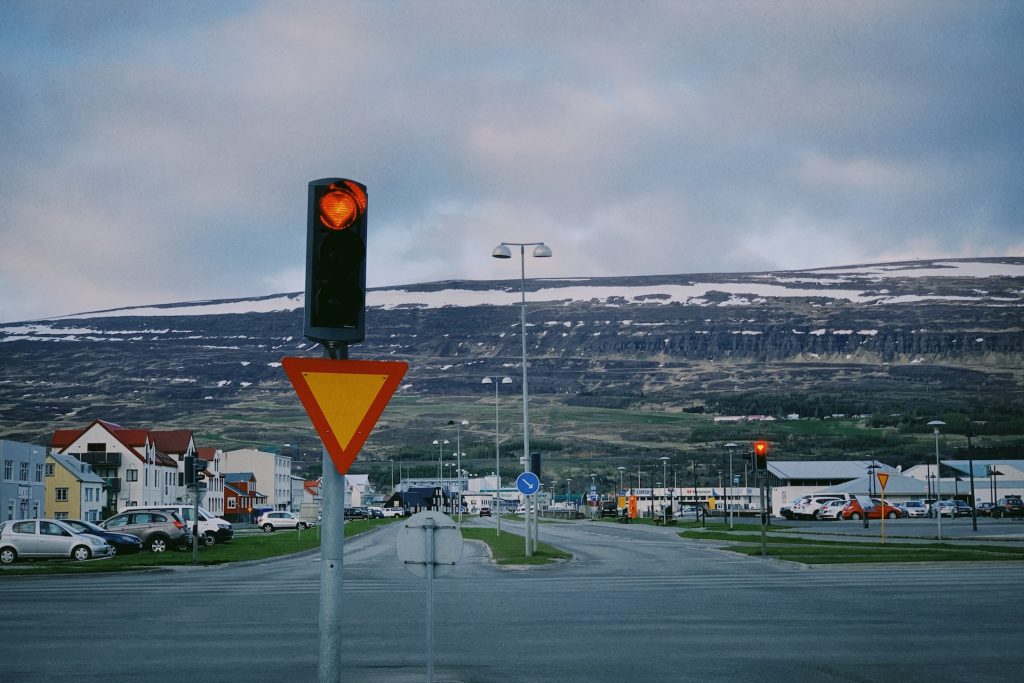 Where is Akureyri Iceland?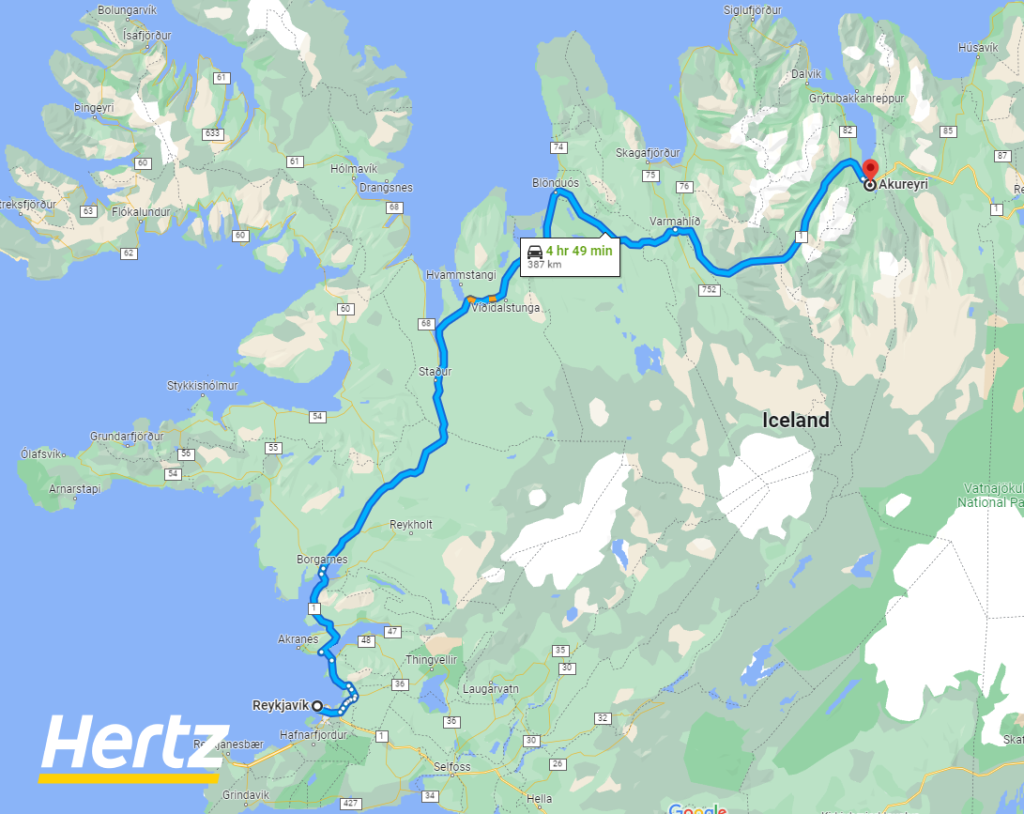 Akureyri Iceland is located on an inlet on Iceland's northern coast, about 387 kilometres (240 miles) north of Reykjavik. If you drive direct from the capital, you can make the drive in just under 5 hours, but we'd recommend taking your time to stop off along the way to explore some of the other attractions in the Snaefellsnes Peninsula and other spots in west Iceland.
The route is very straightforward, as Akureryri is situated directly on Iceland's Ring Road, which runs in a loop around the entire country. Whether you're doing a 10-day Iceland itinerary going counterclockwise or clockwise around the country, you can't miss Akureryi because you'll drive straight through it.
Weather of Akureyri: Average temperature and daylight hours
The weather in Akureyri is relatively chilly most of the year, similar to most weather in Iceland. During the winter months, there isn't much daylight, with Akureyri getting only 5 hours at the darkest point. Average temperatures in the winter fall between -4°C (25°F) and 2°C (36°F), and you can expect snowy conditions all the way through to mid-spring.
In the summer months, Iceland experiences the midnight sun, which means the sun never fully sets. There are up to 22 hours of daylight during the summer months in Akureyri, and because of that, the weather is much more pleasant. The temperature ranges between 9°C (48°F) to 15°C (59°F) on average. The weather is slightly easier to predict, but you may experience unexpected rains.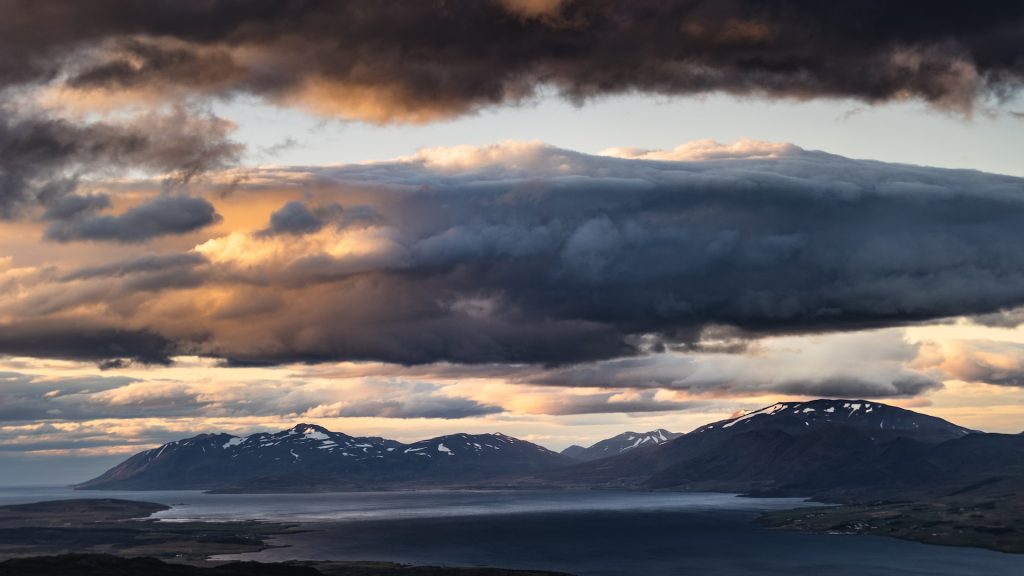 When you compare the weather in Akureyri to that in Reykjavik, it's colder on average and both cities could experience strong winds at some times over the year. The winter months last for longer, with snow starting as early as September. The snow will also melt later into to spring than it does in Reykjavik, just like visiting Reykjavik, summer is the best time to visit Akureyri in general terms, but it is accessible all year round.
Average yearly temperature and daylight hours of Akureyri vs Reykjavik
Month
Akureyri temp (°C)

Akureyri temp (°F)
Reykjavik temp (°C)

Reykjavik temp (°F)
Akureyri
Avg.daylight hours
Reykjavik
Avg.daylight
hours
January
-3 to 3°C
26 to 37 °F
-2 to 3°C
28 to 38 °F
≈ 2 hr
≈3.45 hr
February
-3 to 3°C
26 to 37 °F
-2 to 3°C
28 to 38 °F
≈ 5.58 hr
≈ 7.15 hr
March
-3 to 3°C
26 to 37 °F
-2 to 4°C
29 to 40 °F
≈ 9.12 hr
≈ 10.45 hr
April
0 to 6°C
32 to 43 °F
1 to 7°C
33 to 45 °F
≈ 12.44 hr
≈ 8.45 hr
May
3 to 10 °C
38 to 50 °F
4 to 10°C
39 to 50 °F
≈15,52 hr
≈ 17 hr
June
7 to 14 °C
44 to 56 °F
7 to 13°C
45 to 56 °F
≈21 hr
≈ 20 hr
July
9 to 15 °C
48 to 59 °F
9 to 15°C
48 to 59 °F
≈ 22 hr
≈ 21 hr
August
8 to 15 °C
47 to 59 °F
9 to 14°C
47 to 58 °F
≈19 hr
≈ 18.30 hr
September
6 to 12 °C
42 to 53 °F
6 to 12°C
43 to 53 °F
≈10.28 hr
≈ 14.45 hr
October
1 to 7°C
34 to 44 °F
2 to 8°C
36 to 46 °F
≈ 7.17 hr
≈11.30 hr
November
-2 to 4°C
28 to 38 °F
-1 to 5°C
31 to 41 °F
≈ 4 hr
≈ 7 hr
December
-4 to 2°C
26 to 36 °F
-2 to 4°C
28 to 38 °F
≈ 2
≈ 5.45 hr
Can you see Northern light in Akureyri Iceland?
Yes, it is possible to see the Northern Lights in Akureyri, Iceland, ONLY during the Iceland northern light season (between September and April). The city is located in the northern part of the country, which is an ideal location for viewing the aurora borealis. Akureyri is less affected by light pollution than Reykjavik, making it a great spot for Northern Lights sightings. It's recommended to go outside the city center to areas with less light pollution and to check the Aurora forecast before planning a trip to increase the chances of seeing the lights.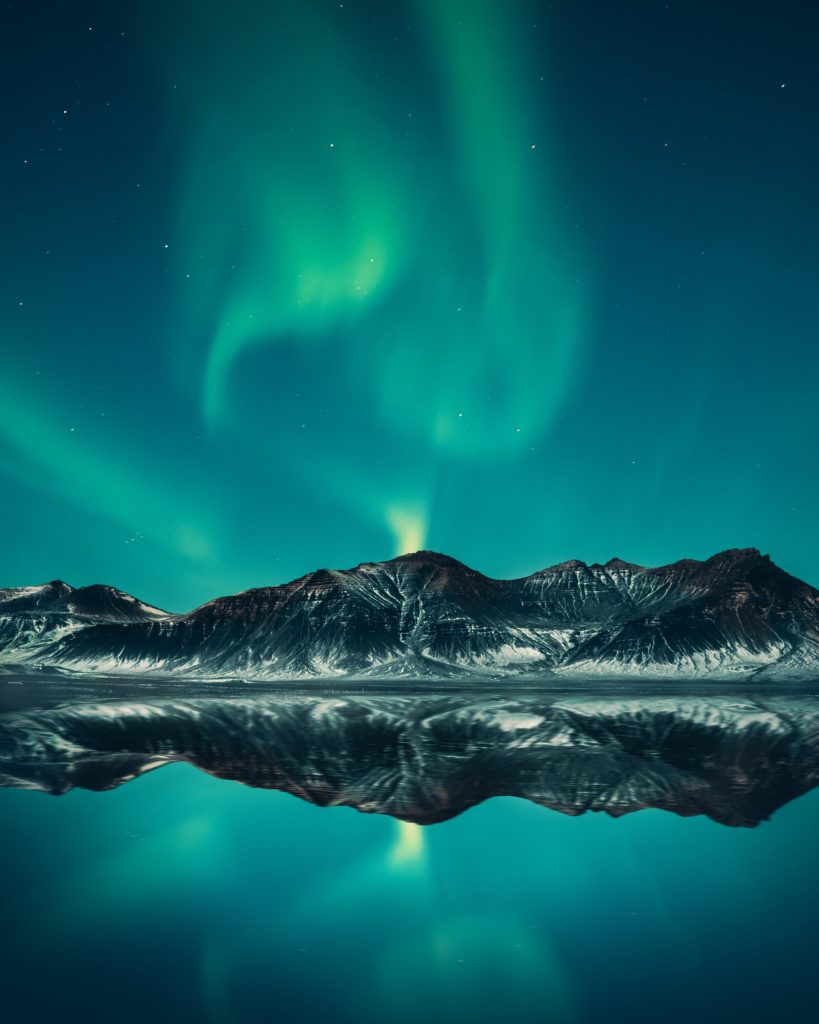 What car to rent if you want to visit North Iceland?
Visiting Akureyri is very straightforward as it's located on Route 1 Ring Road, which is well-maintained throughout the year. That said, because of the extended winter in North Iceland, you can expect snowy and icy conditions for a big chunk of the year, so the proper rental car is essential.
A rental car is the best way to travel in Iceland, and basically necessary if you want to see the country. A 4WD rental vehicle is recommended throughout the entire year when visiting Akureyri and will also give you the opportunity to be more flexible in your Iceland itinerary and explore F-roads and areas like the Westfjords (provided it's the right season).
If you're visiting Iceland in the summer and intend to only stick to the Ring Road, then an economy, compact or intermediate 2WD may be appropriate, provided you're travelling with light luggage and a small group. Have a look at the Iceland car rental options to choose the one that best suits your needs.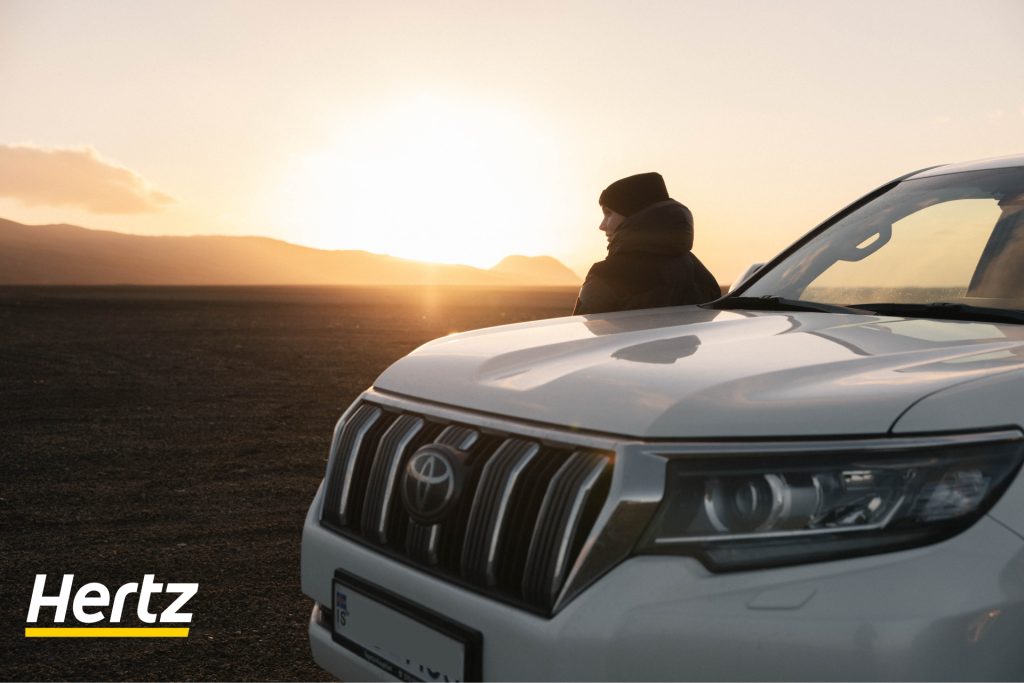 What to do in Akureyri
Akureyri Iceland has tons of unique activities and attractions to enjoy while visiting Northern Iceland. Here are some of the things you don't want to miss:
1. Visit the Forest Lagoon spa
There is something very magical about Northern Iceland, and you will truly get to experience it first-hand at the Forest Lagoon spa. Like the popular Blue Lagoon outside of Reykjavik, the Forest Lagoon spa is a geothermal nature baths.
But instead of being located within a lava field, Forest Lagoon is set within the Vaðlaskógur forest, with views of the surrounding mountains and out into the open ocean. The water in this geothermal spa is sourced from the Vaðlaheiði mountains. This is a brand-new facility that has two infinity pools (both with swim-up bars), a sauna, a cold tub and a bistro on-site.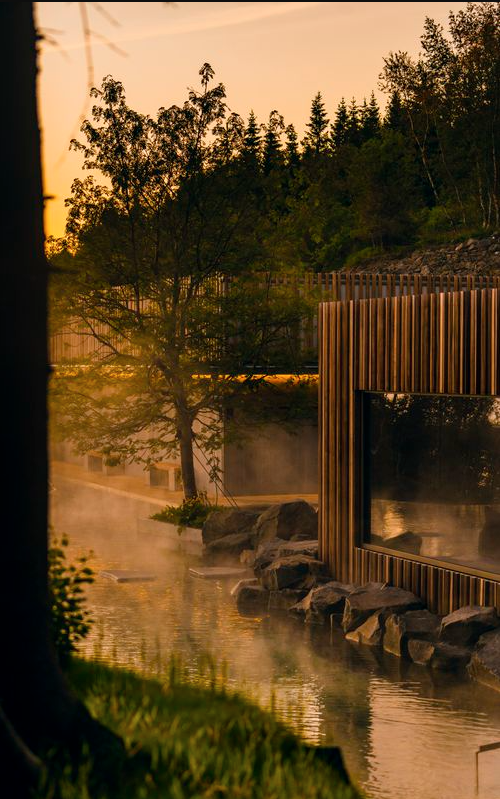 Alternative: visit a geothermal swimming pool like a local
If you don't really like the fancy spa experience, alternatively, you can go swimming in a geothermal pool just like the Icelandic people.
Geothermal swimming pools are an essential part of Icelandic culture. Visiting a geothermal pool is a unique experience that allows visitors to relax in naturally heated water while surrounded by Iceland's stunning natural beauty.
In addition to being a relaxing experience, geothermal pools also have many health benefits. The minerals and nutrients present in the water have been known to help alleviate skin conditions, reduce stress and anxiety, and improve circulation. Many pools also offer saunas, steam rooms, and hot tubs, providing an even more therapeutic experience.
The local pools are often less crowded and less expensive than the larger tourist hotspots, and they are an excellent opportunity to interact with the locals and experience Icelandic culture firsthand.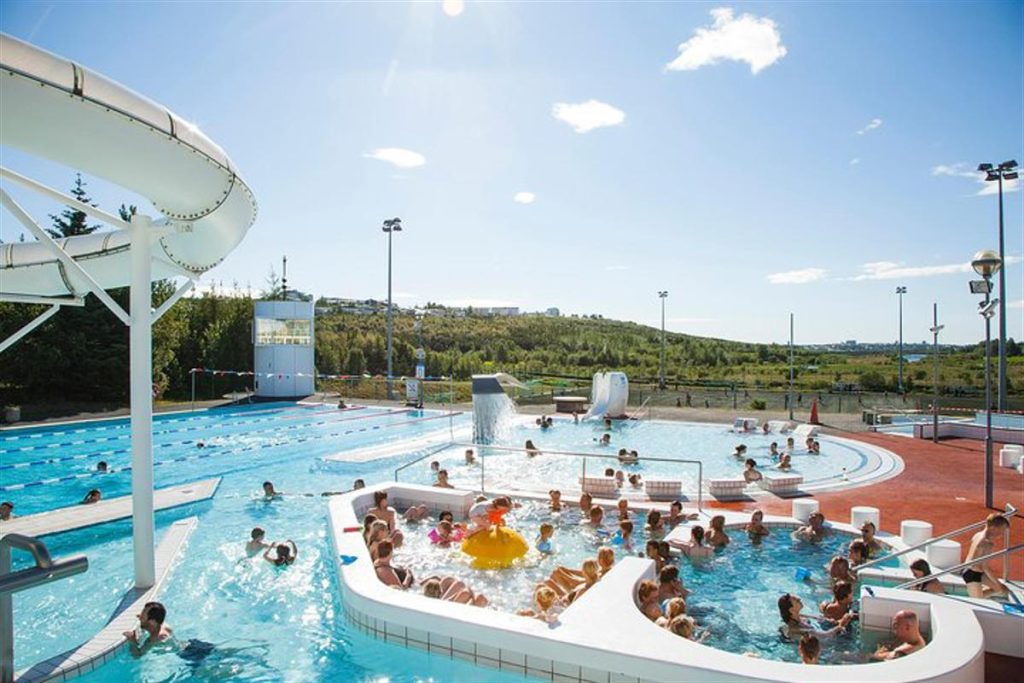 2. Go Whale Watching
Akureyri is one of the best spots in the entire country to go whale watching, joining a whale watching tour in Akureyri will be one of the best thing to do in the city. It sits on the fjord of Eyjafjordur, which is home to an abundance of marine life, including dolphins and many species of whales.
There are over 20 different species of whales that live in the waters around Iceland, but the most common sighting are of orcas, minke whales and humpback whales, but it's not unheard of to see the massive blue whale as well. You will need to book a tour to go out whale watching, but there are tons of tour options available in Akureyri.
Best whale watching tours in Akureyri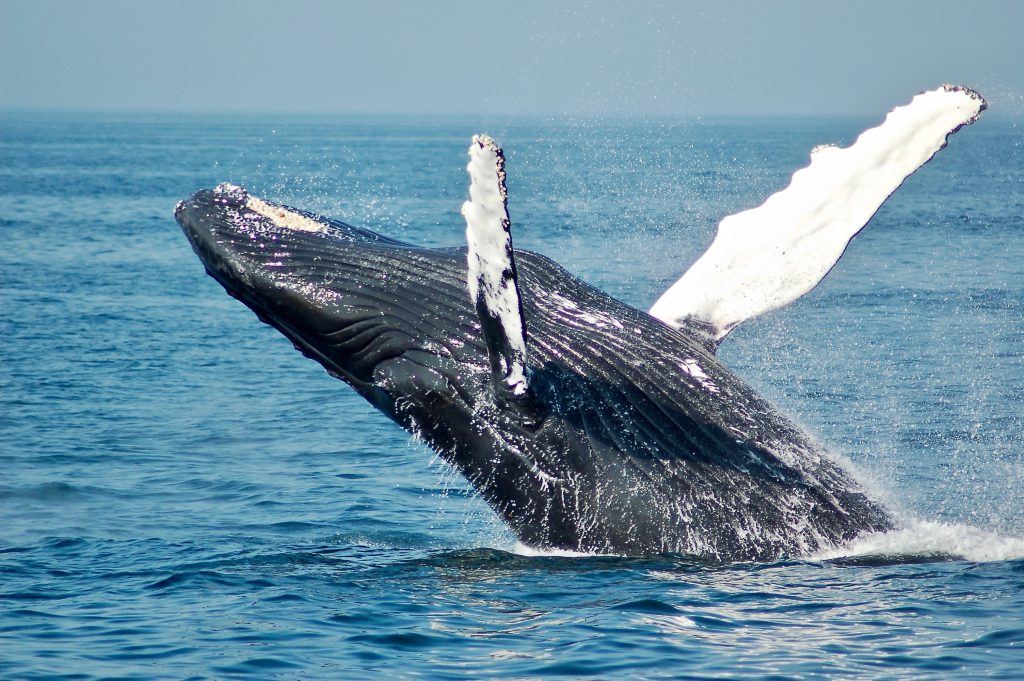 3. Visit Akureyri Botanical garden: Arctic Botanical Garden
It doesn't seem possible to find the lush plant life of a botanical garden a mere 50 kilometres from the arctic circle. But in Akureyri, you can enjoy the Arctic Botanical Gardens (or Lystigarðurinn), within a city park. As expected, they are only visible in all their glory during the summer months, with the 7,000 species of plants thriving between June and early September.
Out of all the plants, only 400 are actually native to Iceland, with the rest providing valuable insights for research purposes. It's free to access the grounds, which look out over the fjord and feature small wooden buildings and busts of notable figures in the garden's history.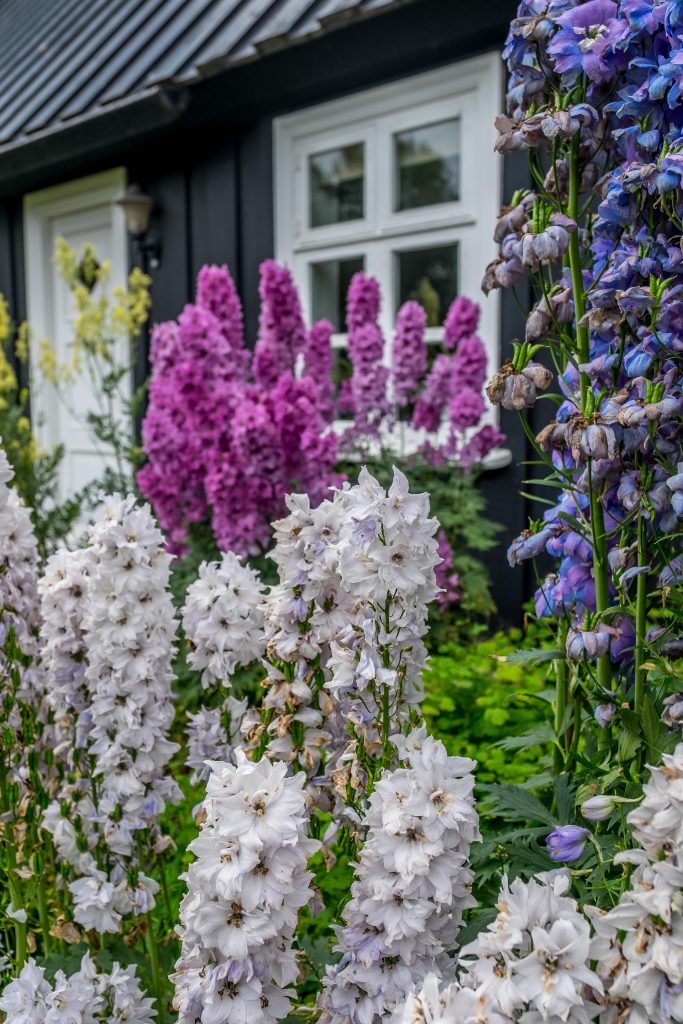 4. Visit city attractions: Akureyri Church, Hof cultural center and more
Akureyri Church
As with many European cities, the local churches are often some of the most interesting historical buildings to visit. Religion has been a huge part of Europe's history, with places of worship being the centre of the construction of towns and architecture going above and beyond any other buildings to make them truly impactful.
the centrally located Akureyri Chuch is no exception. It was built in 1940 directly in the centre of the city and imposes over the landscape. Its design is quintessentially Icelandic, with its striking and modern appearance. Inside you'll find a massive pipe organ with 3200 pipes and a model ship hanging from the ceiling, which is definitely not something you'd typically see in a church!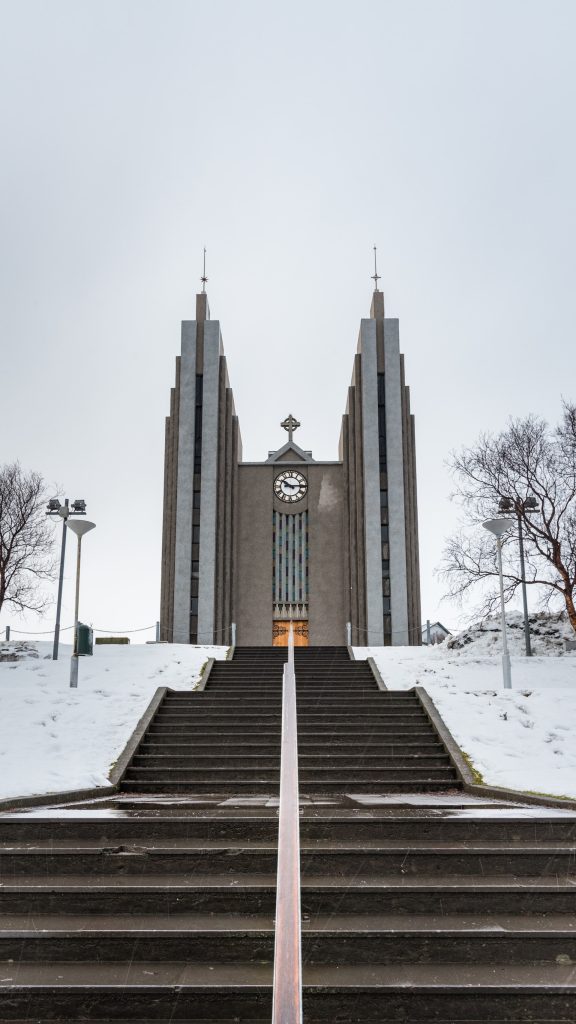 Hof Cultural Center
The Hof Cultural Center is a multi-purpose building located in the town of Akureyri in northern Iceland, it can be considered as the art museum and concert hall of the North. It was opened in 2010 and serves as a hub for cultural activities and events in the region.
The building itself is a modern, eco-friendly structure that features a variety of spaces for performances, exhibitions, conferences, and other activities. The center has several performance spaces, including a large theater that seats up to 500 people, a smaller theater for more intimate performances, and a cinema. It also has art galleries, exhibition spaces, a café, and a restaurant.
The Hof Cultural Center is home to a wide range of events and activities throughout the year, including concerts, theater performances, film screenings, art exhibitions, and literary events. It is also a popular venue for conferences and meetings, and hosts many community events and activities. The center is designed to be a vibrant hub for the arts and culture in the region, and its location in the heart of Akureyri makes it easily accessible to locals and visitors alike.
Hof Cultural Center is an important part of the cultural lanscape of Akureyri and northern Iceland, and a must-visit destination for anyone interested in the arts and culture of the region.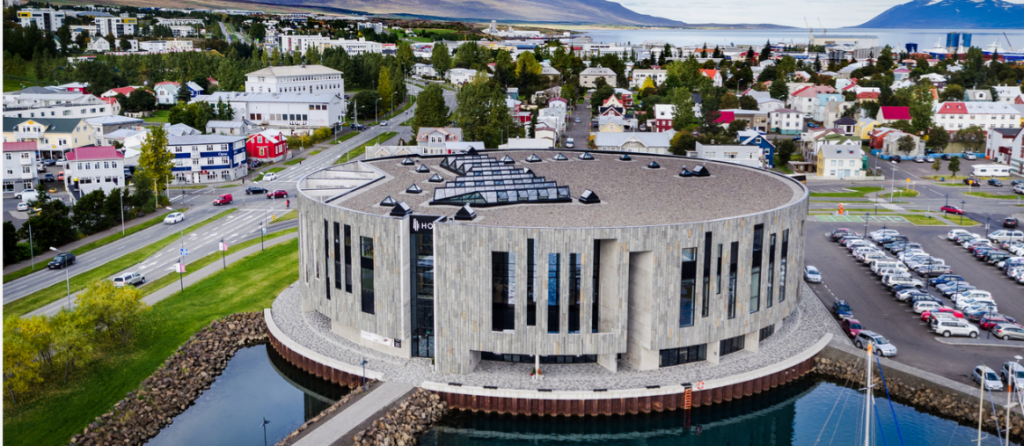 5. Go Horseback Riding
Iceland is known for its distinctive breed of horse, that's shaggier, stockier and, in our opinion, even cuter than other horses around the world. When visiting Akureyri, you can take a tour to go horseback riding on these beautiful creatures and even experience the Icelandic horse's iconic fifth gait called the tölt, which is like a fast-paced walk.
In the area near Akureryi, you're likely to see the large herds of horses grazing in the valleys, and you can even horseback ride along the ocean nearby in Saltvik. There are tours available for all ages, from families with kids to adults.
Best Horse Riding tour in North Iceland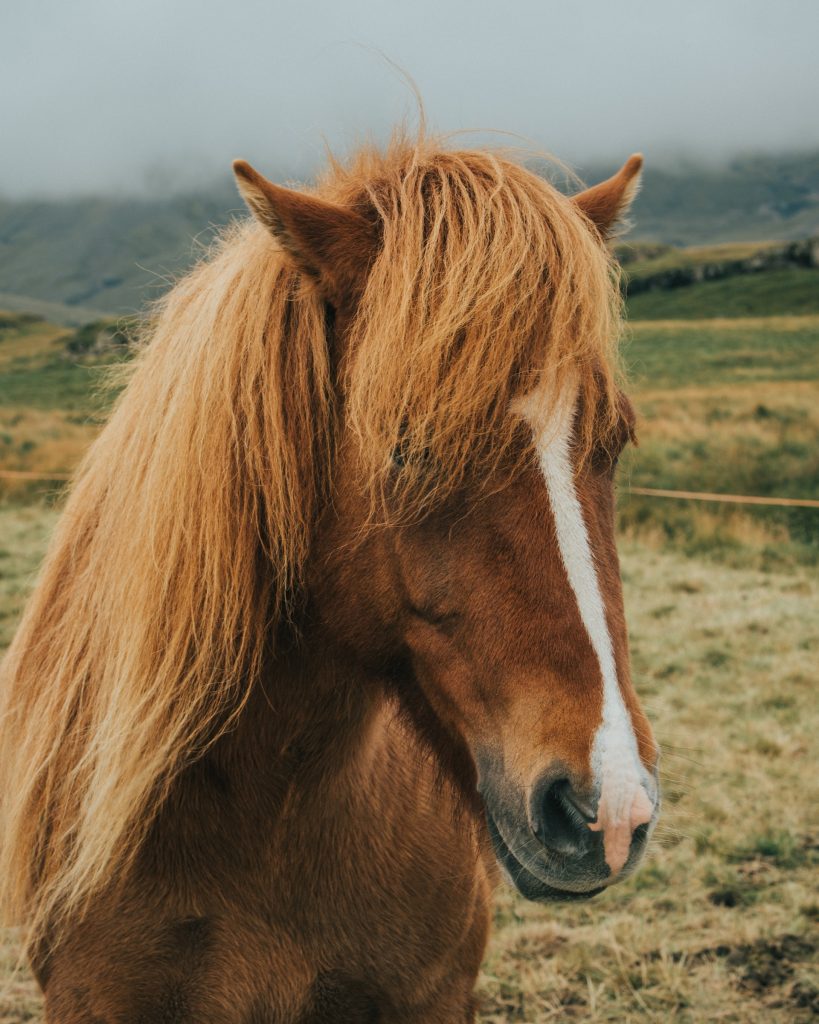 6. Visit the Laufas Turf Houses
Prior to the 20th century, Icelanders lived quite differently. A great example of the way that many Icelanders may have built their homes is the Laufas Turf Houses, located just north of Akureyri. These forms of turf homes were found dotted around Iceland, but not many are left, and none are as well-preserved as those found at Laufás. The houses have turf roofs and walls made of turf, stones and timber which helped to provide good insulation from the harsh Icelandic elements.
The original structures, believed to have been built around 1840, were rebuilt in 1866 by Rev. Björn Halldórsson, who lived there with upwards of 30 people. They eventually moved out, and the homes were abandoned. Now, they are open to visitors, providing insight into the lives of Icelanders in the past. The site also includes a museum that showcases the history and culture of the region.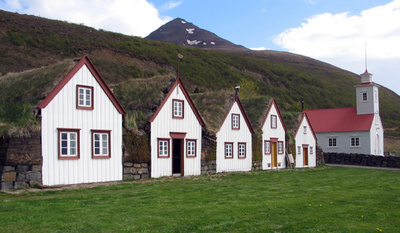 What to see in Akureyri Iceland
Beyond the typical attractions of the area, there are also other things to see near Akureyri Iceland, depending on what time of year you're visiting.
See the northern lights
Akureyri is a great spot to see the northern lights, as you can look out over the water where there is no light pollution to take away from the beautiful dancing lights of the Aurora Borealis. The best time to see the northern lights in Iceland is in the middle of winter, when there's the least amount of daylight.
To increase your odds, aim to go out on a clear night, when there's a new moon so the brightness of the moon can make it harder to see them. It's never guaranteed to see the northern lights, but the season of possibility runs from September to April. You won't be able to see the northern lights during the summer, regardless of where you are, so just keep that in mind if you're planning to visit Iceland in the summer.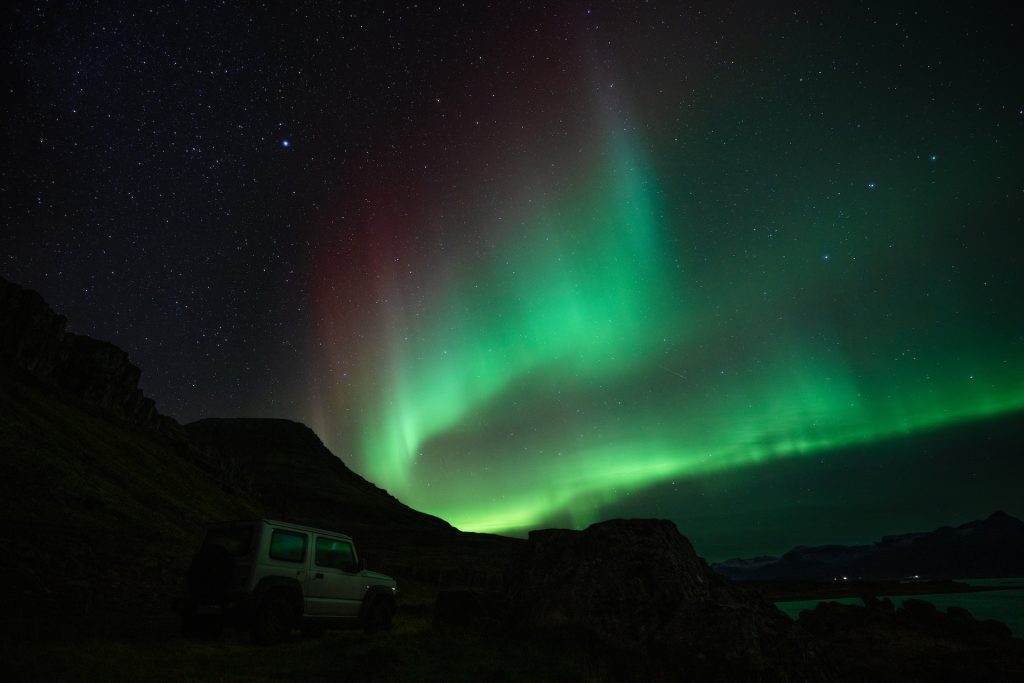 Visit the Christmas House
The Christmas House, also called Jolahusid, is a Christmas-themed gift shop that's open all year long. Even if you visit in the middle of the summer you can still go visit this cartoony-looking house and buy Christmas ornaments, decorations, gifts and some of the typical foods Icelanders eat at Christmas. Painted like something straight out of Santa's Village, this red building has oversized candy on the roof and the staff inside are full of Christmas spirit. And you might even see Santa himself!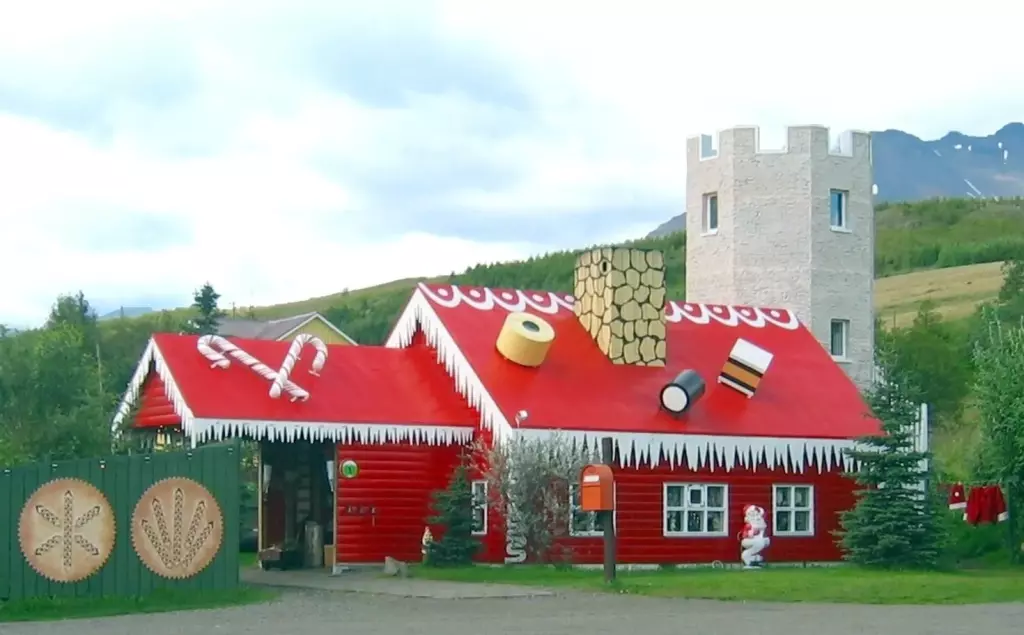 Explore the natural attractions outside Akureyri
There are many natural attractions in the area surrounding Akureryi, so you can use the town as a base as you explore some of the fantastic sights. We recommend including Akureryi as part of the Diamond Circle, which takes you around Northeastern Iceland. Also, make sure to add these to your itinerary:
Godafoss and Dettifoss waterfalls in Iceland
Puffin watching!
Hlíðarfjall skiing mountain (the ski resort with great ski slopes)

Hlíðarfjall mountain skiing is 5 kilometres out of town and very popular between December and May. With 20 slopes and a range of cross-country tracks for you to try out which makes for a great day skiing or snowboarding.

Lake Mývatn
Vatnsnes peninsula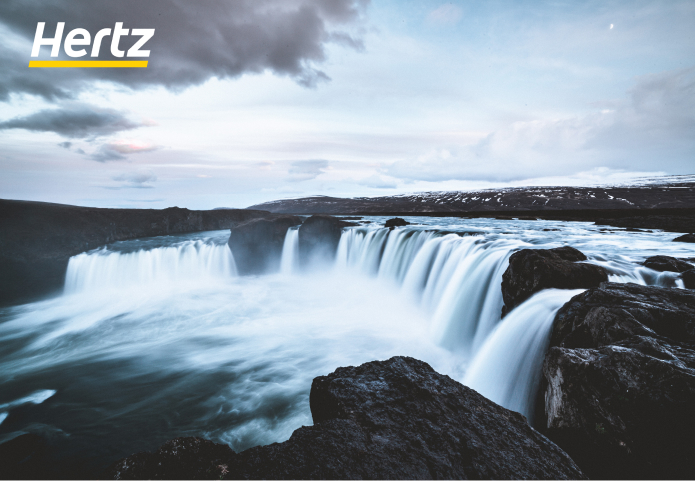 Akureyri Iceland travel guide
Akureyri is a beautiful destination with some of the best things to do in Iceland. Renting a car is hands down the best way to see the city and all the amazing attractions surrounding it as it allows for maximum flexibility and independenuce in your itinerary.
Whether you're interested in outdoor adventures, cultural experiences, or simply taking in the stunning natural scenery, Akureyri has something for everyone. From the iconic Godafoss waterfall to the charming streets of the city center, there's no shortage of must-see attractions in Akureyri. Always ensure you book your rental car online and in advance with Hertz Iceland the ensure you secure the most suitable vehicle for your group and trip. And get ready for the trip of a lifetime!