January is one of the most magical months of the year to visit Iceland. Beyond many of the country's most famous natural attractions being covered in a sparkly blanket of snow, there are also places you can only visit during the winter.
Yes, January may be the coldest month in Iceland, but it's also one of the best times to see the Northern Lights, score some great deals and avoid heavy tourist traffic. If you're considering visiting Iceland in January, there are some things to consider in advance to ensure you can plan your trip effectively and safely.
This self-drive travel guide to Iceland in January has everything you need to know about travelling Iceland in January, including what weather and road conditions to expect, the best rental car options, and the top activities you can participate in!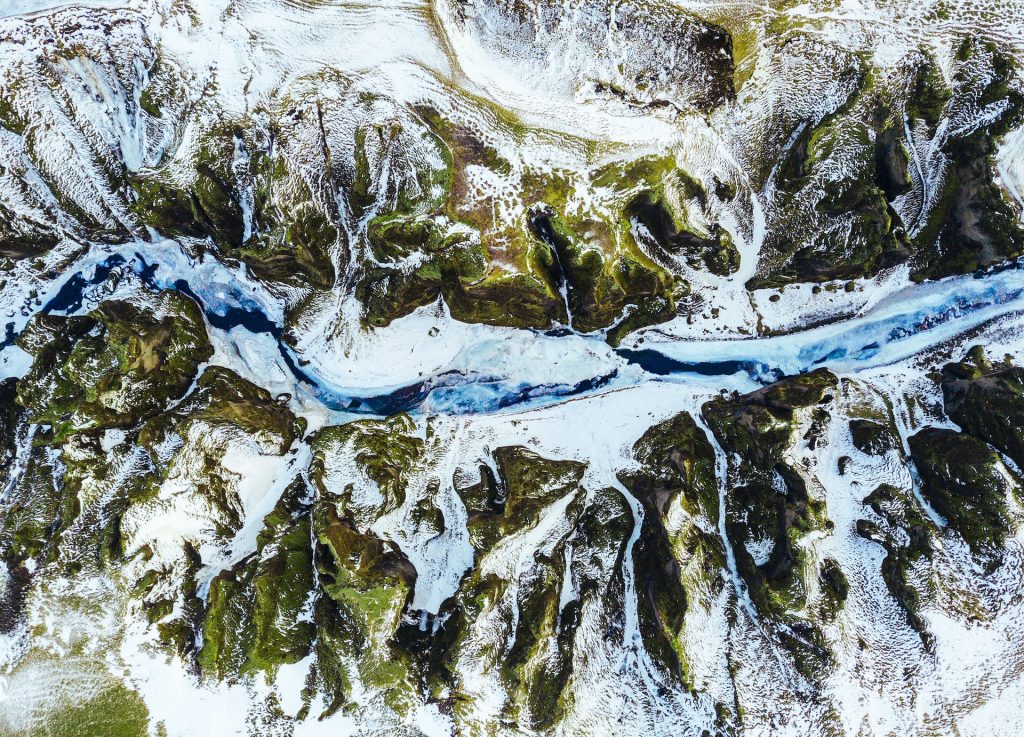 Table of content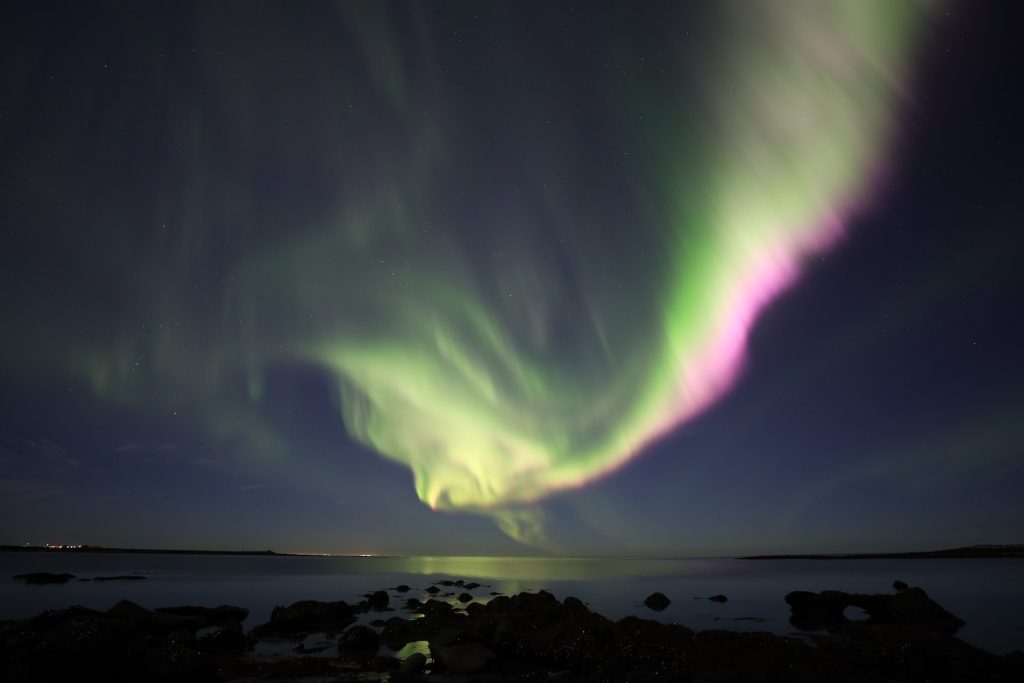 What is the weather like in Iceland in January?
Like most other countries in the northern hemisphere, in Iceland, January is the coldest month of the year on average. That said, it's not as cold as you may expect (especially if you're coming from countries in Northern Europe, Canada or the United States. Let's look at what you can expect from the weather conditions in Iceland in January.
The average temperature
During the month of January, the temperature in Iceland ranges from -5 °C (23°F) up to 3°C / 38°F. That said, it can be extremely windy, which can make the temperature feel colder.
The daylight hours
January in Iceland is quite dark, and the sun only peaks its face out for a few hours a day. On average, the sun will rise at 10:30 am/11:00 am and set by 5:00 pm. Because of this, you'll need to plan your itinerary accordingly, so you can try to avoid driving on dark, icy roads.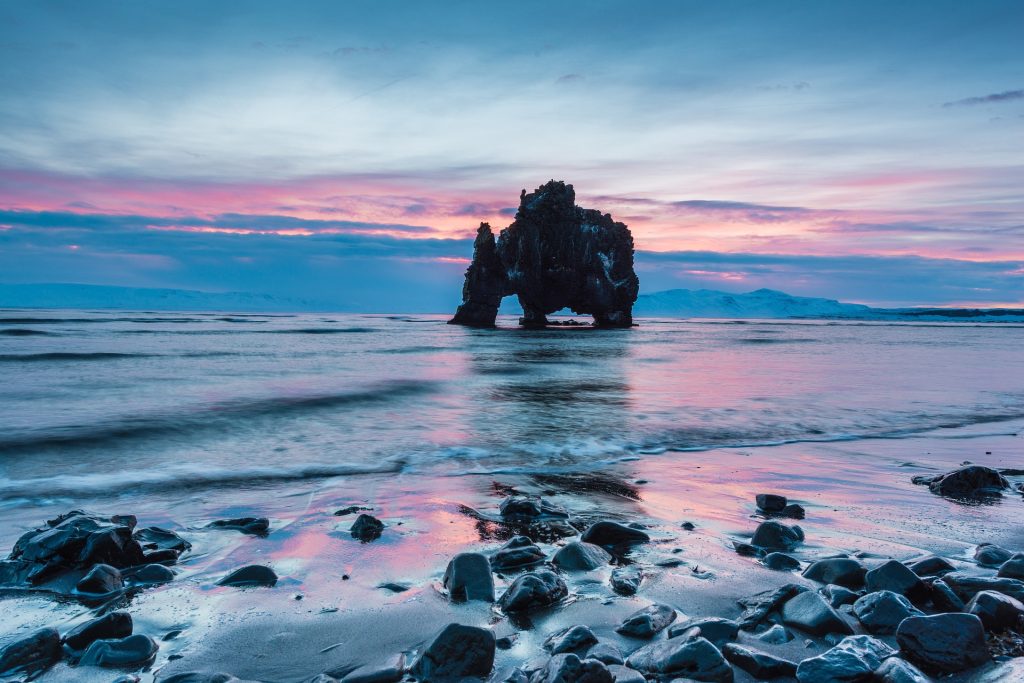 How cold is Iceland in January?
The reality is that it is quite cold in Iceland in January, especially if you aren't used to winter weather. That said, as long as you're prepared and dress accordingly, you can stay dry and still enjoy a self-drive trip during this month. Expect lots of snow and chilly winds, but you won't have to deal with the extreme cold that you would in parts of Canada, the United States and Scandinavian countries.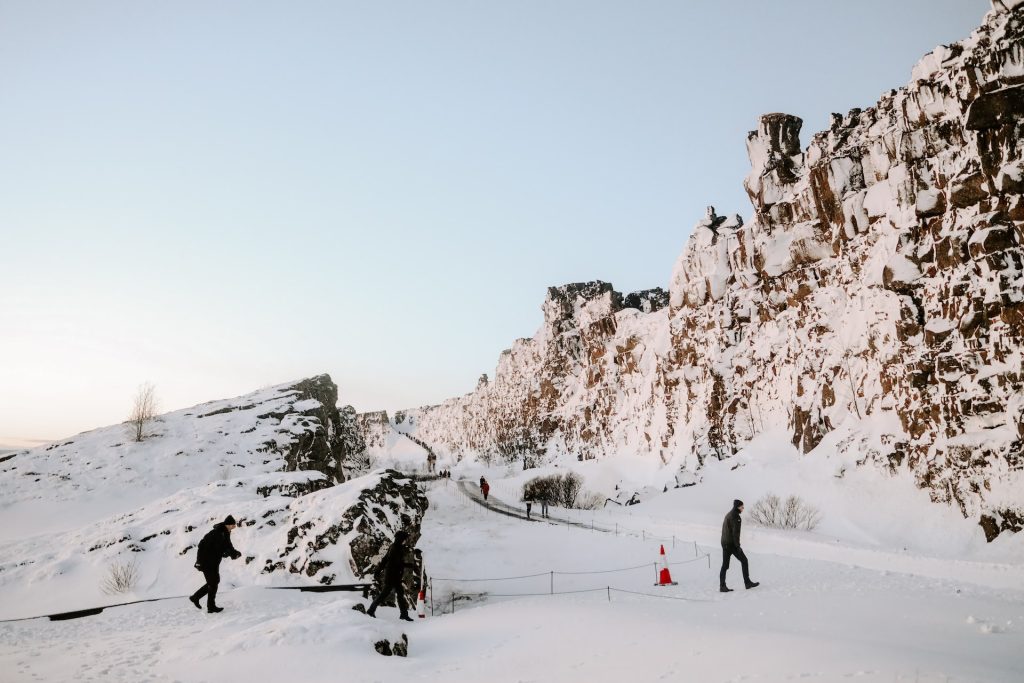 What are the roads conditions like in Iceland in January?
The road conditions in Iceland during January can be more challenging, so extra care is needed when on a self-drive trip. There will be snow across the entire country, and although main roadways are relatively well-maintained, you will inevitably still encounter icy and snowy road conditions on your trip.
Having a confident winter driver in your group is important to ensure safety if you come across slippery roadways. If it's your group's first time in Iceland, we recommend sticking to The Golden Circle or Ring Road route, which both have paved, well-maintained roads and are easy to navigate. The easiest areas to drive will be the South Coast and Snaefellsnes Peninsula, which feature incredible attractions to explore. But caution is always necessary on the roads during January, regardless of which routes you take.
Something else to note is that some roads are closed during the winter months. The highland will not be accessible during January, and the fjords area (west fjords, east fjords and north fjords) will be challenging to drive, with some roads closed during storms or bad weather.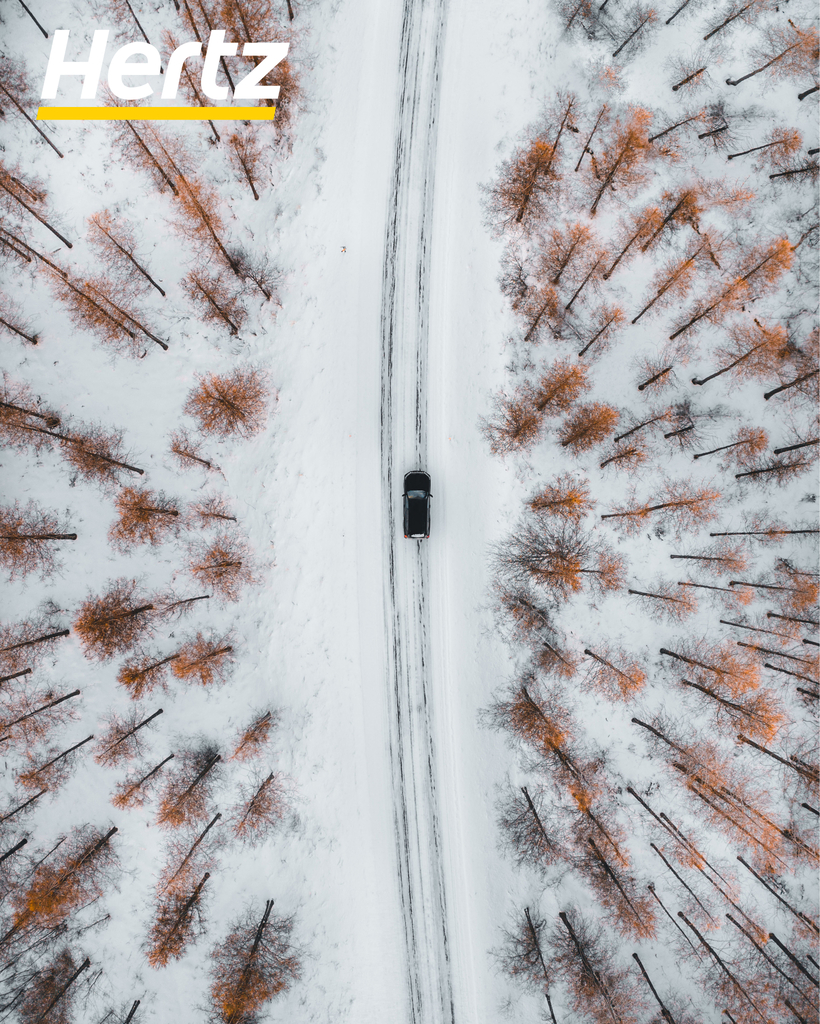 What is the best rental car in Iceland for a self-drive road trip in Iceland in January?
When choosing the best rental car for your self-drive trip to Iceland in January, we always recommend a 4WD vehicle. Even if you're only planning to drive the Golden Circle or stick to the Ring Road, the weather conditions in Iceland are highly unpredictable, especially in January. It could be clear when you set out in the morning, but a few hours later, you be in the middle of a storm.
There are multiple different 4X4 rental car options to choose from, and the best option will depend on factors like your group size, your budget and how much luggage you'll be bringing with you. There are full-size vehicles, SUVs, electric cars, and even luxury cars available in 4WD.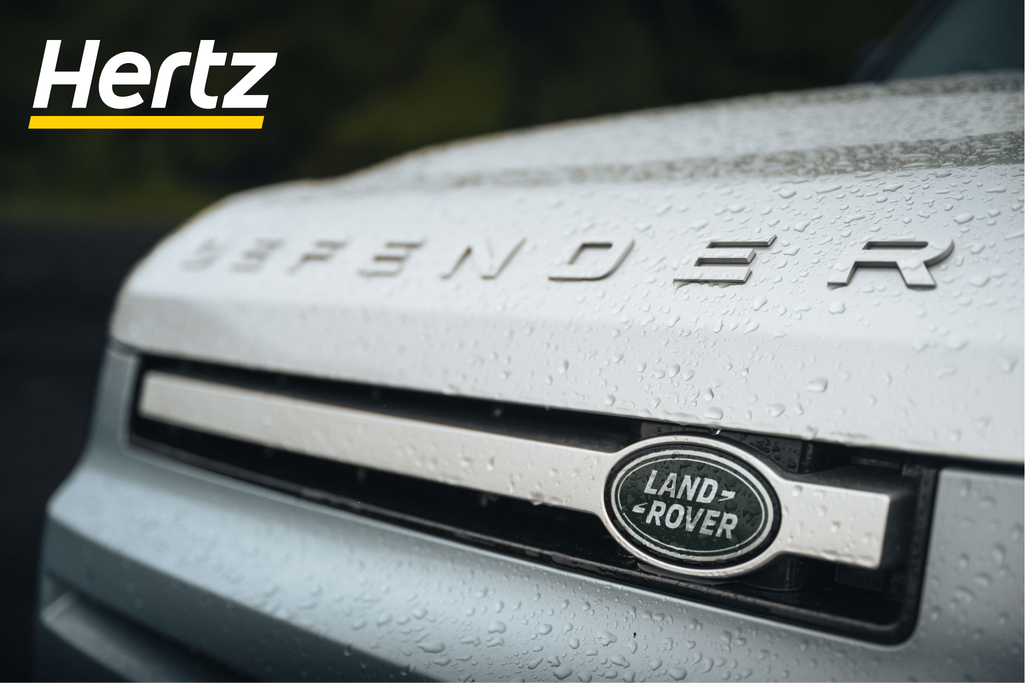 What to wear in Iceland in January?
Pack your warmest clothes and waterproof layers because you'll need them when visiting Iceland in January. There's nothing worse than being wet and cold while you're trying to enjoy your vacation, so we recommend bringing a lot of layers, even if it means you have more luggage.
Make sure you have a good winter jacket that's both windproof and waterproof, along with quality waterproof footwear. Also, bring some warm layers to put underneath, such as a thermal base layer and pack your bathing suit if you plan to enjoy Iceland's hot springs (we highly recommend this). Check out our complete packing list for a detailed breakdown of everything you should bring.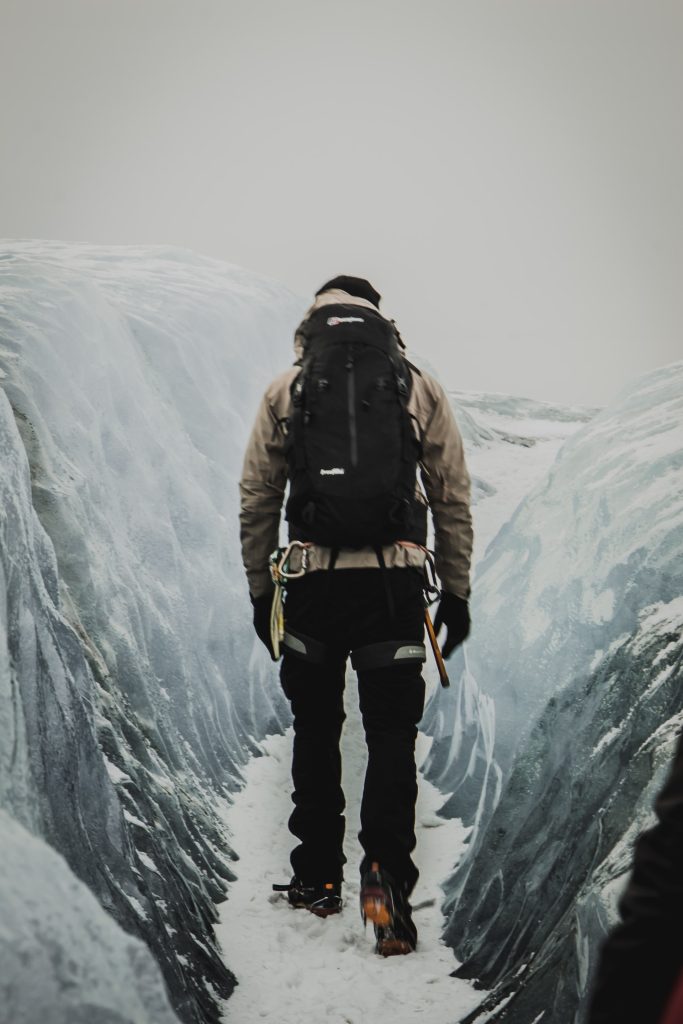 Is January a good time to go to Iceland?
January is absolutely an excellent time to go to Iceland. If you can brave the colder temperatures, you'll have the opportunity to experience many things you can't experience at other times of the year, with some big perks. Visiting Iceland in January means:
Lower prices for accommodation, flights and rental cars due to lower demand.
Fewer tourists, so you'll get many of the natural attractions all to yourself, plus have more availability for tours.
The best time of year to see the northern lights in Iceland.
Have the ability to explore the glacial ice caves, which you can only visit in the winter.
Experience the bright blue ice of glaciers on a glacial hike in January.
Many events are happening in Iceland during January.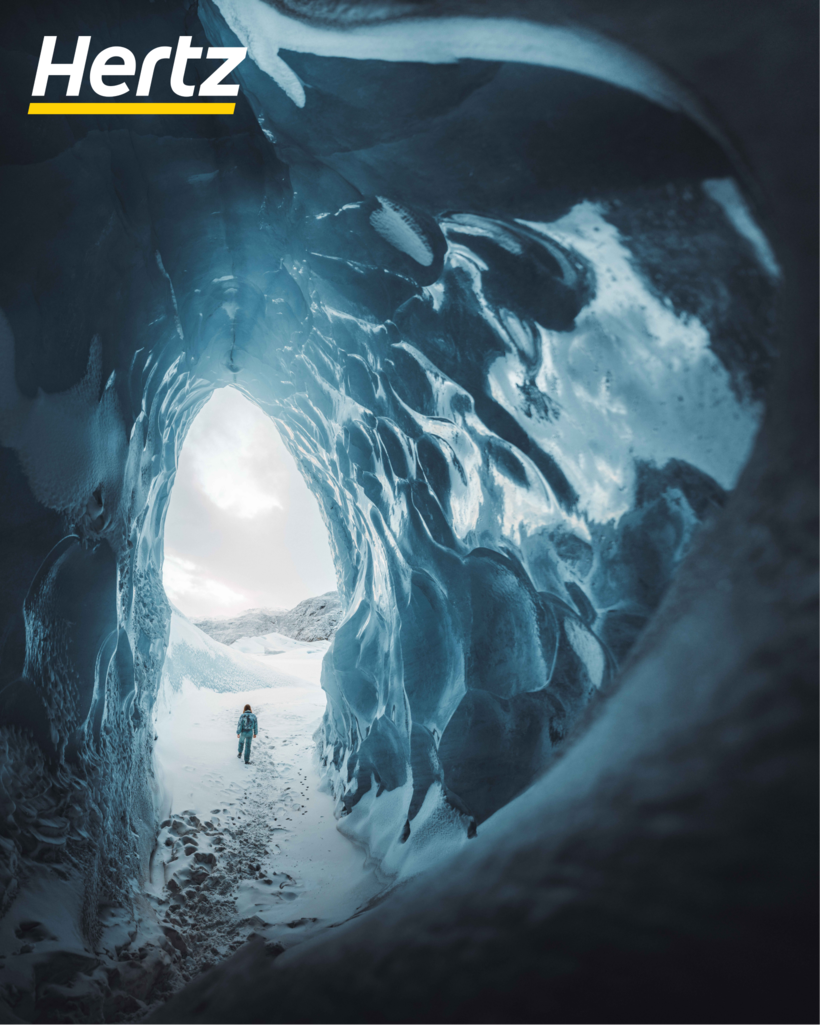 Best things to do in Iceland in January
There are tons of things to do on a self-drive trip to Iceland in January. Some of the activities you can participate in during January are unavailable during summer. And it's also the best time to enjoy some classic Icelandic Brennivin, a spirit made from Icelandic water (which naturally has a subtle sweetness), potatoes and flavoured with caraway seeds, which can warm you up after a chilly day outside. Here are some of the best things to do in Iceland in January.
1. See the Northern Lights
January is the best possible time of year to see the Northern Lights in Iceland. Although there is never a guarantee to see the Aurora Borealis, January will give you the best chance. Ideally, you want to be somewhere in Iceland with the least light pollution, such as the area around Jokulsarlon glacier lagoon or one of the other beaches along Iceland's south coast.
But you will still need a clear day if you're going to see the Northern Lights dancing across the sky. A great option is to base yourself overnight for a day or two in Vik so that it's easy to drive out in the middle of the night, giving you the best chance of seeing this beautiful sight.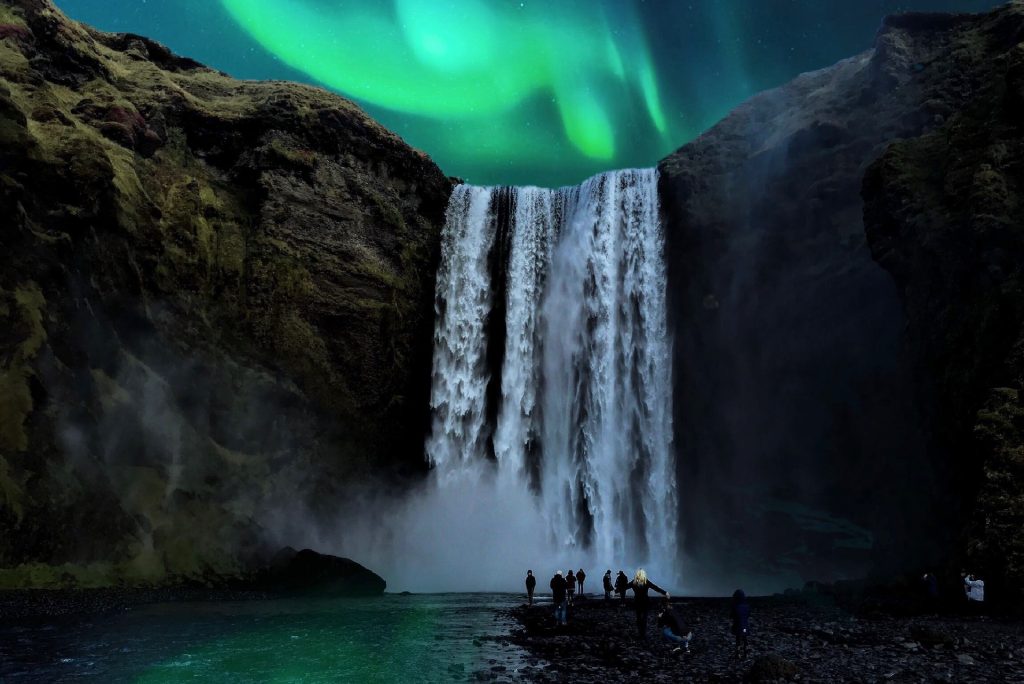 2. Glacier blue ice caving
An activity that you can only take part in during the winter months is glacier blue ice caving. Heading into the caves is only safe when the temperatures drop, ensuring they hold their shape and don't collapse.
The glacier ice caves are an incredible sight to behold and something you won't find in many other places worldwide. You will need to take a tour with a professional guide to visit the ice caves because even in the winter, there can be some dangers involved if you don't know where to go. The ice caves melt and reform each year, so no two experiences will ever be the same!
Recommended glacier blue ice cave tours: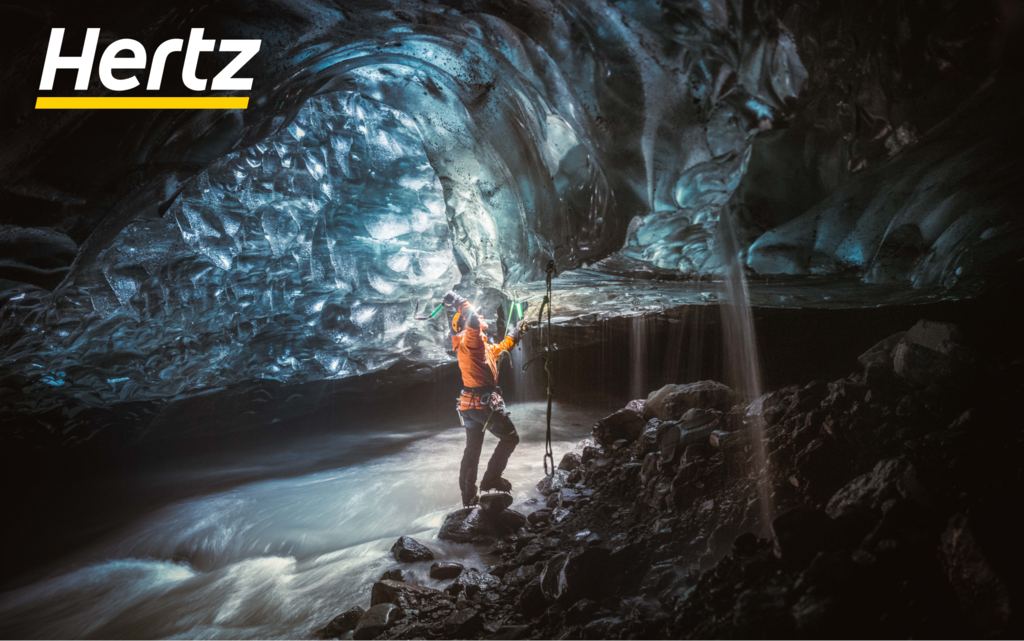 3. Glacier hiking
Feel like you're on another planet by hiking across some of Iceland's vast glaciers, including the glacier in Skaftafell Nature Reserve, Solheimajokull and the massive Vatnajokull glacier.
Although you can hike on glaciers throughout the year, the experience in January is unique, as the glacier ice will appear bright blue. Make sure you bring some sturdy hiking shoes for your glacier hike, as parts can be slippery, and you'll also want to keep your feet warm! To hike on the glaciers, you will need to book a specialized tour with a local guide who knows the glacier movements, where they might be weak or have cracks, and can also share their local knowledge with you.
Recommended glacier hiking tour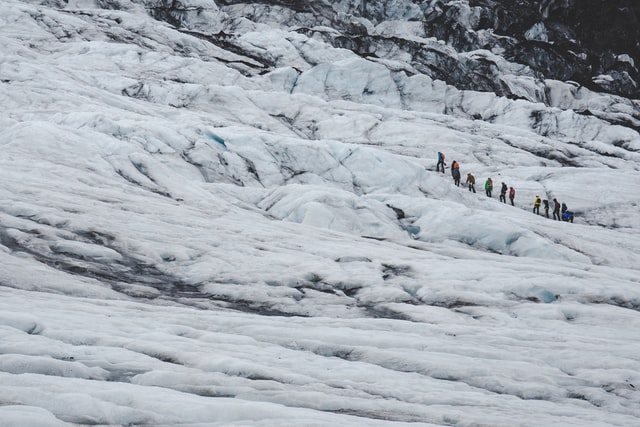 4. Visit the blue lagoon and other hot springs
One of the most popular tourist attractions in Iceland, and one that you've definitely seen in photos, is the Blue Lagoon geothermal pools. But there isn't any better feeling than soaking in a steaming, warm hot spring when the air outside is crispy and cool.
And best of all, during January, the hot springs won't be jammed packed with tourists, so you can enjoy a more peaceful experience. Beyond The Blue Lagoon, which is easy to access from Reykjavik, we also recommend the natural hot springs around Iceland, such as The Secret Lagoon, Landbrotalaug hot spring (about three-person capacity), Sky Lagoon and Hrunalaug natural hot spring.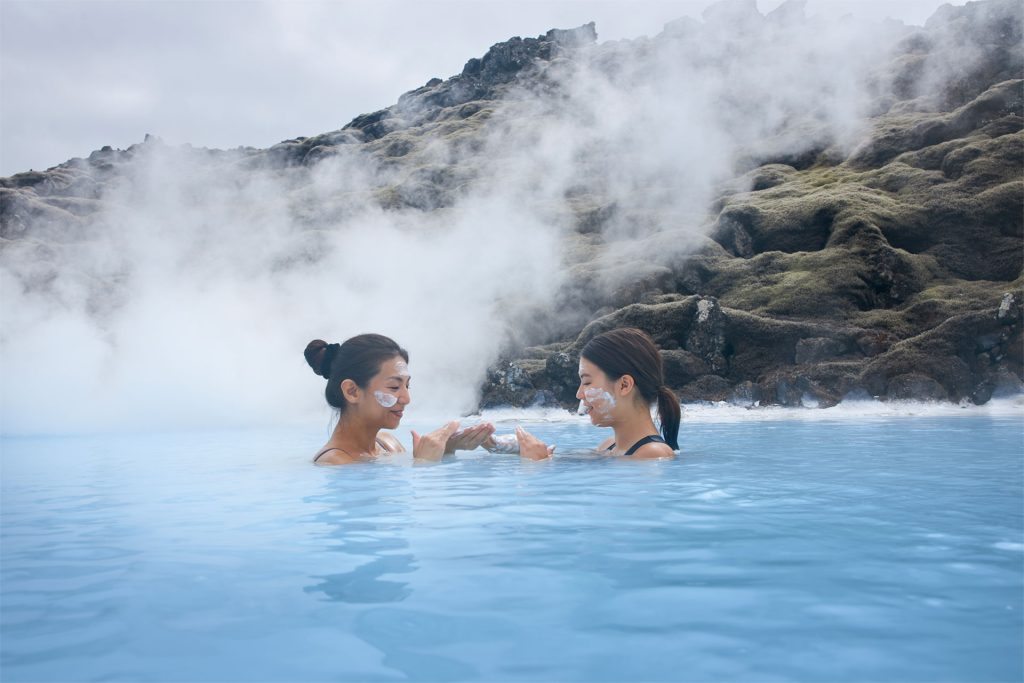 5. Icelandic horse riding
The Icelandic horse is cute, furry and sturdy, having lived in the challenging Icelandic landscape for over 1000 years. Horseback riding on these beloved animals allows you to enjoy the winter scenery more naturally, without cars and motors drowning out the nature sounds.
You will need to book a tour to take part in this activity, but the local guides know how to handle the gentle horses properly and will show you how to ride the horses safely and effectively. There are many tour options available that will allow you to enjoy this activity in the Reykjavik and South Iceland regions.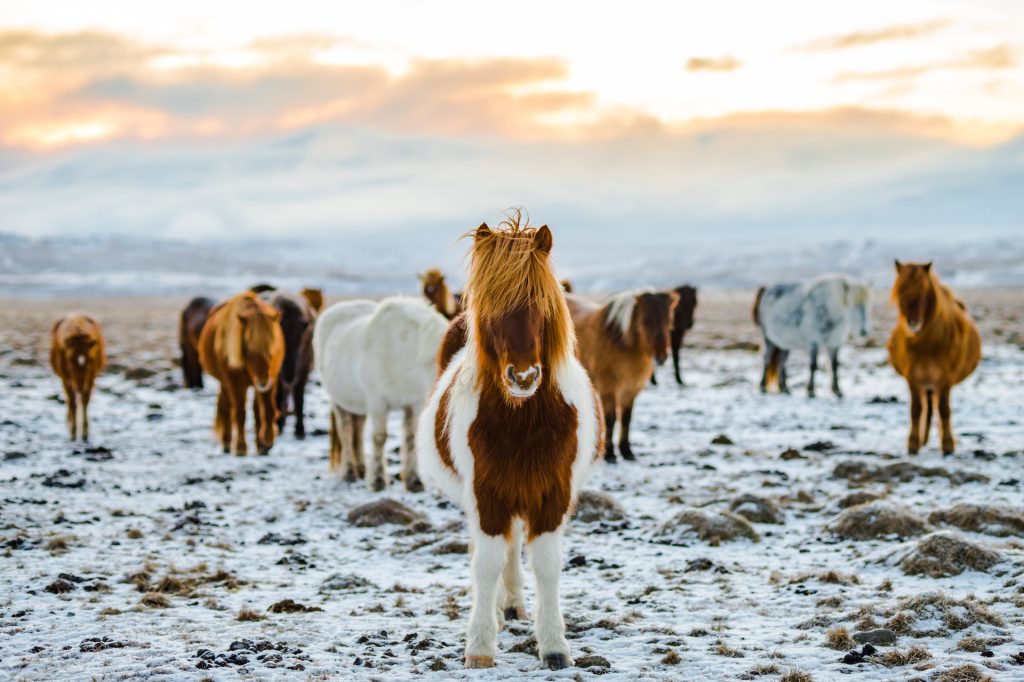 Best events in Iceland in January
While you may assume that the majority of events in Iceland take place in the summer when more tourists are around, January has many festivals and events as well! Here are some of the events you don't want to miss when self-driving Iceland in January.
New year's eve
What better way to ring in the new year than in magical Iceland? When the clock strikes midnight, Reykjavik is the place to be, with fireworks displays beginning at 12 and often carrying on for hours. The best place to watch the fireworks is from the largest church in Iceland, Hallgrimskirkja.
But you can also see them well from any high vantage point, such as near Perlan or on Oskjuhlid hill. The bars will also stay open very late, so you can head out for some fun even after the fireworks are over.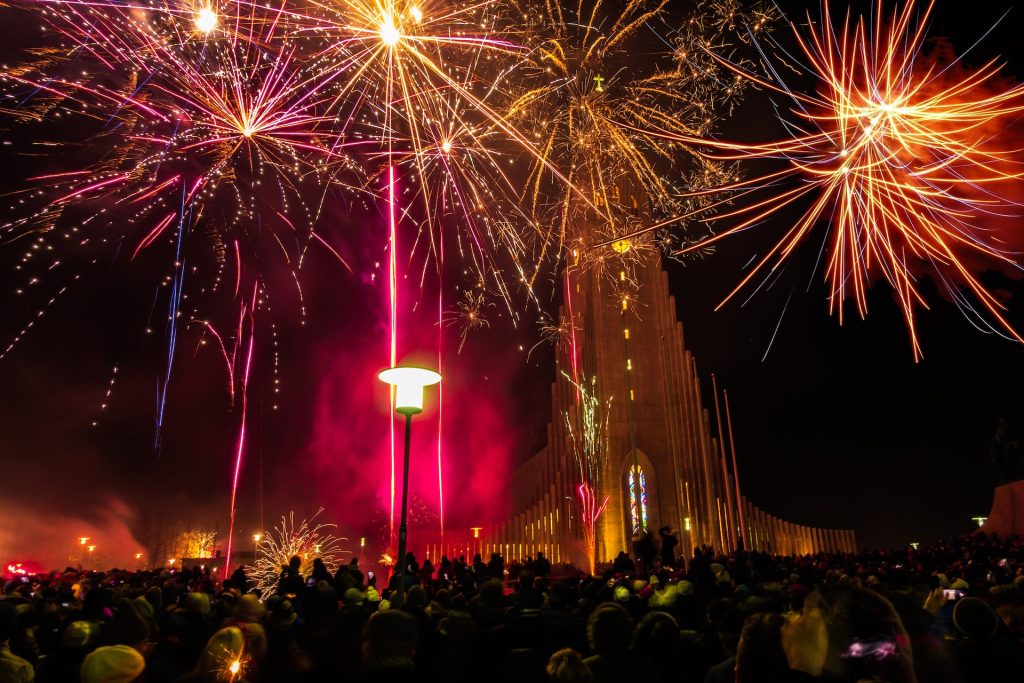 The Reykjavik International Games
The Reykjavik International Games are hosted annually towards the end of January at Laugardalur stadium in Reykjavik. The games feature over 20 different sports, including bowling, fencing, karate, chess, powerlifting and even beach volleyball! There are two full weekends of the games, so it's worth making time to come through the Reykjavik area during this time to catch some of the competition.
The Dark Music Days
If you're a lover of music, then check out The Dark Music Days festival, which takes place in Reykjavik each January. It features incredible composers from both Iceland and the rest of the world, premiering many of their new works. It is typically hosted at multiple venues in Reykjavik, with the main hub being Harpa Concert Hall.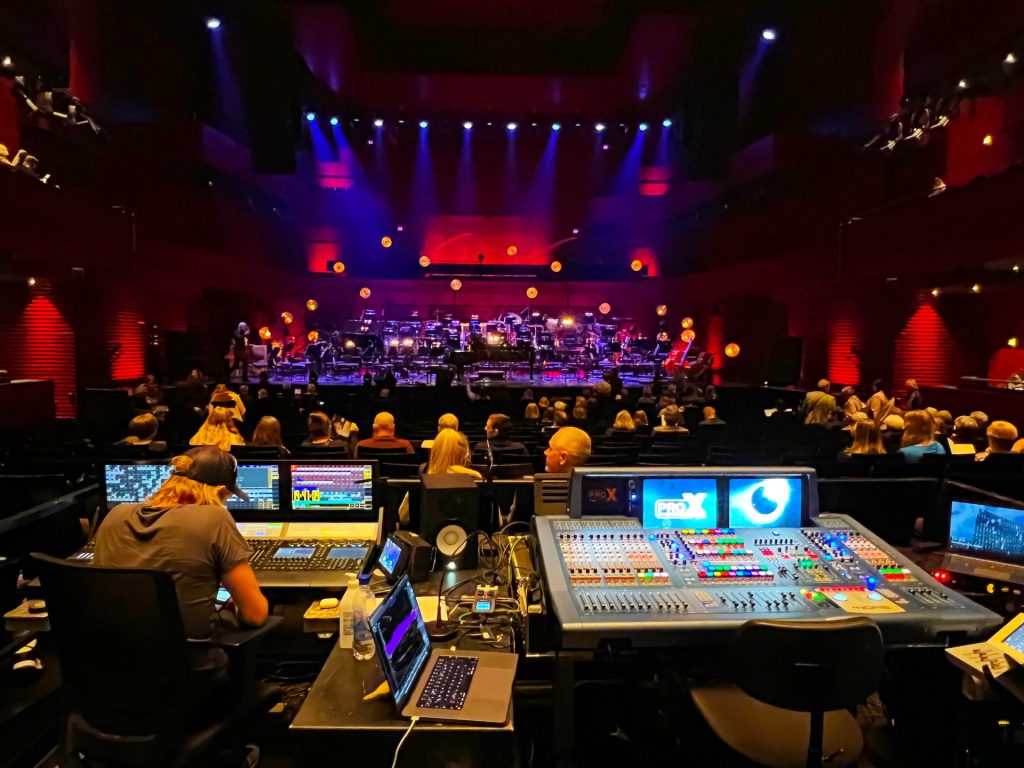 Thorrablot
Thorrablot is a midwinter festival providing visitors with a more traditional and cultural experience when visiting Iceland in January. Historically, the festival was a sacrifice to the pagan gods before the country's conversion to Christianity.
But Icelanders have been celebrating it again since the 1800s. It's a great opportunity for more open-minded travellers to sample some traditional Icelandic food like hákarl (rotten shark meat) and svið (boiled sheep's head). The festival takes place on the Friday following January 19th.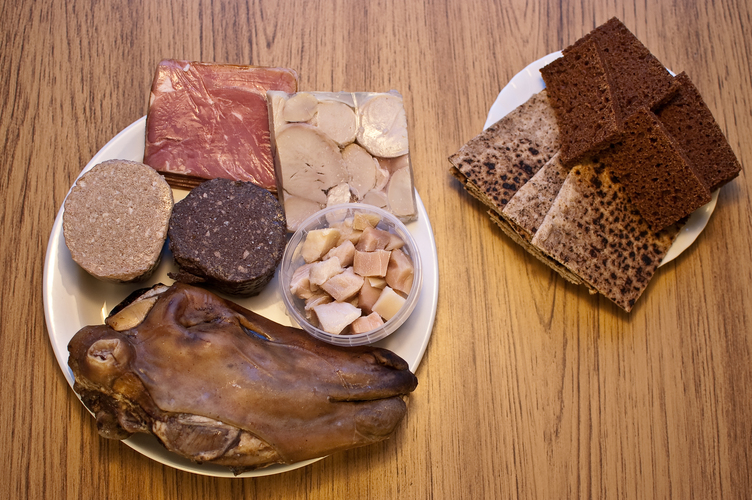 Picture of Iceland in January
Iceland is a beautiful winter wonderland in January, with everything dusted in sparkly snow.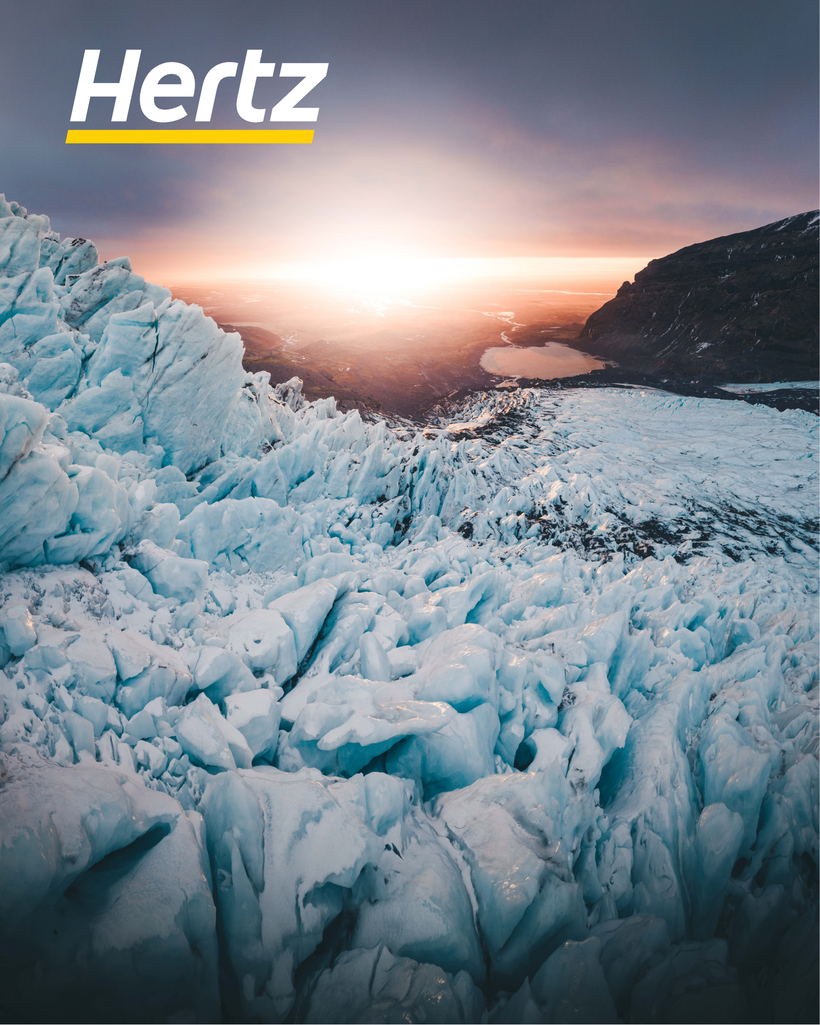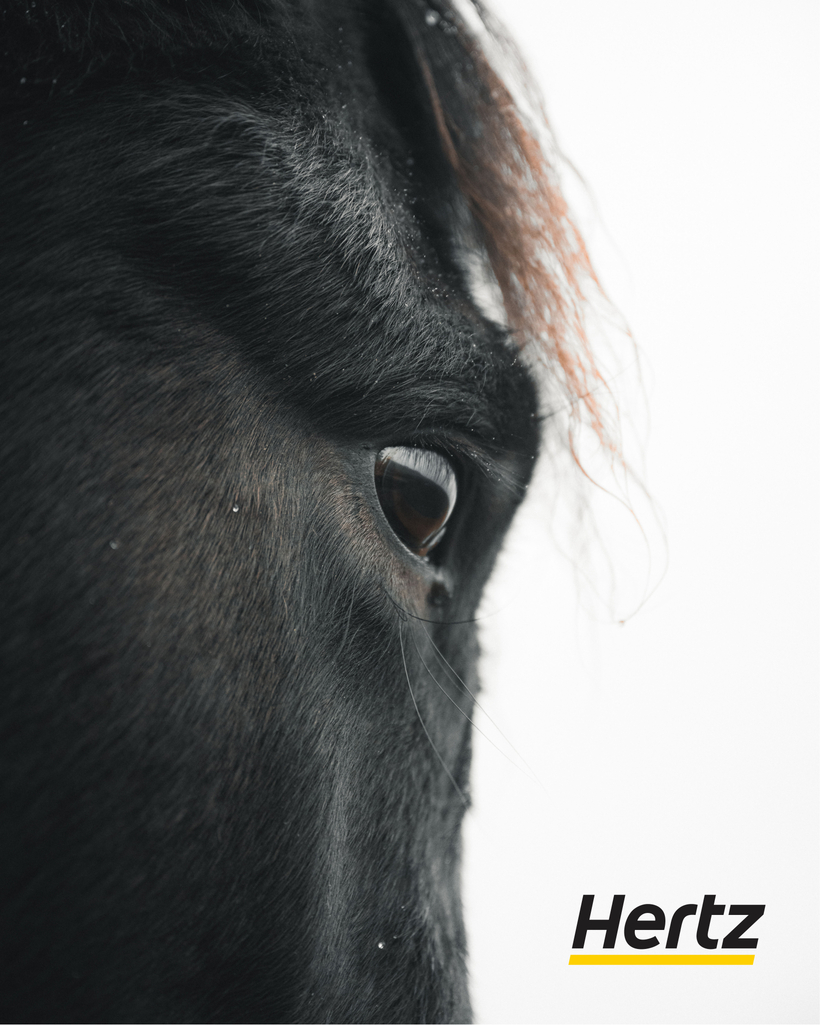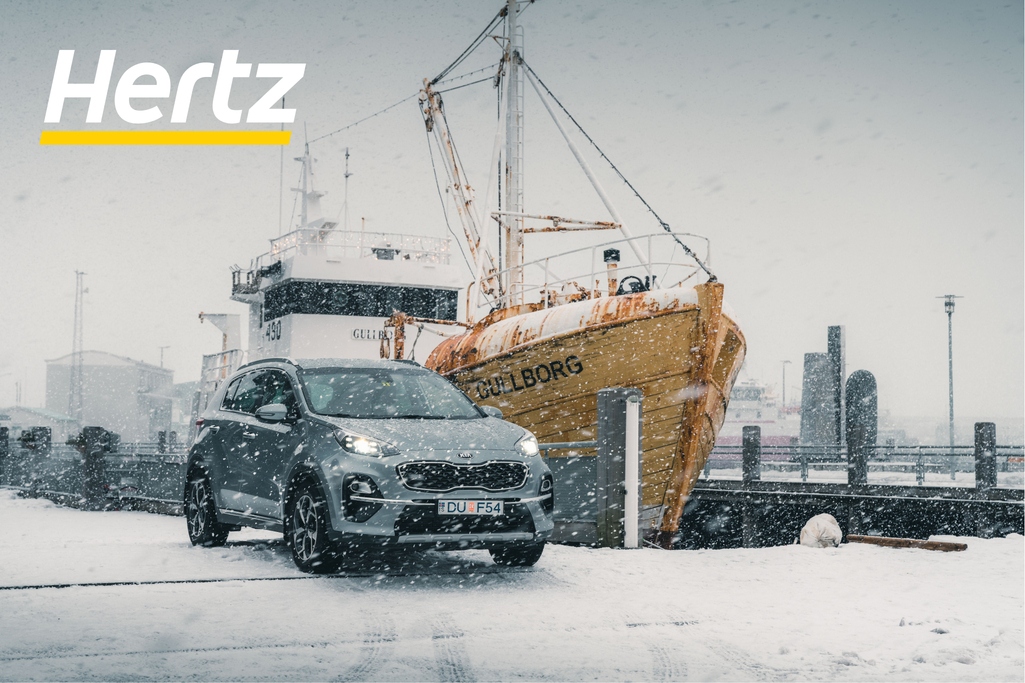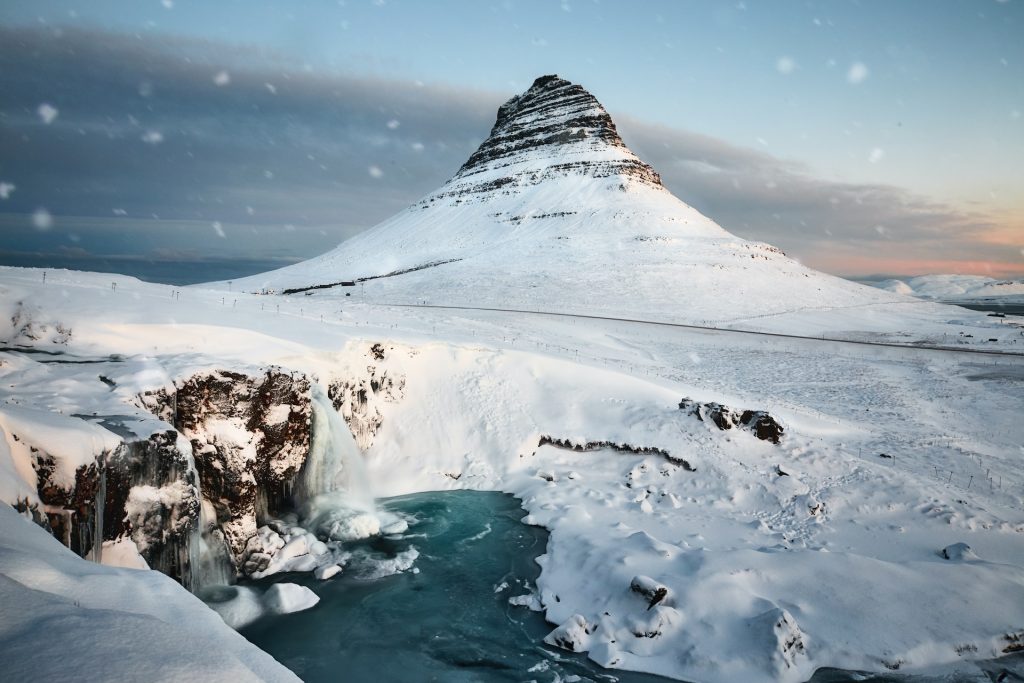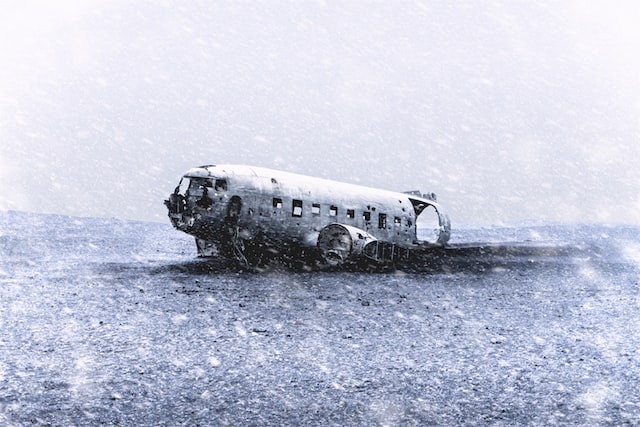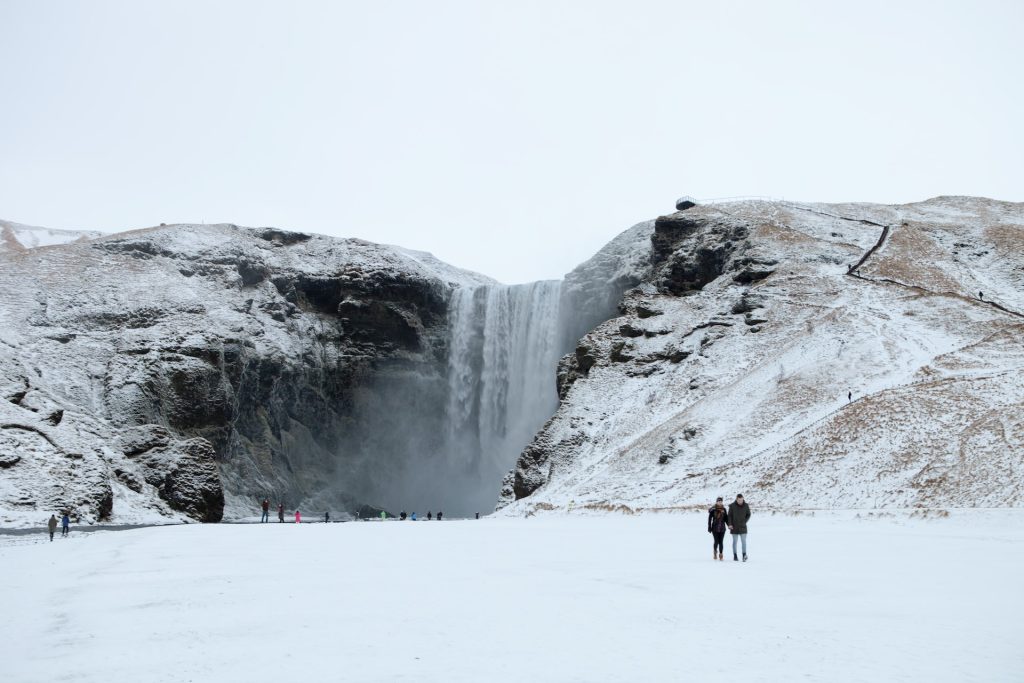 Book your self-drive trip to Iceland in January
January is an amazing time to visit Iceland. The landscape is truly breathtaking, from blue ice caves to snow-sprinkled, black sand beaches; the best word for Iceland in January is epic. If you pack the proper clothing, you can stay warm and dry, even if the weather is chilly and windy.
Plus, you can always warm up in a hot spring! Make sure to book your rental car online and in advance with Hertz.is so that you can secure the perfect 4WD vehicle for your trip. If you're unsure which is best for you, check out our rental car tips, and be sure to have a look through all our self-drive itineraries.