Northern Iceland, situated right at the edge of the Arctic Circle, is an essential destination on any traveler's itinerary. With quaint fishing villages, rugged coastlines, and unspoiled natural beauty, this region is a hidden corner of the world that you truly don't want to miss on your trip to Iceland.
In this guide, we will explore the main attractions and routes in Northern Iceland and provide insight into the best times to visit and how to craft the best itinerary. We will also cover what to pack and the best way to get around. Whether you're drawn to natural wonders or the rich history of Viking legends, Northern Iceland does not disappoint.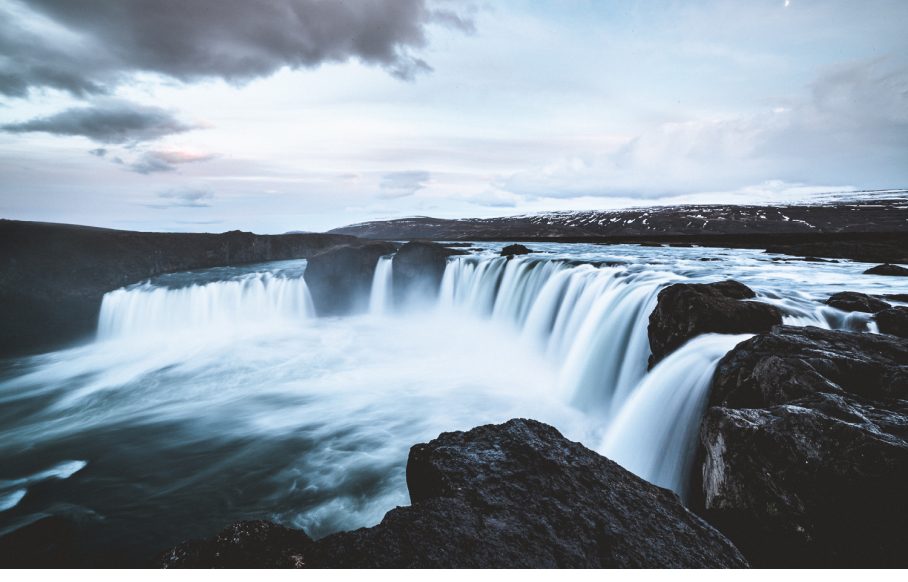 Table of content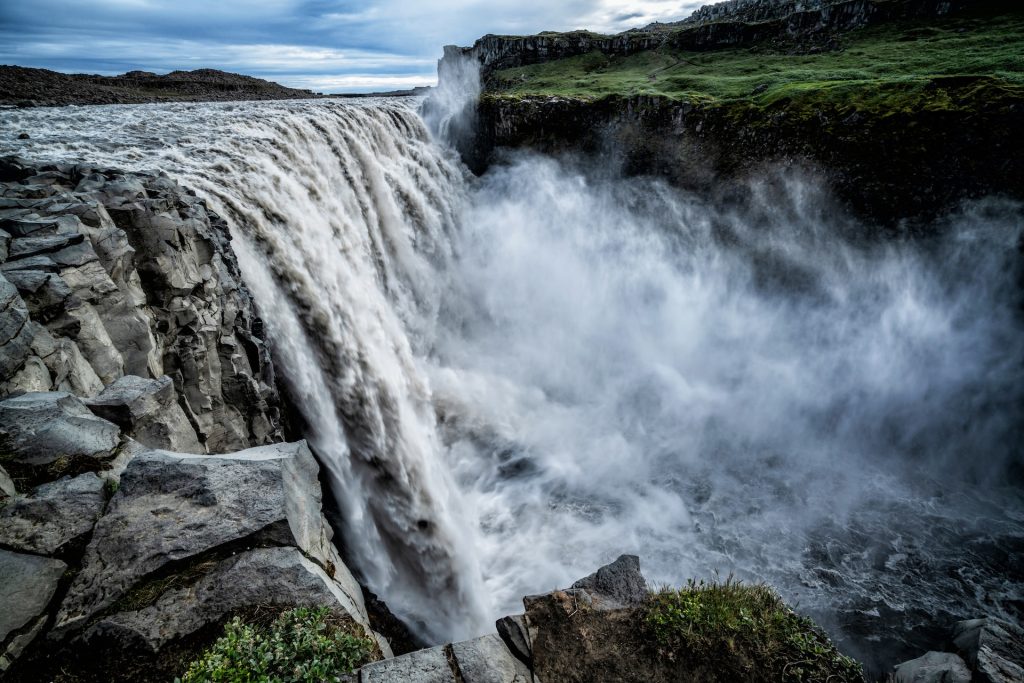 What are the main attractions driving routes in North Iceland?
Northern Iceland boasts three distinct attraction areas that showcase the region's natural beauty and cultural richness:
Diamond Circle
The Diamond Circle is a two to three-day journey that introduces visitors to some of the region's most prominent attractions. Starting with Húsavík, hailed as the "whale-watching capital of Iceland," travelers can embark on year-round whale-watching tours to encounter humpback whales, minke whales, and blue whales in their natural habitat. Ásbyrgi Canyon is also a top feature on this route, a horseshoe-shaped glacial canyon with towering cliffs and many hiking trails.
Meanwhile, Dettifoss, one of Europe's most powerful waterfalls, showcases the raw power of nature, with its water cascading into the Jökulsárgljúfur canyon. Lastly, Hljóðaklettar, or "Whispering Rocks," features basalt column-like formations, which are named for the whispers that hikers hear in the area, created by echoes from the rocks and caves.
Myvatn Lake Area
The Myvatn Lake area is a geothermal and volcanic region located approximately 480 kilometers (298 miles) from Reykjavik. This accessible and rewarding excursion offers a blend of natural phenomena and serene landscapes, featuring the beautiful Lake Myvatn, which was formed by a volcano eruption thousands of years ago. Best of all, this area is very easy to access all year round as it's located right off the Route 1 Ring Road.
In the area, you'll find Myvatn Nature Baths with warm, mineral-rich waters against the backdrop of Lake Myvatn, along with volcanic craters and natural lava formations that visitors can hike through. We'd recommend travelers to spend at least a full day at the minimum in this area, especially if you want to spend some time at the baths. The entire area is steeped in local folklore, as it was believed to be the dwelling of Icelandic trolls.
Arctic Coast Way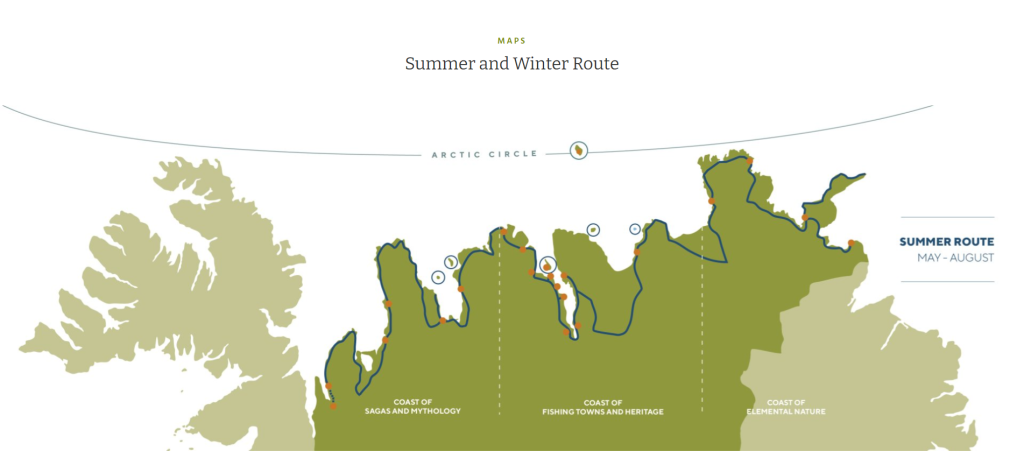 Map via Arctic Coast Way Iceland website
The Arctic Coast Way is a relatively new addition to Iceland's collection of tourism routes and is often called the Golden Circle of the North. This route presents travelers with a chance to explore the remote coastal landscapes, charming fishing villages, and authentic Icelandic culture of North Iceland.
If you want to take this route, you'll need to prep in advance because the area is quite remote, and we highly recommend a 4X4 rental car to drive through the North Fjord area, regardless of what time of year you visit.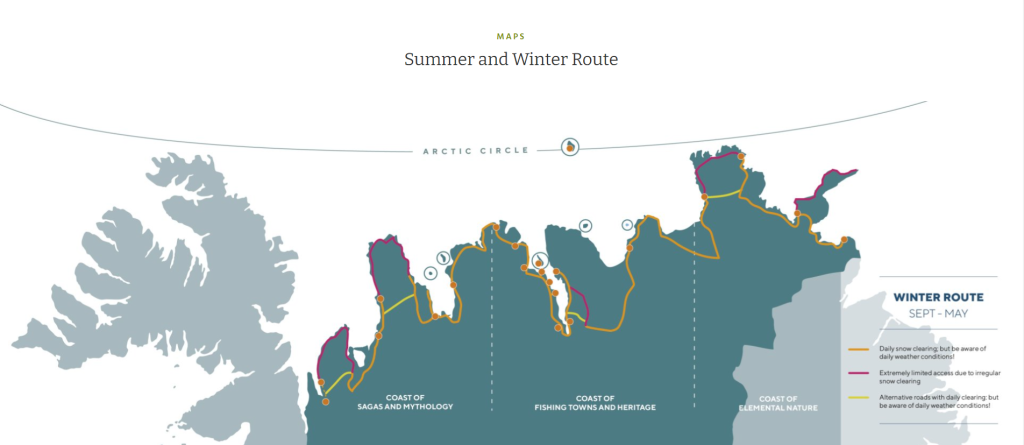 The route is about 900 kilometers (560 miles) in total, and it can take anywhere between 3 and 12 days, depending on how much of the route you want to do. On the route, you'll find 21 villages, 13 beaches, and six islands, along with many highlights along the way.
Vatnsnes peninsula is a great place to spot seals, and for more wildlife sightings, Grimsey Island, which sits at the northernmost point of Iceland, is a hub for puffins. Also, don't miss Hvitserkur, the huge basalt rock stack that has the nickname "Troll of Northwest Iceland" because of its shape. It is located in Hunafloi Bay.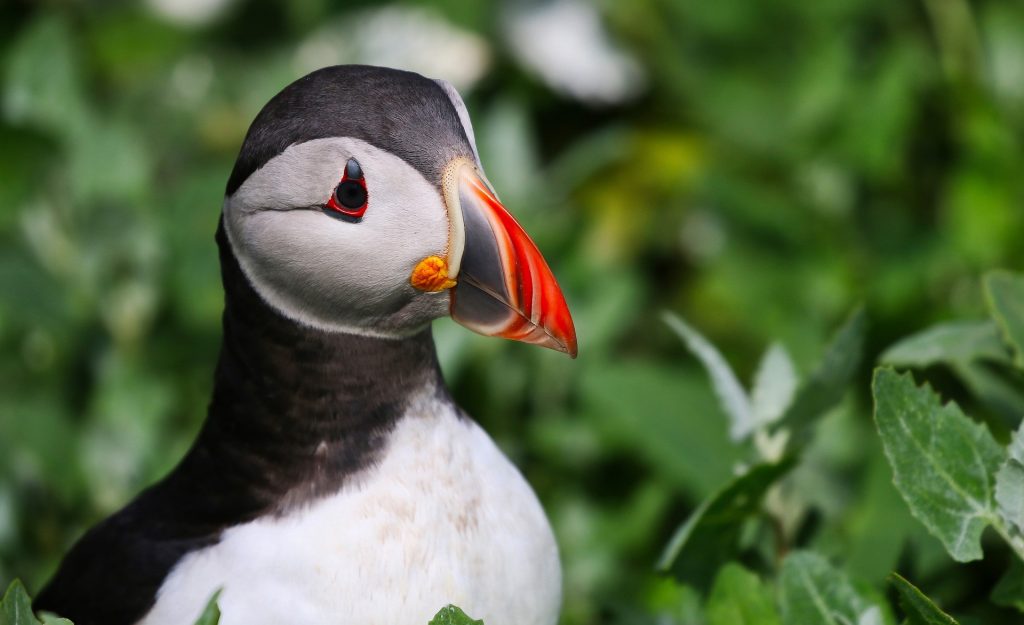 What is the best time to visit North Iceland?
When planning your trip to Northern Iceland, the time of year that you visit is important to consider in order to make the most of your experience. While parts of Northern Iceland are accessible throughout the year via the Ring Road (Route 1), the best time to visit is undoubtedly during the summer months in Iceland, typically from late May to early September.
Northern Iceland experiences the longest daylight house during the summer, also called the Midnight Sun, which provides added time for exploration and outdoor activities. The summer months also bring milder, more comfortable temperatures, making it an ideal time for hiking, sightseeing, and outdoor adventures.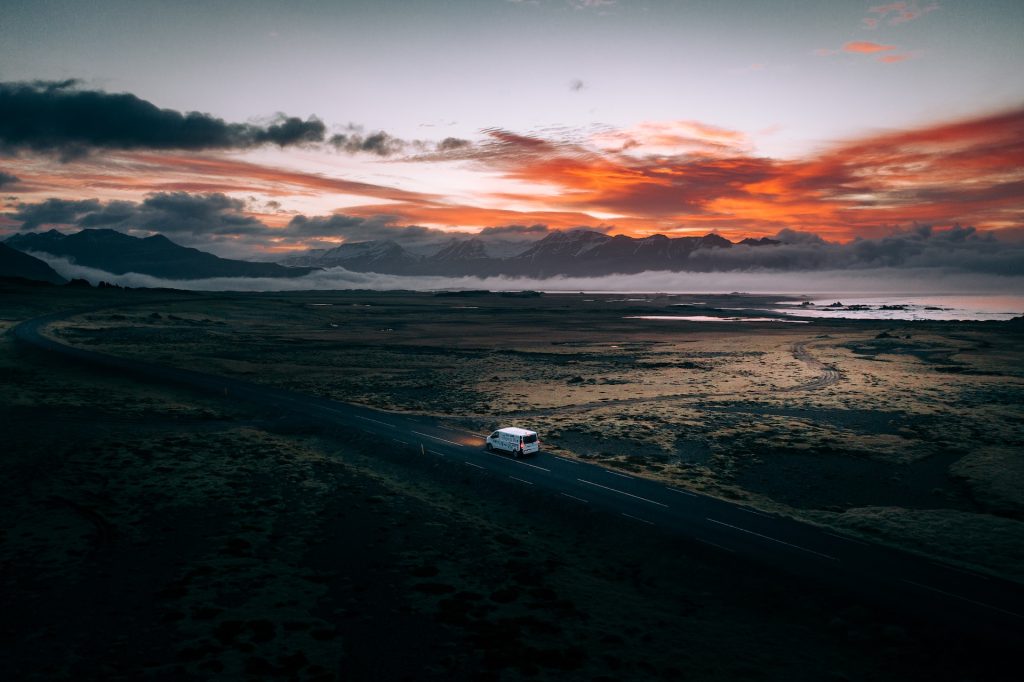 However, it's important to note that Northern Iceland can be visited year-round, and each season has its unique charm. During the winter in Iceland, there are fewer crowds and less demand for accommodation and excursions. This results in lower prices, increased availability, and quieter experiences.
It's an excellent option for those seeking peacefulness and affordability, and also the best opportunity to see the Northern Lights in Iceland. That said, there are some challenges to keep in mind when visiting Iceland during winter. Northern Iceland experiences snow and icy road conditions during the winter, so travelers must use caution and ensure they have the appropriate 4X4 rental vehicle. Additionally, winter temperatures can be cold, requiring travelers to dress warmly.
Ultimately, the best time to visit Northern Iceland depends on your preferences and the type of experience you seek. Summer offers ideal weather and vibrant landscapes, while winter provides a unique opportunity to explore the region in a more serene setting.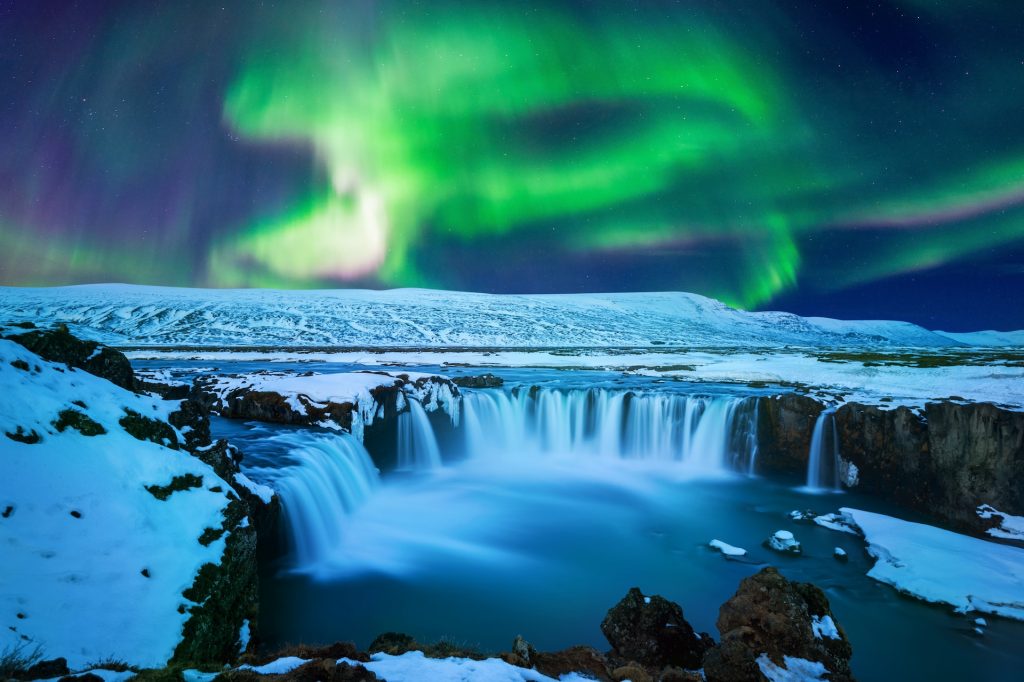 What to pack for a North Iceland trip
Packing for a trip to Northern Iceland requires careful consideration due to the region's diverse landscapes and ever-changing weather conditions. Here's a comprehensive Iceland packing list to ensure you're well-prepared for your Northern Iceland adventure:
Warm layers, including thermal clothing, insulated jackets, and moisture-wicking base layers to stay warm.
Sturdy, waterproof hiking boots with good traction for outdoor exploration.
Waterproof jacket and pants to stay dry during occasional rain showers.
Swimwear for enjoying geothermal spas and hot springs.
Comfortable, moisture-wicking socks for hiking and outdoor activities.
Gloves, a hat, and a scarf to keep warm in cold conditions.
Camera
Durable backpack for carrying essentials during hikes.
Reusable water bottle
By packing wisely and considering the specific activities you plan to undertake in Northern Iceland, you can ensure that you're well-prepared for your adventure.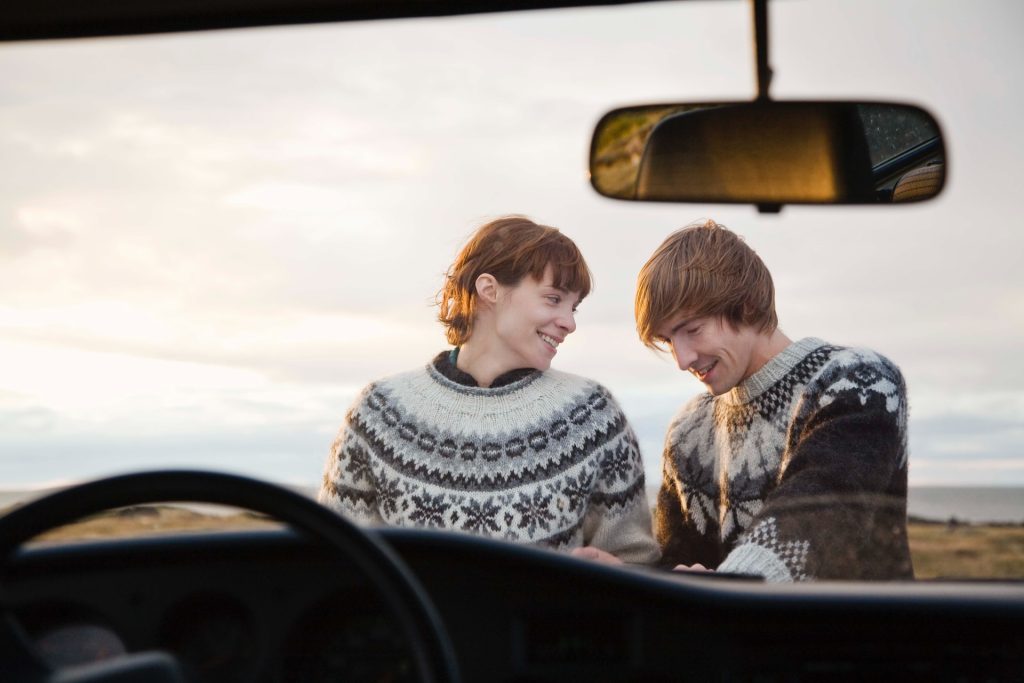 How to visit North Iceland?
There are only primary options available for visiting Northern Iceland: renting a car or booking a guided tour. Each option has its advantages, and your choice should align with your preferences and comfort level.
Rental car
A rental car is the most popular and practical, as it provides a high level of flexibility and the freedom to explore Northern Iceland at your own pace. Self-driving allows you to follow your interests, make spontaneous stops, and uncover hidden gems along the way.
In Northern Iceland, having your own vehicle is particularly advantageous, since many of the areas are quite remote without any public transit routes, and without a rental car, you would be unable to access them. We highly recommend renting a 4X4 SUV or campervan when visiting Northern Iceland, regardless of the time of year.
This will give you more flexibility in terms of getting off the beaten path. That said, a 2WD mid-size car may be appropriate if you're visiting in the summer and planning to stick to main routes. You can find a full range of options here.
If you do rent a vehicle, make sure to keep these Iceland safe driving tips in mind:
Weather can be unpredictable, so always check vedur.is for updates.
Keep an eye on road conditions by checking road.is.
Iceland roads can be narrow and winding, so never stop in the middle.
Plan for frequent rest stops.
Always obey road signs in Iceland.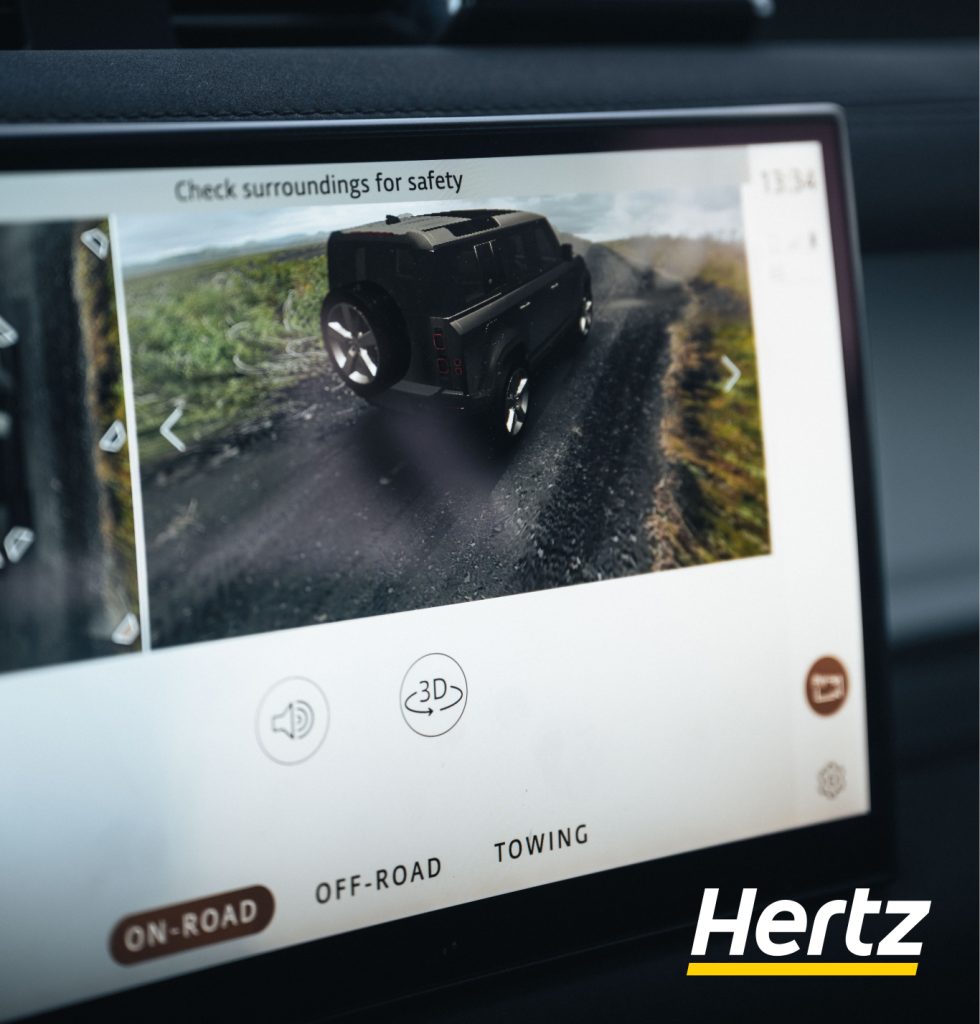 Guided tours
The other option when visiting Northern Iceland is taking a guided tour. Guided tours are a good option for those who don't feel comfortable driving and want a low-hassle experience. Tour operators offer a range of options, from day trips to multi-day adventures, each led by guides who can share insights into Iceland's culture and natural wonders.
Guided tours are particularly convenient for activities like whale watching, where experts can navigate and ensure you have the best chance of spotting marine life. Something to keep in mind about guided tours is that you will be limited in terms of what areas you can access, and you won't be able to alter the tour itinerary.
There isn't the flexibility to change times around or add on extra areas that you might want to visit at the same time. That said, if you're limited on time and only want to see a few top highlights, then a guided tour is a good option.

What are the best things to do in North Iceland?
Northern Iceland offers a wide range of activities and experiences for travelers to enjoy. Here are some of the best things to do in this region:
Whale watching in Husavik
Husavik, situated on the shores of Skjálfandi Bay, is renowned as one of the world's top whale-watching destinations. The town's strategic location provides an optimal opportunity to witness 12 different species of whales that inhabit Iceland's waters, including humpback whales, minke whales, and the majestic blue whale. Whale-watching tours operate year-round, but the best chances of sightings are during the summer months.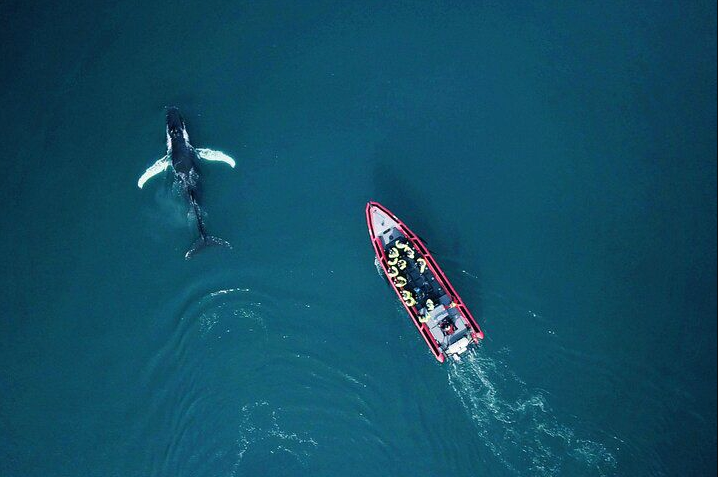 Horse riding in Akureyri
Icelandic horses are a unique and cherished breed known for their friendly disposition, five gaits, and sturdiness. Akureyri, often referred to as the "Capital of the North" and the largest town in North Icelnad, is an ideal place to embark on a horseback riding adventure.
Icelandic horseback riding is a distinctive way to enjoy the landscapes of Northern Iceland, with gentle horses guiding you through trails and scenic countryside. You don't need to have experience either, as these gentle horses are calm in temperament, and a trained guide will be with you along the way.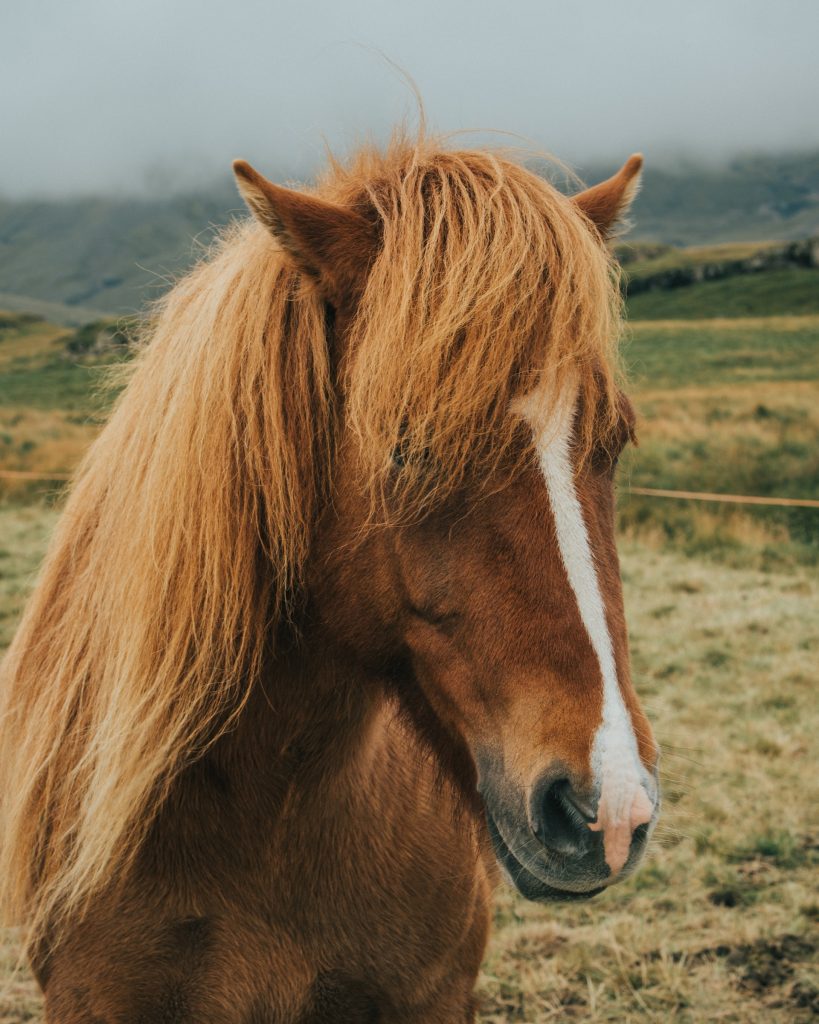 Geothermal spas and hot springs
Iceland's geothermal activity is one of the country's most notable features, and Northern Iceland is the perfect place to experience it as the area is home to several geothermal spas and natural Iceland hot springs. Some must-visit geothermal spots in Northern Iceland include:
Myvatn Nature Baths
Located in the heart of the Myvatn Lake region, Myvatn Nature Baths is a geothermal spa that offers visitors a chance to soak in the milky blue waters, which are naturally heated by hot springs. The water is rich in minerals, including sulfur, which is said to have therapeutic benefits for the skin and respiratory system.
The baths are surrounded by lava fields, craters, and volcanic mountains. Visitors can enjoy swimming, floating, or simply relaxing in the warm water while taking in the views.
There are also two steam baths on-site. While it's one of the more popular tourist destinations in Northern Iceland, it isn't too crowded. The baths are open year-round, and there is a cafe and gift shop on site.
Forest Lagoon
Forest Lagoon is a newer geothermal spa in Northern Iceland, located just outside of the town of Akureyri. The spa is surrounded by a forest, and the pools are heated by natural geothermal water. The lagoon has a milky blue color, similar to Myvatn Nature Baths, but the water is slightly cooler, with a temperature of around 38-40 degrees Celsius (100-104 degrees Fahrenheit). This makes it ideal for visitors who find the Myvatn Nature Baths to be too hot.
Forest Lagoon features two infinity pools, a cold tub, and a sauna. There is also a swim-up bar where visitors can enjoy a drink while soaking in the warm water.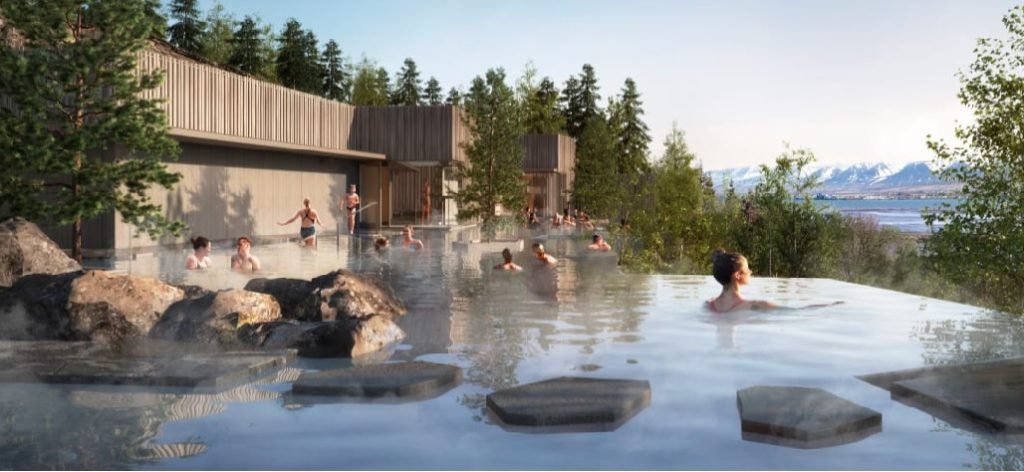 Geosea Geothermal Sea Baths
Perched on the coastline of Húsavík, the Geosea Geothermal Sea Baths combines the soothing benefits of geothermal waters with panoramic coastal views over Skjálfandi Bay and north to the Arctic Circle.
The baths are heated by natural geothermal water, and the temperature ranges from 38-44 degrees Celsius (100-111 degrees Fahrenheit). There are two pools on-site, as well as a sauna and a steam room. Geosea Geothermal Sea Baths is a great place to relax and unwind after a day of exploring Northern Iceland, and you may even get lucky enough to see a whale while you're in the baths.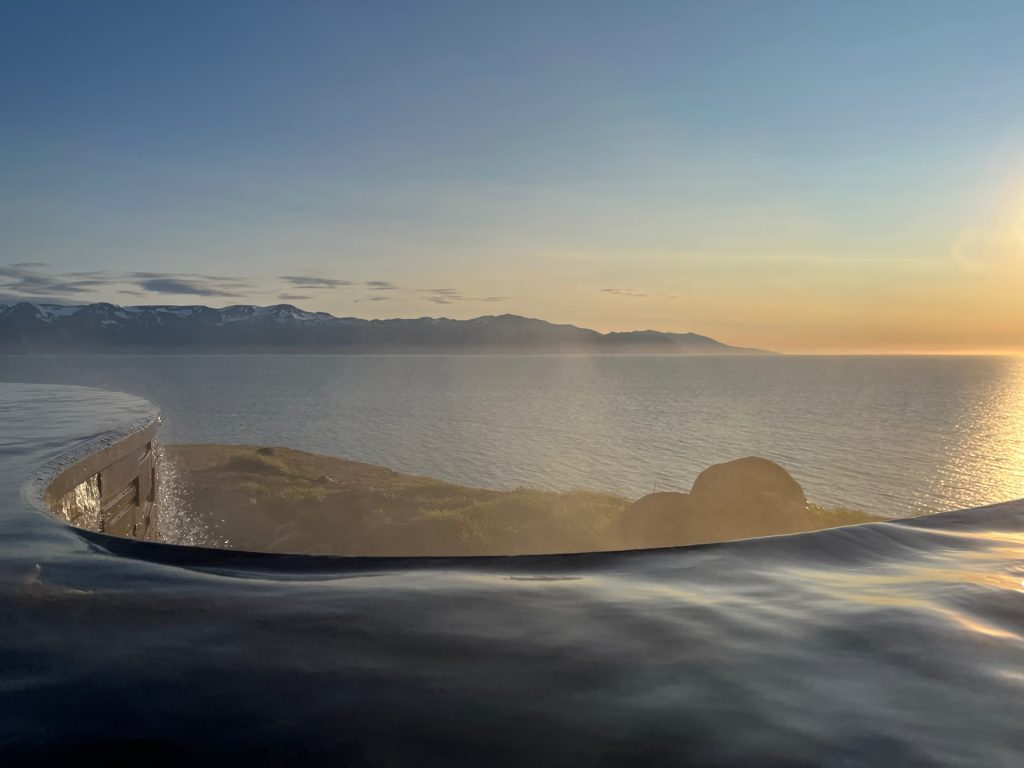 See the natural North Iceland attractions
Exploring Northern Iceland's natural attractions is a key part of Iceland Northern area experience. Some of the must-see natural wonders include:
Goðafoss waterfall: Known as the "Waterfall of the Gods."
Skagafjörður Valley: Breathtaking valley featuring pastures surrounded by towering mountains.
Dimmuborgir Lava Formations: Called the "Dark Castles" as the lava formations resemble an ancient city.
Asbyrgi Canyon: Horseshoe-shaped canyon with 100m cliffs.
Krafla Volcano: The Krafla volcano region in Iceland features many hiking trails and scenic viewpoints, including the Viti crater, known for its vivid blue waters.
Grjótagjá Cave: Famous for both its thermal spring inside but also for its appearance in the television series "Game of Thrones."
Hverfjall Crater: A prominent tephra cone or tuff ring volcano in Northern Iceland, easily recognizable due to its massive, circular shape. It offers a unique panoramic view of the surrounding landscape when climbed.
Dettifoss Waterfall: Located in Vatnajökull National Park, tthe most powerful waterfall in Europe Its roaring waters and misty atmosphere create an awe-inspiring scene.
Námafjall Geothermal Area: A geothermal hotspot characterized by boiling mud pots, steaming fumaroles, and a striking, otherworldly landscape. The sulphurous fumes and colorful terrain make this a unique place to explore.
Vatnajökull National Park: One of Europe's largest national parks. It's home to Vatnajökull glacier, various active volcanoes, large ice caves, and several awe-inspiring waterfalls, including Dettifoss.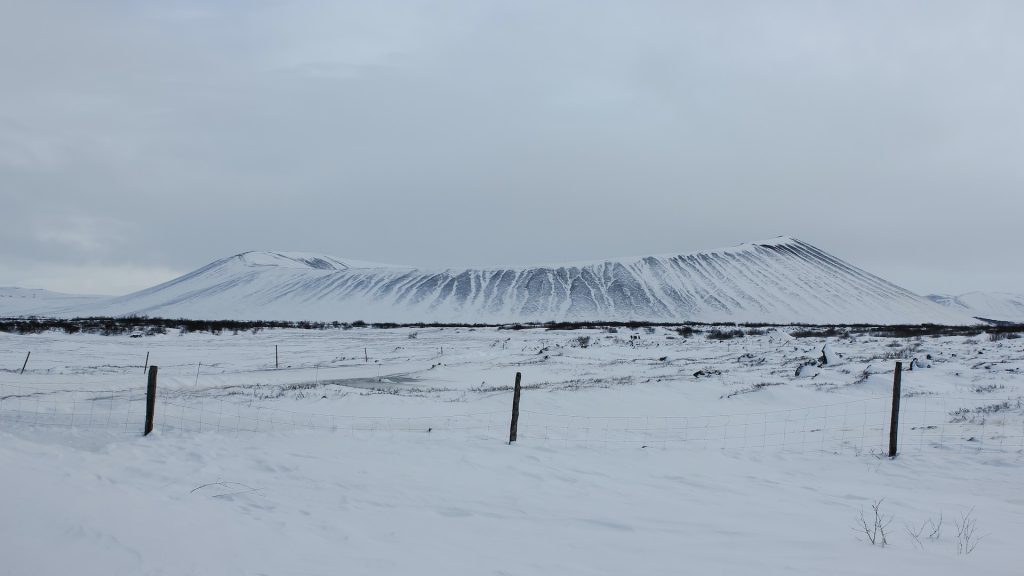 Get ready for your Northern Iceland adventure
The North Coast of Iceland offers many hidden gems that are often missed by visitors sticking to the more popular Golden Circle or South Coast of Iceland. But the north is a region of unparalleled natural beauty, where geothermal activity has sculpted the landscapes.
Whether you choose to visit during the summer for extended daylight hours and mild weather or venture into the winter for a quieter and more affordable experience, Northern Iceland should not be missed.
As you prepare for your adventure, remember to pack wisely, considering the ever-changing weather and the specific activities you plan to undertake. Additionally, consider your preferred mode of travel, whether it's renting a car for independent exploration or booking a guided tour for a more structured experience. Start planning your road trip today by booking your rental car with Hertz Iceland online in advance and get ready to begin your Northern Iceland adventure.