Hiking is one of the most popular outdoor activities to do in Iceland, with seemingly endless trail routes to explore around the country. The landscape is highly varied, shifting from rugged coastlines to untamed highlands and from lava fields to icy glaciers. Exploring the wild wonderland of Iceland on foot is very unique, as it allows you to unlock hidden gems that are inaccessible by road. Hiking in Iceland gives you the chance to literally get away from the crowds and see the country from an entirely different perspective.
Whether you're a seasoned trekker or just looking for a leisurely walk, there are hundreds of trails available to you. But with so many options, it can be hard to choose where to start. In this article, we'll cover the five best Iceland hikes, from short jaunts to natural hot springs to multi-day expeditions into the highlands.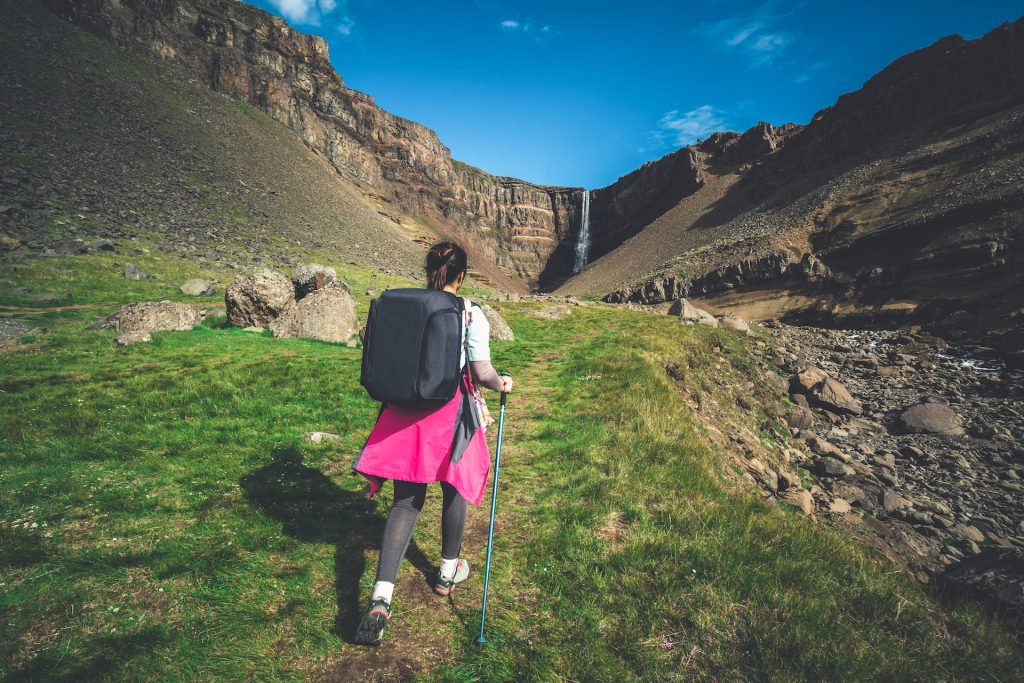 Table of content
1. Best short beautiful hike to natural hot spring: Hiking to Reykjadalur Hot River Valley
Reykjadalur Hot River Valley, located near Hveragerdi, is a popular hiking destination in Iceland due to its easy accessibility from Reykjavik. The hike to Reykjadalur Valley is considered moderately easy and offers a diverse range of natural attractions within a short distance. The trail provides hikers with panoramic views that can even extend to the ocean and the surrounding mountains on clear days.
The valley itself is an active geothermal area characterized by steaming vents, bubbling hot springs, and waterfalls. The highlight of the hike is the Reykjadalur "Steam Valley," where a warm river flows, offering an opportunity for a relaxing bath in the waters to soak your body after the walk. This natural hot spring river is open to visitors year-round, though it's best to visit in the summer, as winter may bring some icy conditions on the trail.
Reykjadalur Hot River Valley is a great option for families or those who are just looking for a short recreational hike to immerse themselves in the unique geothermal features and natural beauty of the region. The trail is mostly wide and flat, making it easy to navigate.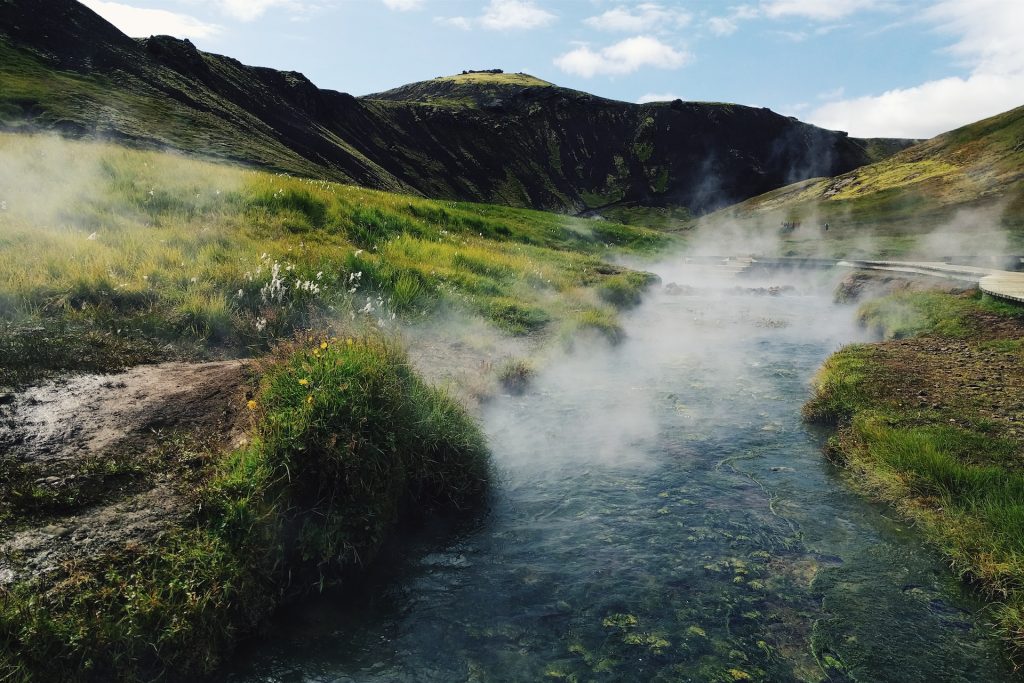 Trail Route Map
Reykjadalur Trail Info
Distance: 6.5 kilometers (4 miles)
Duration: 1.5 – 2 hours each way (depending on speed)
Difficulty: Easy (great for families)
Location: Near Hveragerdi
Trail conditions: Mostly wide and flat
Highlights: Geothermal river, mountain views, waterfalls
How to get there by car
Reykjadalur Hot River Valley is only a 46.6 kilometer (29 miles) drive south of Reykjavik, and you can access the trailhead directly from Iceland's most popular road, the Route 1 Ring Road. This drive takes approximately 40 minutes from Reykavjik, and there is paid parking and a cafe at the trailhead. You won't need anything fancy to access this hike, a compact or mid-size rental car will do fine.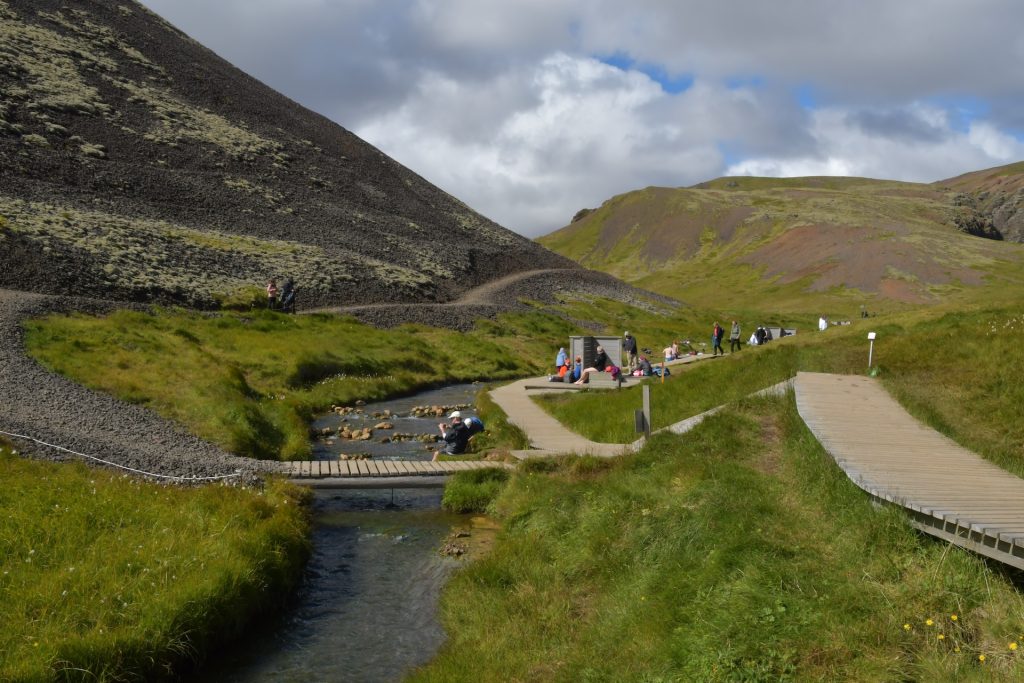 2. Best One-Day Hike to Waterfall: Glymur
The Glymur Waterfall hike leads you to Iceland's second tallest waterfall, Glymur, with a height of 198 meters. Nestled in the remote Hvalfjordur fjord, this hike provides a unique and less touristy experience compared to some of the more famous waterfalls in Iceland.
The trail itself features a walk through Þvottahellir cave, and you'll also hike along the cliffs beside the Bótnsá River. Expect two river crossings along the way, adding a touch of adventure to the experience. During the summer months, the first river crossing is facilitated by a log and hand line. The second crossing, located above the falls, is shallow but wide and cold, so bringing water shoes and a small towel to dry off your feet can be beneficial.
The trail also includes a few steep sections with hand lines for assistance, making it less suitable for young children. However, the reward for your efforts is the spectacular view from the final viewpoint overlooking Glymur Waterfall, offering a great perspective of the falls and the surrounding landscape. At this juncture, you can either retrace your steps back to the starting point or cross the river again to hike down the opposite side of the ravine on the loop.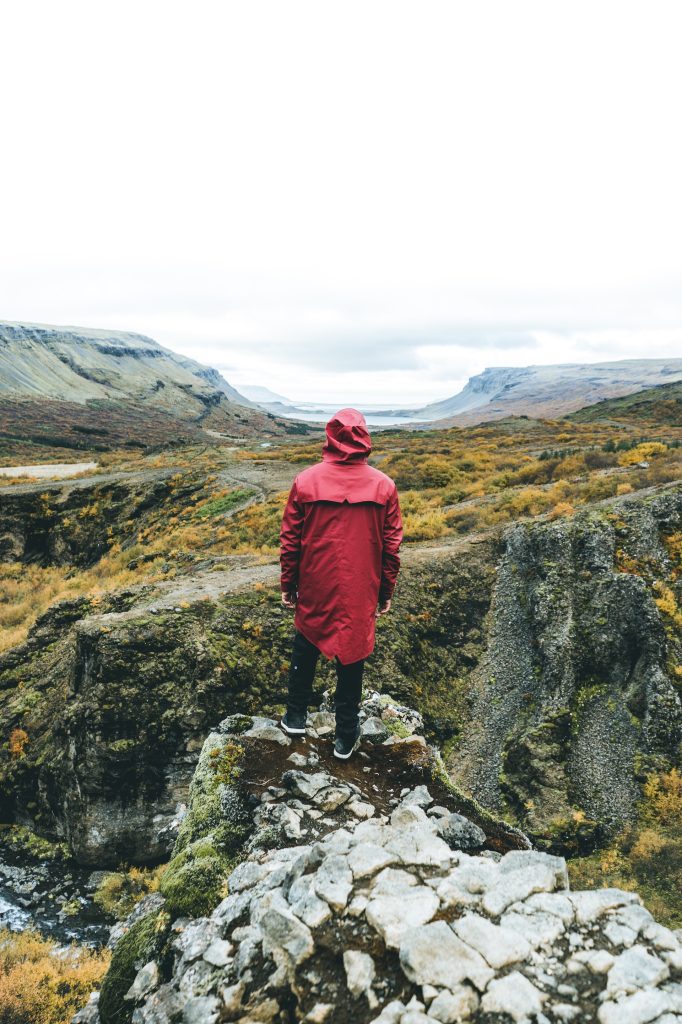 Trail Route Map
Glymur Trail Info
Distance: 6.6 kilometers (4.1 miles)
Duration: 3 – 3.5 hours
Difficulty: Moderately challenging
Location: Hvalfjörður
Highlights: Glymur waterfall and Þvottahellir cave
How to get there by car
To reach Glymur, you'll need to drive approximately 71.5 kilometers (44.4 miles) from Reykjavik to the bottom of Hvalfjordur fjord. This takes just over an hour, and you'll follow the Route 1 Ring Road to the north until just before the tunnel and branch off onto Route 47, which will take you basically all the way to the starting point. Both roads are well-paved and easy to drive, so anything from an economy car to a 4X4 rental car will work.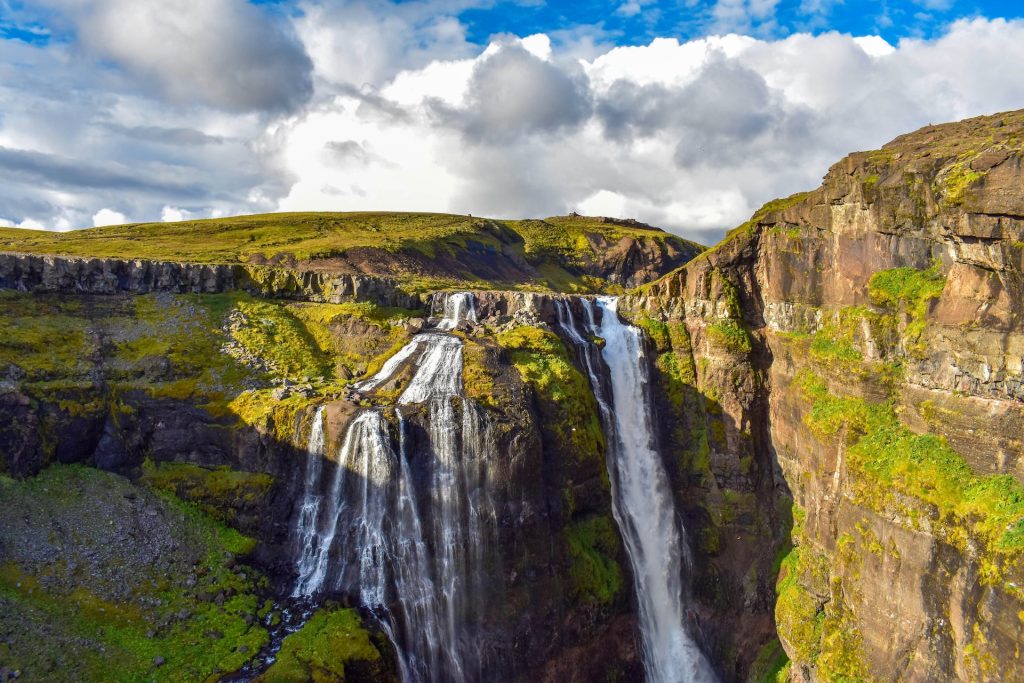 3. Best Short Hike Inside Skaftafell Nature Reserve
The best short hike in Skaftafell Nature Reserve begins at the main visitor center parking lot and takes you to some of Iceland's most beautiful natural attractions. The trail starts with the Austrubrekkur path, leading to Sjónarnípa waterfall and then to the renowned Svartifoss, also known as Black Falls.
Svartifoss, named for its stunning black basaltic rock formations, is a 20-meter tall waterfall the initial trek to this waterfall takes about 40 minutes and is a manageable route suitable for beginners, featuring a steep climb at the beginning but a well-maintained path thereafter.
After enjoying Svartifoss, those who are capable of a more moderate hike can continue to the Sjónarnípa viewpoint, offering captivating vistas of Svínafellsjokull glacier and the surrounding mountains. The trail is well-marked, with an initial incline featuring wooden stairs and rocks. Visitors will find amenities like parking (with fees), bathrooms, an information center, and maps nearby. This hike also treats you to vibrant summer flowers, particularly in July.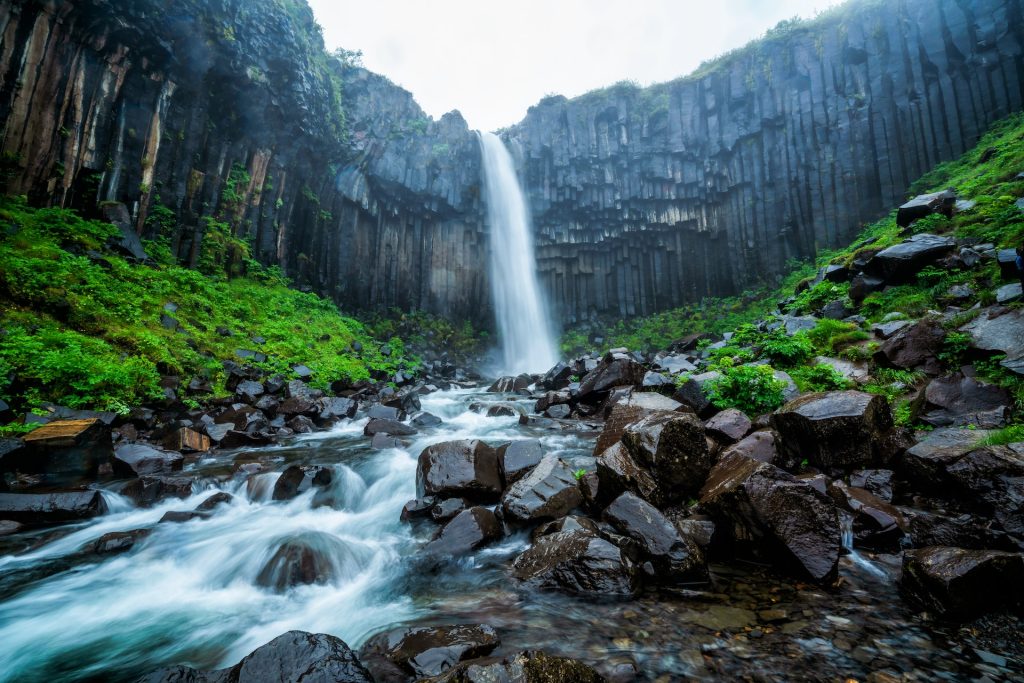 Trail Route Map
Skaftafell Trail Info
Distance: 7.1 kilometers (4.4 miles)
Duration: 3-4 hours
Difficulty: Moderate
Location: In the Skaftafell Nature Reserve
Highlights: Multiple waterfalls and viewpoints over the glacier
How to get there by car
This hike begins from the main parking lot and visitors center in Skaftafell. The Skaftafell Nature Reserve is around 327 kilometers (203 miles) from Reykjavik, and the drive takes just over 4 hours. The entrance to the visitors center is right off of the Route 1 Ring Road, so it's a straightforward drive on a well-maintained road. We'd recommend this hike as part of an Iceland South Coast itinerary or visit to Vatnajokull National Park.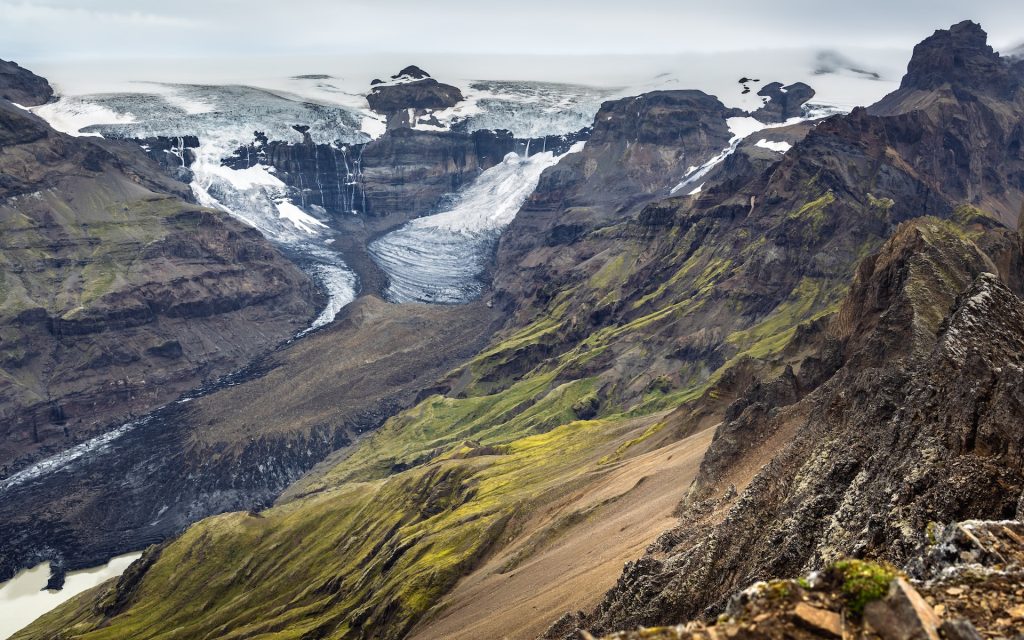 4. Easy Hike Near Coastline in Snaefellsjokull National Park: Arnarstapi – Gatklettur – Hellnar
The easy hike along Snæfellsjökull National Park's coastline from Arnarstapi to Hellnar is short and sweet but definitely worth it for the views. This popular trail is ideal for birding, with many Iceland birds making their homes within the cliffs.
Starting in Arnarstapi, a charming fishing village, the trail leads along the cliffs to Hellnar, passing through the renowned Gatklettur stone arch. Throughout the hike, you'll enjoy panoramic views of the Snaefellsnes peninsula and Snæfellsjökull glacier.
The trail begins with a flat gravel walk suitable for all fitness levels and transitions to a more rugged path over lava beds, but it's still primarily flat. The hike concludes in Hellnar, where you'll find old fishing port ruins and basalt rock caves.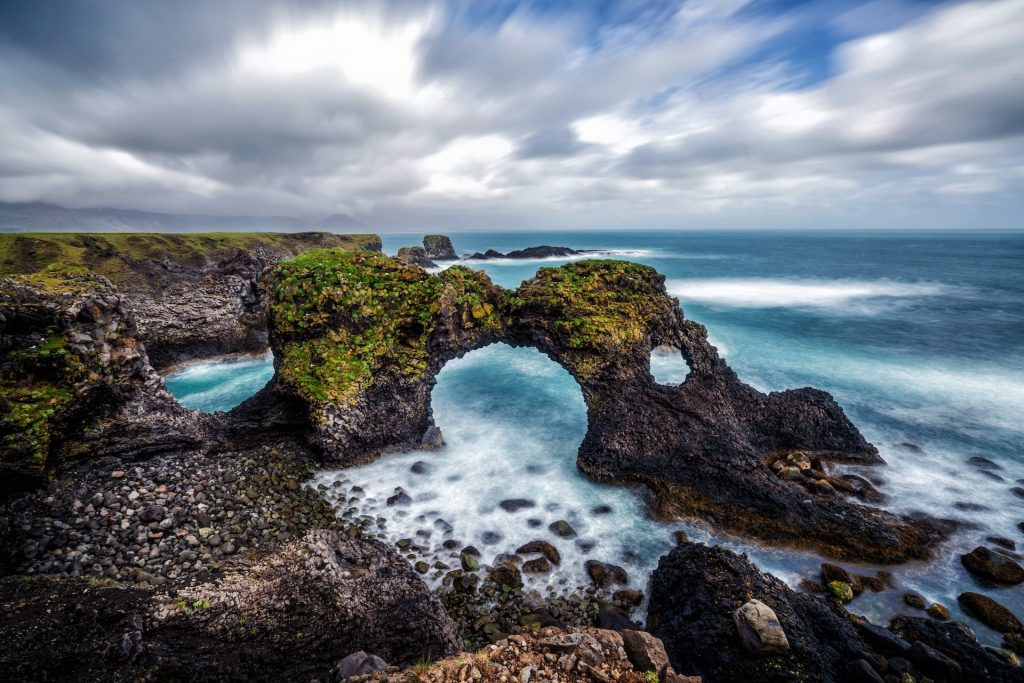 Trail Route Map
Snaefellsjokull Trail Info
Distance: 3.1 kilometers (1.9 miles)
Duration: 40 minutes to 1 hour
Difficulty: Easy
Location: North of Reykjavik in Snaefellsjokull National Park
Highlights: Views of Snæfellsjökull glacier and cliffside ocean views
How to get there by car
The best place to start this hike is from the fishing village of Arnarstapi, at the harbor. It's about 194 kilometers (120.5 miles) from Reykjavik, and the drive takes around 2 and a half hours.
As the hike is on the Snaefellsnes peninsula, we'd recommend combining this walk with other activities in the area, like Kirkjufell Mountain and Rauðfeldsgjá Gorge. The peninsula is easily accessible throughout the year, so most rental car options will be suitable. And you could even consider renting a campervan and camping in Iceland during the summer.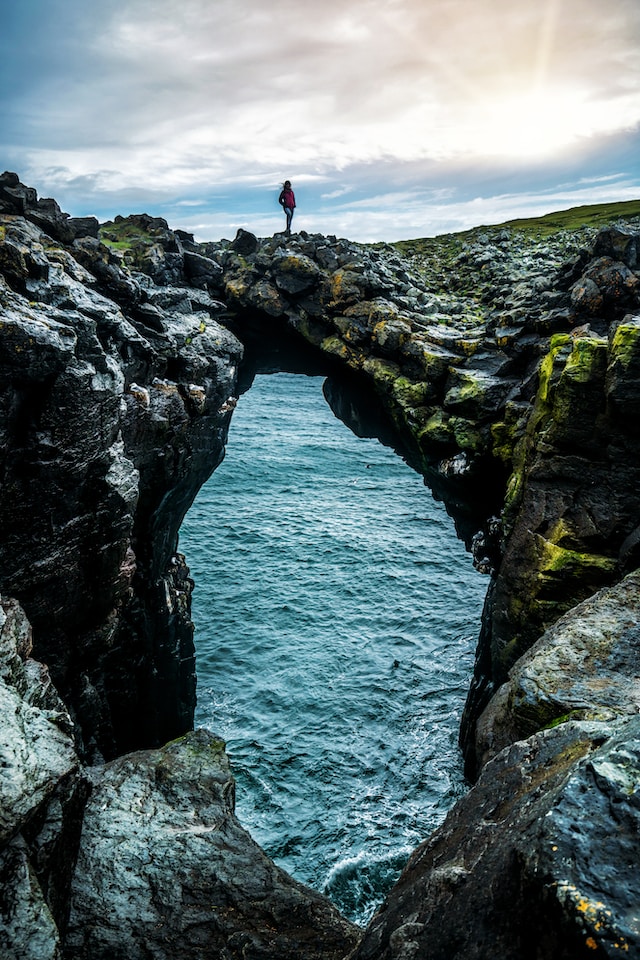 5. Best Summer Multi-Day Highland Trail: Laugavegur Trail
The Laugavegur Trail is the most popular hiking trail in Iceland and has even been ranked one of the best hiking trails in the world by National Geographic. This challenging 52-kilometer trek in Iceland's south highlands region can typically be completed in four days between June and September. This iconic route offers diverse landscapes, including rhyolite mountains, mountain ranges, lava fields, deserts, geothermal springs, glaciers, and forests.
Hikers usually start in Landmannalaugar, benefiting from a lower overall elevation. Camping is allowed in designated areas near huts, or you can pay to stay inside the huts, but that will be more expensive. There are huts at Hrafntinnusker, Hvanngil, Emstrur, and Alftavatn, along with huts at the start and end of the trail.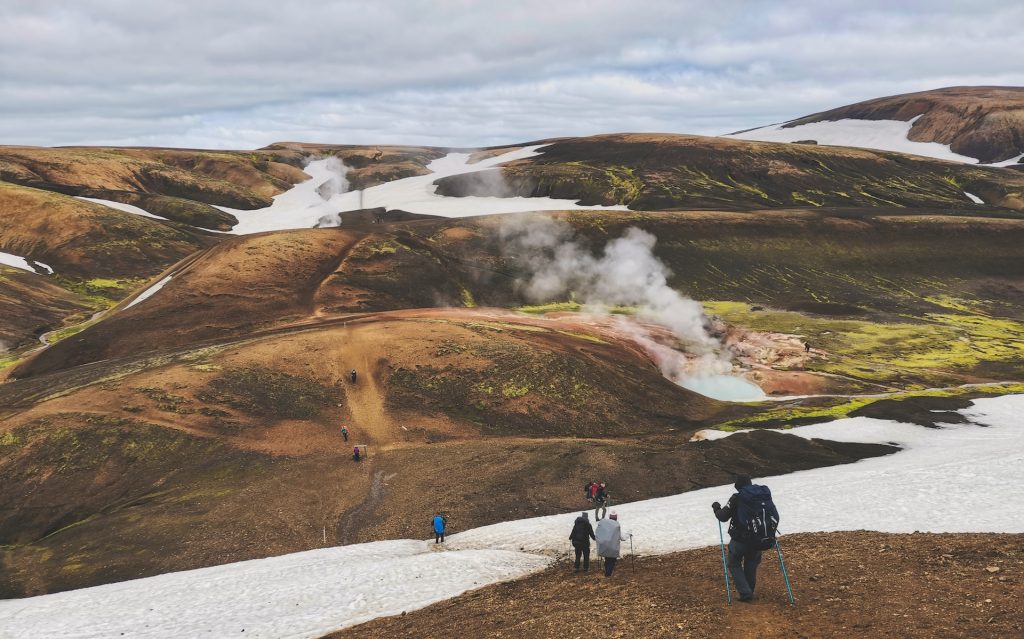 We recommend aiming for 12-15 kilometers per day following this itinerary:
Day 1: Landmannalaugar – Hrafntinnusker
Day 2: Hrafntinnusker – Álftavatn
Day 3: Álftavatn – Emstrur
Day 4: Emstrur – Þórsmörk
This trail is truly the best way to fully immerse yourself in the wild and untouched beauty of Iceland.
Trail Route Map
Laugavegur Trail Info
Distance: 52 kilometers (32.3 miles)
Duration: About 4 days
Difficulty: Challenging
Location: In the highlands (start in Landmannalaugar)
Highlights: mountains, lava fields, rivers, geothermal springs
How to get there by car
The best place to start the Laugavegur Trail is at the Landmannalaugar camping spot, which is around 183 kilometers (113.7 miles) from Reykjavik. The drive out takes just over 3 hours, but it's only accessible via Iceland F-roads.
There are three main routes there, but each requires you to drive on F-roads at some point, which means that you will require a 4X4 SUV in order to drive on them. Not only is a 4X4 legally required, but without one, it would be impossible to drive on the unpaved sections.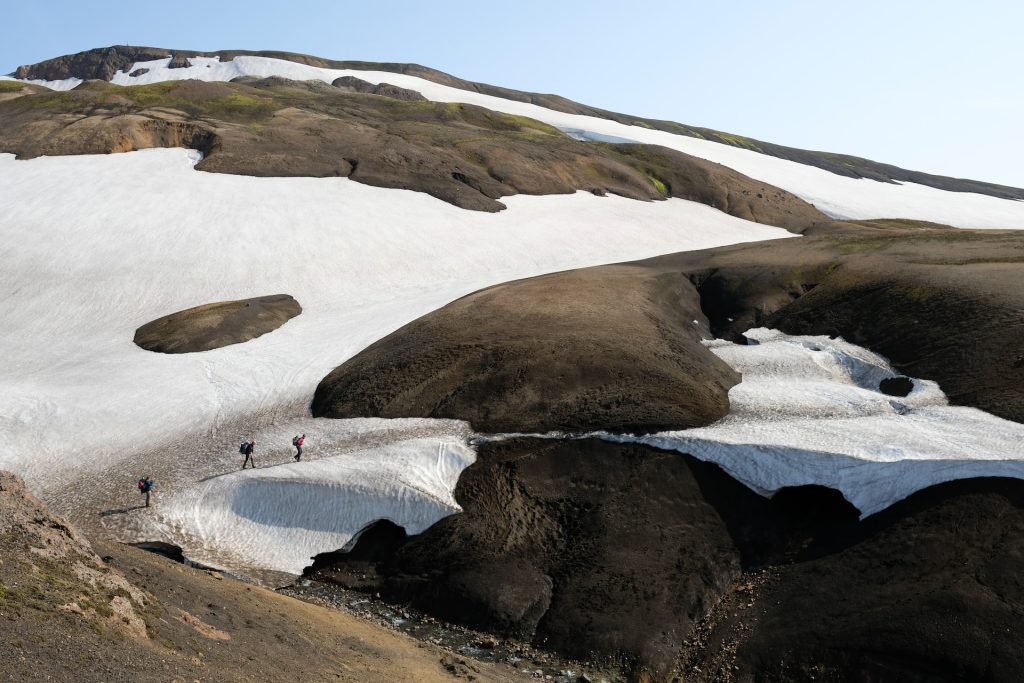 What is the best time to hike in Iceland?
Iceland's weather can be quite unpredictable, especially in the winter months. The best time for hiking in Iceland is during the summer, from June to August. During this period, the weather is milder, with longer daylight hours, making it ideal for exploring the country's natural wonders. You'll have more buffer time before it gets dark, as it barely gets dark at all, so you don't need to worry about getting lost out on the trails.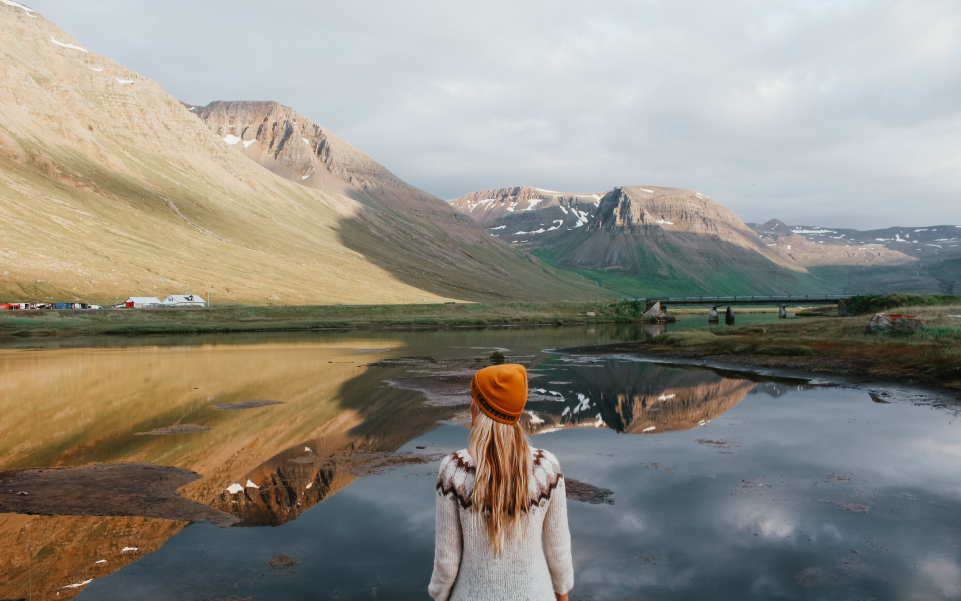 What to bring for a hiking trip in Iceland?
When embarking on a hiking adventure in Iceland, it's essential to pack carefully to ensure your safety and comfort. Here's an Iceland packing list of essential items you should bring:
Sturdy waterproof hiking boots
Clothing layers
Rain gear (jacket and pants)
Quality backpack
Navigation tools (compass, map/GPS)
Water and food
First aid kit
Hiking poles
Camera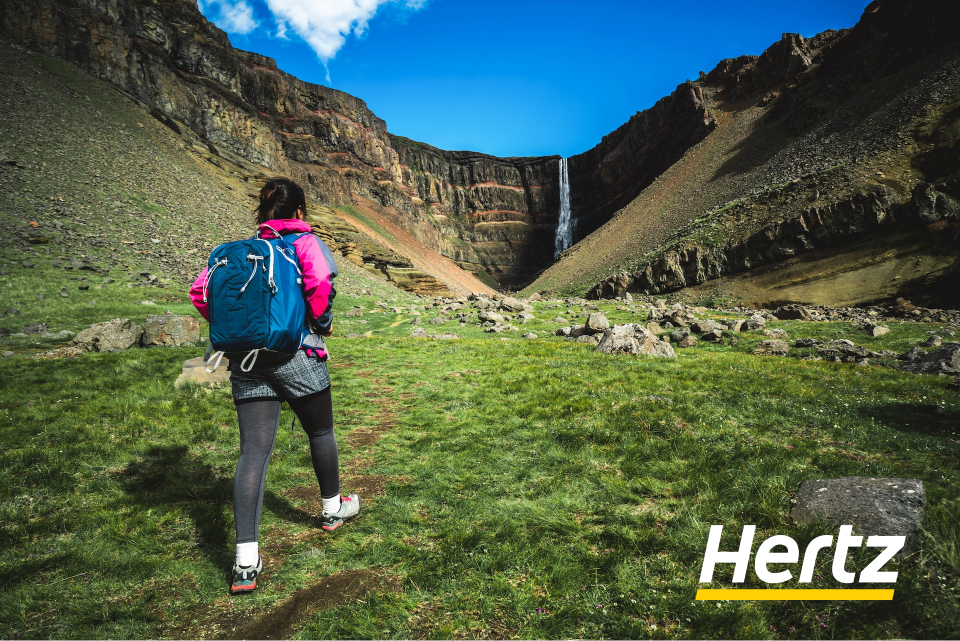 Best rental car for a hiking trip in Iceland
The choice of a rental car for your Icelandic hiking trip depends on various factors. For highland adventures, where Icelandic law mandates a 4×4 vehicle due to rugged terrain and river crossings, a 4×4 is essential. If your hiking plans stick to well-traveled and paved during the summer months, a 2WD vehicle may suffice for popular attractions and the Ring Road.
For short hikes and smaller groups, opting for a mid-size car is recommended to accommodate gear comfortably. Regardless of your plans, always consider the unpredictability of Icelandic weather, and having a 4×4 vehicle, even for main routes, can enhance safety and preparedness for changing conditions.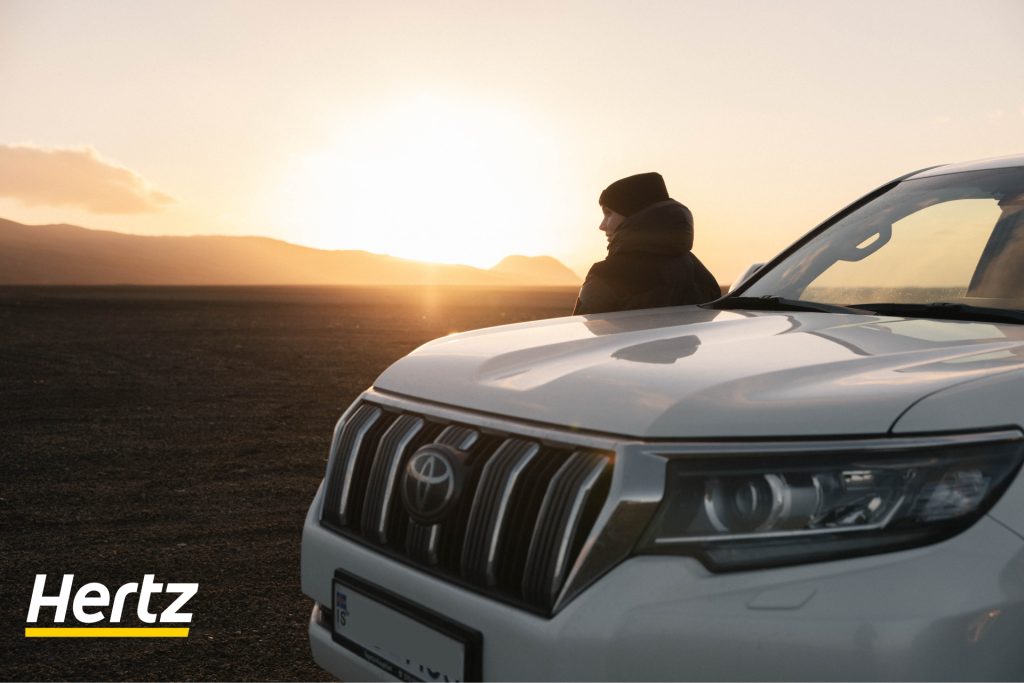 Top Hikes in Iceland for Your Iceland Hiking Adventure
The five trails we've explored in this article offer a glimpse into the diverse and stunning terrain that Iceland has to offer. Whether you're an experienced trekker or a casual adventurer, these hikes provide an opportunity to connect with nature in a way that is truly unique to Iceland.
As you lace up your hiking boots and prepare to set out on these trails, remember to prioritize safety and environmental responsibility. Respect the fragile ecosystems, pack out all waste, and follow Leave No Trace principles to ensure that future generations can continue to enjoy Iceland's natural wonders.
When it comes to getting around Iceland, choosing the right rental car is crucial. Whether you're venturing into the highlands, exploring the Ring Road, or embarking on a short hike, having a rental car will make your journey easier. Make sure to book your rental car online and in advance with Hertz Iceland to ensure you secure the best car for the job.