As long as there have been people in Iceland, there have been Icelandic sheep. Icelandic sheep play a vital role in the cultural heritage and economy of Iceland. Their thick, dual coats make their wool waterproof and insulting, yet soft and fluffy on the inside, perfect for keeping them comfortable in Iceland's unpredictable weather.
With an estimated population of 450,000 to 500,000, these sheep outnumber the total human population of the country, so on a visit to Iceland, you're very likely to see them grazing.
In this article, we delve into the significance, history, characteristics, and best places to see Icelandic sheep as part of your Iceland itinerary.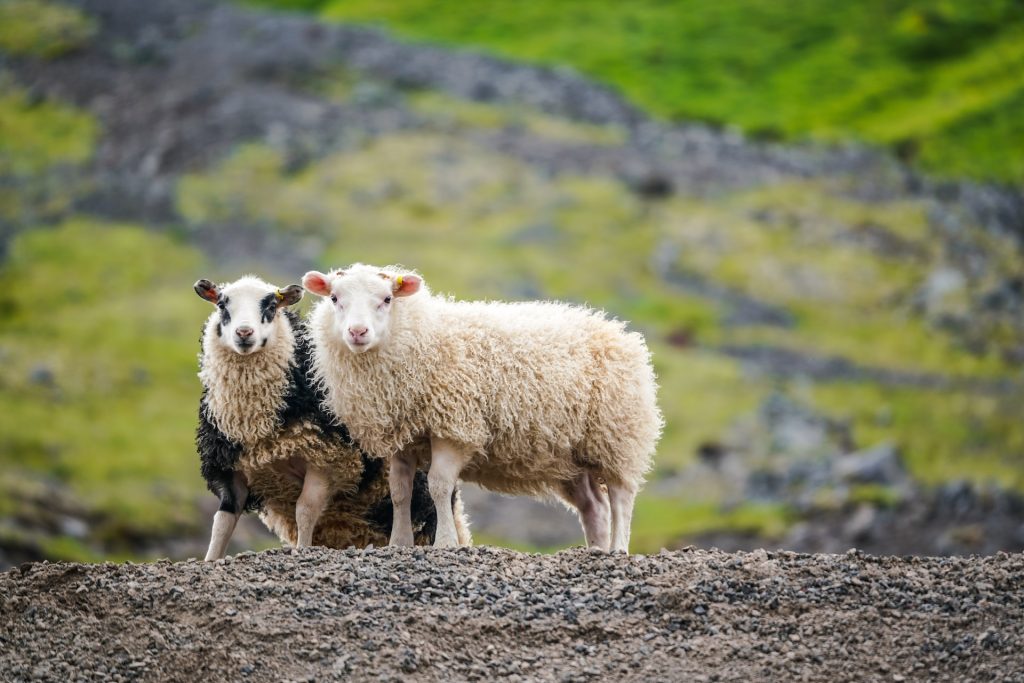 Table of content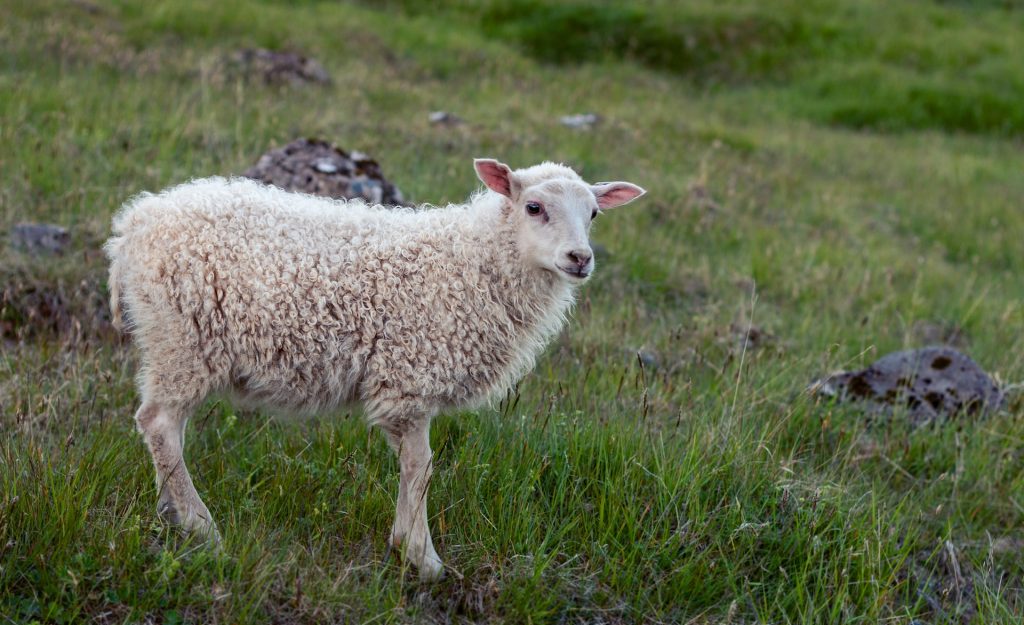 The History of Icelandic Sheep
The presence of Icelandic sheep can be traced all the way back to Iceland's settlement in the 9th and tenth centuries by Viking explorers. These early settlers brought with them the sturdy and adaptable Icelandic sheep, which became crucial for their survival in the harsh and isolated environment of Iceland.
At the time, the only thing available for settlers to eat was any livestock they brought with them from the mainland and whatever they were able to fish. Because of the cool climate, it was hard to grow crops, and the crops they could manage had very low yields.
The survival of the Icelandic sheep was essential for Iceland people, beyond just being a food source. They also provided a sustainable source of clothing and shelter materials. The wool from Icelandic sheep, with its unique dual-coated fleece, has been incredibly beneficial for Iceland inhabitants, enabling them to create warm and durable garments, such as the iconic Icelandic sweater lopapeysa.
Through centuries of isolation and strict selective breeding regulations, Icelandic sheep have evolved into a genetically unique Icelandic breed that stands out from other sheep varieties worldwide. It's forbidden to import any other sheep breed into Iceland, so the sheep you see today are all direct descendants of the original flocks brought over nearly 1100 years ago.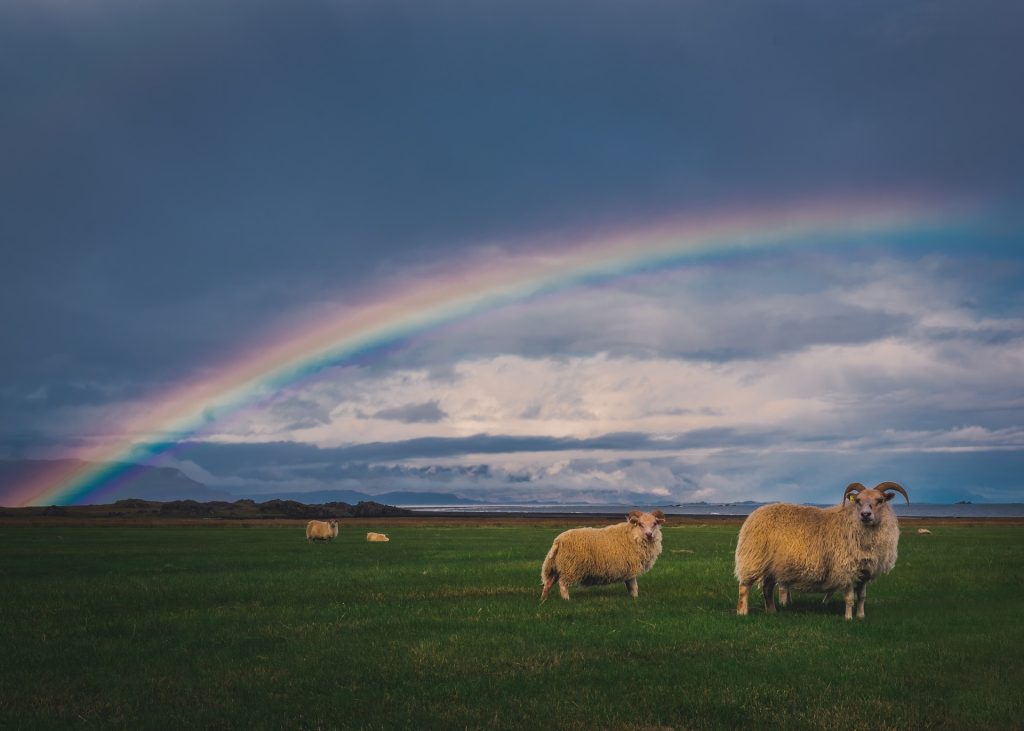 What Icelandic Sheep Look Like
So, how exactly do Icelandic sheep vary from other breeds of sheep in the world? Here are some of the defining factors that set them apart:
Appearance and Size
Icelandic sheep are medium in size, with a distinctive triangular-shaped head. They have a robust build, face and legs perfectly suited to help them withstand the harsh weather conditions of Iceland.
Their size varies between 100 to 160 pounds (45 to 72 kilograms), with the rams being substantially larger than ewes (female sheep). Icelandic sheep's appearance can vary slightly based on their location in Iceland, as regional variations have developed over time. But you won't notice any drastic differences.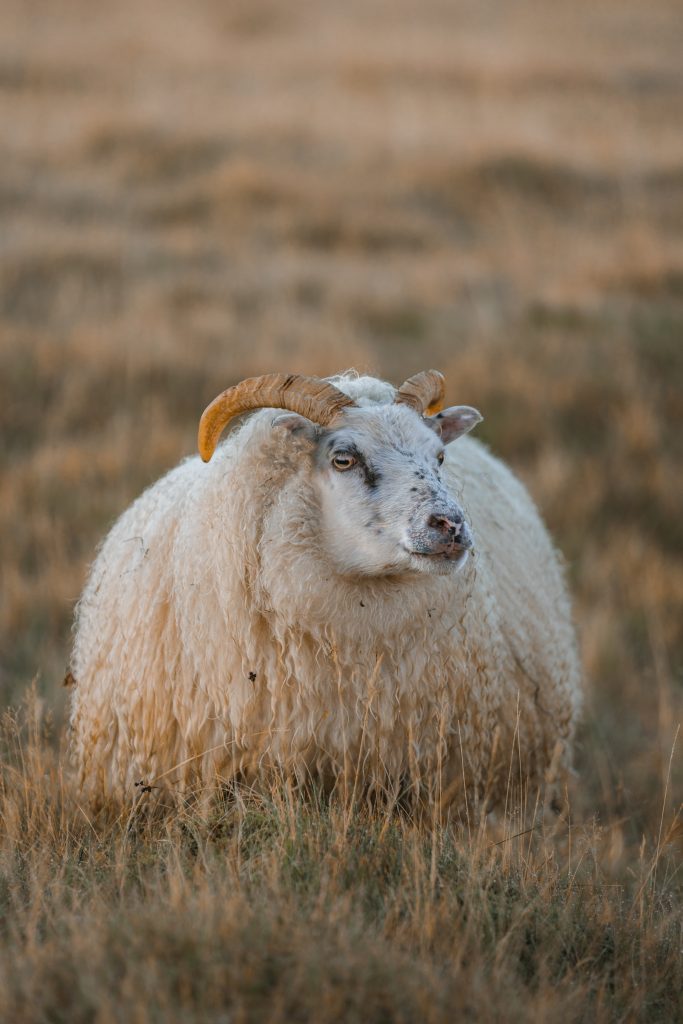 Fleece Characteristics
One of the most notable features of Icelandic sheep is their dual-coated fleece. They have two types of wool fibers: a coarse outer coat called "tog" and a soft inner coat called "þel." This dual-layered fleece provides excellent insulation, keeping the sheep warm during the cold winters and cool during the summer.
The wool's insulation properties are so effective that Icelandic sheep can withstand the frigid temperatures of the Icelandic winters, even in the most exposed and remote areas. The outer coat is water-resistant, keeping the fluffy inner layer dry when it rains (which can be a lot in Iceland!).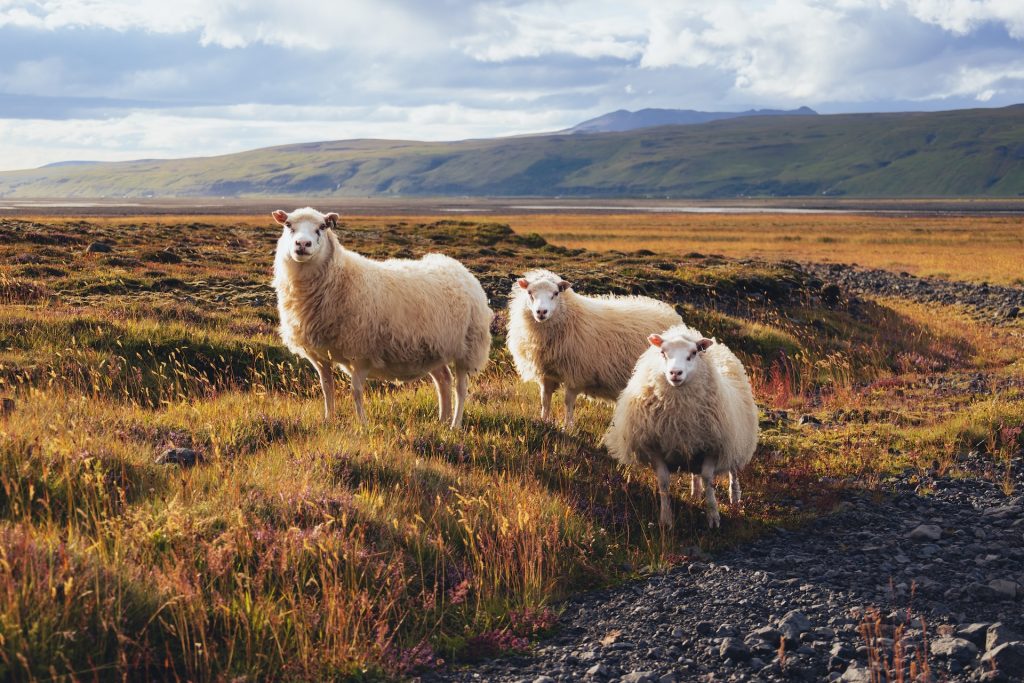 Horns and Facial Features
Icelandic sheep typically have curved horns that vary in shape and size, depending on the individual. Some sheep may have both horns, while others might be hornless (polled). Their facial features are distinct, with expressive eyes and a calm temperament. These characteristics have allowed them to adapt to the Icelandic landscape and become an important part of the country's agricultural traditions.
Icelandic Sheep Breeds
While there is technically only one sheep breed in Iceland, there can be some variations in appearance. Most Icelandic sheep are white, but you might also see other colors, including black, grey, and brown. They can also have different color patterns and markings, making them a charming addition to the already picturesque Icelandic countryside.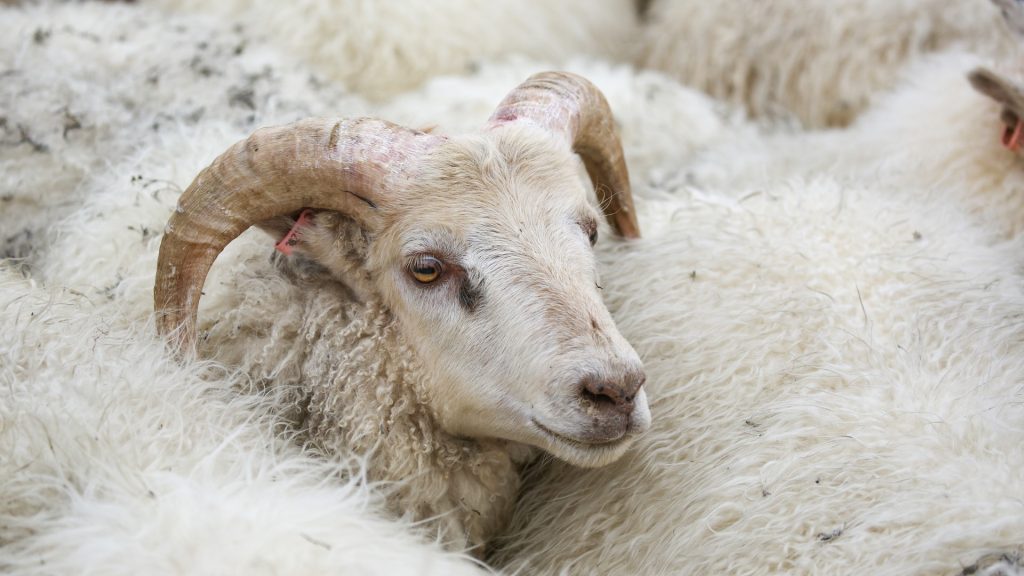 What Are Icelandic Sheep Famous For?
Icelandic sheep have been an invaluable resource to the people of Iceland since the country was first settled. Here are some of the many reasons sheep in Iceland are well renowned:
Wool Products – The Icelandic Traditional Sweater – Lopapeysa
The weather in Iceland can be pretty windy and chilly. Regardless if you're visiting Iceland in the summer, or Iceland in the winter, you need the proper clothing to stay warm, dry, and comfortable. And the wool from Icelandic sheep is perfectly suited for that purpose. Icelandic wool has been an essential material in Icelandic culture for centuries.
What sets Icelandic sheep wool apart is its unique combination of strength, softness, and insulating properties. Historically, the wool was utilized to create traditional Icelandic clothing, blankets, socks, hats, and other warm, durable items. But the most iconic item made from Icelandic sheep's wool is the lopapeysa.
This sweater, with its distinct circular yoke pattern, showcases the country's deep-rooted knitting tradition. The sweater's construction and design can vary based on the region, which makes each design unique.
The lopapeysa has become a symbol of Icelandic identity and a popular souvenir for tourists visiting Iceland. Not only is the warm sweater practical in Iceland's climate but it's also connected to Icelandic heritage and requires skilled craftsmanship. Many locals still hand-knit lopapeysur using traditional techniques that have been passed down through generations.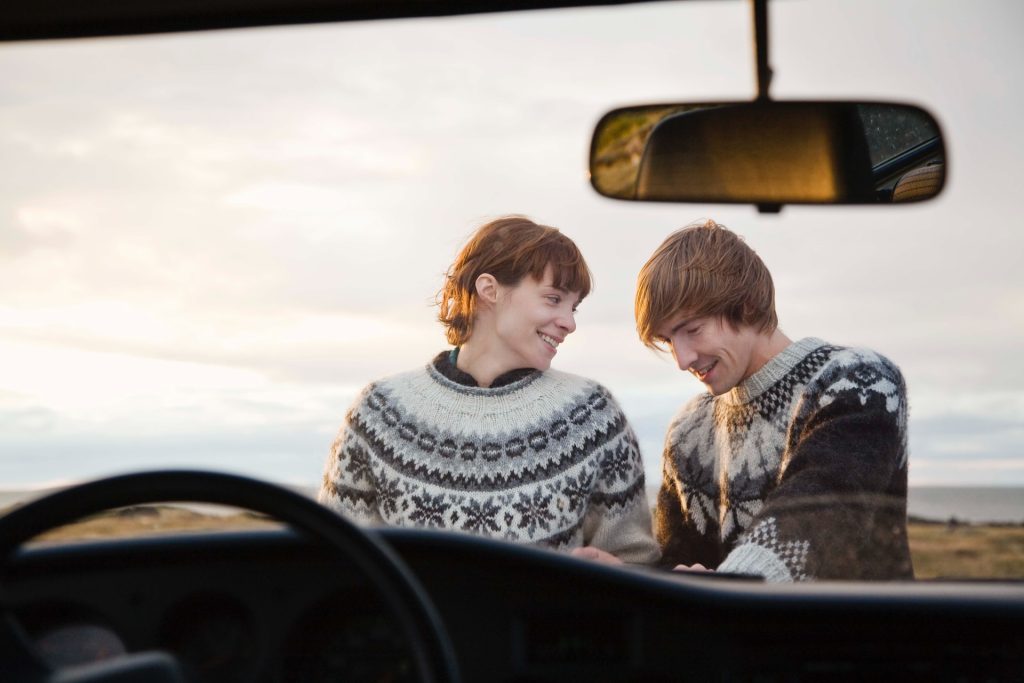 Meat Products – Traditional Icelandic Dishes
Icelandic sheep are primarily raised for their meat, which has been one of the main reasons for their breeding throughout the centuries. The sheep are typically raised outdoors during the summer, grazing freely in the open pastures, and in the winter months, they eat hay. Their free-range lifestyle combined with their natural diets contributes to the exceptional quality of their meat.
Many traditional Icelandic dishes are made from sheep's meat, and they are still a big part of the country's heritage. "Hangikjöt," or smoked lamb, is an Icelandic delicacy often served during festive occasions. The process of smoking the meat over natural birch fires gives it a smoky flavor that both locals and visitors love.
Other sheep dishes include "svið" (boiled sheep's head) and "plokkfiskur" (fish and mashed potatoes with shredded lamb), both offering a taste of authentic Icelandic cuisine. While you can find plokkfiskur quite easily, svið is only available during special festivals or at a select few restaurants.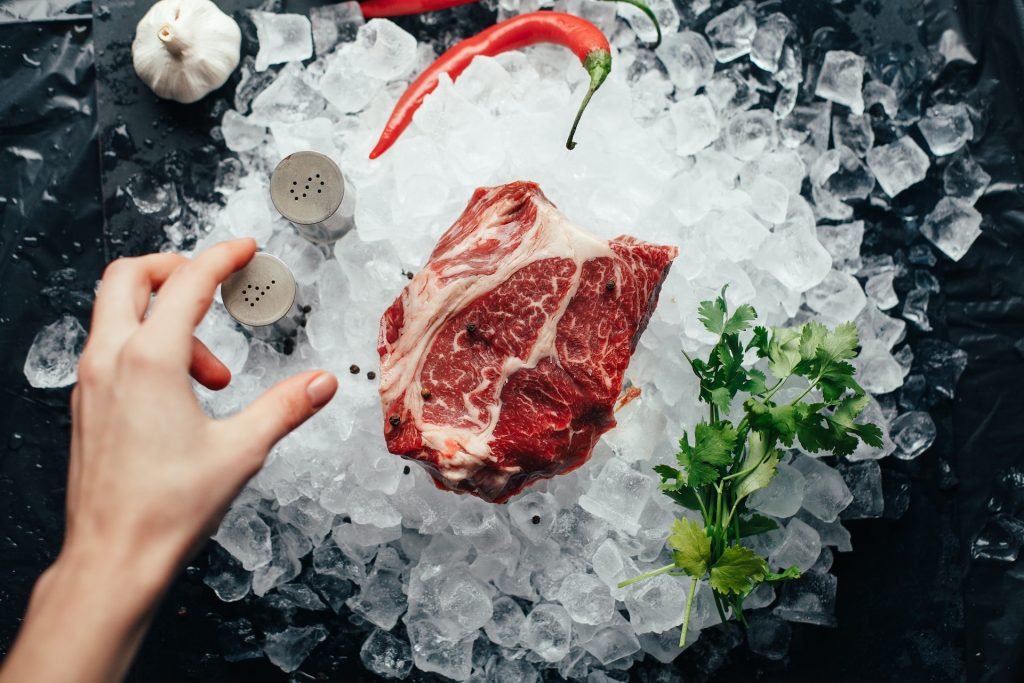 Milk Products
Icelandic sheep were historically the main source of dairy in Iceland for over a thousand years. Prior to 1940, farmers couldn't produce enough hay to feed cows, making sheep the primary source of milk. However, with advances in farming practices and feed production, dairy farming shifted to focus on cows, and Icelandic sheep are no longer commercially milked.
While commercial milking has diminished, some small farms in Iceland continue to milk Icelandic sheep, although it is not done on a large scale. The milk from Icelandic sheep is rich and nutritious, but its rarity adds to its appeal. For those interested in experiencing this traditional aspect of Icelandic agriculture, visiting these small farms can provide a look into traditional Icelandic practices, especially if you can find Skyr (a type of Icelandic yogurt) made with sheep's milk.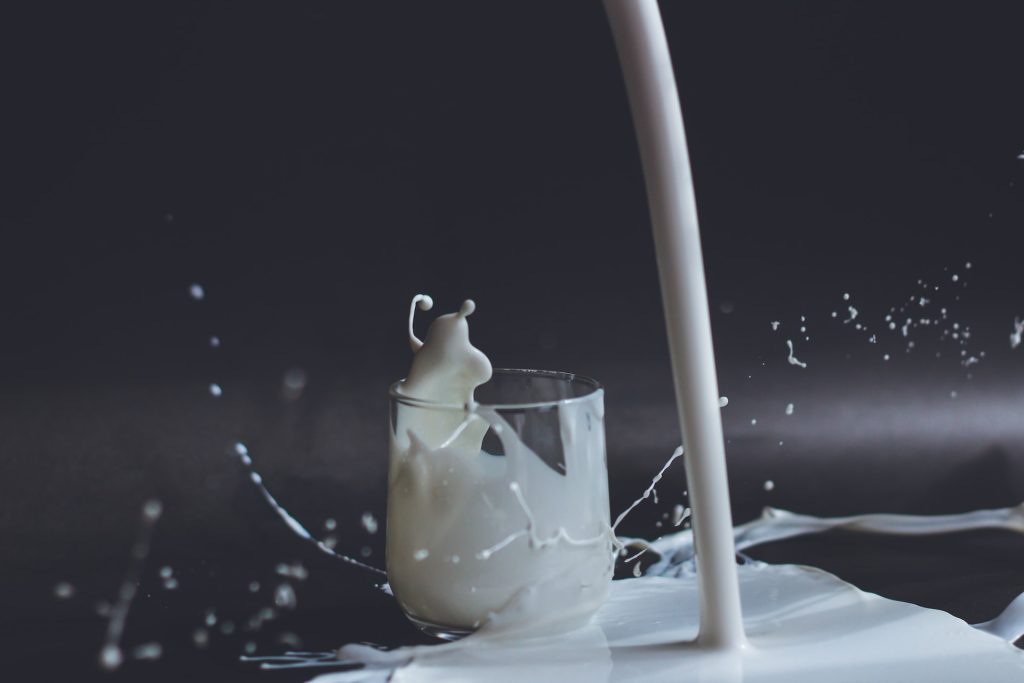 What is the Best Time to See Sheep in Iceland? Where Can You See Them?
The best time to see Icelandic sheep grazing in the countryside is during the summer months when they roam freely through the pastures. As early as May in Iceland, you can witness newborn lambs taking their first steps, along with flocks on the move enjoying the warmer temperatures. The ideal time to see Icelandic sheep is when driving in Iceland between May and September, while the flocks can be spotted all around the country.
You can pretty much spot Icelandic sheep anywhere along popular routes such as the Iceland Ring Road, Golden Circle, and Iceland's South Coast, where they often graze near the roadsides, providing fantastic photo opportunities against the stunning Icelandic backdrop. As you drive these popular Iceland road trip routes, you'll find many sheep-crossing signs reminding you to keep an eye out and drive with caution.
If you want a more immersive experience, you can plan your trip around the Réttir in September in Iceland. This is the traditional sheep roundup that's been happening for centuries when the farms herd their sheep back from the pasture. The event now allows tourists to participate in the practice and watch as the locals herd sheep from Iceland's highlands back into the lowlands.
Réttir is not only an opportunity to see the sheep up close, but it's also a chance to engage with the local community and learn about Icelandic culture and traditions.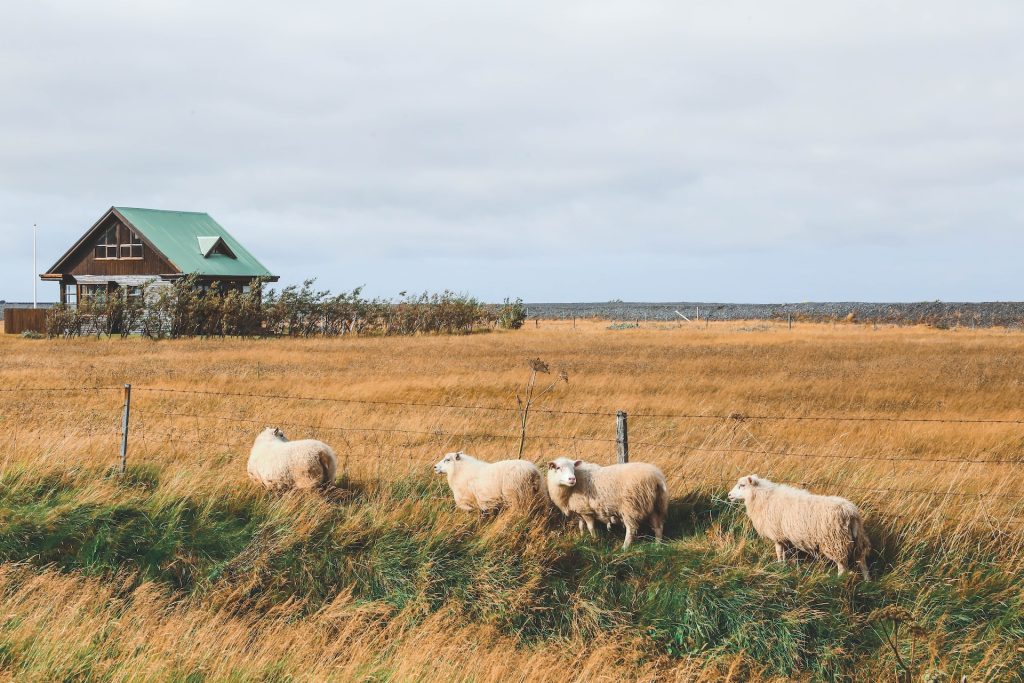 Safe Travel Tips for Seeing Icelandic Sheep
While encountering Icelandic sheep is a great experience, it's important to respect their space and ensure safety for both the animals and travelers. This goes for any interactions with Iceland wildlife. Here are some essential travel tips to keep in mind:
Be cautious while driving, especially near the roadsides where sheep might be resting. Always maintain a safe speed and stay especially aware near any sheep crossings.
Sheep travel in flocks, so if you see one sheep, slow down, as others are likely to follow. This is especially true if there is a lamb around, as they will always cross to be with their mother.
Avoid getting too close to the sheep, making sudden movements or honking your horn, as this may frighten them and cause them to scatter, leading to potential accidents. Maintain a safe distance to observe them without causing stress.
Resist the urge to touch or interact with the sheep, as they are wild animals and may perceive human contact as a threat.
If you wish to see Icelandic sheep up close and learn more about them, consider visiting a farm that allows visitors to interact with the sheep safely and under controlled conditions.
Always obey speed limits, as Icelandic roads can be narrow and winding. Adhere to road safety guidelines to prevent accidents and ensure the safety of both humans and animals.
Make sure you have your headlights turned on, day and night. In Iceland, headlights must be on at all times, even during daylight, for better visibility on the country's often rugged and challenging roads.
Check out our Iceland safe driving tips guide for more ways to stay safe on the roads.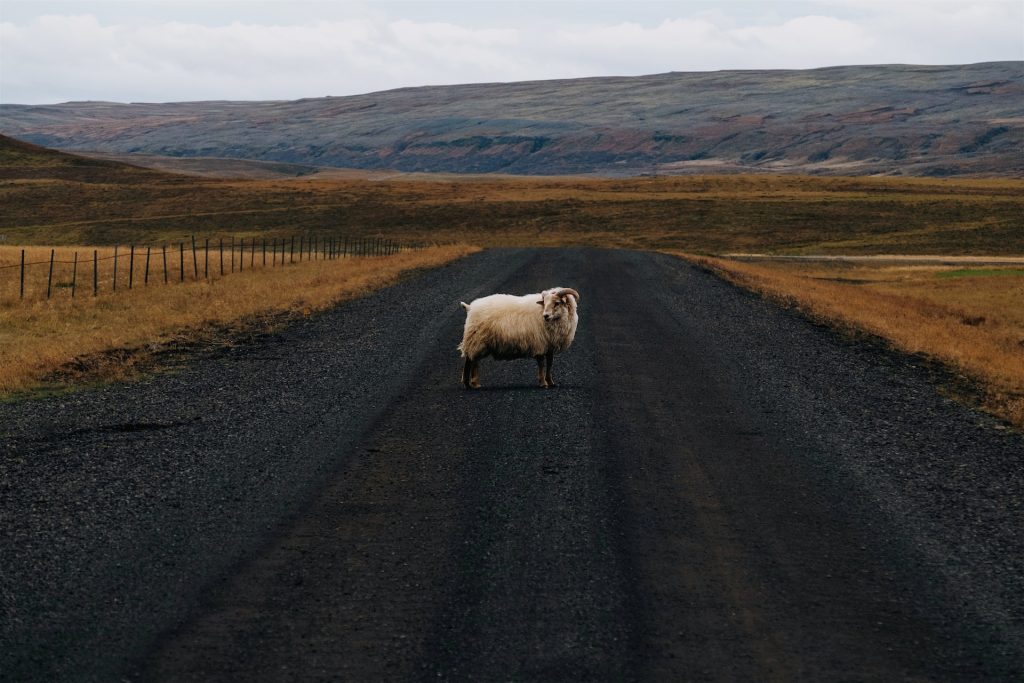 See Icelandic Sheep on Your Self-Drive Adventure
Icelandic sheep hold a significant place in Iceland's history, culture, and economy. From their unique, dual-coated wool to their important role in traditional dishes, these sturdy animals contribute to the country's identity. Visitors can see Icelandic sheep throughout the year on a self-drive road trip in Iceland, especially during the summer when they roam freely across the country.
To truly immerse yourself in the Icelandic experience, book a rental car to encounter Icelandic sheep while you explore other Iceland attractions. We always recommend booking in advance, especially if you're visiting in the summer months, as it's the height of Iceland's tourist season.
Whether you want to participate in Réttir or simply want to observe the Icelandic sheep against Iceland's breathtaking scenery, these animals are guaranteed to be a fantastic part of your Iceland adventure.