With a landscape like Icelands, covered with stunning natural attractions, it's no surprise that many drone enthusiasts dream of capturing the wonders of this Nordic country from the sky. But can you fly drones in Iceland? The answer is yes, but with certain restrictions and guidelines that you must follow. Flying drones freely is appealing, but safety, environmental, and privacy issues must be considered. 
In this comprehensive guide, we will explore the ins and outs of flying drones in Iceland, including the laws and regulations, the best locations for aerial photography, safety considerations, and more. This guide will help both experienced and new drone pilots enjoy flying their drones in Iceland's wilderness.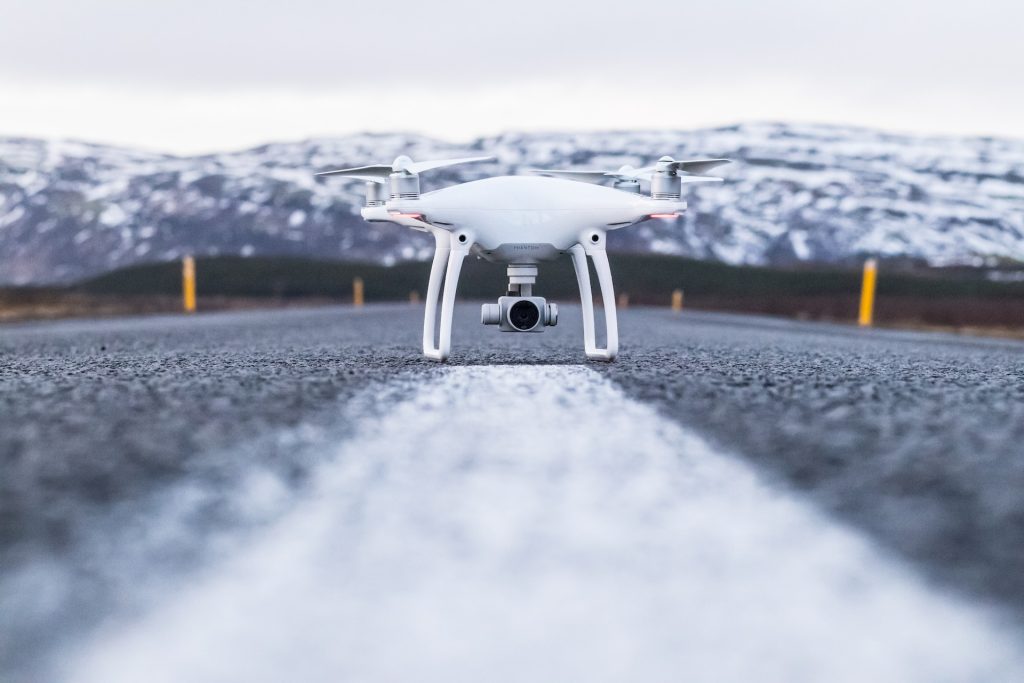 Table of content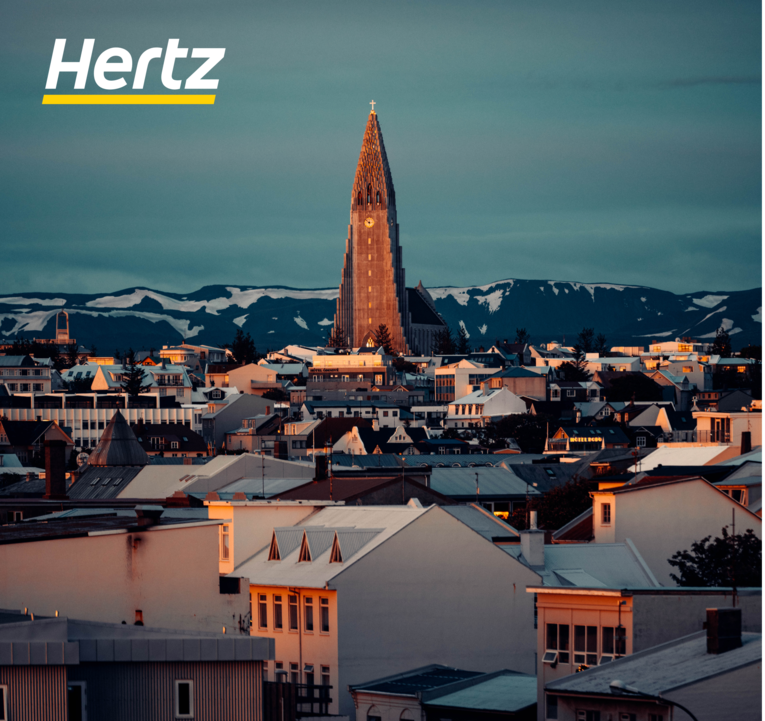 Understanding the Icelandic Drone Laws
Before you take off with your drone in Iceland, it's crucial to have a clear understanding of the local regulations. Icelandic drone laws are designed to ensure the safety of the country's unique environment and its people, and they are regulated by the Icelandic Transport Authority (ITA). While you won't need any special permits for a basic recreational drone flight, there are drone laws in place that you need to be aware of. Here's a quick overview of the key regulations you need to be aware of:
Drone Registration: You must register your drone with the Icelandic Transport Authority (Samgöngustofa) if it weighs over 2.5 kilograms (approximately 5.5 pounds).
Maximum Altitude: The maximum allowable altitude for drone flights in Iceland is 120 meters (394 feet) above ground level.
No-fly Zones: There are several restricted areas in Iceland where drone flying is prohibited. These areas include national parks, nature reserves, and specific tourist attractions for safety reasons.
Maintain Visual Line of Sight: While operating your drone, you MUST maintain visual contact with it at all times. Flying beyond your line of sight (ie. behind a mountain) is not permitted.
Fly During Daylight: Drones should only be flown during daylight hours, as flying at night is prohibited unless you have special permission.
Respect Privacy: Be mindful of people's privacy and property rights.
Safety and Distance: Maintain a minimum distance of 150 meters (492 feet) from people, vehicles, and buildings not under your control.
Emergency Services: If you encounter emergency service operations, give them the right of way and avoid interfering with their activities.
Label Your Drone: You must label your drone with your name, address and phone number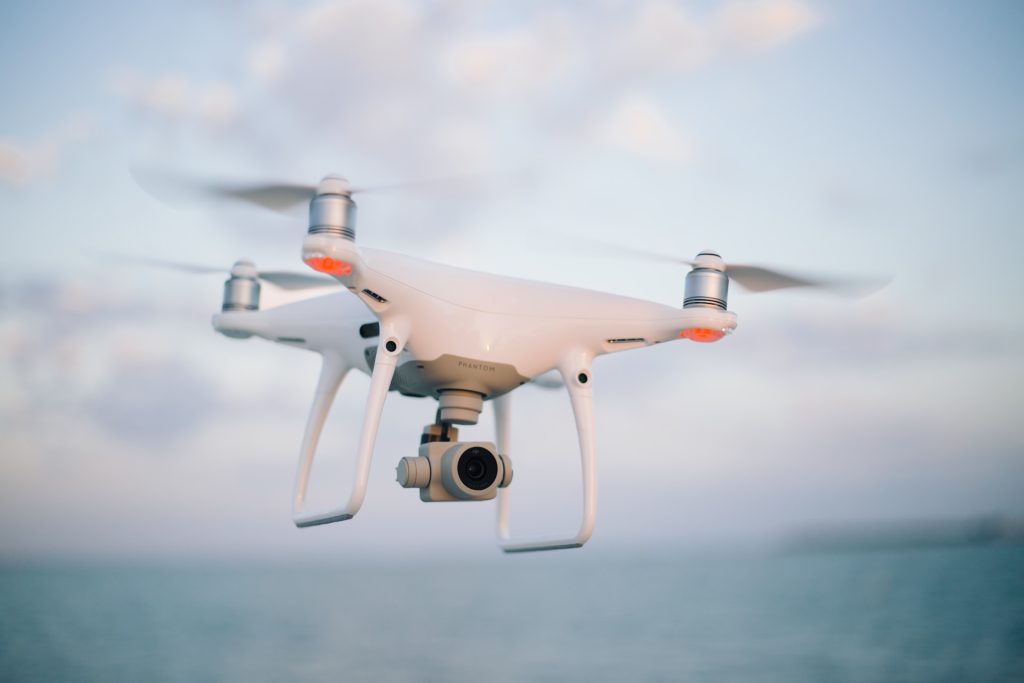 Restrictions and Limitations for Drone Flying
Just like in any country, there are areas where drone flying is restricted or prohibited. You cannot use drones near military bases, government facilities, airports or over crowds of people. When it comes to residential areas or public buildings, it's prohibited to fly a drone within 150 meters (492 feet) of schools, hospitals, or residential buildings in public areas. And in rural areas, you must obtain permission from the owner to fly within 50 meters (164 feet).
In nature reserves or national parks, you will require permission from the Icelandic Nature Agency if you want to legally fly your drone. And specifically, in The Blue Lagoon, it's prohibited to fly a drone without permission from the Administration of the Blue Lagoon. Similarly, using a drone at many of Iceland's popular attractions is heavily restricted or prohibited, including Iceland waterfalls, Reynisfjara Black Sand Beach, and the Geysir geothermal area.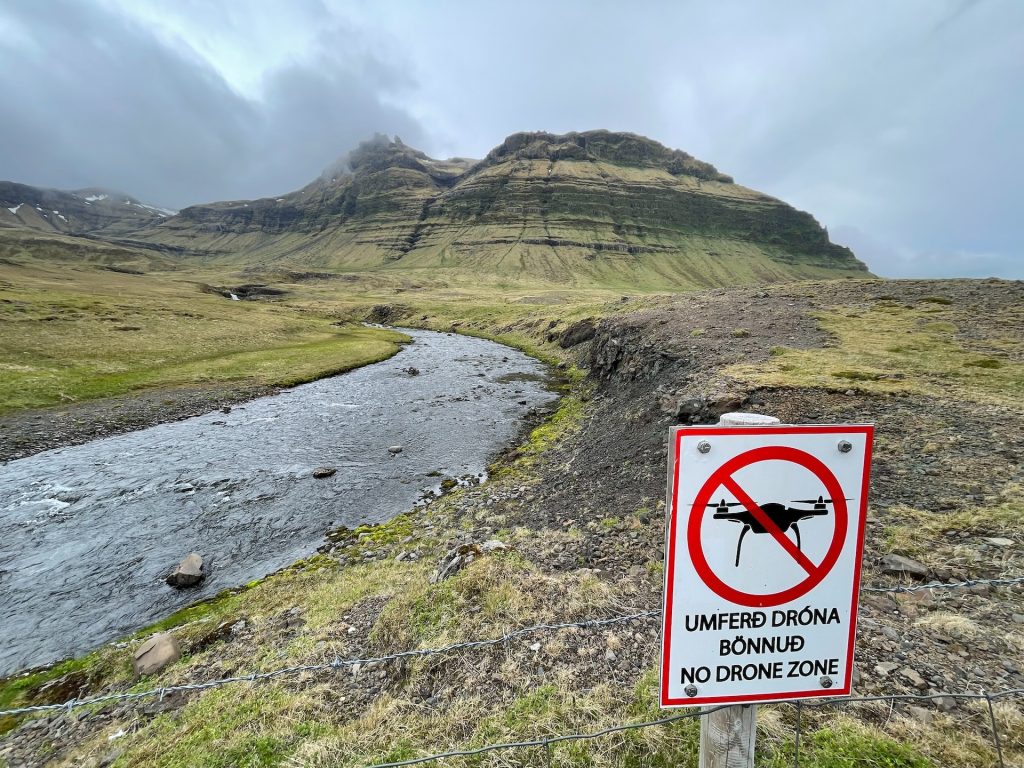 Best Locations for Drone Flying in Iceland
So, where can you fly drones safely and legally? The good news is that there are many beautiful locations in Iceland where visitors are permitted to fly their drones. When visiting popular tourist attractions, you will likely see a "NO DRONES" sign in the areas where it's prohibited, but we still recommend following the advice above regarding Icelandic drone laws, even when there is no sign present.
Here are some of the best locations for drone flying in Iceland:
The Golden Circle Area
The Golden Circle self-drive route in Iceland offers many great opportunities for drone flying. There are many of Iceland's top attractions along this short loop, and unfortunately, you will need to apply for permission to film at the three top ones: Thingvellir National Park, The Geysir Geothermal Area, and Gullfoss Waterfall.
It's worth obtaining the permits if you're looking to capture some truly magnificent footage of the iconic natural attractions, but there are still many spots where you can legally fly your drone along the route and shoot incredible aerial photos and videos of the volcanic landscapes in the area. Definitely make a stop at Kerid Crater Lake, where you can capture the blue water and red volcanic rocks of the volcanic crater.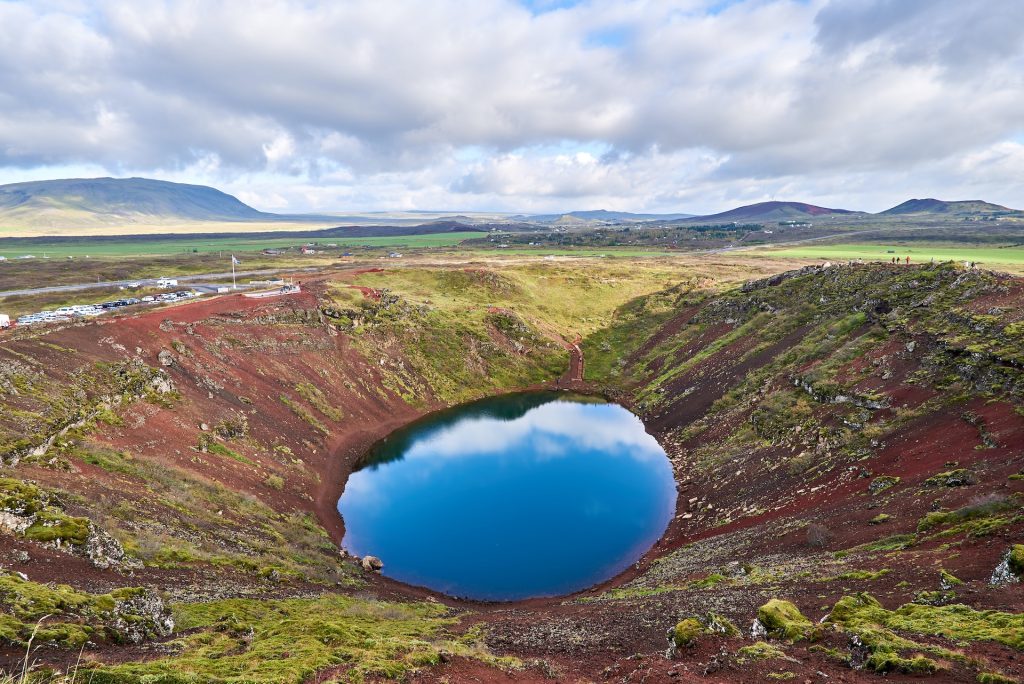 The South Coast
The South Coast of Iceland is another very popular route in Iceland that is easily accessible from Reykjavik and provides lots of opportunities to fly your drone and take in some incredible coastal views. At two of the main attractions along this route, Reynisfjara and Jökulsárlón Glacier Lagoon, it's prohibited to fly drones, but there is tons of untouched coastline where it's permitted to fly your drone.
Just make sure you aren't flying your drone within the borders of Vatnajökull national park unless you've applied for the proper permit. There are tons of waterfalls that you can film along the South Coast route, but you'll need a permit from Iceland's Environment Agency.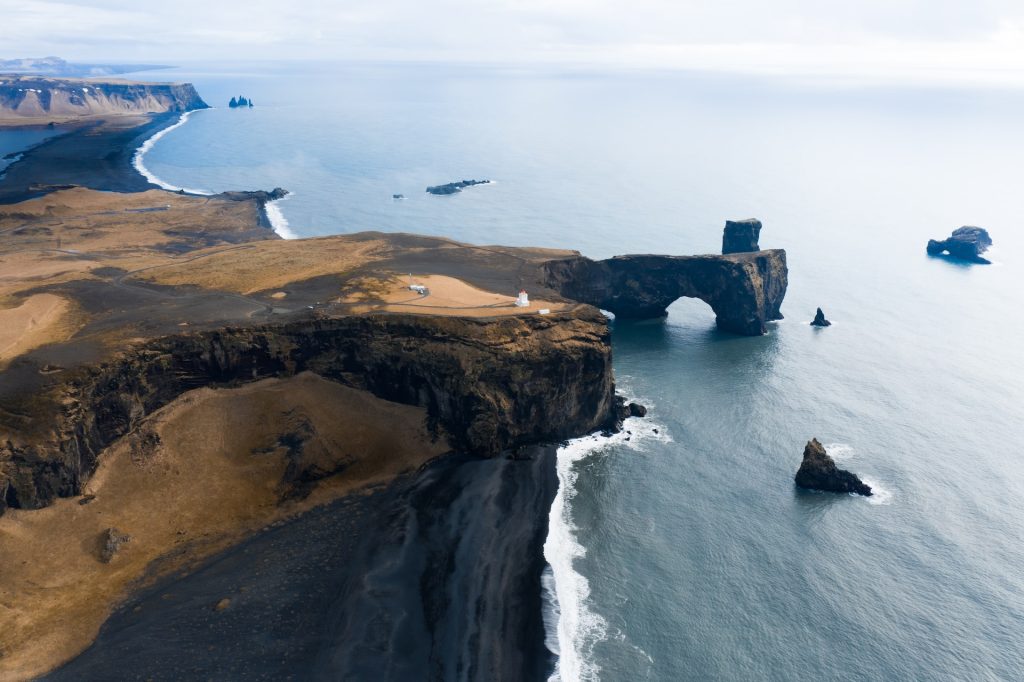 The North of Iceland
In the picturesque North of Iceland, drone enthusiasts will find many breathtaking landscapes to capture. If you're not near any big attractions or within national park boundaries, you have a lot of flexibility in where you can fly.
Lake Mývatn,is a great place to capture geothermal wonders and lava formations, but there is a lot of bird life here, so you'll need a special permit to fly your drone and need to take extra care to stay away from birds.
Just a short drive away from Lake Mývatn is Dettifoss Waterfall, another drone capture opportunity. The sheer force and scale of Dettifoss are even easier to appreciate from above. Make sure that you adhere to all Icelandic drone laws when flying in this area.
Snæfellsjökull national park
The Snæfellsnes Peninsula region offers a condensed version of Iceland's diverse landscapes, from dramatic cliffs to serene coastlines and from volcanic peaks to lush meadows, perfect for capturing tons of great drone shots within a small location. Make sure to visit Gerðuberg basalt columns and the rhyolite mountains. If you get permits from the Iceland Environment Agency you can also film at Snæfellsjökull glacier and volcano, which famously inspired Jules Verne's "Journey to the Center of the Earth."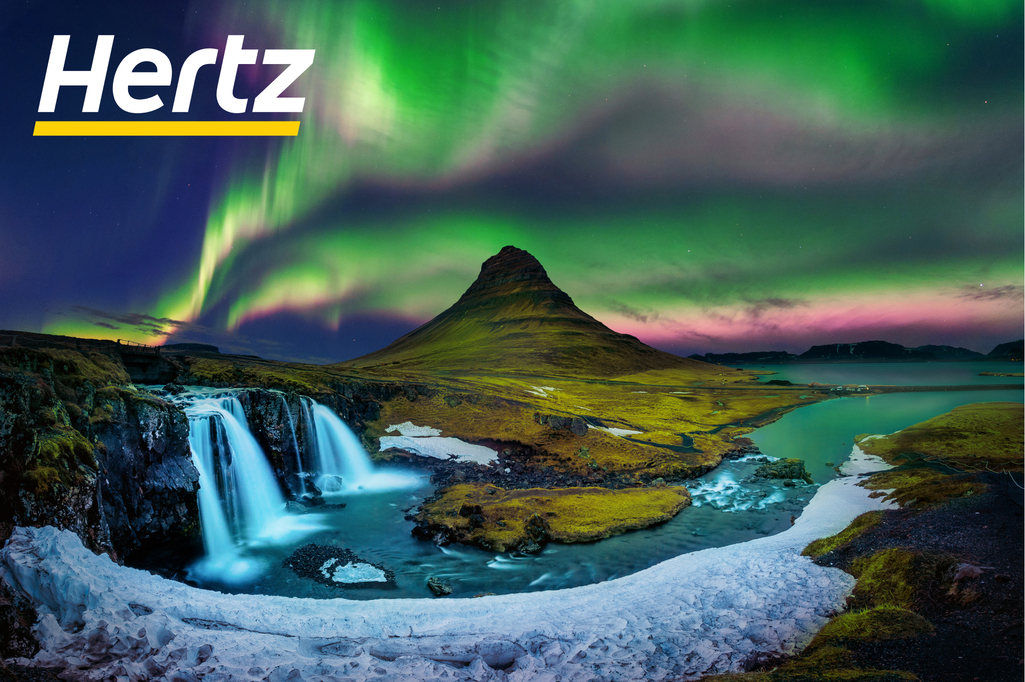 Hidden Gems for Unique Shots
If you're visiting Iceland in the summer months there are some other hidden areas that you can access for some even more exclusive shots. You will have to take Iceland F-roads to access some of these locations, or at the very least encounter some unpaved roads meaning that you'll require 4X4 rental vehicle.
The first area to note is Iceland's Westfjords, where you can find the red sands of Raudasandur, with its dramatic black cliffs and blue waters. Another great spot to film is Arnarfjörður fjord. This area is very popular for drone photography as there are less restrictions, but keep in mind that it's prohibited to fly your drone near the Látrabjarg cliffs as it's an important nesting site for Iceland puffins.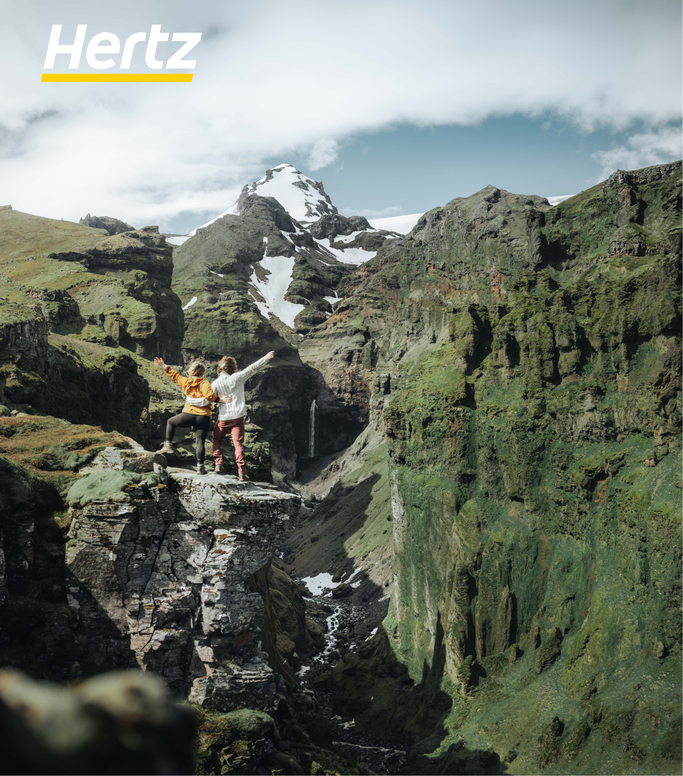 Another great spot to visit for drone photography is Iceland's Highlands. Landmannalaugar and Thorsmork are two notable hidden gems, but they are only accessible in the summer months when the unmaintained roads more traversable. Landmannalaugar features multicolored rhyolite mountains and natural hot springs.
Capturing this surreal landscape from above with a drone allows you to showcase the vibrant hues of the terrain and the steam rising from the earth's depths. Thorsmork, a lush valley surrounded by glaciers and rugged cliffs, offers a unique opportunity for dramatic aerial shots.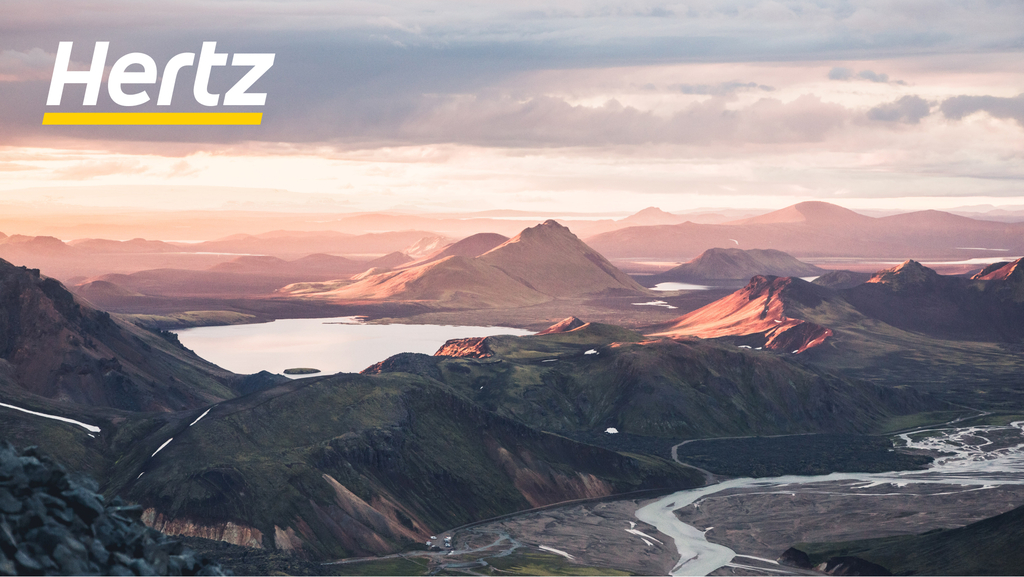 Safety and Challenges of Drone Flying in Iceland
As you prepare for your drone adventure in Iceland, it's crucial to prioritize safety. The challenging weather conditions and unique geographical features of Iceland make drone flying more demanding than in many other locations. Here are some essential safety rules and considerations for drone pilots in Iceland:
Essential Safety Rules for Drone Pilots
Ensure your drone is in excellent working condition before every flight.
Stay informed about the local weather conditions, which can change rapidly.
Plan your flights meticulously, considering your flight path and potential obstacles.
Carry essential spare parts and tools in case you need to make on-site repairs.
Always have a reliable GPS and return-to-home function on your drone.
Respect wildlife and the environment, maintaining a safe distance from animals and fragile ecosystems.
Use a pre-flight checklist to ensure you've covered all safety aspects.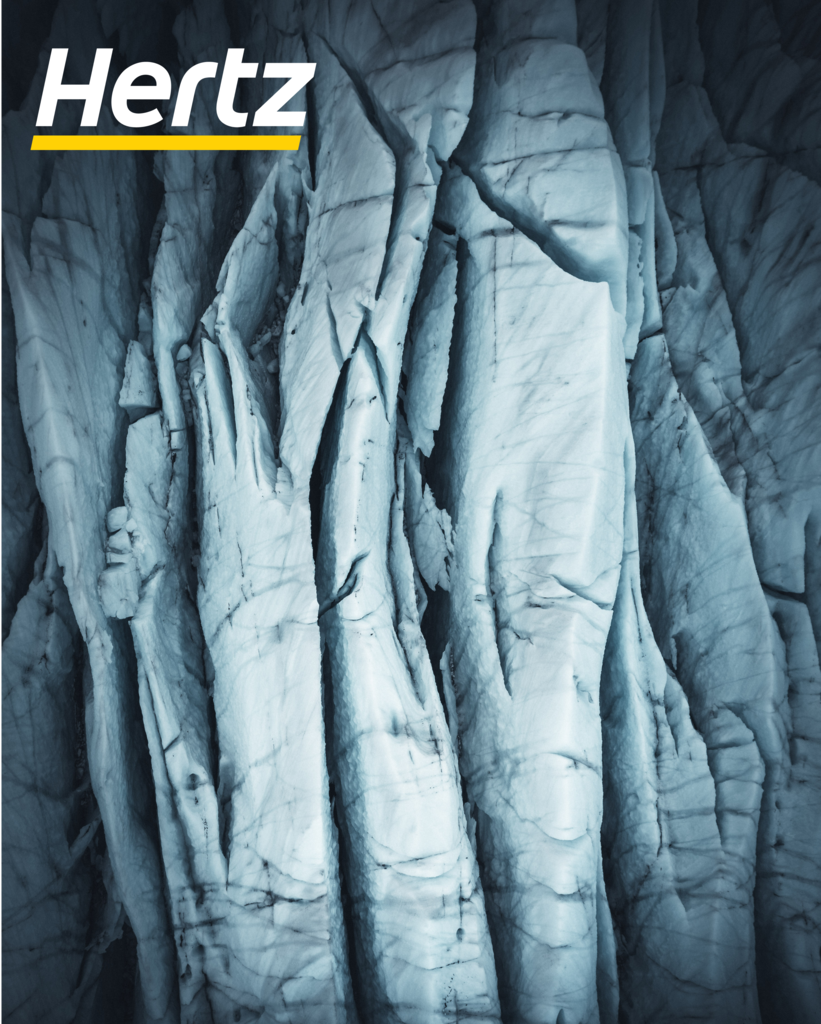 Dealing with Iceland's Weather Conditions
Iceland is famous for its unpredictable weather, which can include strong winds, rain, snow, and fog. These conditions pose unique challenges for drone pilots. To manage the impact of Iceland's weather on your drone flights, make sure to always check the weather forecast before every flight so you can make an informed decision about whether or not to fly. The most reliable source for Iceland weather information is vedur.is.
Drones can struggle in the Icelandic winds, even on mild days, so make sure to choose a drone with good wind resistance capabilities and always be prepared to land if the wind becomes too strong. Another thing to keep in mind is that cold weather can often drain your drone's battery faster, so battery management is an important consideration. Be prepared with some space batteries and keep them warm until you need them.
A few more things to note about the impact of Iceland's weather on drone flying is that low visibility due to fog or heavy rain can be problematic. Never fly in these conditions, as you may lose sight of your drone. Also, be cautious when flying in icy conditions, as landing can be challenging. Be ready for a controlled landing or landing on soft snow.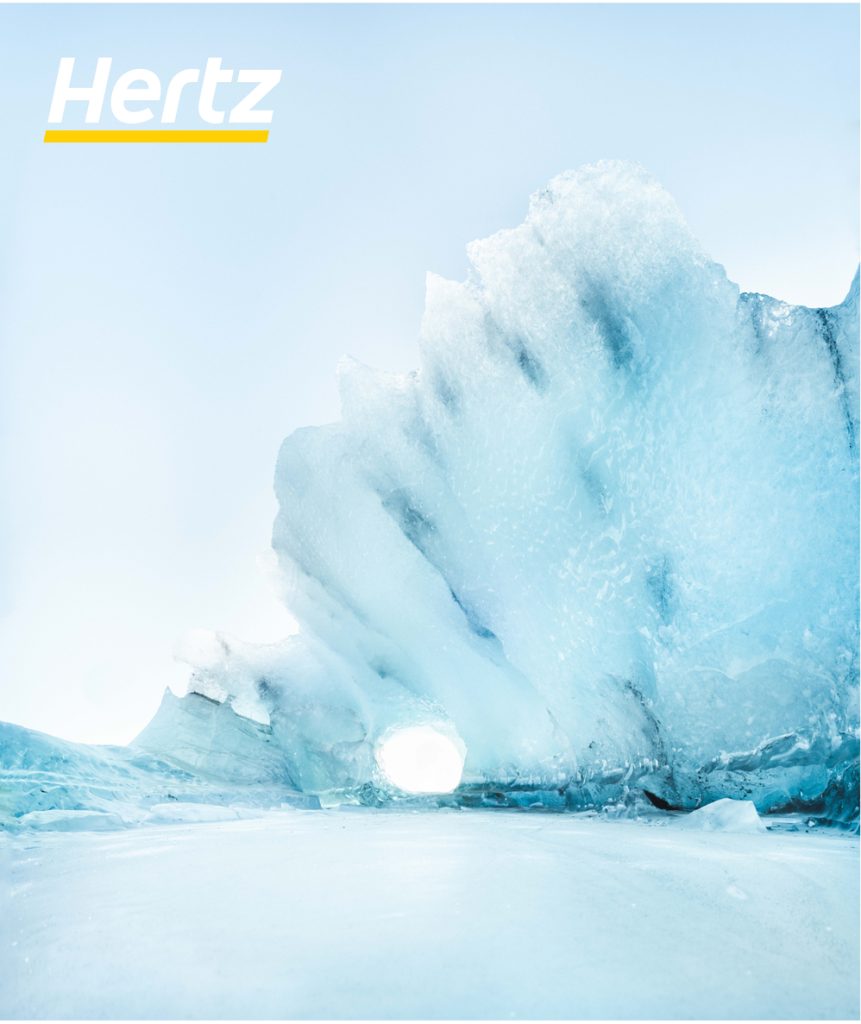 The Risk of Losing Drones to Wind and Weather
The harsh Icelandic weather poses a significant risk to drones. Strong winds can easily carry a lightweight drone off course or, worse, into inaccessible terrain. To mitigate this risk:
Always maintain a line of sight and keep a safe distance from wind-sensitive areas like cliffs.
Fly at a lower altitude if strong winds are present.
Be cautious about flying too close to water bodies, as sudden gusts of wind can lead to an unexpected splashdown.
In case your drone gets caught in unfavorable conditions, use the return-to-home function immediately to bring it back safely.
Have a well-defined plan for what to do if your drone gets lost or stranded in challenging conditions.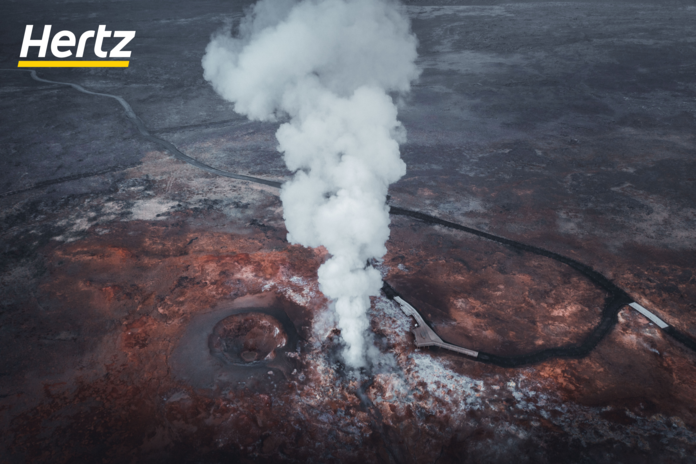 Drone flying in Iceland
From the stunning landscapes of the Golden Circle to the dramatic cliffs of the Snæfellsnes Peninsula, Iceland offers endless opportunities for captivating aerial photography and videography. As you embark on your drone adventure remember to prioritize safety, respect the environment, and adhere to local regulations. Iceland's unpredictable weather and unique geographical features make drone flying a thrilling but challenging experience, one that requires careful planning and preparation.
If you're planning a trip to Iceland for your drone adventure, make sure you have the right equipment and gear. But most importantly, ensure you have the freedom to explore the country by booking a rental car with Hertz.
With the flexibility and convenience of a rental car, you can access even the most remote drone photography locations in Iceland. If you have any concerns about whether or not you can fly your drone in a specific area, contact the Iceland Transport Authority directly.