Situated on the picturesque northern coast of Iceland, Iceland Húsavík is a charming fishing village that is renowned as Europe's whale-watching capital and, of course, the watching capital of Iceland. Husavik is also the recent hit film, "Eurovision song contest the story of fire saga" filming location. With its breathtaking natural beauty and abundance of marine life, Husavik offers a variety of attractions and activities for visitors.
People from around the world come to Husavik to witness the awe-inspiring spectacle of the many species of whales that inhabit the waters around Iceland. And beyond the whales, there are plenty of opportunities to immerse yourself in this charming town's natural wonders and cultural treasures. Renting a car is highly recommended to make the most of your visit to Húsavík.
A rental car will give you and your group the freedom and flexibility to explore the town of húsavík and its surrounding areas at your own pace. In this article, we will delve into the best things to do with a rental car in Husavik, ensuring an unforgettable adventure in this northern hub of Iceland.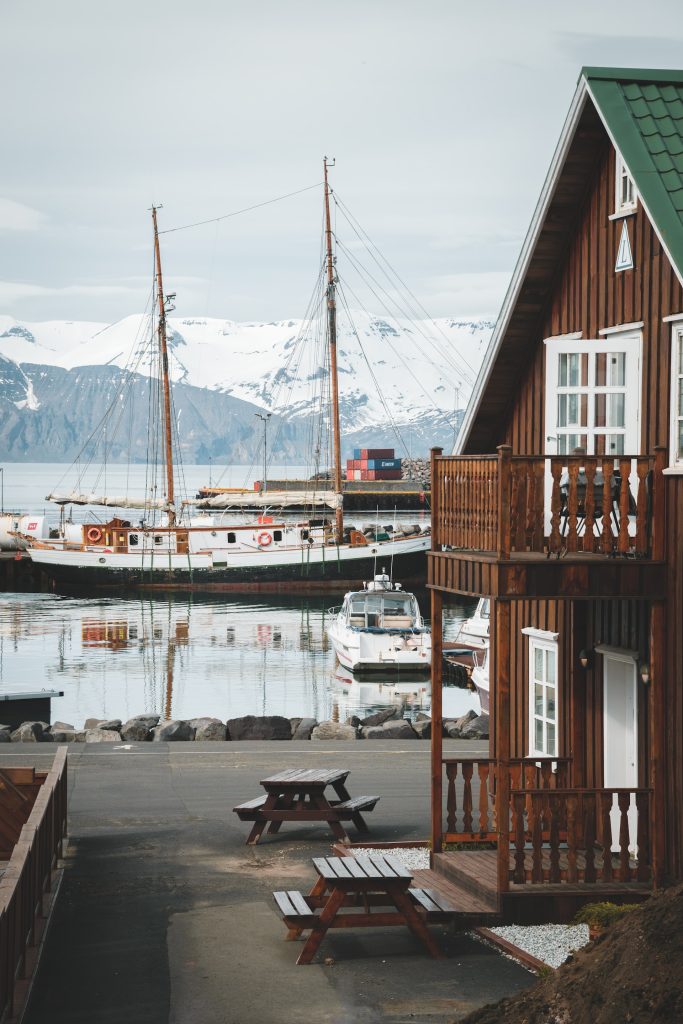 Table of content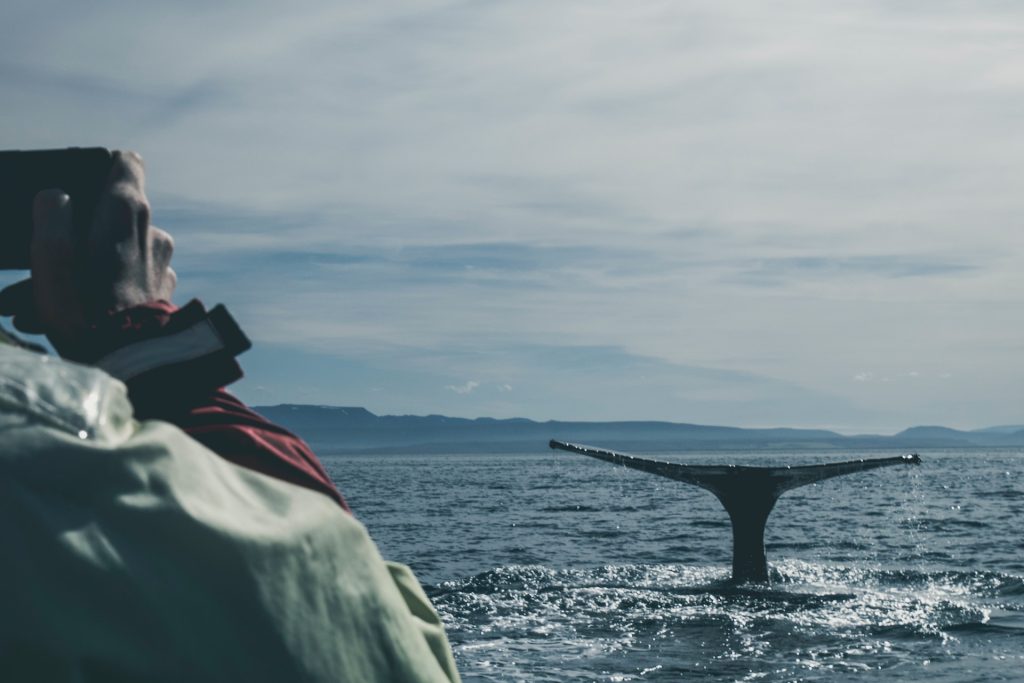 Where is Húsavík, Iceland? And why is it the whale-watching capital of Europe?
On the eastern shore of Skjalfandi Bay, you'll find Husavik, a coastal town located in the northern part of Iceland. It's about an hour north up the road from Akureryi, Iceland's capital of the north, and only about 46 minutes from lake mývatn off of Route 1 . Because of its location and the nutrient-rich waters of Skjalfandi Bay, it's an ideal habitat for various whale species and other marine life as well.
Where is Husavik: the map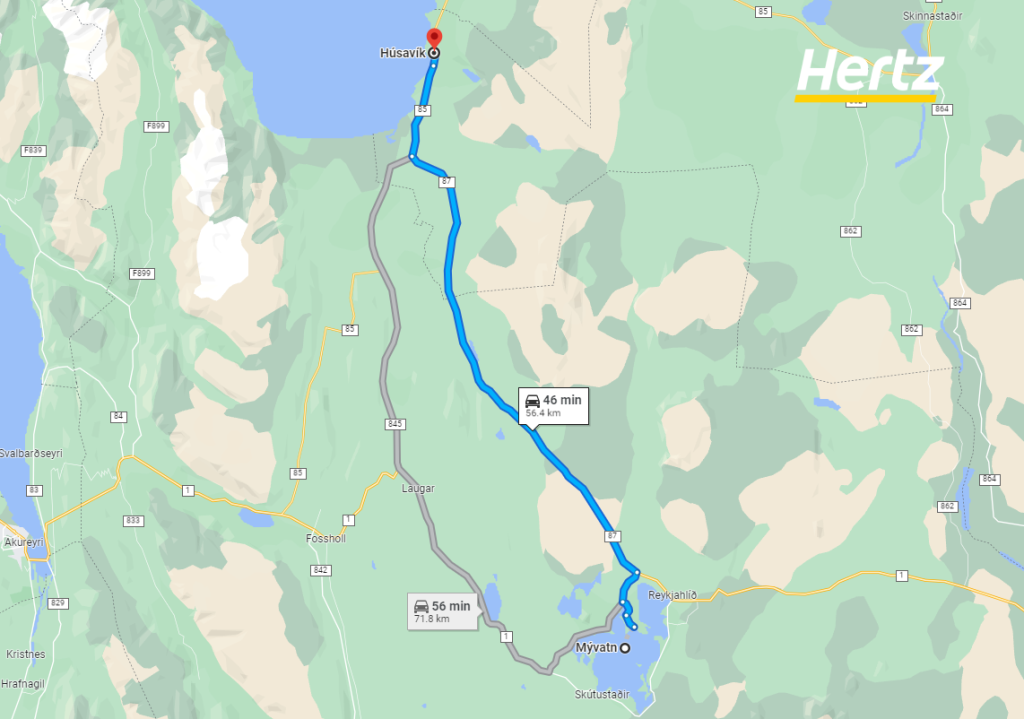 Husavik has gained its reputation as the whale-watching capital of Europe due to its high success rates in spotting whales. On each whale-watching tour, visitors are almost guaranteed to see at least one whale but will likely spot many more, especially in peak season. The bay attracts an abundance of marine life, including humpback whales, minke whales, dolphins, and more, making it a prime destination for nature enthusiasts and wildlife lovers.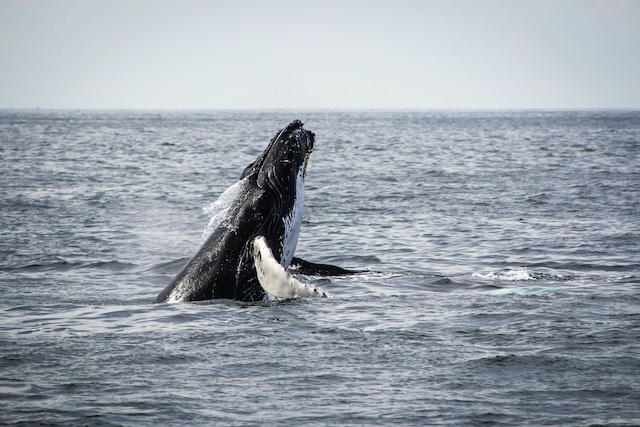 What does the Icelandic word Húsavík mean?
The name "Húsavík" translates to "bay of houses" in Icelandic. Husavik was the first place in Iceland to be settled back in the 860s by a Swedish Viking by the name of Garðar Svavarsson.
He spotted the bay when exploring the island during the winter, and as winter is not the opportune time to be out in the water, he decided to set up camp here and stay a while.
He ended up building himself a house there, and when he left, he allowed others to set up a farm there. More houses were built, and the name Husavik was given to the settlement.
In the early 1990s, Husavik gained recognition as the best place to spot whales in Europe, leading to the development of a thriving tourism industry centred around whale watching and marine conservation. Since then, the town has embraced its reputation and continues to be a haven for whale enthusiasts.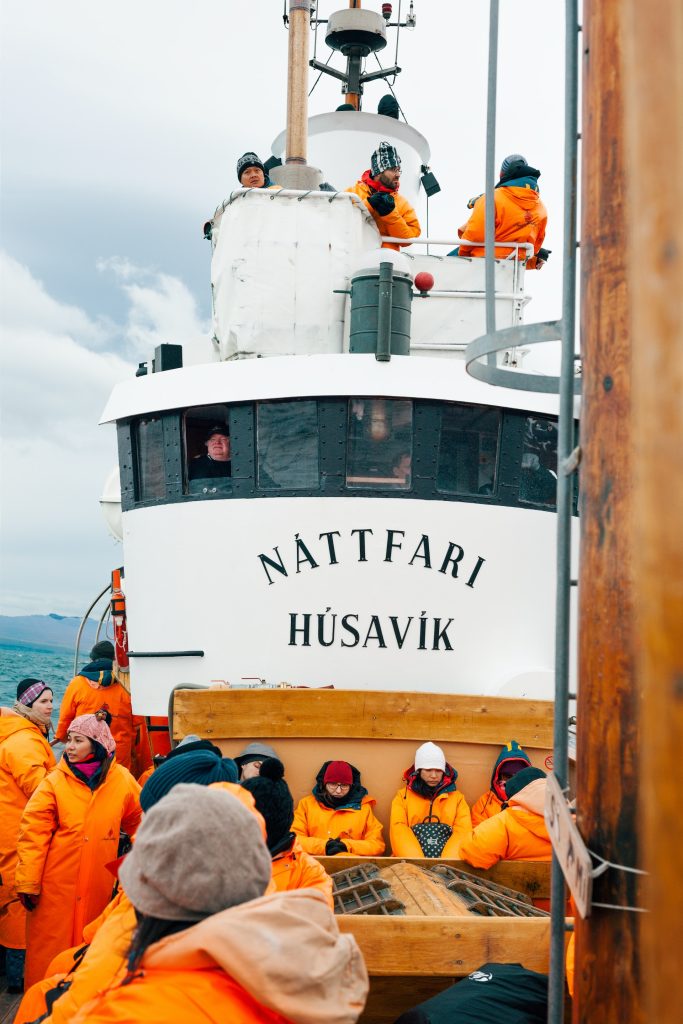 Getting to and around Husavik
There are a few different ways to get to Husavik, but they are limited because of its remote location. If you're arriving by air, you can fly into Iceland's Keflavik International Airport and then take a domestic flight to Husavik Airport with a local Icelandic airline.
But then, once you're in Husavik, you're basically stuck as there aren't many public transportation options. The most practical, convenient and fulfilling option is to embark on a scenic road trip from Reykjavik or other major Iceland cities. Renting a car is highly recommended for exploring Husavik and its surrounding areas, as it provides the convenience and flexibility to plan your own itinerary and travel at your own pace.
When it comes to renting a car, you'll find various options in Iceland. From compact cars to SUVs and 4×4 vehicles, there's a choice for every traveller. The type of car you choose depends on multiple factors, such as the season of your visit, the size of your group, and the amount of luggage you'll be carrying.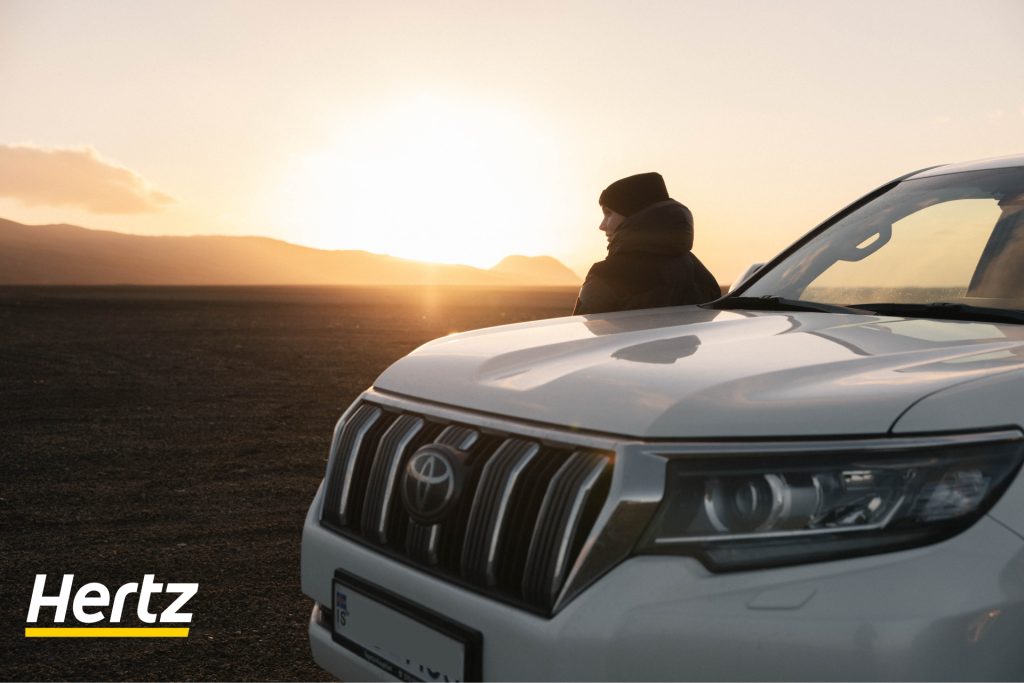 If you're visiting during the winter months, opting for a 4×4 vehicle is always recommended due to potentially challenging road conditions. If you're visiting in the summer months, Husavik is accessible with a 2WD mid-size or full-size car, provided you have no plans to visit the Iceland Highlands or explore the Iceland F-roads. For that, a 4X4 vehicle is legally required.
It's advisable to book your rental car in advance, especially during the peak travel season, which also happens to be the whale watching season. This is the best way to ensure availability and secure the best rates. Also, keep in mind that driving in Iceland may be different from what you're accustomed to, so it's important to familiarize yourself with the local driving rules and regulations.
Speed limits are strictly enforced, and driving on gravel roads requires extra caution. The weather conditions in Iceland are notorious for changing rapidly, so it's crucial to check the weather forecast and road conditions before embarking on your journey.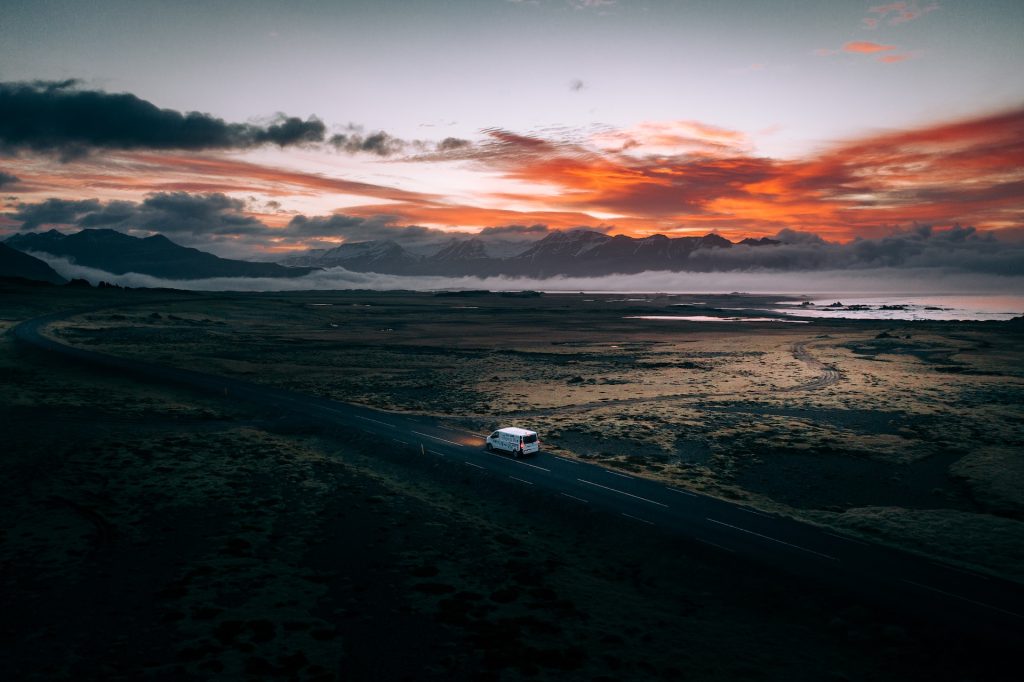 Best time to visit Husavik: Summer
While Husavik is a great destination throughout the year, the summer months, particularly from June to August, offer the best conditions for a visit. During this period, the weather is relatively mild, and the days are longer, allowing for extended exploration.
Not only does that mean you'll have the opportunity to experience the midnight sun in Iceland, but you'll also have more hours to go sightseeing. Summer is also the peak season for whale watching, as Skjalfandi Bay teems with humpback whales, minke whales, and even the occasional blue whale. It's important to note that while summer provides Hthe highest chances of spotting whales, whale-watching tours from Húsavík operate year-round.
However, during the winter months, the weather conditions in Iceland can be harsh, and the number of whale sightings may decrease. If you're visiting during the winter, it's recommended to check with the tour operators regarding the availability and conditions for whale watching.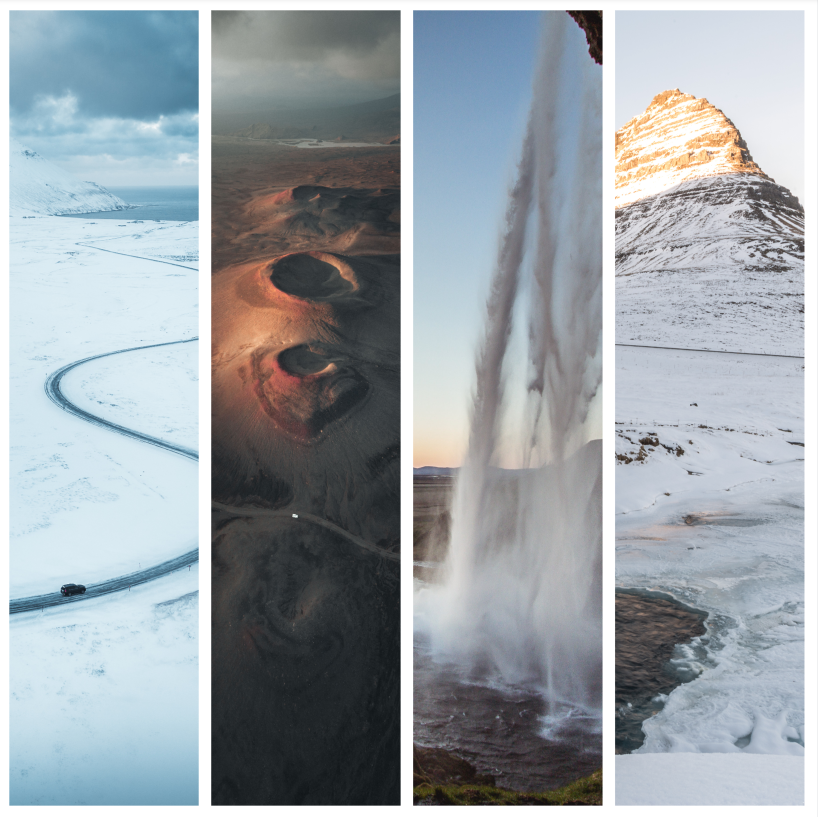 The top two things you must do in Husavik
Husavik is only a short detour off the popular Route 1 Ring Road in Iceland, making it a popular addition to many Iceland itineraries. And while experiencing this northern village is an experience in itself, there are two main things that you absolutely have to do when you visit.
1. Join a whale-watching tour to go whale-watching in Husavik
A visit to Husavik is incomplete without experiencing an Iceland whale-watching tour. If you head to the harbor you'll find several reputable tour operators offering various options for whale watching. Even though you can just show up and join a tour it's always advisable to pre-book your tour, especially during the peak season. If you don't book in advance than your spot isn't guaranteed and you may end up missing out on this epic experience.
The types of whale-watching tours available in Husavik vary, but most commonly, you'll find traditional whale-watching boats and RIB (rigid inflatable boat) tours. Traditional boats offer a more relaxed and comfortable experience, while RIB tours provide a thrilling and adventurous ride.
The Husavik whale-watching tours we recommended:
During the tour, keep your eyes peeled for the magnificent humpback whales, playful dolphins, and other marine life that call Skjálfandi bay home. You may also spot minke whales, orcas, fin whales, sperm whales and, if you're really lucky, blue whales. The tour guides are knowledgeable and provide fascinating insights into the behaviour and biology of these majestic creatures.
Many companies are operating whale-watching tours in Husavik, but some of the best ones include Gentle Giants, Húsavík Adventures, and North Sailing.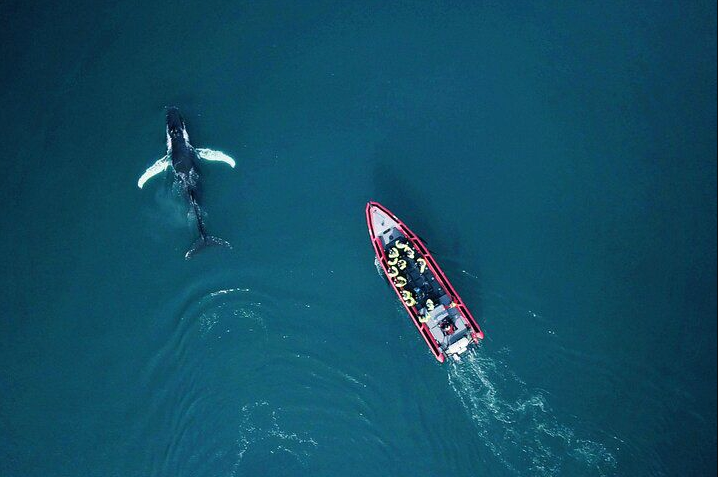 2. Visit the Husavik Whale Museum
For a deeper understanding of whales and conservation initiatives, we recommend visiting the Husavik Whale Museum. This civic museum is dedicated to educating visitors about whales' biology, behaviour, and history. As you explore the museum, you'll find a fascinating collection of whale skeletons, interactive exhibits, and informative displays that showcase the importance of preserving these majestic creatures and their habitats.
Admission is around 2200 ISK ($16 USD), and children until 16 get in for free. You can also pay extra and get a guided tour of the museum with a knowledgeable guide. The museum offers a captivating journey into the world of whales and provides valuable insights into the ongoing efforts to protect them.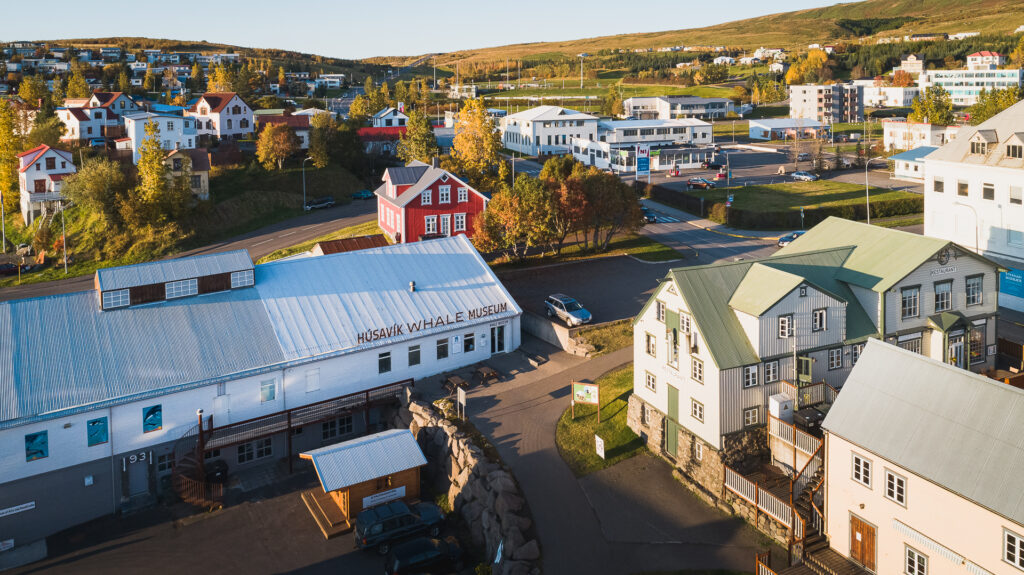 Photo from the Husavik Whale Museum website
Tips for visiting Husavik with a car
The best way to reach Husavik is with a rental car. In fact, unless you're willing to spend upwards of 20 hours on buses, or spend extra money on a flight, renting a car is basically the only practical way to get there.
Plus, driving yourself gives you the opportunity to experience the Icelandic landscapes and attractions along the way. Before you rent a car and set out on your journey, there are a few things to keep in mind about visiting Husavik with a car. Here are our top tips:
1. Book everything in advance
To ensure a smooth and hassle-free trip, it's advisable to book your rental car, whale-watching tours, and accommodations in advance, especially during the peak summer months. This will help you secure the best options and avoid any last-minute availability issues.
2. Keep an eye on the weather
Iceland's weather can be unpredictable, so monitoring the weather conditions during your stay is essential. If the weather is unfavourable, particularly if there are strong winds or rough seas, there's a possibility that whale-watching tours may be cancelled for safety reasons. Stay updated with tour operators, and keep an eye on your email inbox for any notifications or changes to your scheduled tours. You can check Iceland weather updates at vedur.is.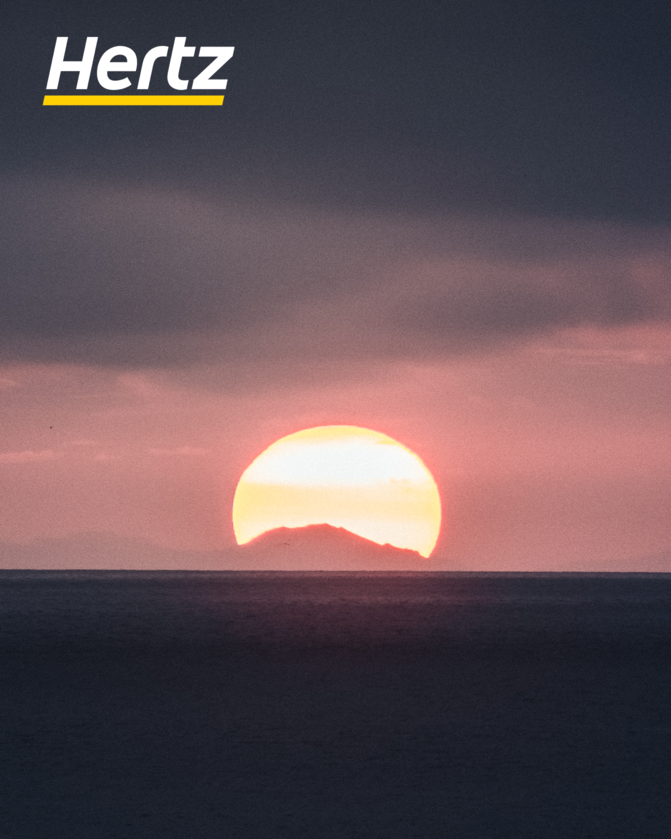 3. Dress appropriately
Husavik's coastal location means that temperatures can be chilly, even during the summer months. When packing for Iceland, It's important to bring enough warm and waterproof clothing, including hats, gloves, and sturdy shoes. Layering is key to adjust to the changing weather conditions. Additionally, don't forget to bring binoculars and a camera to capture the stunning landscapes and wildlife encounters.
4.Explore the surrounding areas
While Husavik itself offers incredible experiences, don't miss the opportunity to explore the surrounding areas with your rental car. Drive along the scenic coastline, visit nearby natural attractions such as the Asbyrgi Canyon and the most powerful Iceland waterfall, Dettifoss Waterfall, or venture into the Iceland highlands for a unique adventure. Having a rental car allows you to go off the beaten path and discover hidden gems that are often inaccessible by public transportation.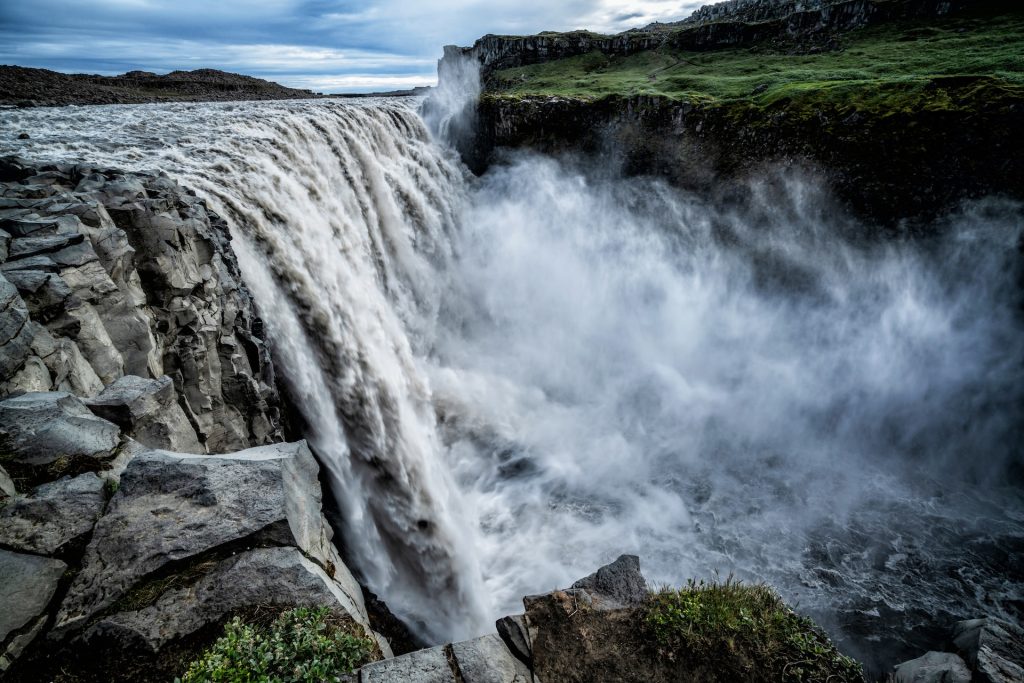 Visiting Husavik Iceland
Renting a car is the ideal way to maximize your exploration of Husavik and its surrounding areas. From the exhilarating experience of whale-watching tours to the educational journey through the Húsavík Whale Museum, Húsavík offers a wealth of experiences for nature lovers and wildlife enthusiasts. With a rental car, you have the freedom to create your own itinerary, stop at scenic viewpoints, and immerse yourself in the stunning landscapes of this remarkable region.
By following the tips mentioned in this article, you can ensure a seamless and unforgettable visit to Husavik. Remember to respect the environment and wildlife, adhere to driving regulations, and support local businesses and conservation efforts. Always book your rental car online, and in advance with Hertz Iceland to ensure you get the most suitable option for your visit to Husavik. Get ready to experience the wonder of Iceland's northern coast, and make memories in Husavik, Iceland.