Svartifoss is a beautiful waterfall in Iceland that adorns the lush landscapes of south Iceland, marking its presence in the esteemed Vatnajokull National Park. In this guide, we'll delve into the intricate details surrounding Svartifoss, including its location, the route map for ease of navigation, and the hike path leading to this iconic natural wonder.
All About Svartifoss Waterfall
Nestled in the captivating Skaftafell Nature Reserve within the vast landscapes of Vatnajökull National Park, Svartifoss stands as a remarkable spectacle. The waterfall's waters come from the Svinafellsjokull glacier and flow over black basalt columns that look like the pipes of a grand organ.
This awe-inspiring natural structure isn't only a mesmerizing visual display but also a source of inspiration for iconic icelandic architects like Reykjavik's Hallgrímskirkja church and the National Theatre. These stunning columns owe their existence to the intricate process of slow cooling and crystallization of lava flows, echoing the magnificent geological formations visible at the Giant's Causeway in Northern Ireland and the island of Staffa in Scotland.
Each element, from the pristine waters to the geometrically perfect basalt columns, contributes to making Svartifoss a distinguished landmark within the lush confines of Vatnajökull National Park and the serene Skaftafell Nature Reserve.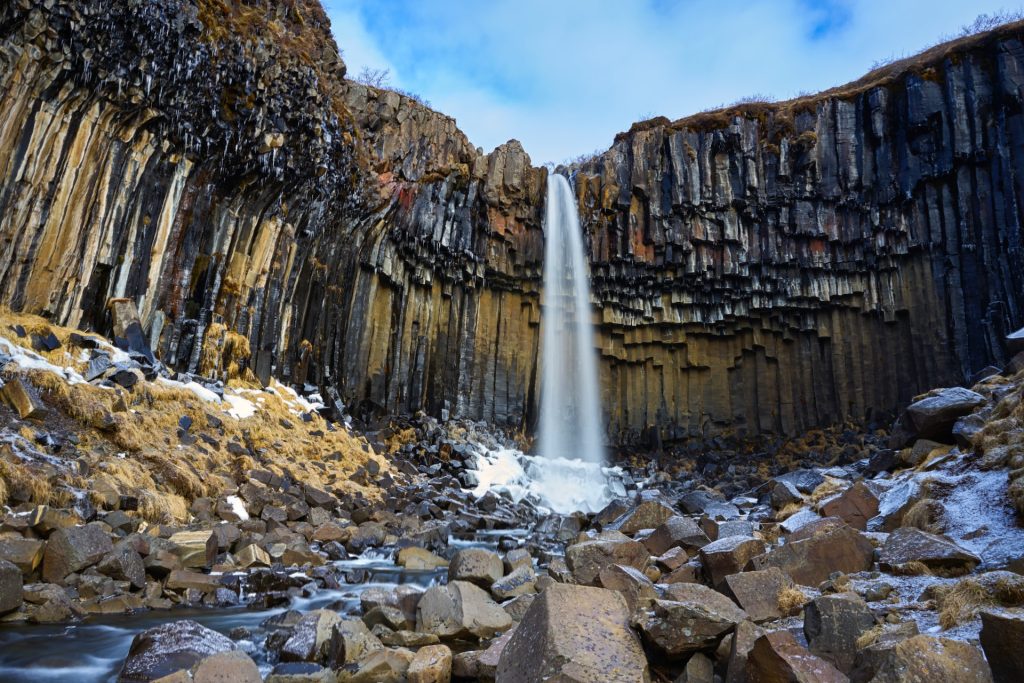 What does 'Svartifoss' mean in English?
The name "Svartifoss" translates to "Black waterfall" in English, a title earned from the dark, hexagonal basalt columns that frame the waterfall, creating a dramatic contrast with the falling water's pristine whiteness.
Where is the waterfall Located?
Svartifoss waterfall is located in the Skaftafell area of Vatnajokull National Park in south Iceland. The park is known for its unique combination of glacier tongues, expansive lava fields, and rich greenery. To reach the waterfall itself, visitors take a picturesque drive via the Iceland route 1 ring road to the visitor center, followed by a moderate hike through varied landscapes, each step closer revealing the natural beauty that characterizes this region.
Get to Svartifoss with a rental car
Embarking on a journey from Reykjavik to Svartifoss is a visual feast. Your drive, stretching over four captivating hours, will be enriched with panoramic vistas, each telling tales of Iceland's diverse and dynamic landscapes. Your route east along Route 1 Ring Road promises attractions like the waterfalls of Seljalandsfoss and Skógafoss, the majestic glaciers Mýrdalsjökull and Eyjafjallajökull, and the iconic cliffs of Dyrhólaey and Reynisdrangar. Our range of Iceland rental cars ensures that every traveler finds their perfect companion for this enchanting journey.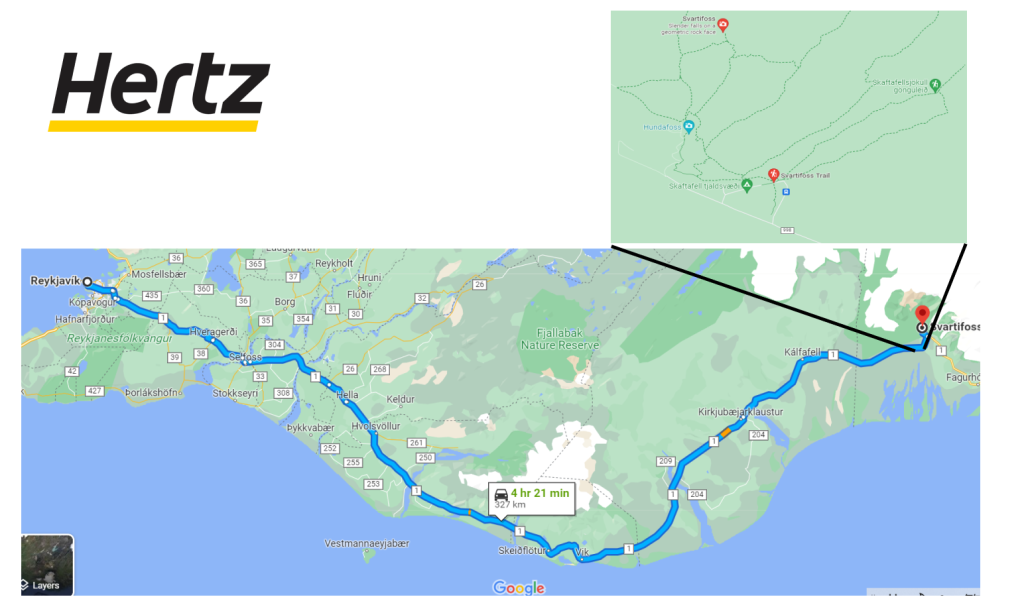 The Svartifoss waterfall hike
Your arrival at Skaftafell visitor center marks the beginning of an approximated 45-minute hike to the waterfall. The trail, slightly hike uphill, promises a rewarding experience, unveiling not just the Black Falls but also the Þjofafoss, Hundafoss, and Magnusarfoss waterfalls. While the hike requires moderate effort, each step unveils a blend of natural beauty and tranquility, ensuring a rewarding experience. Svartifoss, though not imposing in its height, standing at 20 meters (66 feet), captivates with its unique basalt columns and tranquil surroundings.
Is it a difficult hike?
While the hike to Svartifoss is manageable for all, it involves some uphill paths, requiring a moderate level of fitness and the spirit for a gentle adventure.
The Svartifoss waterfall trail map from Skaftafell visitor center
About the hiking Trail
The trail is a renowned 3.2-km (from visitor center to svartifoss) out-and-back hiking path located near Skaftárhreppur in Southern Iceland. Embarking on this journey, hikers find themselves enveloped in the scenic beauty of Skaftafell National Park, a space teeming with natural splendor and geological wonders. Though moderately challenging, the well-maintained trail is frequented by hiking enthusiasts and runners, making it a bustling pathway of exploration and discovery.
The hike is characterized by an uphill terrain that's splendidly maintained, ensuring a pleasurable experience for those who traverse it. A paid parking area serves as the commencement point for this exhilarating journey which is often busy, given the trail's popularity. For optimal visual experience, an early morning hike is recommended as the lighting accentuates the majestic allure of the falls.
As travelers ascend the trail, the first spectacle they encounter is Hundafoss, the tallest of the three waterfalls along this route, standing as a testament to the area's natural richness. Progressing further, Magnúsarfoss unveils itself, the smallest waterfall yet no less captivating, marking the trail's midpoint with its serene ambiance.
The trail's pièce de résistance, Svartifoss, is preluded by the sight of remarkable columnar basalt formations.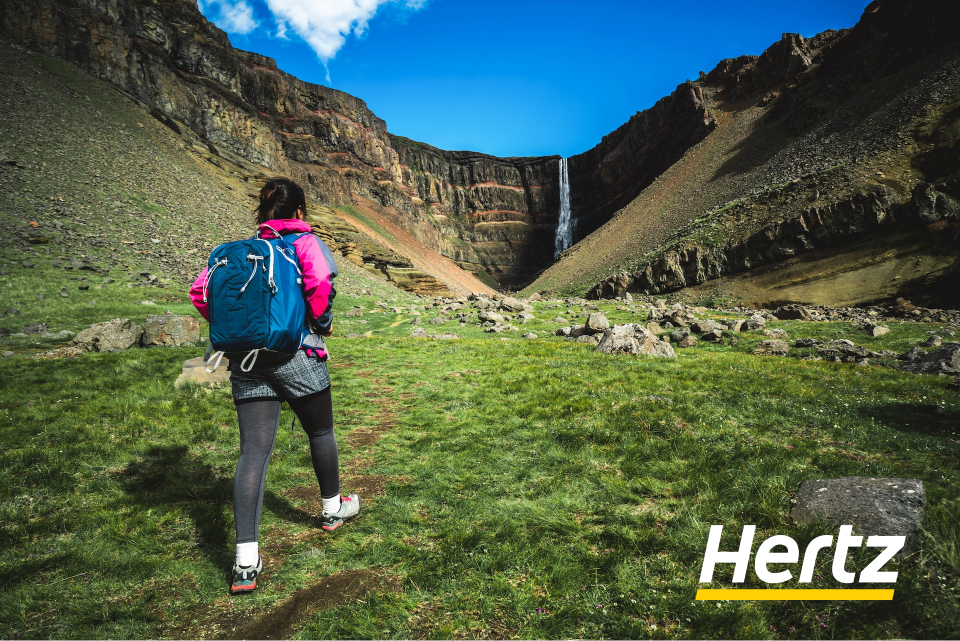 Frequently Asked Questions (FAQs)
Can You Drive to Svartifoss?
While direct access to the waterfall by car isn't available, visitors can drive to the Skaftafell Visitor Centre. From there, a scenic hike through well-marked trails leads to Svartifoss.
How Did Svartifoss Form?
The unique black basalt columns are a result of a slow cooling process of lava flows, leading to the crystallization and formation of the hexagonal shapes that grace the backdrop of the waterfall.
How high is Svartifoss?
Sit is boasts a graceful plunge of approximately 20 meters (around 66 feet), where the cascade elegantly dances down, framed by the iconic dark basalt columns.
Can I visit Svartifoss year-round?
Indeed, Svartifoss welcomes visitors throughout the year. However, it's worth noting that winter visits may present more challenging hiking conditions, with icy or snowy terrains enhancing the adventure.
Is there an admission fee to visit Svartifoss?
Entry to Vatnajökull National Park and Svartifoss does not incur an admission fee. However, visitors should be prepared for a parking fee at the Skaftafell visitor center.
What should I wear to visit Svartifoss?
it's advisable to wear layered clothing and sturdy, comfortable hiking boots to navigate the terrains. Given Iceland's unpredictable weather, waterproof attire is recommended to stay dry amidst the waterfall's misty embrace.
Is Svartifoss wheelchair accessible?
Regrettably, the trail leading to Svartifoss is not wheelchair-friendly because of its natural terrains, making it challenging for visitors with limited mobility.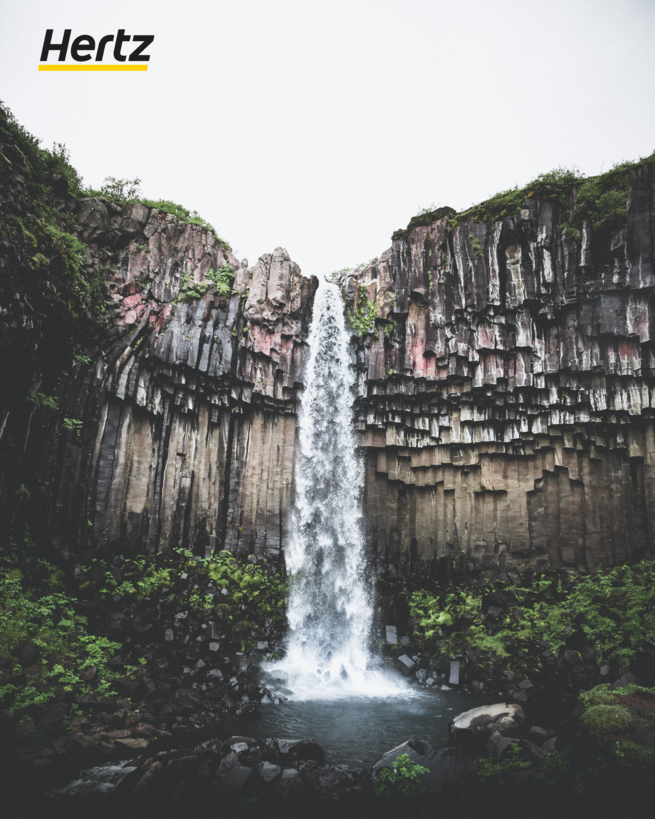 Tips for a Memorable Visit: What else to do in the area?
Though Svartifoss and Skaftafell are sometimes overshadowed by the renowned Jökulsárlón glacier lagoon and Diamond Beach, they stand as unparalleled natural havens of beauty. The ease of access via a rental car ensures that guests can immerse themselves in the panoramic splendor en route and the tranquility that Svartifoss offers. Dressing in layers, donning sturdy hiking boots, and embracing the ever-changing Icelandic weather promise an unforgettable experience.
In addition to the serene and mesmerizing atmosphere offered by Svartifoss, the surrounding area is a treasure trove of activities and scenic spots that will undoubtedly enrich your visit. One of the remarkable adventures that shouldn't be missed is glacier hiking.
It's essential to remember that exploring the magnificent glaciers requires joining a guided tour to ensure safety and an enriching experience. With the guidance of experienced professionals, equipped with ice axes and crampons, you'll embark on an expedition to explore the crevasses, ice formations, and the mesmerizing blue hue of the glaciers. Each step on this guided journey unveils the spectacular views and pristine beauty of Iceland's frozen landscapes, promising an adventure that lingers in memory long after the journey.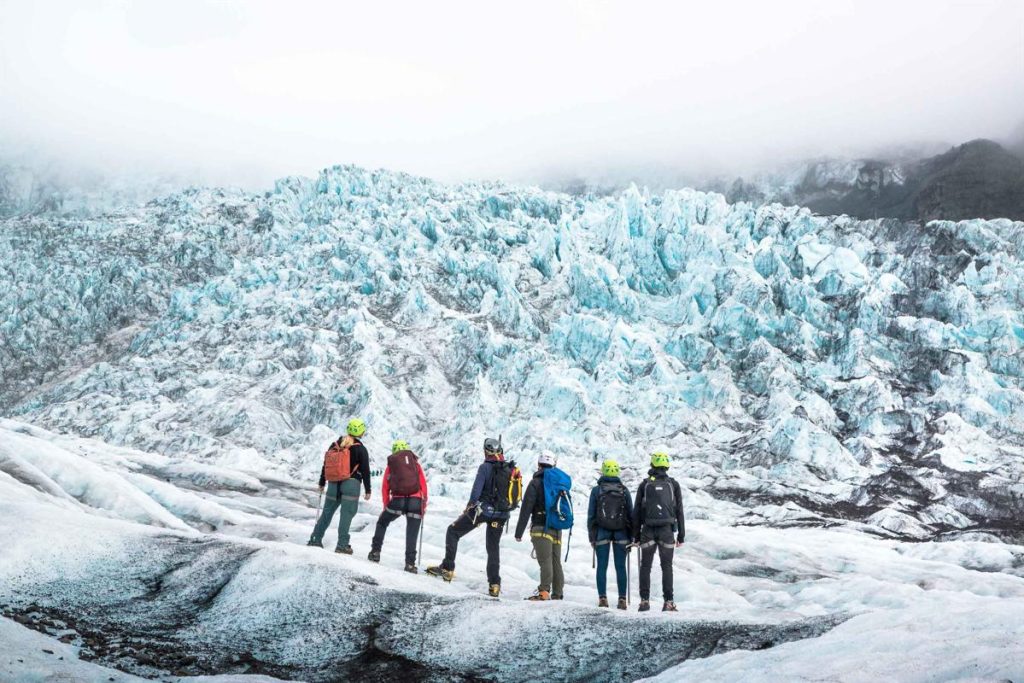 Furthermore, to delve into the historical and cultural aspects of Iceland, visiting a traditional turf house is an experience not to be missed. The turf farm at Núpsstaður, located near the Golden Circle area, provides an excellent opportunity for travelers. As you embark on your journey to Skaftafell, the route offers a chance to pass by and explore these iconic structures.
With their grass-covered roofs and cozy interiors, the turf houses offer a glimpse into Iceland's architectural ingenuity and historical lifestyle. Every element of these homes tells a tale of a harmonious blend of nature and architecture, serving as both an aesthetically pleasing and functional testament to the nation's historical sustainable living practices.
This convenient location ensures that your journey to the majestic Svartifoss can be enriched with a touch of cultural immersion, adding a layer of historical exploration to your natural adventure.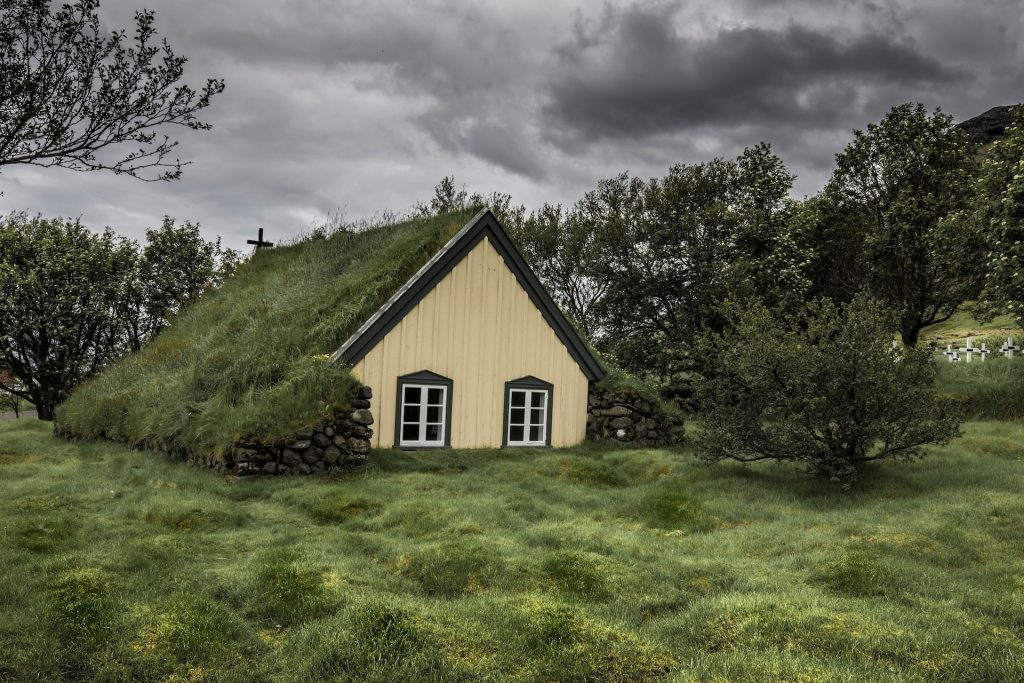 Visit the Svartifoss waterfall
A rental car isn't just a means to reach Svartifoss—it's your ticket to an unscripted journey through Iceland's breathtaking landscapes. Every turn, every stop, and every new discovery writes a chapter of a story that's uniquely yours. Svartifoss, with its cascading waters and iconic black basalt columns, isn't the end of the journey; it's a mesmerizing highlight of Iceland's untamed beauty.