Sky Lagoon vs Blue Lagoon– which one suits you?
Most people are familiar with the Blue Lagoon in Iceland. The geothermal pools make it one of the most popular attractions in the entire country. But in 2021, a new geothermal lagoon opened only minutes from downtown Reykjavik that rivals the spa experience of Blue Lagoon, and it's called Sky Lagoon Iceland.
While both lagoons share some similarities, there are features that set them both apart and make them unique. Sky Lagoon is incredibly easy to access from Reykjavik and offers beautiful views out over the North Atlantic Ocean. You can even watch the sunset directly over the water while soaking in the thermal baths and may even get lucky enough to see the northern lights.
But why should you choose Sky Lagoon over the popular Blue Lagoon? What else does it have to offer? And if you can only choose one, which one suits you best? Find out all this and more in this guide to Sky Lagoon Iceland.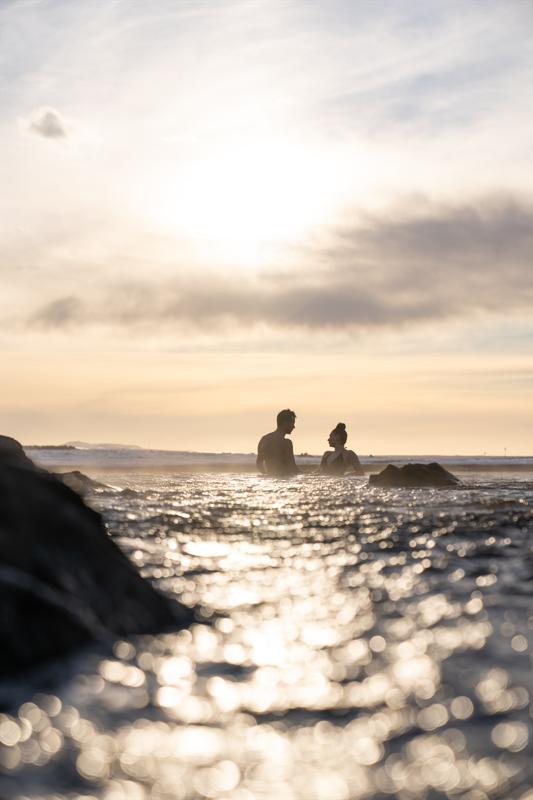 Table of content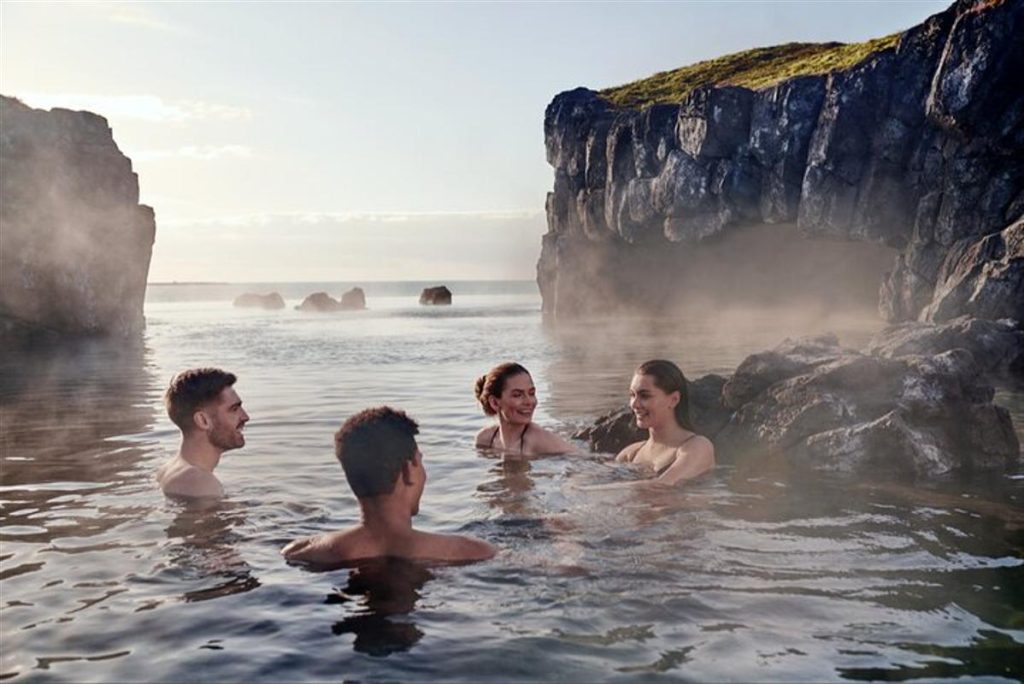 About Sky Lagoon Iceland: Where is sky lagoon? How much are the passes? What experiences are available?
Sky Lagoon Iceland is located less than 20 minutes from central Iceland in Kársnes Harbour. This geothermal lagoon is the perfect place to relax, unwind, and stay warm while listening to the crashing of the waves while enjoying beautiful vistas over the ocean. Many of the travelers love the sky lagoon experience especially after a whole day of touring around the city.
A brief history of Sky Lagoon
As early as the 1980s, local Icelanders were already bathing in the therapeutic waters of the Blue Lagoon. And up until recently, it was the go-to geothermal bath in the Reykjavik area. But in the spring of 2021, Sky Lagoon opened in Kársnes Harbour.
The modern design incorporates historical elements to create a setting that is quintessentially Icelandic. They've paid special attention to ensure that Sky Lagoon highlights the natural beauty of Iceland while offering the amenities that make the spa experience more luxurious.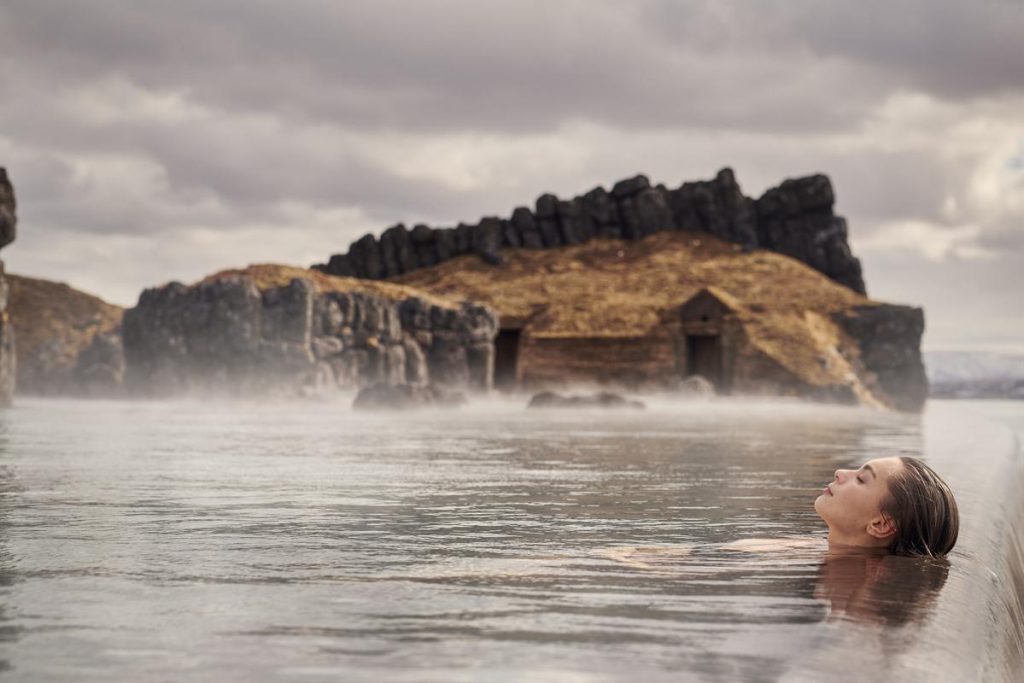 Where is Sky Lagoon: a map location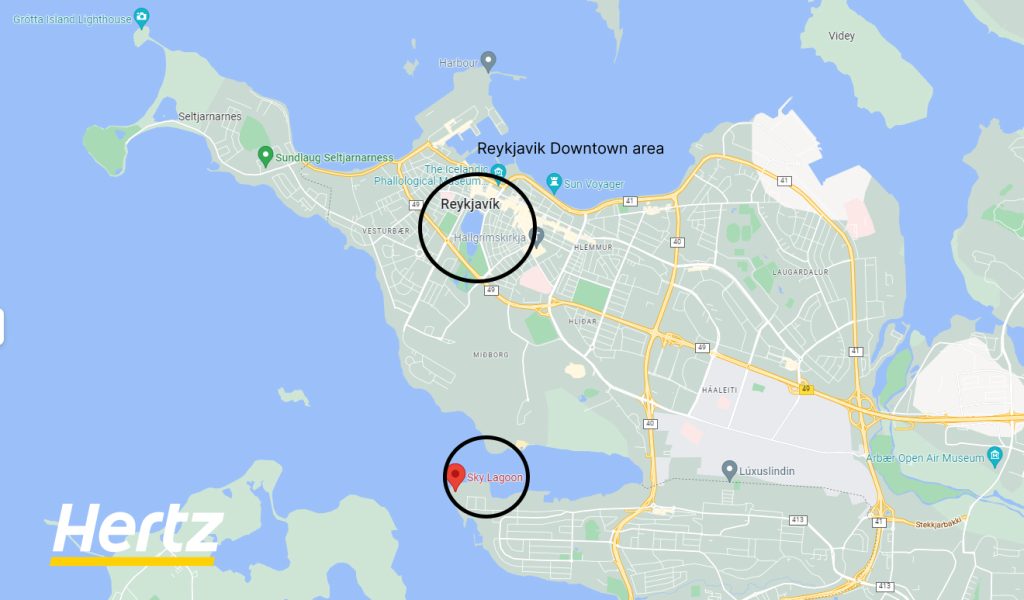 How to get to Sky Lagoon Iceland? What car you should rent?
As with every location in Iceland, the best way to get around the country is by rental car. Even though Sky Lagoon is so close to downtown Reykjavik, the taxis can be pricey, and they won't give you the opportunity to explore the rest of the island. Public transportation is also limiting if you intend to use it as your only means to get around since it won't allow you to reach all the attractions you want to see.
Renting a car in Iceland gives you the flexibility to adapt your itinerary however you choose and make adjustments based on what your group wants to experience in Iceland. Check out some great self-drive Iceland itineraries here, and pop in Sky Lagoon during your time in Reykjavik. You can easily get from your accommodation in Reykjavik city center to Sky Lagoon in about 15 minutes. And from there, you can explore the rest of Iceland!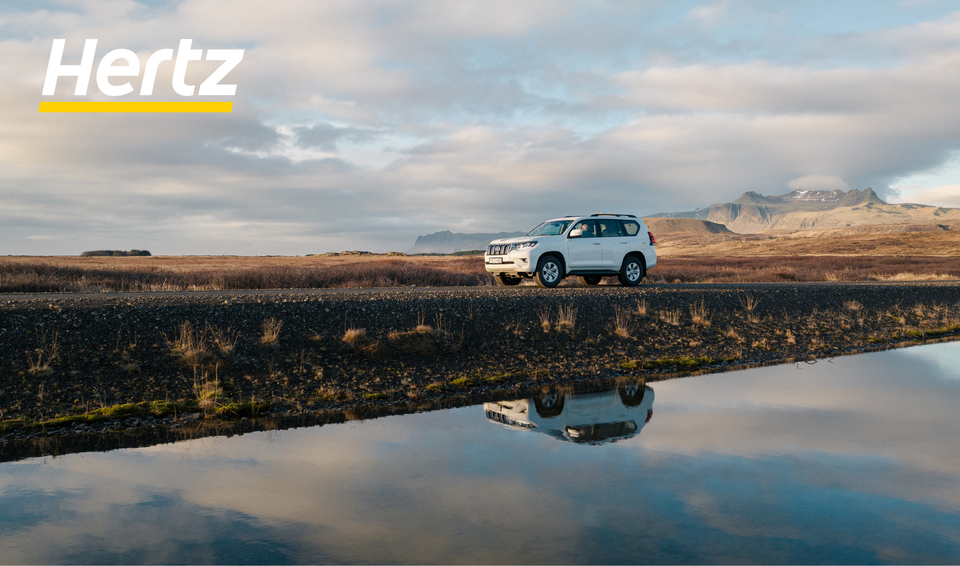 The best rental car for your trip to Sky Lagoon will depend on when you're visiting and what the rest of your trip looks like. If you're visiting Iceland during the winter, then we always recommend a 4X4 rental vehicle, even if you just plan a short trip around The Golden Circle. Even though the roads are well maintained throughout the year, they can still become slippery and snow-covered during the winter months as the Iceland weather is unpredictable.
During the summer months, the Route 1 Ring Road is almost always clear, meaning that you can get by with a 2WD compact or intermediate-size car. That said, if you plan to visit the fjords or drive any F-roads, then you will need a 4X4.
While the season is a big indicator of what rental vehicle you will need, you'll also need to consider how many people you have in your group and how much luggage you plan to bring. An economy or compact car is really only suited for small groups of 2 to 3 people. So you'll need an intermediate or full-size if you have 3 or more people.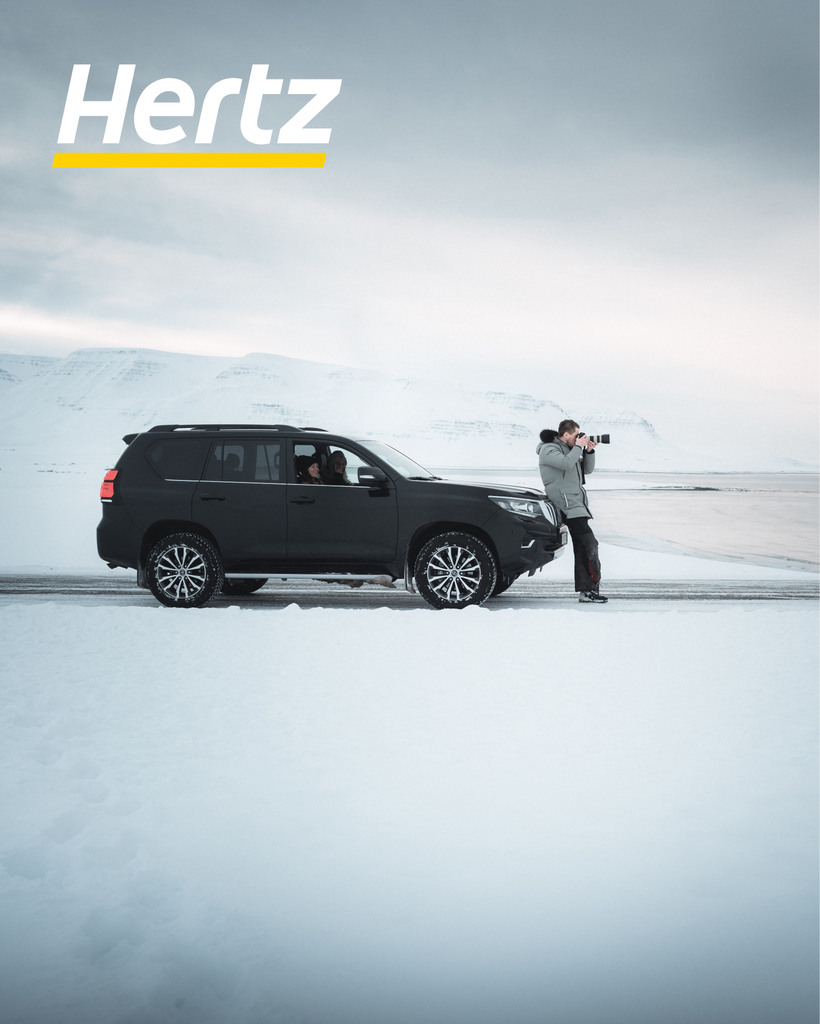 The different passes at Sky Lagoon: types and prices
The Sky Lagoon has three main passes to choose from:
Pure Lite Pass
Pure Pass
Sky Pass
Price: ISK 7,990 (≈ 55 USD)

What's included? The Pure Lite pass includes admission to the Sky Lagoon, access to public changing facilities, and a towel.
Price: ISK 9,990 (≈70 USD)

What's included? The Pure Pass includes admission to the Sky Lagoon, access to public changing facilities, a towel, and the Icelandic signature seven-step ritual.
Price: ISK 13,900 (≈97 USD)

What's included? The Sky Pass includes admission to the Sky Lagoon, access to private changing rooms and complimentary Sky Body Lotion, a towel, and the Icelandic signature seven-step ritual.
Table info updated in 2023. please refers to the sky lagoon official website for prices updates
Sky Lagoon also offers packages for 2, which are perfect for couples. These passes start at ISK 28,490 (199 USD) and offer the same as the Pure and Sky passes but also include a drink and food platter.
With all of the packages, guests have access to the three on-site drink and snack bars.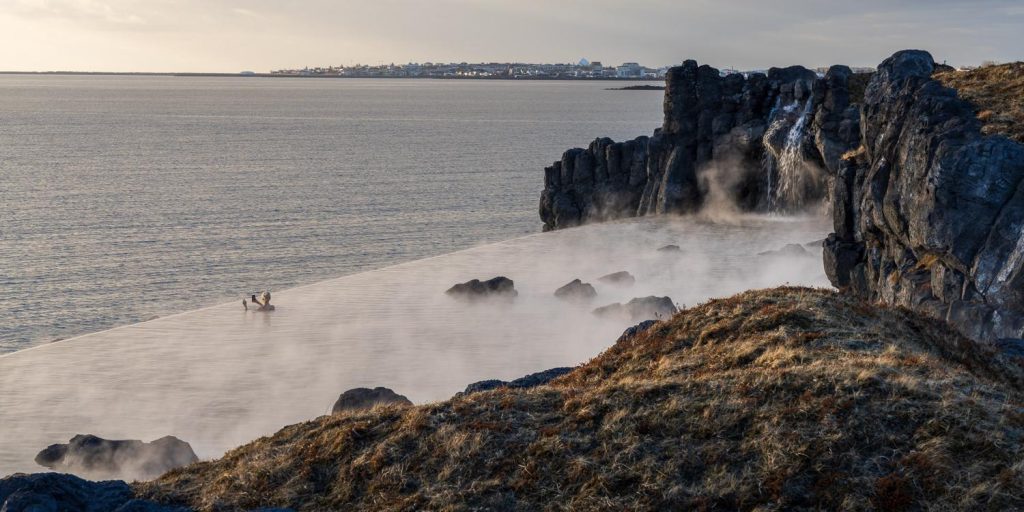 What special experiences are available at Sky Lagoon
Sky Lagoon is more than just a geothermal pool. It offers some unique experiences that you won't find at the Blue Lagoon Iceland. Here are some of the things you can expect when you visit the Sky Lagoon:
1. The 7 steps spa Ritual
The most notable experience at Sky Lagoon is their seven-step ritual that is included with all passes except the Pure Lite. The Ritual has been used for many years in Iceland to harness the power of water in a seven-step system that promotes both inner and outer healing. The Ritual includes:
Soaking in the geothermal hot water of Sky Lagoon.
A cold plunge pool- very cold water, which helps stimulate blood flow and supports a healthy immune system.
Detox and warm up in the sauna for 15 minutes overlooking the ocean, which opens your pores and encourages the release of toxins.
Refresh your skin with a cold mist.
Scrub your body and exfoliate your skin with the Sky Body Scrub.
Take a steam bath in the steam rooms to help your skin absorb the benefits of the Sky Body Scrub.
Finish with a cleansing warm shower to end The Ritual.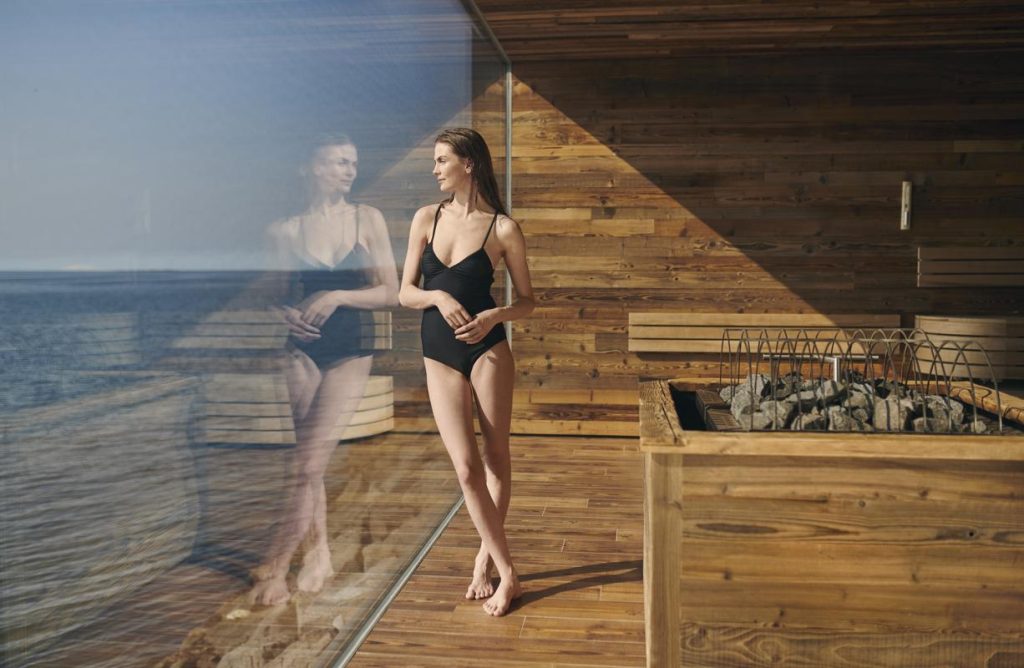 2. Infinity pool
The Sky Lagoon is a geothermal infinity pool that seemingly flows straight into the Atlantic Ocean. It's the only thermal infinity pool in the entire country, allowing you to look out over the stormy ocean from the warmth and comfort of the lagoons' warm waters.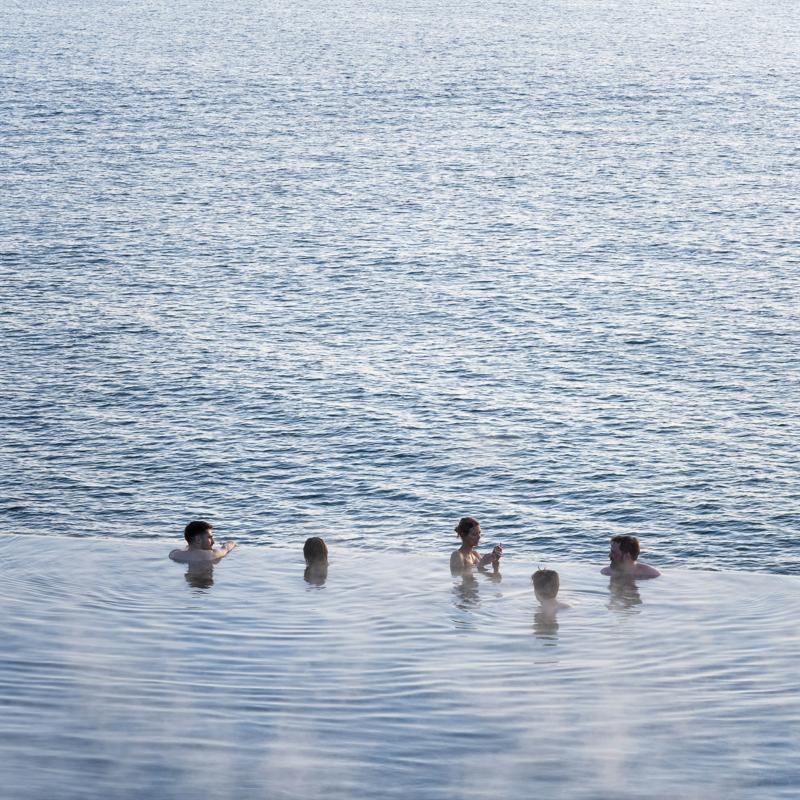 3. See the northern lights during the winter and the midnight sun in the summer
From Sky Lagoon; visitors have the potential to see the northern lights Iceland. If you visit the Sky Lagoon during the winter season, there is a chance of seeing the northern lights from within the pools themselves. And if you're visiting during the summer, you can enjoy the unique experience of the midnight sun, as the lagoon is open until 11 pm.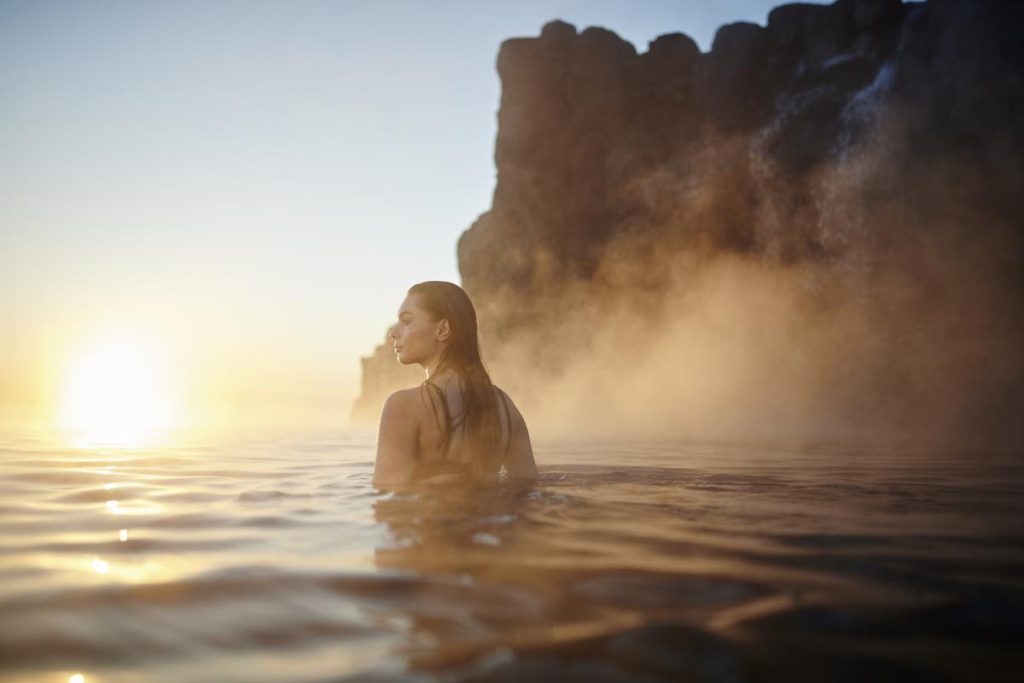 4. Ocean views vs. lava field
While the Blue Lagoon is located in a lava field, providing otherworldly views of the landscape, Sky Lagoon features unparalleled views over the North Atlantic Ocean. While there are many places in Iceland that offer views out over the ocean, there's nowhere else where you can enjoy them from a peaceful haven of tranquility and warmth like Sky Lagoon.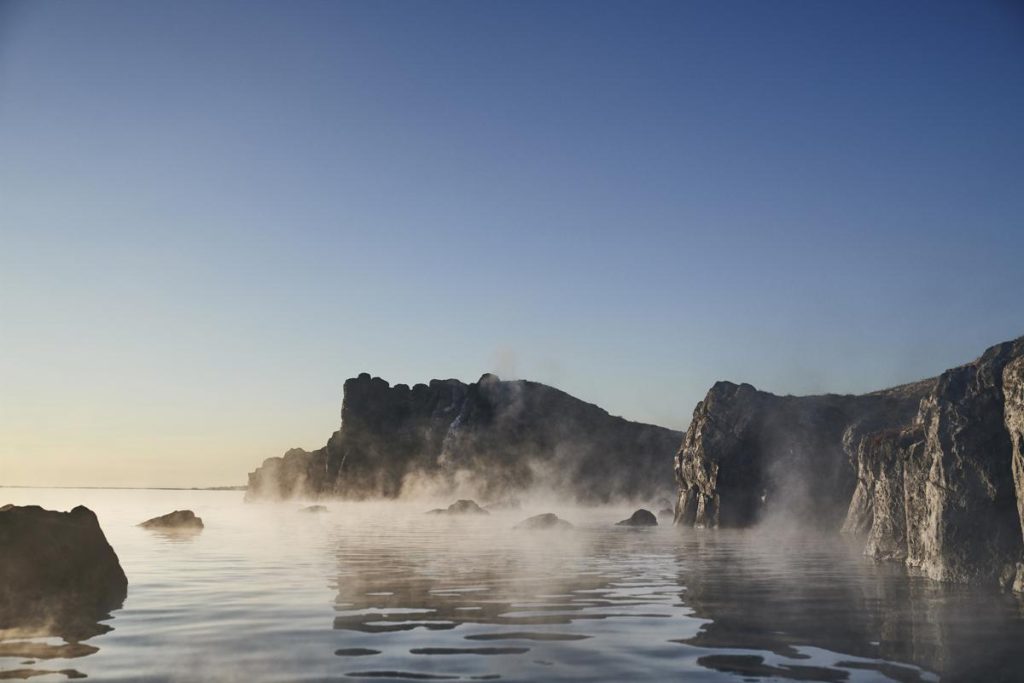 5. On-site beverage and snack bars
Sky Lagoon has three on-site beverage and snack bars. The Lagoon Bar is a swim-up bar built into the side of a cave right inside the lagoon. They offer Icelandic beers and other local drinks for you to enjoy while you're in the main lagoon. There's also the Sky Cafe, where you can purchase soups, sandwiches, and local classics, and Smakk Bar, which features tasting platters of local cheeses, seafood, pates, and more.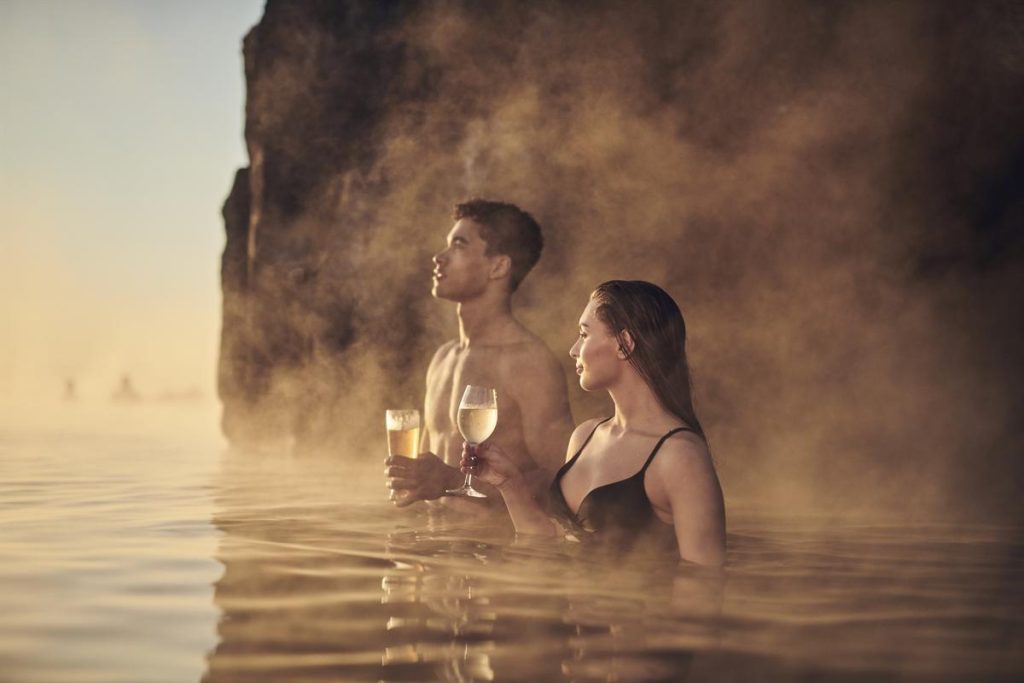 Should you visit Sky Lagoon or Blue Lagoon? Is Sky Lagoon worth it?
Are you still stuck between choosing Sky Lagoon or Blue Lagoon? Is Sky Lagoon worth it, or should you stick with the more popular Blue Lagoon? We wouldn't say that one is better than the other, they are just different. Let's break down the pros and cons of both geothermal pools to help you determine which one you should visit as part of your self-drive trip to Iceland.
First, here are some similarities. Both Sky Lagoon Iceland and Blue Lagoon are man-made geothermal pools. They contain geothermal seawater, which is enriched with ocean minerals that are good for the skin.
Sky Lagoon is closer to central Reykjavik, so it's more accessible for those staying within the capital. But Blue Lagoon is closer to KEF Iceland airport, meaning you can visit it on your way to or from the airport.
Sky Lagoon
Blue Lagoon
Pros

•Close to Reykjavik
•Cheaper entry fee
•Ocean views
•Sunset views
•Infinity pool
•Seven-step ritual included
•World famous
•Bigger in size
•Accommodation available on-site
•More formal dining options
Cons
•Smaller in size than Blue Lagoon
•Dining options are more casual
•More expensive
•Farther from Reykjavik
•Can get crowded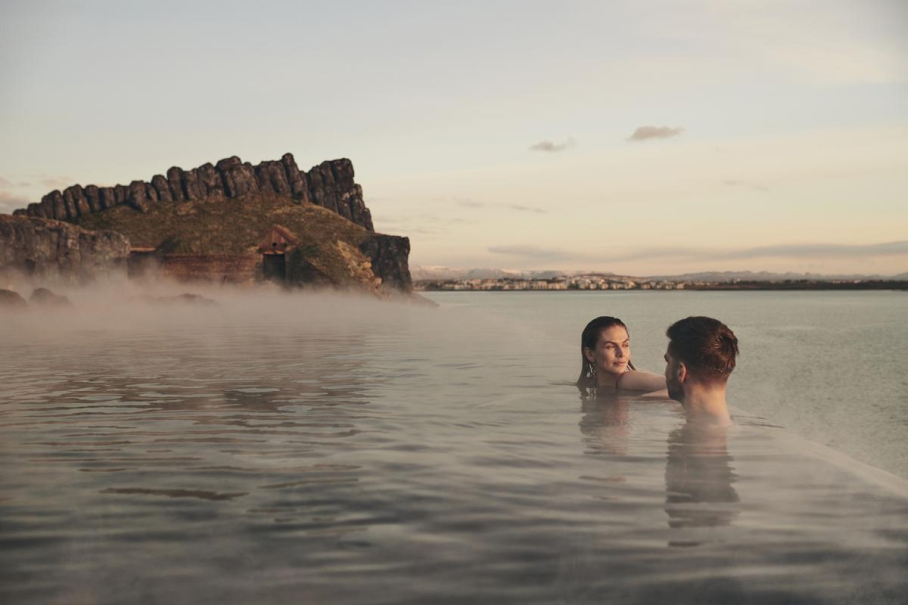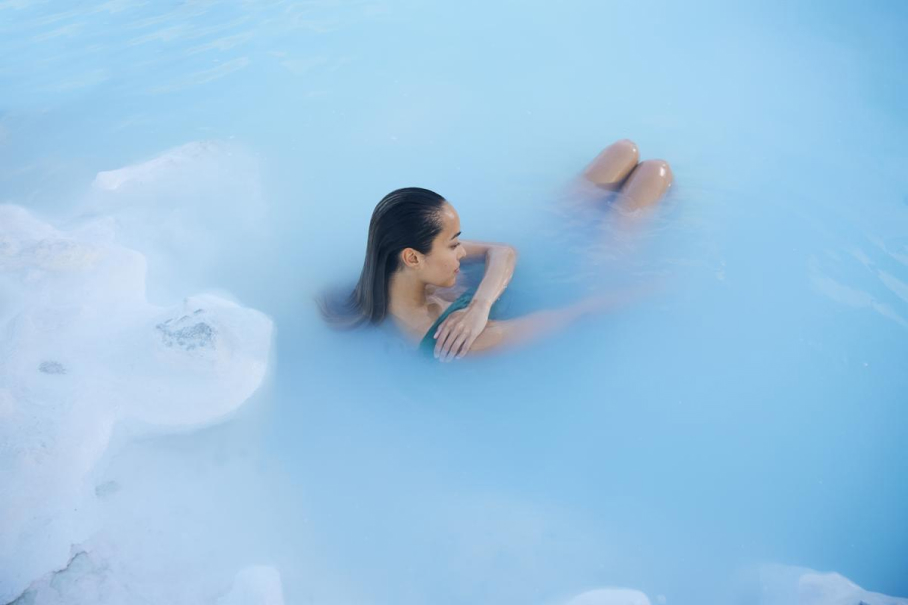 Sky Lagoon Iceland
Sky Lagoon Iceland may not be as well known as Blue Lagoon, but that doesn't make it any less enjoyable. With its close proximity to Reykjavik city center and the seven-step ritual that is inspired by Nordic traditions and Icelandic bathing culture, the Sky Lagoon is definitely worth visiting. The price point means it's accessible for everyone to enjoy as part of any self-drive itinerary in Iceland.
Sky Lagoon is open all year round, so regardless of when you travel to Iceland, you can include the relaxing spa experience in your trip. The best way to get to Sky Lagoon is with a rental car, and you can pick it up directly from the airport. Always book your rental car online and in advance with Hertz to get the best price, and the most well-suited vehicle for your trip!