Rent a car and self-drive touring around Iceland is no doubt the best way to travel Iceland. Knowing what to do and how to rent a car in Iceland might be the first thing you might be interested in, but after that, more 'technical' problems might come to your mind–are there any extra fees I need to pay on the road? If so, how much are they? How can I pay? Do I need a credit card or pay in cash?
To help you learn more about how to drive in Iceland and get well prepared before your arrival, we have all information about tunnels and tolls in Iceland and how to pay tolls in Iceland ready for you here, buckle up, Let's Go.
The ONLY Tolled tunnel in Iceland: Vaðlaheiðargöng tunnel
99.9% of the roads in Iceland are toll-free, only with one exception–the Vaðlaheiðargöng tunnel. Vaðlaheiðargöng tunnel was newly opened in 2020 in north Iceland outside Akureyri city. This tunnel connects the east bank of the Eyjafjörður fjord and Akureyri, which shortened the Route 1 Ring Road by 16km.
Vaðlaheiðargöng tunnel location Map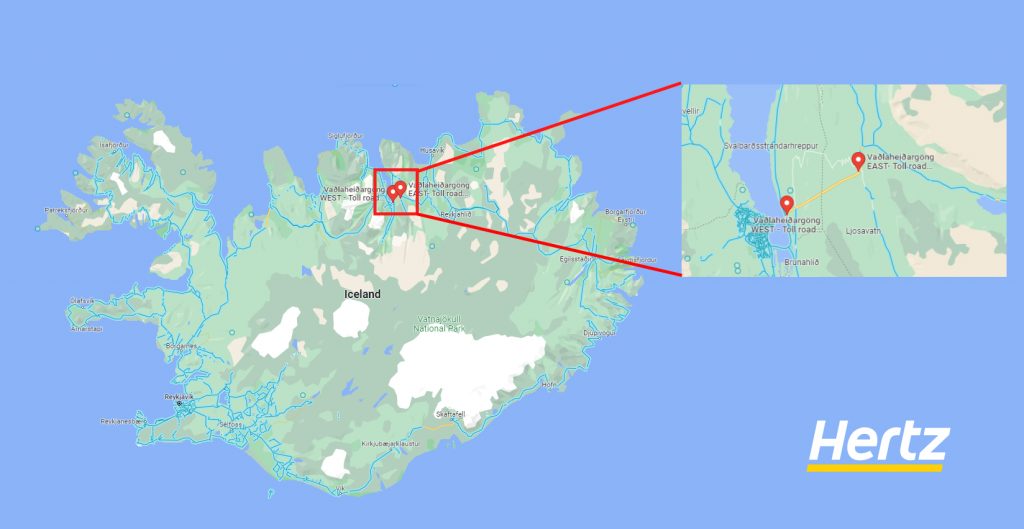 Toll price in Iceland
There is a fee per trip for each car to use the Vaðlaheiðargöng tunnel:
Regular passenger car under 3.5 tons: 1,500 ISK per trip (one-way)
Vehicles weight between 3.5 to 7.5 tons: 2,500 ISK per trip (one-way)
Vehicles weight over 7.5 tons:5,200 ISK per trip (one-way)
*Info updated July 2022
How to pay tunnel toll in Iceland?
The fee is required to be paid in full within a 24 hours time frame with a valid credit card online. You can pay for your single tip via the veggjald.is website here or with their official app ( Apple iOS; Android) after passing through the tunnel; OR, you can also pre-register your rental car's license plate number details on the same website 24 hours before your trip and pre-pay the fee.
You will be fined if you cannot pay the toll fee online within 24 hours after (or before) using the tunnel.
A kind reminder to Hertz Iceland's renters: the expense of toll fees and parking fees are on your own terms; please pay accordingly. If you failed to make your payments, Hertz Iceland would receive the cost+ fined tickets, and we would have to charge you the fined amount with an admin service fee.
Does it worth using the tolled tunnel?
The tunnel saved you from driving through the Víkurskarð road, a pass in the mountain range between the Svalbarðsströnd coast and Fnjóskadalur.
In summer (between late May and early September), the Víkurskarð road is relatively easy to drive with no stress when the snow is melted. By using the Vaðlaheiðargöng tunnel, you can enjoy a more effortless drive experience and a few minutes faster than the Víkurskarð road. If you are travelling along the Ring Road in summer, there is no absolute difference between using the tunnel and the Víkurskarð road.
In winter (between late September and early May), North Iceland will start snowing, and roads will become icy, snowy and challenging to drive; this also happens to Víkurskarð road.  Sometimes, the Vikurskard road is even impassable in winter due to heavy snowfall and strong winds. If you are taking the Ring Road trip during winter, we highly recommend you take the Vaðlaheiðargöng tunnel when travelling between Akureyri and Godafoss.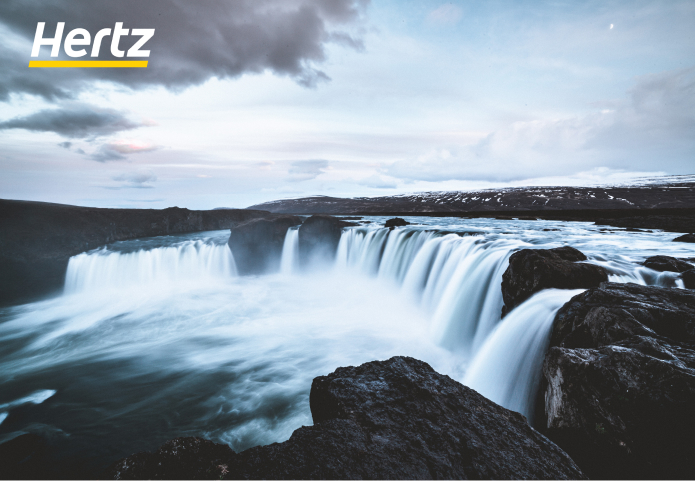 Free Tunnels in Iceland
As mentioned, the Vaðlaheiðargöng tunnel is the ONLY tolled tunnel in Iceland. You will be able to use all of the tunnels listed below for free during your stay in Iceland:
Hvalfjörður Tunnel: a tunnel used to be a tolled road but has been toll-free since late 2018. This tunnel is laid under the Hvalfjörður fjord, connecting Reykjavik and the west, and it is part of Route 1 Ring Road.
Arnardalshamar Tunnel: Arnardalshamar tunnel is located in the Westfjords area along Route 61 and cuts through a basalt dike named Arnardalshamar. It is the shortest and oldest artificial tunnel in Iceland.
Strákagöng Tunnel: Another tunnel located in Westfjords outside of Siglufjörður town, making the village more accessible during the winter season
Héðinsfjarðargöng Tunnel: Hédinsfjardargöng are two tunnels, a 3.9-kilometer long tunnel between Siglufjördur and Hédinsfjördur and a 7.1-kilometer long tunnel between Hédinsfjödur and Ólafsfjördur.
Múlagöng Tunnel: A tunnel located in East Iceland, connecting the towns Dalvík and Ólafsfjörður.
Breiðadals & Botnsheiði Tunnels: It is a tunnel with a crossroads inside it. Located in Westfjords, the tunnel starts from Isafjordur and connects Suðureyri and Flateyri towns. You can easily access these two different towns at the crossroads in the tunnel from Ísafjörður.