We care for the Environment
Hertz Iceland is one of the largest car rentals in Iceland. Hertz has adopted a policy focusing on minimizing any negative environmental impact of its operations and is constantly seeking ways to reduce any possible direct or indirect environmental impact of its operations.
Environmentally Friendly Vehicles
Hertz selects vehicles and the necessary items for its fleet of vehicles on grounds of operational feasibility, the manufacturers' environmental strategy and on acknowledged studies by independent parties. Hertz has gradually, but steadily, increased its number of environmentally-friendly vehicles in its fleet, including small diesel-powered vehicles, and twin vehicles. All environmentally-friendly vehicles can be parked free of charge for up to 90 minutes in Reykjavík City Centre.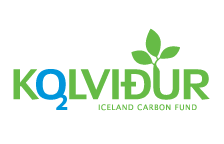 Kolviður – Icelandic Carbon fund – Offset your carbon emissions
The cooperation of Hertz and the Iceland Carbon Fund enables Hertz customers to offset their carbon emissions during their travel through tree planting and other projects. With that Hertz became the first car rental in Iceland to enable customers to offset their carbon emissions.
The Iceland Carbon Fund was founded by the Icelandic Forestry Association and the Icelandic Environment Association. The goal of the Iceland Carbon Fund (ICF) is to reduce the level of carbon dioxide in the atmosphere by sequestering carbon in vegetation and soils. The amount paid goes towards forestry projects, such as tree planting. The planting done under the auspices of the ICF takes place on designated areas under a long-time (90-year) contract with the ICF. The planting and supervision of ICF forests are performed by local forestry associations or other contractors. The work is certified and audited by KPMG Iceland.
The first Iceland Carbon Fund forest is planted at Geitasandur, South Iceland. Hertz customers were a part of that!