After a month of earthquakes felt in the capital area, a fissure erupted on the Reykjanes Peninsula. Several volcanoes have resulted from the fissure line and have proven to be a "tourist eruptions." The slow-flowing lazy lava allows visitors to hike to the Volcano and observe it up close and personal. Experts predict these volcanoes will erupt for up to 100 years, so there is plenty of time to plan a trip to Iceland. Though seeing a volcano is a once-in-a-lifetime experience, being prepared for the journey will help you enjoy it more.
In this article, we will cover the hiking paths to the 2022/23 eruption site, the car parking info, live videos of the volcanos, how to pack for the hike and other essential safety rules for the eruption site. Read on and learn all about the volcanic Eruption in Geldingadalur Valley.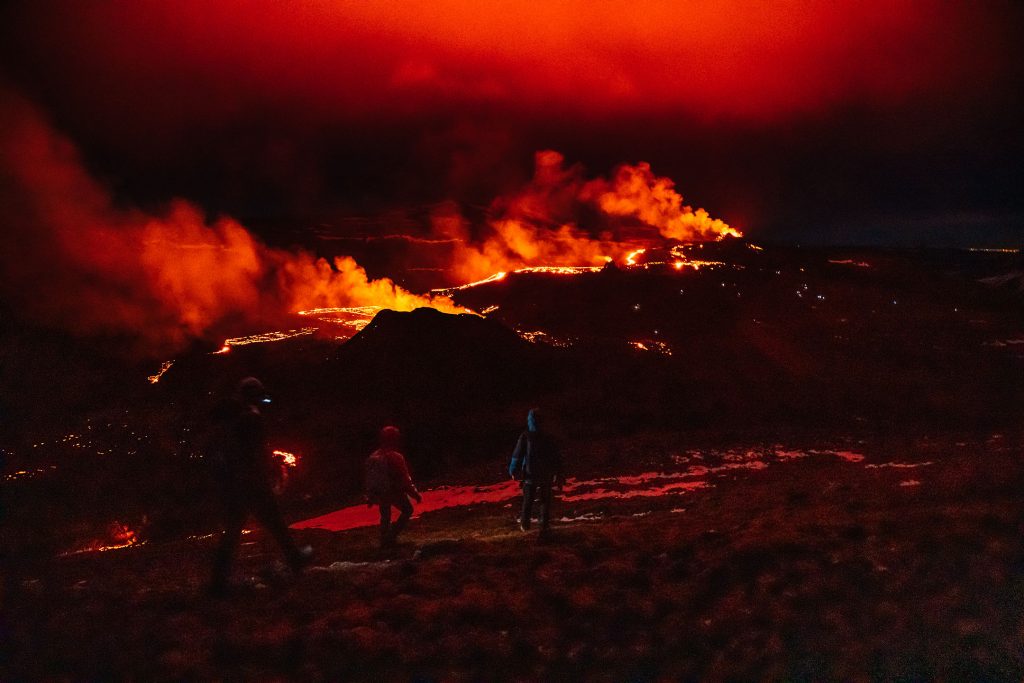 Hiking path and Parking lot
There are 2 designed parking lots at the eruption site P1 and P2. These two parking lots are designed for different hiking paths; please choose the walking path before parking. To park at these parking lots, you must pay online via the parka website. The parking fee is 1000 ISK (approx 8 USD) per car, and it is valid for 24 hours.
Here you will have access to the parking payment page: Parking P1 Geldingadalir ; Parking P2 (Stóri-Leirdalur)
Hiking paths
Path B is an alternative path to Path A, and it is only used when the volcano gases cover path A, the hiking paths will be closed when the volcano gases cover any of the paths. As of 18 July 2023, there are only 1 main hiking path (Path C) to the erupting volcano in 2023:
▶Path C
Starting from Parking P2, you can see the front of the crater or the newly formed lava, depending on how long you hike. If you choose the longer Path C by Langihryggur, you can see the front of the crater from a far distance. The total length of Path C is 10 km per way (round trip will be 20km in total); as of today, only 7 km of the path is open to the public, as the rest of the path was covered by volcano gases.
If you go for a shorter and easier hike on Path C by Natthagi, you can reach the newly formed lava field but cannot see the erupting crater itself.
▶Path A Not open to the public for now
starting from Parking P1, one way is around 3.2 km long; a round trip would be around 6.4 km, and the hiking time would be around 4 to 5 hours per round trip. By using Path A, you can see both creater in 2021 and the new eruption site in 2022.
**This path has challenging terrains–steep hills, gravel, and uneven grouds are common. Please be well prepared and equipped before hiking.**
Safety rules and regulations
The hiking paths and areas might be temporarily closed if the weather is unfavourable for the hike. PLEASE check THIS SAFETRAVEL webpage and the ALERTS tab on top to ensure the hiking path is open before your hike. And don't forget to check the weather condition at the volcano site before your visit.
Please be reminded that NEVER hike or drive outside of the designed path and trials during your visit
NEVER touches or walk on any lava fields– there might still be hot, burning lava underneath the rocks.
Not only is checking the websites essential for the volcano hike, but packing and wearing properly for the outdoor long hike is also something you should consider before heading to the eruption site.
What to pack
The hike to the Volcano is rated difficult for inexperienced hikers and moderate for skilled hikers. Icelandic weather is famously unpredictable so proper research and clothing are key for a good experience. Good hiking boots are recommended for this trail as the terrain is steep both up and down. Ankle support is preferred for this hike. Good socks should not be overlooked when packing for the hike. It is important to have socks that fit correctly and are comfortable to wear for long periods of time.
Hiking bottoms are a personal preference, but it is best to pack layers in harsh Icelandic conditions. A base layer that will keep you warm and some type of shell to withstand the wind and rain go a long way. Viewing areas of the volcano include the top of mountains where it can be windy so the extra layer is important.
Hiking shirts and tops should also be considered in layers. It may be cold at the car park, but you warm up very fast once you start moving. A natural fiber base layer such as wool or smart wool is perfect to start the hike. A mid-layer such as a fleece or wool sweater should be kept in your bag along with an additional insulation layer. The weather can change fast in Iceland and once your body stops moving, it will begin to cool down and you won't regret the extra layer. A puffy down jacket would be the perfect addition.
A rain jacket or wind shell is a must in Iceland! Even on the sunniest days, rain and wind can come at a moment's notice. Most hikers in Iceland will hike with a shell on to protect themselves from wind and rain.
Even in the summer months, gloves and a hat are vital in Iceland. Lightweight gloves and a beanie will be worth the extra weight when you reach the top of the mountains.
Food and water are important for the volcano hike as it is long. Dehydration can be killer and often in colder temperatures it is easy to forget about drinking water. Hiking snacks are a personal preference but a protein bar, gummies, nuts, or a sandwich would be great additions to keep energy in your body!
Optional Equipment: Gas Mask, Head Lamp and Hiking Poles. During the summer months, the darkness in Iceland can be rare but seeing the volcano at night time is a special experience, if you plan to visit the volcano during any evening hours, a headlamp is strongly recommended. The volcano trail travels up and down mountain passes, and these steep sections can be rough on the joints. Adjustable hiking poles can be your best friend in these situations to give you an extra push on the inclines and unsteady terrain. There is always a risk of going to the volcano as it produces poisonous gases. The gases are invisible so having a gas mask handy could save your life. The Rescue Team is frequently measuring the gas levels and keeping the area as safe as they can. They will evacuate any area immediately if it is unsafe to be there without a mask. You should leave any area where you have difficulty breathing.
Packing list to witness the volcano
Backpack
Headlight/Flashlight with extra batteries
Hiking boots (waterproof is recommended)
Hiking poles-not essential but good to have
Fully charged phone
GPS if you have one.
Water bottle
Hot water, coffee, tea or chocolate in case you get cold.
Food for more time than you anticipate for the journey.
Trash bag, don´t leave your trash on-site or on the journey.
How to get there
Where to park
About 10 minutes from Grindavik, on road 427, there are designated parking lots. It is forbidden to park along the road. It is about 45 to 50 minutes from Reykjavik to the Volcano car park.
How long is the hike
There is only 1 trail to the volcano, about 7-10 km one way, starting from the parking lot P2. It can take 3-5 hours to hike to the volcano one way. Most people spend over an hour exploring and watching the volcano once there. The Rescue Team will direct you on which path to take depending on the direction of the wind. The volcano produces poisonous gases so knowing the wind direction is essential for the safety of the hike. It is also important to note that the unpredictability of the lava flow can make the hike longer, depending on where you stop to view the volcano.
How is the hike
The trails is very well marked though the terrain can be uneven as it travels through old lava fields, gravel, but most of it are flate. This hike should not be taken lightly, ample time and preparedness should be given to hike to the volcano.
The Rescue team is on site from noon until midnight everyday so do not hesitate to ask them any questions.
It is also important to note that new volcanoes can erupt at any time along the fissure without any notice.
It is strongly advised NOT to bring dogs on this hike as the gases can be low-lying and not good for them.
Witness the erupting volcano in 2023
An erupting volcano is spectacular but could also be dangerous if you are not following the instructions from ICE-SAR or Iceland police. Please always put your safety on top of everything else when visiting the site. Call 112 in case of an emergency. Have a great time, and be safe!
---
Hertz Iceland offers a special Iceland car rental discount for the volcano eruption. Book your car today on hertz.is with the code VOLCANO to enjoy a 15% off rental + a FREE extra driver!