Love Iceland? Learn everything about the Icelandic national flag! As you plan your Icelandic adventure with Hertz Iceland, take a moment to delve into the rich cultural tapestry symbolized by the flag of this stunning nation.
From the deep blues of its expansive skies to the fiery reds of its volcanic landscapes, each color of the Iceland flag tells a tale of natural beauty and national pride. Let's explore the history, significance, and fun facts about this iconic emblem, and maybe even find the perfect Icelandic flag souvenir to bring home from your journey.
Colors and Their Meanings of the Iceland Flag
At first glance, the Icelandic flag captivates with its bold colors – sky blue, fire red, and snow white. These colors, as meticulously defined in the Flag Act No. 34/1944 and Announcement No. 32/2016, are more than just aesthetic choices; they are a reflection of Iceland's breathtaking natural landscapes.
Sky Blue (SCOTDIC nr. 693009 / Pantone nr. 287 / HEX #02529C): This tranquil blue represents the vast and open Icelandic skies, and the surrounding Atlantic Ocean, enveloping the island in a serene embrace.
Snow White (SCOTDIC nr. 95 / CMYK nr. 0/0/0/0 / HEX #FFFFFF): Pure and crisp, this white mirrors the snow and ice that majestically cover much of Iceland's terrain, especially in the winter months.
Fire Red (SCOTDIC ICELAND FLAG RED / Pantone nr. 199 / HEX #DC1E35): This vibrant red is a nod to the volcanic fire that runs deep beneath Iceland's surface, shaping its unique geology and landscapes.ymbolism in Icelandic Culture
The flag's design, featuring a cross set against these colors, holds deep significance in Icelandic culture. The cross reflects Iceland's historical ties to other Nordic countries, symbolizing a shared heritage and cultural connection. Furthermore, the specific placement of the red cross within the white, as detailed in the Flag Act, reflects a careful balance and harmony that is intrinsic to Icelandic society.
By incorporating these colors and symbols into our flag, Icelanders celebrate our connection to nature, Nordic roots, and a sense of national unity. This flag is not just a piece of cloth; it's a canvas narrating the story of a resilient, vibrant, and proud nation.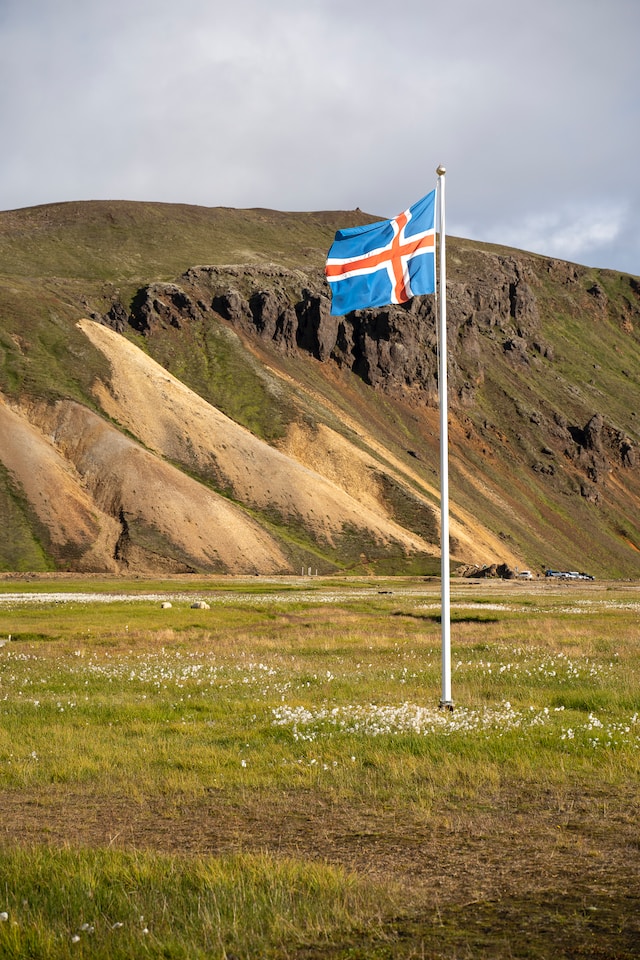 Historical Background of the Iceland Flag
The journey of the Icelandic flag is deeply intertwined with Iceland's pursuit of independence from Denmark. The flag's evolution was not just about design; it was a symbol of national identity and a cornerstone in our struggle for sovereignty.
In the 19th century, painter Sigurður Guðmundsson suggested a white falcon on a blue field as the national emblem, which gained initial popularity, especially among students. The real turning point came in 1885, when the Icelandic parliamentary assembly resolved that Iceland deserved its own merchant flag, leading to various proposals emphasizing the colors blue, white, and red.
Poet Einar Benediktsson and Matthías Þórðarson, later the Keeper of National Antiquities, played pivotal roles in shaping the flag's design. Benediktsson proposed a white cross on a blue field, while Þórðarson suggested adding a red cross within the white, symbolizing Iceland's mountains, ice, and volcanic fire. Interestingly, a similar design was found in an old illustration from India, predating Þórðarson's proposal, indicating a possible subconscious connection to historical maritime flags.
The Path to Official Recognition
The flag's journey to official recognition was marked by political debates and interventions from the Danish crown. In 1913, Prime Minister Hannes Hafstein presented the flag issue to King Christian X, leading to the royal decree for a special Icelandic flag.
However, the king rejected the initial blue and white design, citing its resemblance to the Greek flag. This led to the formation of a committee which proposed two new designs: the now-familiar sky blue with a white cross and a bright red cross inside it, and a white flag with a sky-blue cross.
Parliament debated various designs, including a blue and white flag with a white star and a tricolor flag. Despite initial resistance from the king, a royal decree in 1915 finally established our beloved flag: sky blue with a white and fiery red cross.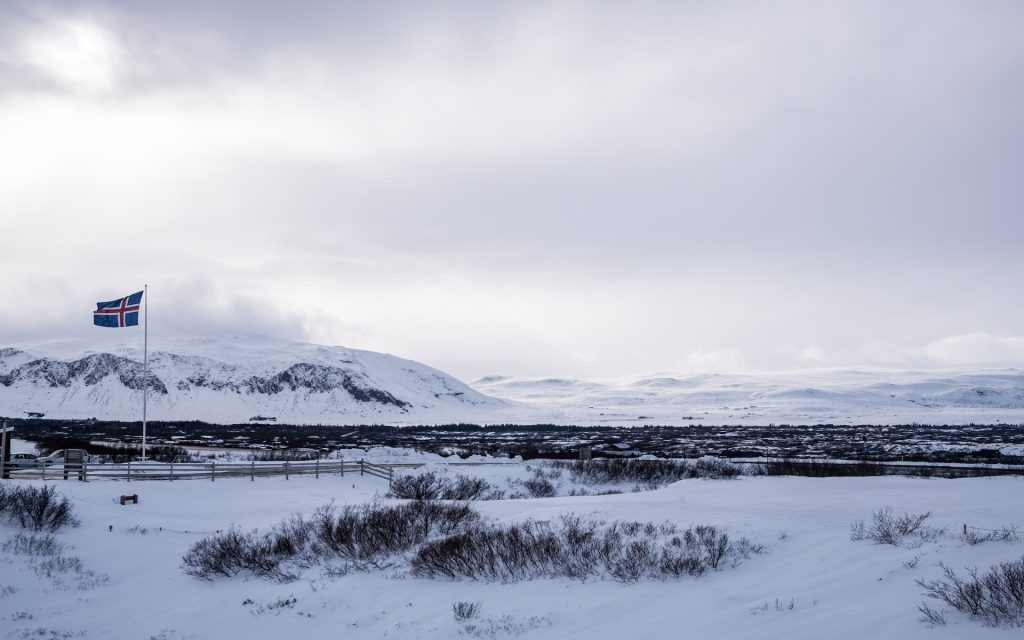 Maritime Flag and the Crown Union
The flag's story didn't end there. The need for an Icelandic maritime flag became a pressing issue, especially during World War I. Despite initial Danish resistance, the Act of Crown Union between Iceland and Denmark in 1918 finally recognized the Icelandic flag for maritime use. This was a significant step towards Iceland's full sovereignty.
The Establishment of the Republic and the Flag Act
The establishment of the Republic of Iceland in 1944 marked the final affirmation of our flag. The National Flag Act, passed in the same year, was the first legislation ratified by the newly elected President of Iceland, Sveinn Björnsson. This act not only defined the design and usage of the flag but also established flag days, such as the President's birthday, New Year's Day, and National Day, celebrating our national identity and independence.
The Flag as a Symbol of Independence
Throughout its history, the Icelandic flag has been more than a symbol of our nation; it has been a banner of our independence, resilience, and unity. From Jørgen Jørgensen's brief 1809 rule, where he proposed a blue flag with three cods, to the present day, the flag has evolved but always remained a steadfast symbol of our unique identity and the enduring spirit of the Icelandic people.
Fun Facts and Official Flag Days in Iceland
Here are some fun facts about the Icelandic flag:
There is a Presidential Flag.Iceland's President has a special flag, adorned with the national coat of arms, symbolizing the esteemed prime minister office.
We had a Eight-Week Flag with Three Fish Fillets: In an unusual historical twist, Iceland briefly adopted a flag design featuring three fish fillets, adding a quirky footnote to our flag's story.
Reverence for the Icelandic flag is deeply ingrained in our culture, with strict laws ensuring its respectful treatment.
We seek our Unique Identity with the flag: To distinguish it from the Greek flag, the iconic red arms of the cross was added to the Icelandic flag, giving it a unique and recognizable identity.
Special Flag Days: The Prime Minister of Iceland has the rare authority to designate an additional flag day each year, celebrating the dynamic nature of our national symbol.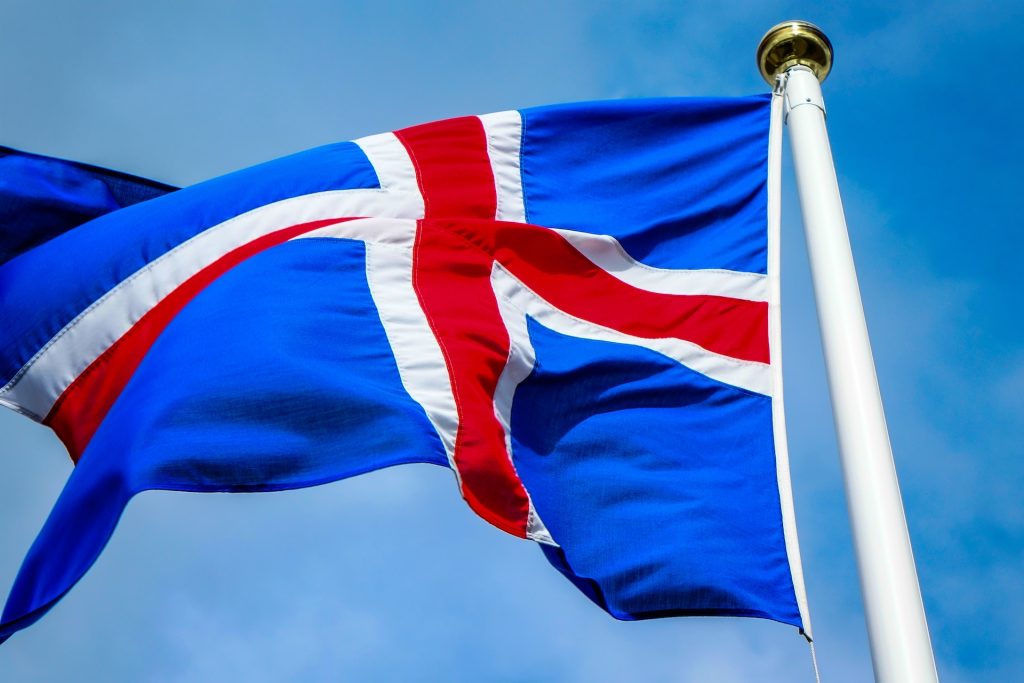 Celebrating Icelandic Flag Days
In Iceland, flag days are special occasions where national pride is prominently displayed. These days include:
The President of Iceland's birthday
New Year's Day
Good Friday
Easter Sunday
First Day of Summer (last Thursday in April)
May Day
Whit Sunday
Seamen's Day (first Sunday in June)
June 17 (National Day)
December 1 (Home Rule Day)
Christmas Day
November 16 (Jónas Hallgrímsson's birthday, Day of the Icelandic Tongue)
On these days, the flag is flown on public buildings, symbolizing our rich history and enduring spirit. Each flag day is a reminder of our shared heritage and the values we hold dear as Icelanders.
Where to Buy Icelandic Flags
In the heart of Downtown Reykjavik, numerous souvenir shops offer the Icelandic flag in various sizes and forms. These shops are perfect for picking up a flag that suits your preference, whether it's a full-sized flag for your wall or a small one to tuck into your diary.
On special occasions like National Day, supermarkets and grocery stores across Iceland also join in the festivities by selling flags. It's a convenient option for those who find themselves celebrating with us and wish to partake in our national pride.
Different Types of Souvenirs in Iceland
Besides traditional flags, you can find a wide range of souvenirs in Iceland. From stickers and patches to keychains and postcards, these items allow you to carry a little piece of Iceland wherever you go.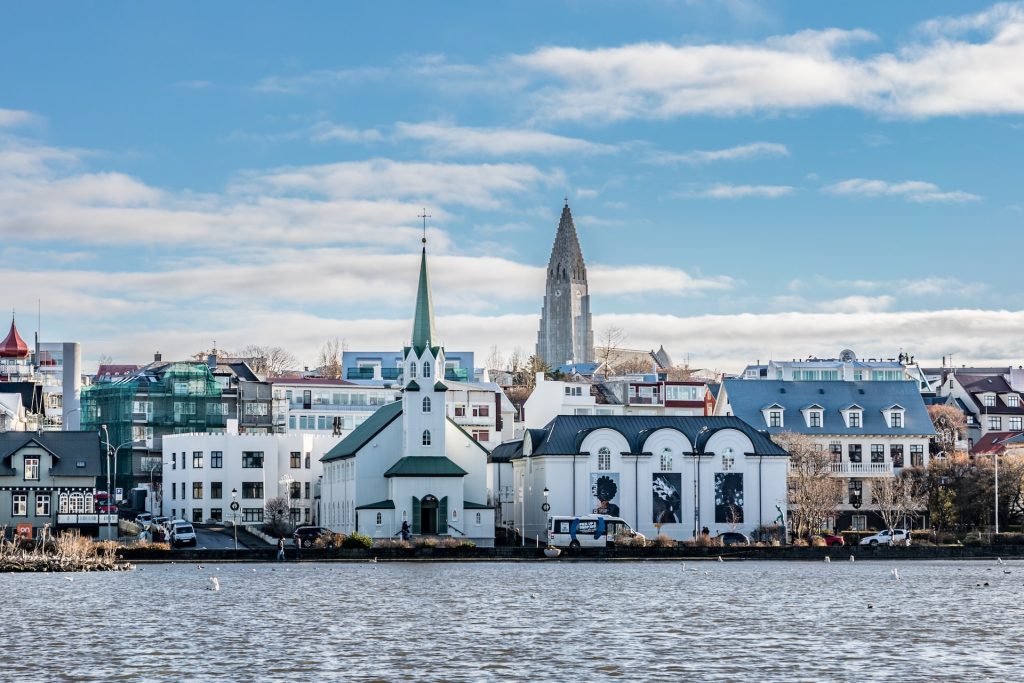 The Iceland Flag – A Symbol of Our Journey
The Icelandic flag is more than just a national symbol; it's a story of independence, unity, and pride. As you explore the breathtaking landscapes of Iceland with Hertz, let the flag remind you of the rich history and vibrant culture that make this country unique.
Whether fluttering in the breeze over the streets of Reykjavik, adorning a souvenir in your hands, or flying proudly on National Day, the flag is a constant reminder of the spirit of Iceland. It's a symbol that unites us, tells our story, and invites you to be a part of our ongoing journey.
We hope that when you leave, you take not just memories but also a piece of Iceland with you in the form of our beloved flag. Remember, every time you see it, you're not just looking at a piece of fabric; you're looking at the heart of Iceland.