Best
Iceland Car Rental
Planning for a self-drive trip in Iceland? Rent a car with the best car rental company in Iceland: Hertz.
 Hertz Iceland has been selected as the leading international car rental company in Iceland by the "Oscars of the travel industry – World Travel Awards" for the fifth consecutive year.
With over 50 years of local operational experience, Hertz Iceland provides absolute confidence and assurance!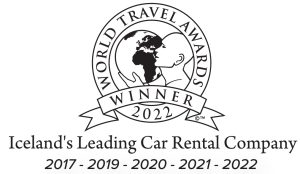 In addition, Hertz Iceland has the following 5 major features:
1. There are 13 car rental locations throughout Iceland, and Hertz Iceland rental locations can be found almost everywhere along the Route 1 Ring Road.
2. Provides over thousands of vehicles for selection,
most of which are brand-new vehicles that have been in production for no more than 2 years.
3. Rental cars come with basic rental insurance such as third-party liability insurance,
basic collision insurance, and driver accident insurance.
Other insurance add-ons are also available for purchase, making it convenient and fast without having to look for third-party insurance companies.
4. There is a counter in the Iceland airport lobby where you can pick up your rental car directly after landing,
and there is also an emergency contact phone number for vehicle malfunctions, providing 24-hour emergency customer service.
5. Provides services for booking Iceland's special travel tours.
Rent a car with
Hertz Iceland

at the best price!

The rental car prices at Hertz Iceland are calculated daily, and the longer the booking duration, the cheaper the average daily price will be.

Typically, during the peak travel season from June to August, the average rental car prices in Iceland are higher.
The shoulder seasons from April to May and September to October are generally more affordable,
while the low season from November to March offers the lowest rental car prices.

In addition to the rental car fees mentioned above,
due to the unpredictable weather conditions and hazardous road conditions in Iceland,
rental cars are often prone to damage.

To address this, Hertz Iceland not only offers rental car insurance add-ons
but also provides other insurance plans with a ZERO excess, which can be easily processed when renting a car.
Customers can also directly contact Hertz Iceland in case of any issues, which is convenient and time-saving.

To learn more about the detailed rental car at Hertz Iceland, our special Iceland rental car offers,
please click on the link below to quickly check information on car models, dates, and locations.

Drive around Iceland worry free and save 40% on our Protection Package.

As a special promotion, Hertz is currently offering rental cars at Keflavík airport and rentals at Reykjavík with a 5% discount using the Hertz Iceland promo code.

Long-term rental in Iceland makes life easier. Hertz takes care of all maintenance and servicing.

Check out these tips on driving the ring road in Iceland. Follow the rules and make safety a priority for the Iceland road trip of a lifetime!

Go Green! Go with Hertz Iceland. We offer a wide range of new electric cars, including Tesla rentals for your Iceland road trip. Self-drive with 0 emissions at low cost!

Hertz Iceland offers three types of campers and motorhomes to rent. Fully equipped and with various extra options to rent or buy
Experience driving in Iceland

, know what places to go and things to do
Tips for traveling in Iceland by car, ideas for Iceland road trips, adventures and attractions along the ring road in Iceland
We hope our answers can help you plan your Iceland road trip and make informed decisions, so you know exactly how to rent a car in Iceland.
In this blog, we will explore the variety of things that make Iceland unique so you can go on your trip fully prepared.
If you're struggling to decide whether to rent a car or take a guided tour when in Iceland, we've got a fun, interactive quiz that will only take three minutes. By the end, you'll have your mind made up and know exactly what is the right option for you. So, let's get into the quiz!
Why choose Hertz for your rental car in Iceland?
Hertz Iceland has operated locally in Iceland for OVER 50 years as "Iceland's leading car rental company". Only NEW and RELIABLE cars are rented out to customers. We are INSIDE the Iceland airport and 12 other service locations around Iceland, supporting YOU whenever needed. 
Safety is a Priority
High safety standards are essential when you rent a car in Iceland. Our vehicles are carefully maintained, and we make every effort to inform our renters how to stay safe on the road in Iceland.
And with locations all around the country, we offer local support around the clock. Whether renting a car at Keflavík Airport, swapping out for a 4WD rental in the remote Westfjords or needing help with a flat tire on Iceland's South Coast, Hertz is there to help.
4WD Vehicles & Budget Rental Cars in Iceland
We offer a variety of vehicles for every rental car budget. In Iceland, 4WD vehicles are popular as many highland roads require a 4×4 model. Just visiting the Blue Lagoon or taking a night out to chase the Northern Lights? There are plenty of amazing destinations along Iceland's ring road that don't require leaving the highway. We also offer economy vehicles for travellers on a budget.
Group Trips & Traveling with a Family in Iceland
For group travel, Hertz Iceland offers station wagons, minivans and large passenger vans that accommodate up to 17 passengers. For families or groups of friends, we offer the adventure of a lifetime with camper and motorhome rentals with optional camping gear, which offers the ultimate in travel flexibility and saves on accommodation costs. Hertz also supports family travel in Iceland with a range of car seats and booster seats.
Luxury Cars & Green Rental Options
Attending a conference in Reykjavík and want to treat yourself to a day trip around the Golden Circle or a romp through Iceland's highlands? Rent a car in Reykjavík from our luxury collection, including sedans and 4x4s from brands like Mercedes-Benz, Audi and Land Cruiser. For travellers looking for an environmentally friendly way to explore, we offer both hybrid or electric vehicles to experience Iceland and a local carbon offset program.
And, if you need help, you can be sure that we are just one call away.

 +354 522 44 00
Frequently asked questions
How to rent a car in Iceland? As simple as 2 steps: 1. Make a rental reservation online, and 2. Get all your documents ready for picking up the car in Iceland!
What cars are available for my trip?

Enter your puck-up and return date and location in the search widget and you will see ALL the available car rental options.